Amorphous Silica Particles Relevant in Food Industry Influence Cellular Growth and Associated Signaling Pathways in Human Gastric Carcinoma Cells
1
Department of Food Chemistry and Toxicology, Faculty of Chemistry, University of Vienna, Waehringer Strasse 38, 1090 Vienna, Austria
2
Institute of Toxicology and Genetics (ITG), Karlsruhe Institute of Technology (KIT), Campus Nord, Hermann-von-Helmholtz-Platz 1, 76344 Eggenstein-Leopoldshafen, Germany
3
MMCT Laboratory of Macromolecular Cancer Therapeutics, Department for Pharmaceutical Chemistry, Faculty Center for Pharmacy, University of Vienna, Althanstraße 14, 1090 Vienna, Austria
*
Author to whom correspondence should be addressed.
†
These authors contributed equally to this work.
Academic Editor: Eleonore Fröhlich
Received: 6 November 2016 / Revised: 30 December 2016 / Accepted: 4 January 2017 / Published: 13 January 2017
Abstract
Nanostructured silica particles are commonly used in biomedical and biotechnical fields, as well as, in cosmetics and food industry. Thus, their environmental and health impacts are of great interest and effects after oral uptake are only rarely investigated. In the present study, the toxicological effects of commercially available nano-scaled silica with a nominal primary diameter of 12 nm were investigated on the human gastric carcinoma cell line GXF251L. Besides the analysis of cytotoxic and proliferative effects and the comparison with effects of particles with a nominal primary diameter of 200 nm, emphasis was also given to their influence on the cellular epidermal growth factor receptor (EGFR) and mitogen-activated protein kinases (MAPK) signaling pathways—both of them deeply involved in the regulation of cellular processes like cell cycle progression, differentiation or proliferation. The investigated silica nanoparticles (NPs) were found to stimulate cell proliferation as measured by microscopy and the sulforhodamine B assay. In accordance, the nuclear level of the proliferation marker Ki-67 was enhanced in a concentration-dependent manner. At high particle concentrations also necrosis was induced. Finally, silica NPs affected the EGFR and MAPK pathways at various levels dependent on concentration and time. However, classical activation of the EGFR, to be reflected by enhanced levels of phosphorylation, could be excluded as major trigger of the proliferative stimulus. After 45 min of incubation the level of phosphorylated EGFR did not increase, whereas enhanced levels of total EGFR protein were observed. These results indicate interference with the complex homeostasis of the EGFR protein, whereby up to 24 h no impact on the transcription level was detected. In addition, downstream on the level of the MAP kinases ERK1/2 short term incubation appeared to affect total protein levels without clear increase in phosphorylation. Depending on the concentration range, enhanced levels of ERK1/2 phosphorylation were only observed after 24 h of incubation. Taken together, the present study demonstrates the potential of the tested silica particles to enhance the growth of gastric carcinoma cells. Although interference with the EGFR/MAPK cascade is observed, additional mechanisms are likely to be involved in the onset of the proliferative stimulus.
View Full-Text
►

▼

Figures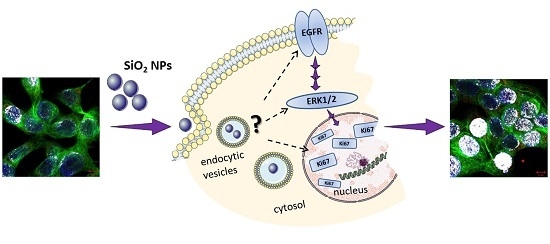 Graphical abstract
This is an open access article distributed under the
Creative Commons Attribution License
which permits unrestricted use, distribution, and reproduction in any medium, provided the original work is properly cited (CC BY 4.0).

Share & Cite This Article
MDPI and ACS Style
Wittig, A.; Gehrke, H.; Del Favero, G.; Fritz, E.-M.; Al-Rawi, M.; Diabaté, S.; Weiss, C.; Sami, H.; Ogris, M.; Marko, D. Amorphous Silica Particles Relevant in Food Industry Influence Cellular Growth and Associated Signaling Pathways in Human Gastric Carcinoma Cells. Nanomaterials 2017, 7, 18.
Note that from the first issue of 2016, MDPI journals use article numbers instead of page numbers. See further details here.
Related Articles
Comments
[Return to top]