Human Serum Albumin Nanoparticles for Use in Cancer Drug Delivery: Process Optimization and
In Vitro

Characterization

1

Biomedical Technology and Cell Therapy Research Laboratory, Department of Biomedical Engineering, 3775 University Street, Montreal, QC H3A 2B4, Canada

2

Division of Experimental Medicine, 1110 Pins Avenue, Montreal, QC H3A 1A3, Canada

3

Department of Microbiology, Immunology and Infectious Diseases, CHU St. Justine Research Center, University of Montreal, 3175 Cote-Ste-Catherine, Montréal, QC H3T 1C5, Canada

4

Division of Cardiac Surgery and Surgical Research, Royal Victoria Hospital, 1001 Boulevard Décarie, Montréal, QC H4A 3J1, Canada

*

Author to whom correspondence should be addressed.

Academic Editor: Luigi Pasqua

Received: 12 April 2016 / Revised: 31 May 2016 / Accepted: 3 June 2016 / Published: 15 June 2016
Abstract
Human serum albumin nanoparticles (HSA-NPs) are widely-used drug delivery systems with applications in various diseases, like cancer. For intravenous administration of HSA-NPs, the particle size, surface charge, drug loading and
in vitro
release kinetics are important parameters for consideration. This study focuses on the development of stable HSA-NPs containing the anti-cancer drug paclitaxel (PTX) via the emulsion-solvent evaporation method using a high-pressure homogenizer. The key parameters for the preparation of PTX-HSA-NPs are: the starting concentrations of HSA, PTX and the organic solvent, including the homogenization pressure and its number cycles, were optimized. Results indicate a size of 143.4 ± 0.7 nm and 170.2 ± 1.4 nm with a surface charge of −5.6 ± 0.8 mV and −17.4 ± 0.5 mV for HSA-NPs and PTX-HSA-NPs (0.5 mg/mL of PTX), respectively. The yield of the PTX-HSA-NPs was ~93% with an encapsulation efficiency of ~82%. To investigate the safety and effectiveness of the PTX-HSA-NPs, an
in vitro
drug release and cytotoxicity assay was performed on human breast cancer cell line (MCF-7). The PTX-HSA-NPs showed dose-dependent toxicity on cells of 52%, 39.3% and 22.6% with increasing concentrations of PTX at 8, 20.2 and 31.4 μg/mL, respectively. In summary, all parameters involved in HSA-NPs' preparation, its anticancer efficacy and scale-up are outlined in this research article.
View Full-Text
►

▼

Figures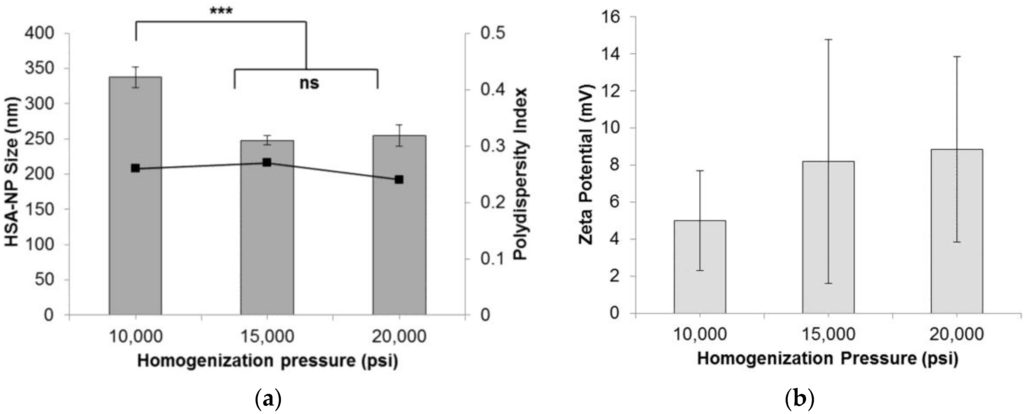 Figure 1
This is an open access article distributed under the
Creative Commons Attribution License
which permits unrestricted use, distribution, and reproduction in any medium, provided the original work is properly cited (CC BY 4.0).

Share & Cite This Article
MDPI and ACS Style
Lomis, N.; Westfall, S.; Farahdel, L.; Malhotra, M.; Shum-Tim, D.; Prakash, S. Human Serum Albumin Nanoparticles for Use in Cancer Drug Delivery: Process Optimization and In Vitro Characterization. Nanomaterials 2016, 6, 116.
Note that from the first issue of 2016, MDPI journals use article numbers instead of page numbers. See further details here.
Related Articles
Comments
[Return to top]