Molecular Dynamics Simulation of High Density DNA Arrays
1
Department of Physics, Faculty of Mathematics and Physics, University of Ljubljana, Jadranska 19, SI-1000 Ljubljana, Slovenia
2
Department of Theoretical Physics, J. Stefan Institute, Jamova c. 39, SI-1000 Ljubljana, Slovenia
3
Computational Science & Engineering Laboratory, ETH Zurich, Clausiusstrasse 33, CH-8092 Zurich, Switzerland
4
Laboratory for Molecular Modeling, National Institute of Chemistry, Hajdrihova 19, SI-1001 Ljubljana, Slovenia
*
Author to whom correspondence should be addressed.
Received: 15 December 2017 / Revised: 4 January 2018 / Accepted: 5 January 2018 / Published: 8 January 2018
Abstract
Densely packed DNA arrays exhibit hexagonal and orthorhombic local packings, as well as a weakly first order transition between them. While we have some understanding of the interactions between DNA molecules in aqueous ionic solutions, the structural details of its ordered phases and the mechanism governing the respective phase transitions between them remains less well understood. Since at high DNA densities, i.e., small interaxial spacings, one can neither neglect the atomic details of the interacting macromolecular surfaces nor the atomic details of the intervening ionic solution, the atomistic resolution is a
sine qua non
to properly describe and analyze the interactions between DNA molecules. In fact, in order to properly understand the details of the observed osmotic equation of state, one needs to implement multiple levels of organization, spanning the range from the molecular order of DNA itself, the possible ordering of counterions, and then all the way to the induced molecular ordering of the aqueous solvent, all coupled together by electrostatic, steric, thermal and direct hydrogen-bonding interactions. Multiscale simulations therefore appear as singularly suited to connect the microscopic details of this system with its macroscopic thermodynamic behavior. We review the details of the simulation of dense atomistically resolved DNA arrays with different packing symmetries and the ensuing osmotic equation of state obtained by enclosing a DNA array in a monovalent salt and multivalent (spermidine) counterions within a solvent permeable membrane, mimicking the behavior of DNA arrays subjected to external osmotic stress. By varying the DNA density, the local packing symmetry, and the counterion type, we are able to analyze the osmotic equation of state together with the full structural characterization of the DNA subphase, the counterion distribution and the solvent structural order in terms of its different order parameters and consequently identify the most important contribution to the DNA-DNA interactions at high DNA densities.
View Full-Text
►

▼

Figures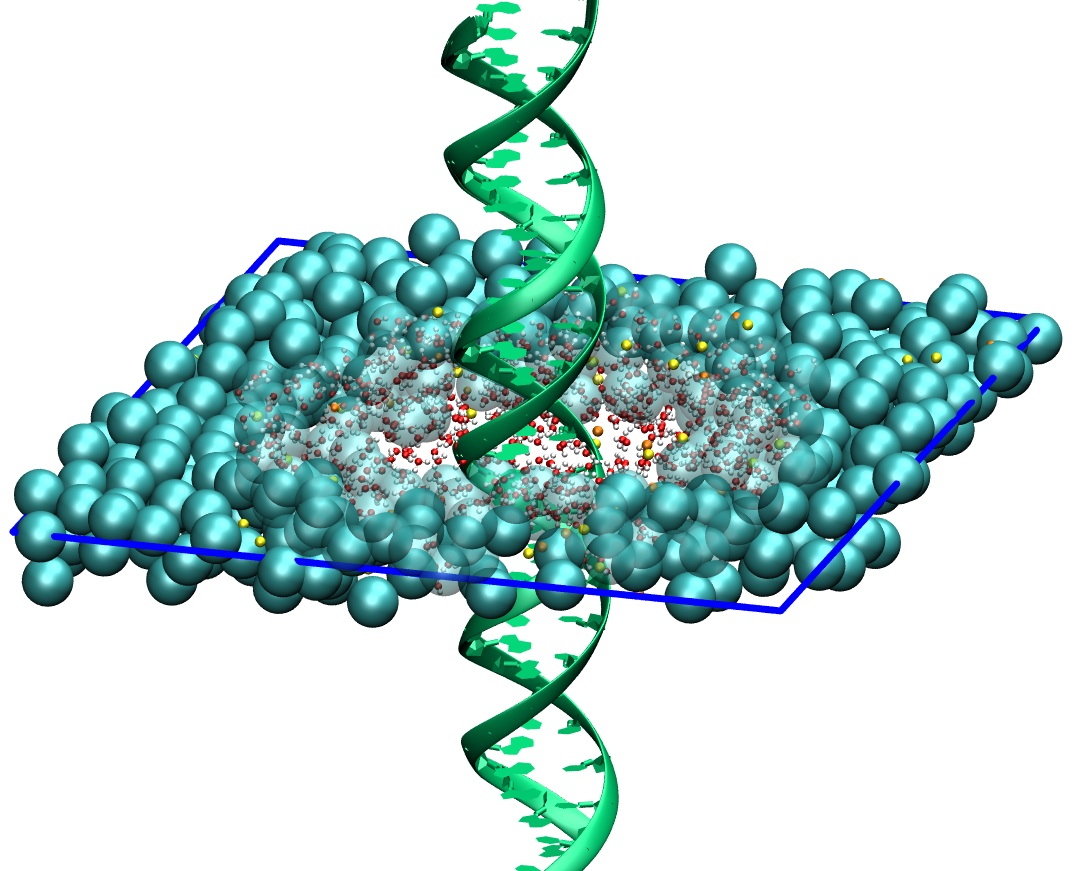 Graphical abstract
This is an open access article distributed under the
Creative Commons Attribution License
which permits unrestricted use, distribution, and reproduction in any medium, provided the original work is properly cited (CC BY 4.0).

Share & Cite This Article
MDPI and ACS Style
Podgornik, R.; Zavadlav, J.; Praprotnik, M. Molecular Dynamics Simulation of High Density DNA Arrays. Computation 2018, 6, 3.
Note that from the first issue of 2016, MDPI journals use article numbers instead of page numbers. See further details here.
Related Articles
Comments
[Return to top]