Open Access This article is
freely available
re-usable
Article
Pareidolic and Uncomplex Technological Singularity
Department of Human, Social and Political Sciences, Faculty of History and Geography, "Ştefan cel Mare" University, 13 University Street, 720229 Suceava, Romania
Received: 25 October 2018 / Accepted: 3 December 2018 / Published: 6 December 2018
Abstract
:
"Technological Singularity" (TS), "Accelerated Change" (AC), and Artificial General Intelligence (AGI) are frequent future/foresight studies' themes. Rejecting the reductionist perspective on the evolution of science and technology, and based on
patternicity
("the tendency to find patterns in meaningless noise"), a discussion about the perverse power of
apophenia
("the tendency to perceive a connection or meaningful pattern between unrelated or random things (such as objects or ideas)") and
pereidolia
("the tendency to perceive a specific, often meaningful image in a random or ambiguous visual pattern") in those studies is the starting point for two claims:
the "accelerated change" is a future-related
apophenia
case
, whereas
AGI (and TS) are future-related
pareidolia
cases
. A short presentation of research-focused social networks working to solve complex problems reveals the superiority of human networked minds over the hardware‒software systems and suggests the opportunity for a network-based study of TS (and AGI) from a complexity perspective. It could compensate for the weaknesses of approaches deployed from a linear and predictable perspective, in order to try to redesign our intelligent artifacts.
Keywords:
Technological Singularity; Accelerated Change; Artificial (General) Intelligence; apophenia; pareidolia; complexity; research focused social network; networked minds; complexity break; complexity fallacy
"Any fact becomes important when it's connected to another"

(Umberto Eco,

Foucault's Pendulum

)
1. A Pretext
The popular understanding of the Future(s) and, especially, of AGI and/or of the TS seems to be related
to patternicity
[
1
],
apophenia
[
2
] and
pareidolia
[
3
].
We care about the future because, as living beings, we are "programmed" for the conservation of our lives despite threats, challenges, and changes.
When the future has become an essential part of their lives
and
their language(s), pre-human beings have become human beings.
Change, the possibility of change, and the power-of-realization/of-becoming-real of the possibility/virtuality-of-change are essential parts of our relationship with reality, with what- is.
Because nothing can be without the power-to-be, the power to erupt from what-is-virtual into what-is-real [
4
] (pp. 91–92), this power-of-being/power-to-be is fueling both our future(s) and our studies of the future(s).
2. The Fascination with the Future: Foresight Studies Require an Appropriate Methodology
Confronted with the challenge of correctly understanding, representing, and managing the future(s) of humankind and, especially, future discoveries in science and breakthroughs in technology, we have, primarily, to correctly deal with our perplexities and expectations related to them, and to find the most probable behavior of such complex systems as the human brain/mind, human society, science and/or technology for our best future(s).
Let us remember that, when "the simple yet infinitely complex question of where is technology taking us?" [
5
] was asked, our times were described as the "Age of Surprise."
It is a "concept originally described by the U.S. Air Force Center for Strategy and Technology at The Air University" [
5
], a part of the Blue Horizons project [
6
], writes Reuven Cohen.
In fact, the Age of Surprise is a situation in which "the exponential advancement of technology" has just reached "a critical point where not even governments can project the direction humanity is headed" [
5
].
What is interesting for this paper's theme is the forecast made by some researchers of "an eventual Singularity where the lines between humans and machines are blurred" [
5
].
There is increasing awareness related to technological changes and breakthroughs.
Under this metaphor, but also considering the necessity of finding the best solutions in order to not engage humankind in catastrophic, global, and existential risks [
7
] and, especially and more specifically, in
existential technological risks
, it is essential, from a scientific approach,
to not accept that it is natural to find what we expect to find
,
nor to project our expected finds as sound scientific results
. Yet, it is also important
to not reduce the complexity of the analyzed systems—TS or AGI—to the linearity of a predictable use of data
, when dealing with the future(s).
In fact,
to date, there is no such
scientific field
as future studies
[
8
]/
foresight studies
, even though there are such claims [
9
].
Because future-related reasoning is probabilistic, a hard science of the future is problematic, as we cannot decide with any accuracy about the truth or falsehood of our judgments on future actions, or on the existence of future beings and future artifacts. As one of the reviewers of this paper rightly observed, in science we make predictions that can be "evaluated according to available experience" and this is a sign that "nevertheless, the science is possible." Indeed, a probabilistic truth engages a re-evaluation of the classic two-dimensional models of reasoning in favor of a discussion related to an unified model of reasoning [
10
].
The sense of the above revised statement is related to some of the observations made by Samuel Arbesman in his book
The Half-life of Facts: Why Everything We Know Has an Expiration Date
[
11
]. Even though I could not access the contents of the book, I have understood, from the review by Roger M. Stein, that
in science, acquired knowledge has a pace of overturn
[
12
], and, from the paper of James A. Evans on "Future Science," that
innovation has been decreasing, instead of accelerating, in the last several decades
[
13
].
This is why it is difficult and problematic to claim the status of a "hard" science for foresight studies.
Perhaps the explanation for such a problematic status could be related not only to the complexity of the future-related models of the evolution of science and technology (as proven in "The Age of Surprise" report), but, also, to Aristotle's legacy [
14
] regarding the problem of future contingents [
15
] and/or to Charles Sanders Peirce's observation that, in order to reach, through inquiry, an objective scientific understanding we have to eliminate such human factors as expectations and bias ([
16
] pp. 111–112).
A major issue in the study of future(s) is reaching the best
probably
correct understanding. For such an accomplishment,
we have to accept both the complexity of the world and the complexity of the human being(s)
.
This is why, first of all, we need to reject any reductionist perspective.
There is a powerful reductionist tendency in scientific studies, as "the world is still dominated by a mechanistic, cause and effect mindset with origins in the Industrial Revolution and the Newtonian scientific philosophy" [
17
].
Beyond the radical claim in the sentence quoted above, the existence of such reductionist tendencies is of importance for TS researches, as such tendencies are detectable in various perspectives on AC, AGI, and TS as well. This is why, as one of the reviewers concluded, this paper is focused on "criticism of the TS/AC/AGI claims based on reductionism and extrapolation."
In the following pages, I will briefly consider some examples of the perverse power of our expectations related to the future(s) of technology and, especially related to TS, I will engage in a short discussion based on the observation that there are few studies on TS deployed from a complexity perspective.
3. The Apophenic Face(s) of Our Technology- and Science-Related Expectations: The "Law of Accelerating Returns" (LAR)
One of the most appealing ideas in the debates of our times is so-called "accelerating change" (AC)/the "law of accelerating returns" (LAR).
In general terms, AC is just a perceived change of rhythm in the regularity of the advances of technology and science through the ages.
In fact, it is such a rapidly growing topic that, using the simplest Google search, on 4 October 2018, I found not only about 16,800,000 results for "foresight" about 11,700,000 results for "foresight studies," and about 14,900,000 results for "foresight study," but also 20,400 results for "foresight science," too.
To date, there is neither general acceptance of AC's existence, nor a final rejection of it.
Under these circumstances, a statement such as "one can criticize 'proofs' of AC for a subjective selection of technologies, but no one can claim that within the selective set of technologies there is no AC" (made by one of the reviewers of this paper) is most likely a subjective one.
My main concerns are: How is it/could it be/should it be established that a "selective set of technologies" should be generally accepted? and Is it permitted to extrapolate those particular findings to a universal set of technologies or even to the status of a universal phenomenon?
Because, for now, the "infomorphic" paradigm/assumption is still debated and because this is the ground/ultimate source of the TS hypothesis, the results of the debates on TS cannot be, consequently, boldly and clearly related to truth or falsehood.
As TS is deeply related to AC—it is not possible without it!—a good method for an appropriate TS study is to remember the claims of one of the most well-known defenders of TS, Kurzweil.
For that "eloquence," I choose to refer here, especially, to Kurzweil.
(In the meantime, the "infopomorphic" assumption remains active for TS's defenses).
Indeed, two asymptotes will constitute a hyperbola under certain conditions.
One of the reviewers observed, "The asymptote in TS appears, because each next type of cybernetic systems develops with a higher exponential growth rate, and the time between metasystem transactions to novel cybernetic systems becomes smaller."
The reviewer continues: "consequently, it doesn't really matter if the exponential growth of individual technologies continues infinitely or becomes S-shaped curve with a horizontal asymptote if new technologies outperform older technologies with higher growth rate."
I have some difficulties in understanding the extrapolation made above.
One could ask: Why have Kurzweil and the defenders of AC reached the idea of exponential growth?
An appealing but unexpected answer is quite simple: they have searched for data to confirm their expectations.
Kurzweil's LAR is an example of connection created by its own expectations.
Those "infomorphic" paradigm-related theories of everything are, very probably, just examples of the (false) perceptions (and beliefs) created by our expectations.
As already underlined above, the status of AC as an objective tendency is still under debate. So is the status of LAR.
AC and LAR seem to be just cognitive biases related to the representation of future-related expectations.
4. There Is More than
Apophenia

in Kurzweil's TS; It Is

Pareidolia

My two hypotheses about Kurzweil's famous "law of accelerating returns" (LAR) as undoubtedly leading to TS are the following.

One of the reviewers of this paper wrote, "one absolutely cannot agree that exponential growth is a false pattern observed in random data as supposed by the notion of apophenia."

This is Kurzweil's opinion, too.

The models of growth could have several types of representation, not only the exponential one.

When rejecting exponential growth as a most likely false pattern, we come up against the following problem: it is based on the evolutionary acquisition of patternicity as a specific human adaptive behavior, in order to ensure or facilitate individual or collective survival.

So, how can we trust the claims related to TS's possibility or even inevitability? Under these circumstances, as one of the reviewers correctly observed, when, maybe, "we can easily trust the claims related to TS's possibility," "we cannot so easily trust the claims related to TS's inevitability." I would add here: our trust is also a patternicity result.

The specificity of LAR's apophenia and TS's pareidolia (through AGI) is related to the direction of our perceptions and expectations—they are both future-related.

The arguments for such claims will be deployed in the following pages.

Or, rather, there is no one pace of progress, but paces of progress.

From such a perspective, Kurzweil's LAR and Richard W. Paul's plead for AC are just unnecessary reductions of the complexity of the tendencies in the evolution of science and technology, to the linearity and predictability of our expectations.

Unifying and reducing all the rhythms and paces of progress to one perspective and equation is an exercise of the imagination, under the question: How will the perfect future world be?

It is a semiotic situation as "any fact becomes important when it's connected to another" (Eco).

The data related to technological change and advancement have been altered, manipulated, and adjusted in order to fit his expectations related to AC, LAR, and TS.

The best example is this common and uncritical expectation: AGI, leading, inexorable, to TS will be human-like—at least in its first stages.

One cause of the anthropocentric claims of the Singularitarians could be this: we are often forgetting that, from a false assumption—in this case, there is AC/LAR and AGI will be, necessarily, a human-like intelligence—based on an apophenic/pareidolic future related hope, one can deduce anything.

TS's pareidolia cannot be validated as true or false, even by the most brilliant minds.
5. The TS-Related "Complexity Fallacy"
Another cause of such anthropocentric claims could be related to a wrong understanding and management of complexity, not only in the research on TS, but in the very way we are creating our hardware and software.
All these discussions, debates, and controversies related to AC, AI/AGI, or TS seem to be like the birds' uncoordinated songs in a wood and not like a symphony. There is a rise in different perspectives, definitions, and claims related to them.
Under these circumstances, systematizations and classifications have been proposed in papers and/or books/collected papers signed/edited by various researchers: Anders Sandberg [
31
], Nick Bostrom [
83
], Nikita Danaylov (Socrates) [
84
], Amnon H. Eden, James H. Moor, Johnny H. Søraker and Eric Steinhart [
32
], Eliezer S. Yudkowsky [
85
], IEEE's
Spectrum. Special Report on Singularity
[
86
], John Brockman [
87
], Adriana Braga and Robert K. Logan [
75
], etc.
In fact, the history of science and technology is full of attempts to reduce the richness of the facts, phenomena, entities, and beings to a Mendeleevian-like table. "This is the Faustian knowledge management philosophy assumed by the Wizard Apprentice" [
88
].
This is "a sign of a deep belief in the power of the taxonomy." It is also "an effect of the so-called presupposition of the 'generic (=linear and fully predictable) universality'—one of the best expressions of a mechanistic perspective on the world." It is about "claiming that we could fully reverse a deduction," usually "through strait abduction, in an attempt to rebuild the so called unity of the unbroken original mirror of the human knowledge using its fragments" [
88
].
This is about dismissing complexity for the profit of reductionist simplicity.
I would name this reduction of what is complex—and so, nonlinear and unpredictable, but also partially predictable—to what is linear and predictable, when naturally predictable (just complicated), the complexity fallacy.
There are many AC, LAR, AI/AFI, and TS approaches deploying such a fallacy as an effect of an unconscious
patternicity
.
This situation suggests that AC, LAR, AI/AGI, and TS have to be studied from a perspective really based on complexity, as was already suggested by Paul Allen—with his "complexity break" argument against TS [
89
] and Viorel Guliciuc—with his examples of differences between computers' and human networked minds' functioning [
88
].
Paull Allen observes, "the amazing intricacy of human cognition should serve as caution for those who claim that the Singularity is close," as "without having a scientifically deep understanding of the cognition, we cannot create the software that could spark the Singularity." So, "rather than the ever-accelerating advancement predicted by Kurzweil," it is more likely "that progress towards this understanding is fundamentally slowed by the complexity break" [
89
].
Complexity break
is described in these words: "as we go deeper and deeper in our understanding of natural systems," we find we need "more and more specialized knowledge to characterize them, and we are forced to continuously expand our scientific theories in more and more complex ways." So, "understanding the detailed mechanisms of human cognition is a task that is subject to this complexity brake" [
89
].
As quoted in this special issue of
Information
, "human minds are incredibly complex" [
76
] and the way humans think in patterns is very different from AI/AGI data processing [
90
]. So, an AGI leading to TS should necessarily embody human-like emotions in cognition [
91
].
Moreover, AI researchers—and let us assume that the same is applicable to AGI and TS researchers—"are only just beginning to theorize about how to effectively model the complex phenomena that give human cognition its unique flexibility: uncertainty, contextual sensitivity, rules of thumb, self-reflection, and the flashes of insight that are essential to higher level thought" [
89
].
As Robert K. Logan and Adriana Braga argued in their essay on the weakness of the AGI hypothesis, there is real danger in devaluing "aspects of human intelligence" as one cannot ignore or consider in a reductionist way "imagination, aesthetics, altruism, creativity, and wisdom" [
75
].
There is no need here to consider again the discussion about the strong AGI's hypothesis and the dangers AGI's (human-like) misunderstanding could bring with it, already detailed in their paper and/or in other papers from this special issue of
Information
[
90
,
91
,
92
].
Instead, what it is important for this paper is the conclusion of one of the papers from this special issue that even id "it is possible to build a computer system that follows the same laws of thought and shows similar properties as the human mind," "such an AGI will have neither a human body nor human experience, it will not behave exactly like a human, nor will it be "smarter than a human" on all tasks" [
93
]. A similar conclusion related to something other than full human-like evolution of AGI is underlined by other researchers, too [
81
].
Accepting these observations, let us add the findings of Thomas W. Meeks and Dilip V. Jeste in the neurobiology of wisdom when dealing with uncertainty: "prosocial attitudes/behaviors, social decision making/pragmatic knowledge of life, emotional homeostasis, reflection/self-understanding, value relativism/tolerance" [
94
].
The AGI strong hypothesis is not just "very complicated," as noted by one of the reviewers of this paper, but complex. That is, complexity cannot be reduced to complicatedness.
However, the next observation of the reviewer can be fully accepted: "The author may want to revise the conclusion 'AGI is impossible' to 'The possibility of AGI cannot be established by the arguments provided via TS and AC'."
Indeed, we do not have, for now, enough evidence to decide if (human-like) AGI is possible or impossible, nor enough arguments to sustain the truth of the claim that AC, through AGI, will necessarily lead to TS.
This is why most of the current perspectives on AGI and TS seem to be unprepared to really deal with their complexities, and this is "why they are facing so many difficulties, uncertainties and so much haziness in the full and appropriate understanding of the TS" [
88
].
6. Conclusions
a. The appropriate study of AC, AI/AGI, and/or TS requires the complexity of networked minds in order to manage the complexity break and avoid the complexity fallacy and different forms of wrong patternicity.
The argument for such a claim is, somehow unexpectedly, offered by the very functioning of the social networks specialized and focused on research.
CrowdForge [
95
], EteRNA [
96
], and other experiments [
97
], for example, proved the power of networked minds having a research task,
when dealing with missing data
, to obtain, each time, "impossible" correct results, when the most powerful computers and software were not able to reach any correct result.
EteRNA players, for example, were "extremely good at designing RNA's." Their results were most surprising "because the top algorithms published by scientists are not nearly so good. The gap is pretty dramatic." This chasm was attributed to the fact that "humans are much better than machines at thinking through the scientific process and making intelligent decisions based on past results." This conclusion is of the greatest importance for AGI and/or TS studies as "a computer is completely flummoxed by not knowing the rules"; when human "players are unfazed: they look at the data, they make their designs, and they do phenomenally" [
96
].
What could explain the clear gap between human networked minds and computers' results?
I think the answer is this: our intelligent artifacts are built based on linear, predictable, and predictable reasoning and not based on complex, nonlinear, partially predictable, and unpredictable reasoning.
"Linear and predictable" in the above claim means without "imagination, aesthetics, altruism, creativity, and wisdom" [
80
]. Our intelligent artifacts are executing sets of logical steps—algorithms. They cannot imagine, create, feel, or be wise. Everything they do is measurable and predictable.
Human reasoning is so complex that it cannot be reduced to a single logical rule/type of reasoning or to any set of logical rules/types of reasoning covering all possibilities. Human reasoning is more than "complicated": it is complex and so
irreducible
to a machine-like model. In most cases, in human reasoning there is no unique logical rule compulsory to obtain a result—just because from a false claim/sentence/proposition we will always be in a position to obtain both the truth and the falsehood. Human logical "machines" have holes in their functionning. There is some predictability in human reasoning, but it remains
not fully predictable
.
Yet, when it comes to the future, and especially TS, considered as a "rupture in the fabric of human history" [
19
], we cannot have enough predictable information about how it would be because we do not know what, why, and how exactly TS will be or, even, more likely,
if
TS will be, so it is unpredictable.
For example, even the merging of humans with machines is complicated, as there are many meanings, types, and grades of merging [
98
].
So, any number of networked computers will retain this weakness: they cannot find a result if some data is missing, when social networked minds can—as in the examples above.
We have to keep in mind "the power of the human mind to collectively surpass the power of computation of our 'smartest' machines just because the machine (=AI/AGI), being created using a linear reasoning, cannot deal with the complexity" [
88
].
b. TS would require redesigning AGI based on complexity—which we are not sure is possible.
Reaching TS (through AGI) seems to not be possible without reaching real complexity (not complicatedness!) in designing our "intelligent" artifacts. Redesigning hardware‒software systems based on nonlinearity and unpredictability is not yet possible without fully understanding the complexity of our human, not-machine, minds. Maybe it will never be possible. Until then, TS is more likely a creation of our best expectations, an example of pareidolia, based on reductionism, subjective extrapolation, and imagination.
So, let us think (digitally) wisely and wait for the surprises the future(s) is/are preparing for us already!
Funding
This research received no external funding.
Acknowledgments
The author expresses his deep gratitude for the reviewers' comments, for the editors of this special issue, for my friend Dr. Iulian Rusu – the Editior iu Chief of the
European Journal of Science and Theology
, for the assistant editor assigned for this paper submitted to
Information,
for the copy-editors, proofreaders and typesetting specialists of MDPI, and to his wife MA Gabriela Guliciuc. The author kindly asks that no reference to his ideas deployed in this paper should be in any way used without his permission until the publishing of this paper in
Information
or another journal.
Conflicts of Interest
The author declares no conflict of interest.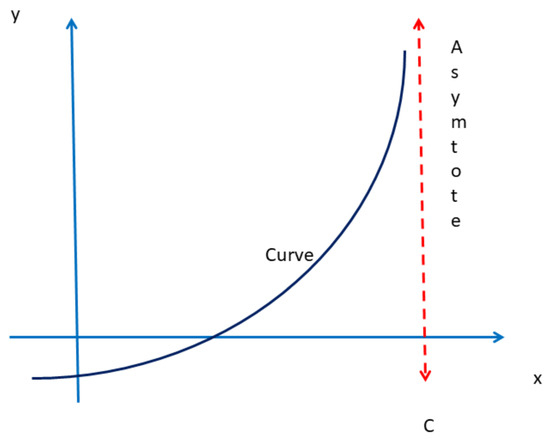 Figure 1.
Vertical asymptote as in the following source: [
37
].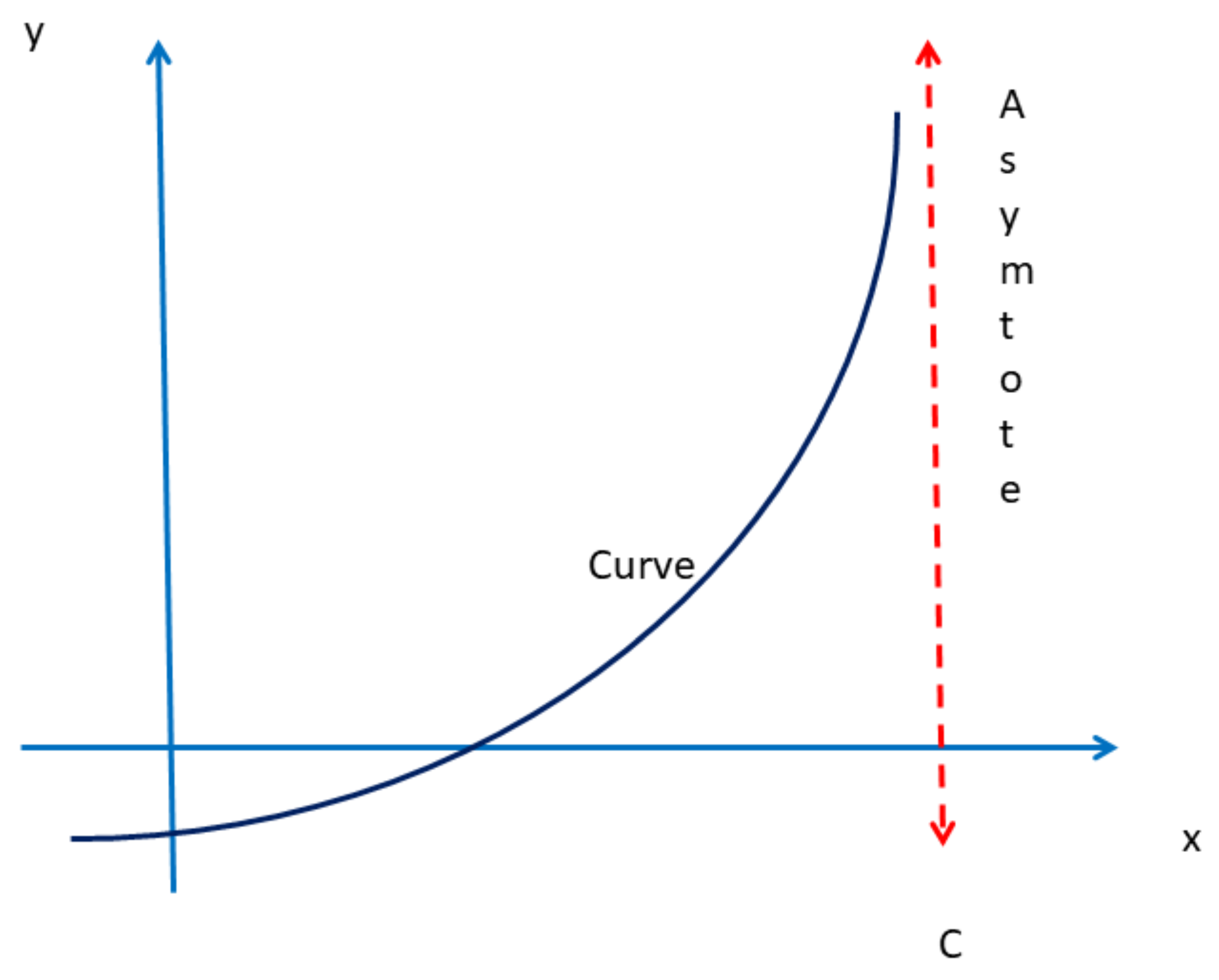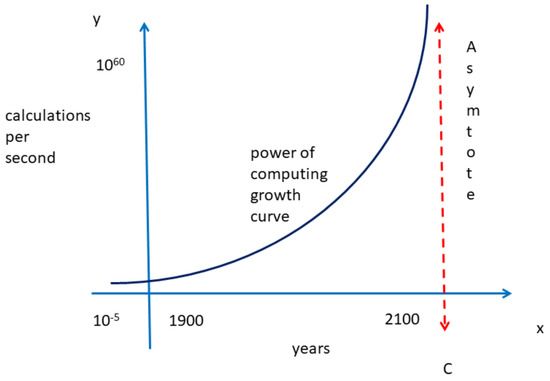 Figure 2.
The exponential scale of technological growth (as in [
19
]).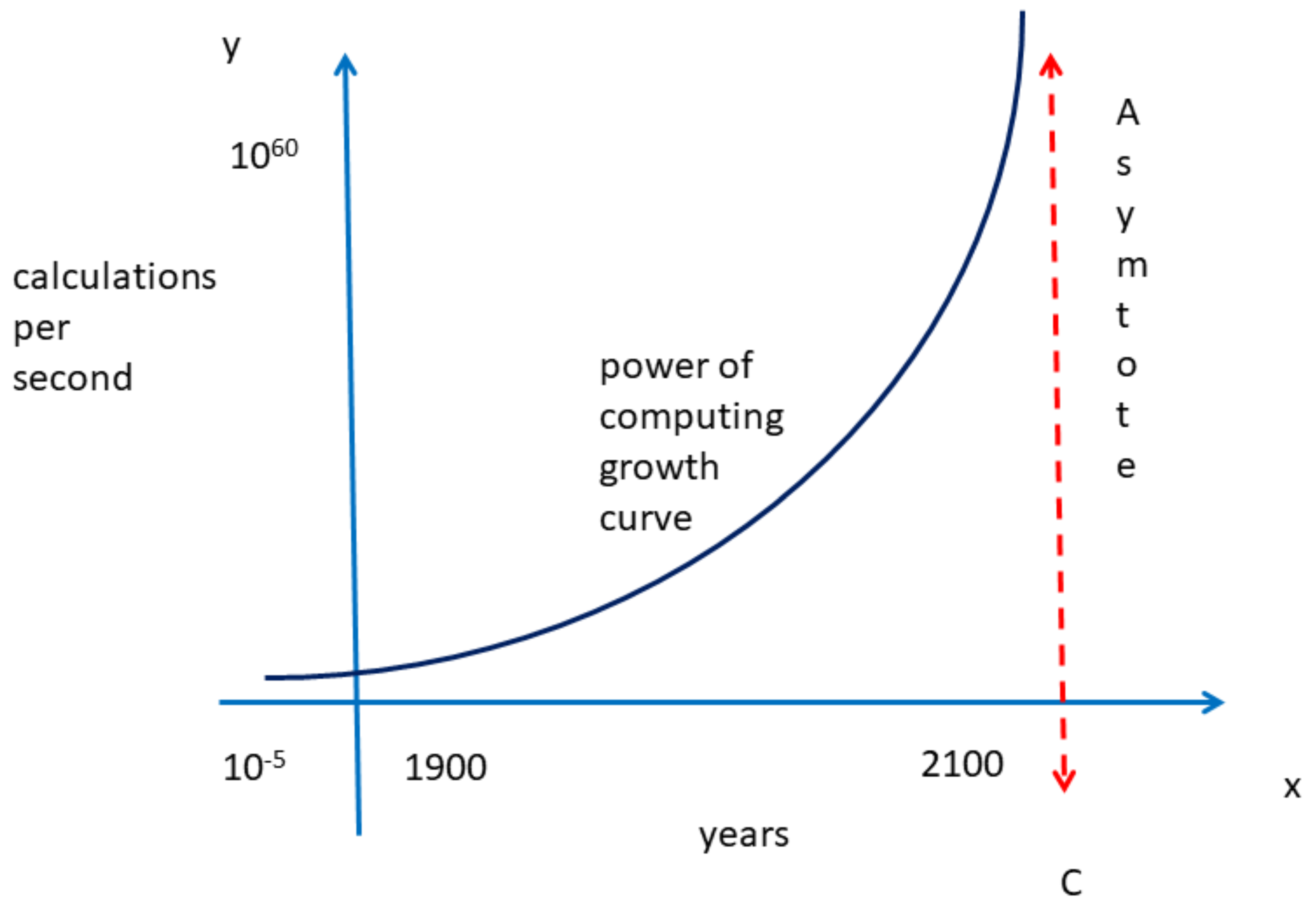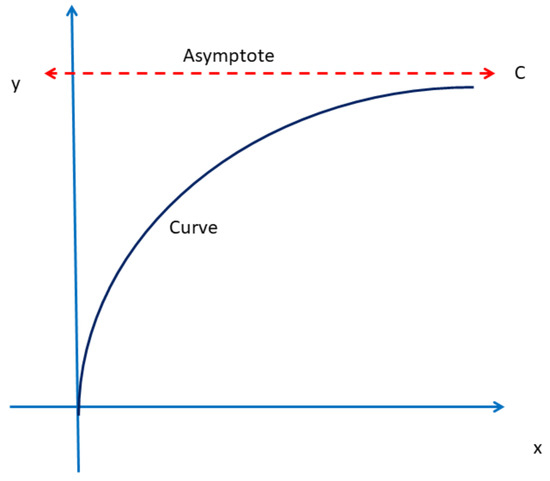 Figure 3.
Horizontal asymptote as in the source: [
39
].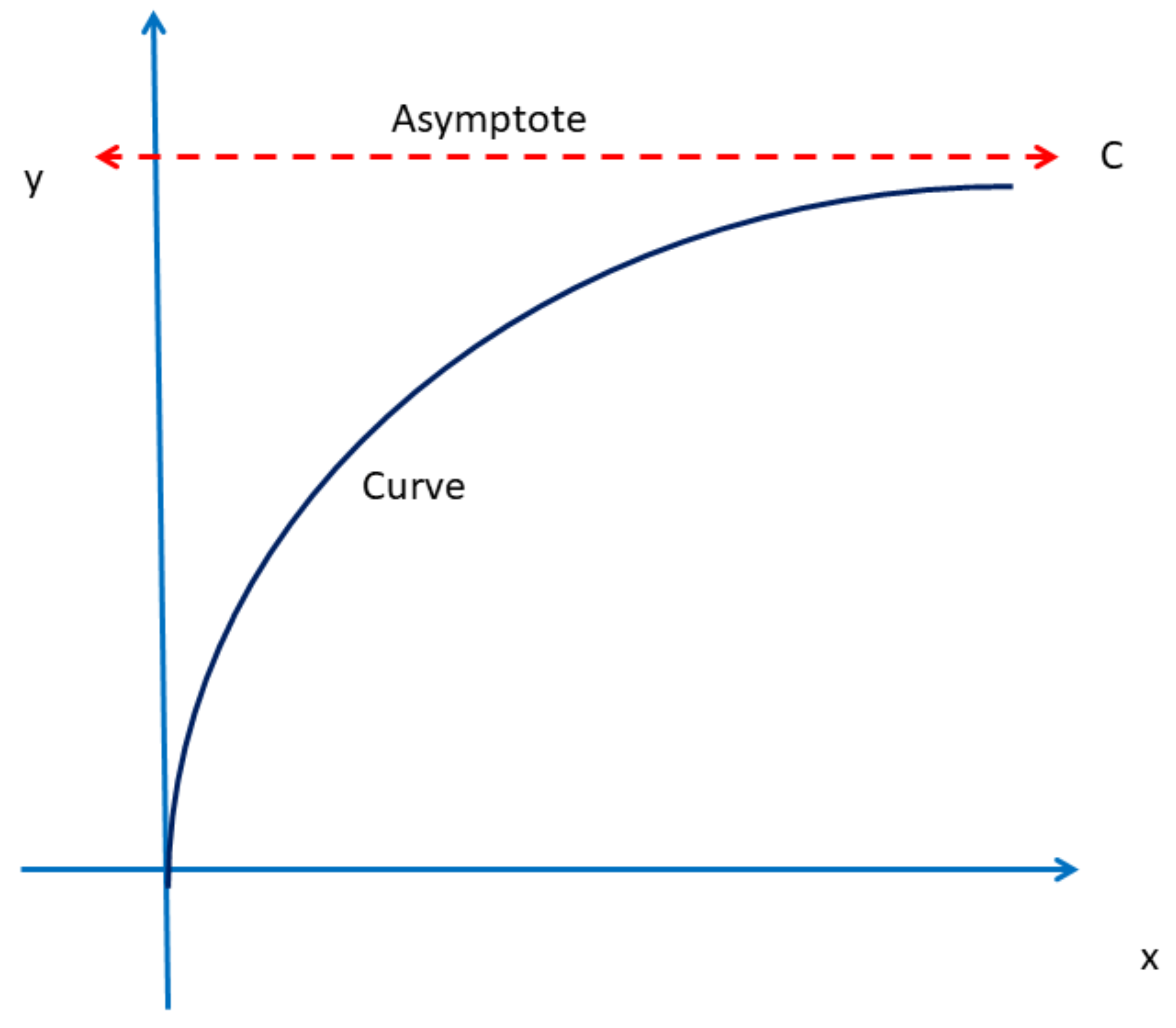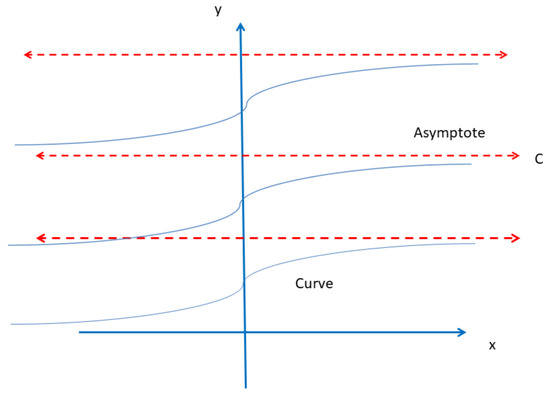 Figure 4.
Horizontal asymptotes [
39
].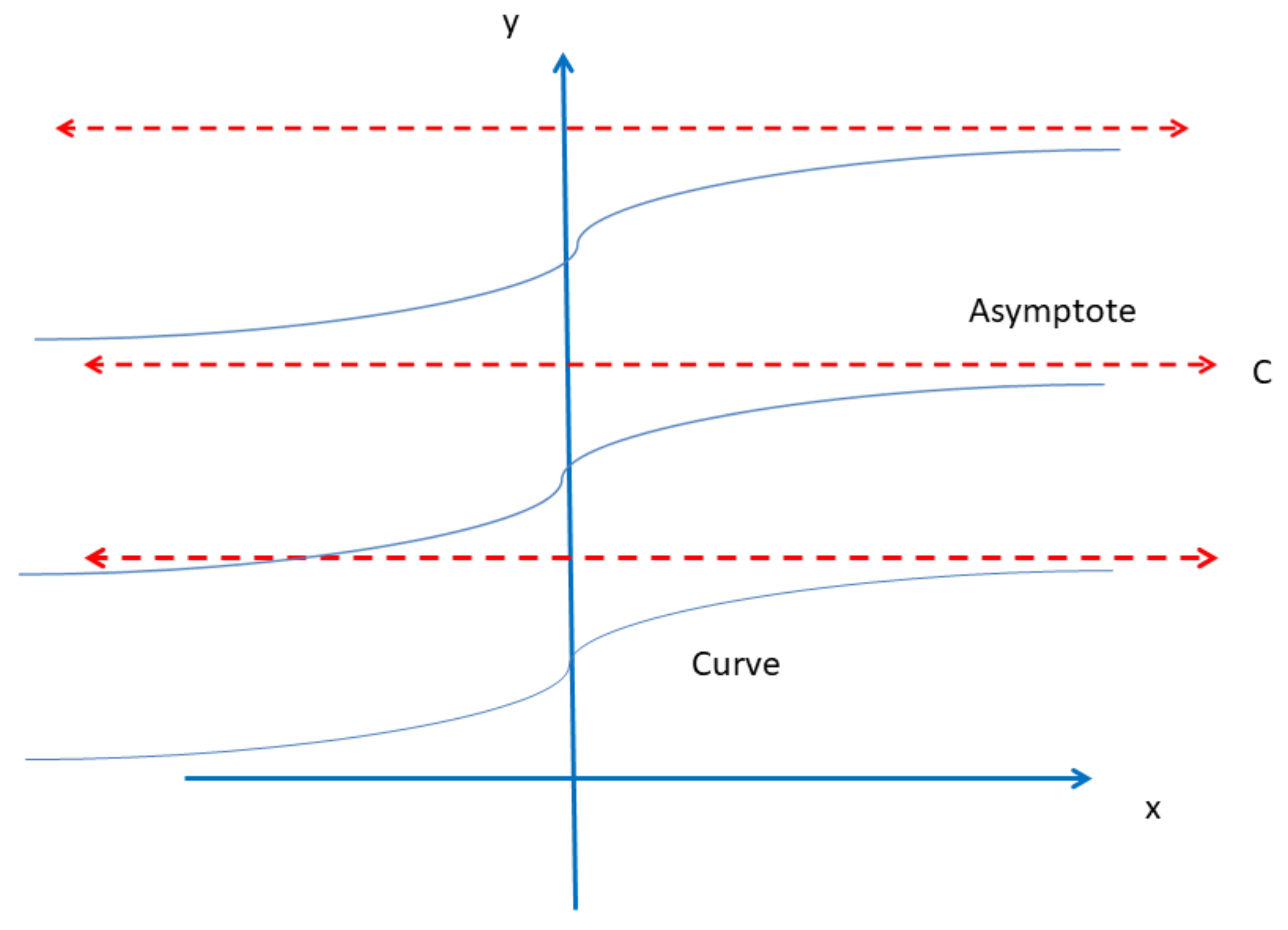 © 2018 by the author. Licensee MDPI, Basel, Switzerland. This article is an open access article distributed under the terms and conditions of the Creative Commons Attribution (CC BY) license (http://creativecommons.org/licenses/by/4.0/).