Open Access This article is
freely available
re-usable
Article
An Overview on Evaluating and Predicting Scholarly Article Impact
1
School of Software, Dalian University of Technology, Dalian 116620, China
2
Computing Center, Anshan Normal University, Anshan 114007, China
3
Library, Anshan Normal University, Anshan 114007, China
4
School of Information Technology and Mathematical Sciences, University of South Australia, Mawson Lakes, SA 5095, Australia
*
Author to whom correspondence should be addressed.
Academic Editor: David Bawden
Received: 23 May 2017 / Accepted: 23 June 2017 / Published: 25 June 2017
Abstract
:
Scholarly article impact reflects the significance of academic output recognised by academic peers, and it often plays a crucial role in assessing the scientific achievements of researchers, teams, institutions and countries. It is also used for addressing various needs in the academic and scientific arena, such as recruitment decisions, promotions, and funding allocations. This article provides a comprehensive review of recent progresses related to article impact assessment and prediction. The review starts by sharing some insight into the article impact research and outlines current research status. Some core methods and recent progress are presented to outline how article impact metrics and prediction have evolved to consider integrating multiple networks. Key techniques, including statistical analysis, machine learning, data mining and network science, are discussed. In particular, we highlight important applications of each technique in article impact research. Subsequently, we discuss the open issues and challenges of article impact research. At the same time, this review points out some important research directions, including article impact evaluation by considering Conflict of Interest, time and location information, various distributions of scholarly entities, and rising stars.
Keywords:
scholarly big data; article impact; machine learning; data mining
1. Introduction
Scholarly impact acts as one of the strongest currencies in the academia, and it is frequently measured in terms of citations of research articles. Citations indicate the impact of scholars, articles, journals, institutions, and other scholarly entities [
1
]. The influence of an article is often quantified as an index, which represents its contributions for improving research finding by other scholars [
2
].
Researching the impact of scientific articles mainly focuses on two interrelated questions: how to assess the past impact of an article, and how to accurately predict its future impact? The study of article impact is important for evaluating the impact of individual scientists, journals, teams, institutions, and even for countries. It is also crucial for addressing the following fundamental problems, such as rewards, funding allocation, promotion, and recruitment decisions. Evaluating and predicting article impact have attracted great attention in the academic and scientific arena over the past decades. The changes occur from one dimension to multiple dimensions, from unstructured metrics to structured metrics (
Figure 1
). Citations [
3
] are a popular indicator to measure article impact. However, it only focuses on the perspective of single dimension. Altmetrics [
4
] provide information on downloads, views, shares, and citations to assess article impact from a multidimensional perspective. PageRank has been introduced to evaluate article impact [
5
], which can be viewed as a milestone in impact research. It has shown a structured method to quantify article impact. Meanwhile, in order to objectively evaluate article impact and accurately predict its future impact, machine learning and data mining techniques play crucial roles, such as mining the important characters of scholarly networks and optimizing the performance of algorithms [
6
].
What drives the rapid development in evaluating and predicting article impact? The past decade has witnessed the rapid growth in the ability of network platforms to gather and transport a large number of academic data, i.e., a phenomenon usually referred to as "Big Scholarly Data" (see
Figure 2
). Different networks with various scholarly entities and their relationships can be observed from
Figure 2
. Scholars can collect such data to solve the problems of scholarly impact evaluation. They can obtain useful insights from such datasets by leveraging statistical analysis, machine learning, data mining, and network science techniques. The academic data with exponential growth become essential to develop the scholarly impact metrics. The metrics combine the statistical and computational considerations. However, one problem cannot be ignored. That is these datasets are personalized. SCOPUS contains abstracts and citations of journal papers. Web of Science offers online scientific citations by Thomson Reuters. PubMed includes more than 23 million citations for biomedical literature. CiteULike allows users to search and share scholarly papers. Mendeley can not only be used to manage references, but also it is an academic social platform. Digital Bibliography & Library Project (DBLP) shows publications of journals and conferences, not including citation information. Microsoft Academic Graph (MAG) includes heterogeneous information with publication records, authors, institutions, journals, conferences, fields of study and citation relationships. In these raw data, the most prominent problems are loss and incompletion of data, which probably will result in poor performance of evaluation and prediction to some extent. Data cleaning and supplement are necessary for accurately capturing the evaluative and predictive results. Besides, these data sets can be jointly investigated to complement one another. For example, DBLP does not include citation information, but it has an effective mechanism to process name disambiguation. Integrating DBLP dataset and the citation information of SCOPUS can meet the needs for some scholarly analysis.
2. Key Techniques
In this section, we discuss four crucial techniques for evaluating and predicting article impact including statistical analysis, machine learning, data mining and network science techniques.
3. Article Impact Metrics
4. Article Impact Prediction
Prediction of future impact is an emerging area, researching on the "science of science". Impact prediction is more important compared to impact evaluation. Impact prediction can directly allocate funds, scientific awards, and other decisions.
Figure 5
provides a flowchart of a computational model for predicting article impact. The left column (Input) is the input data, capturing publication, citation, downloads, reviews, and other information. The center column (Model) describes model learning and testing. The right column (Output) provides a few specific examples which the model can predict.
Specially, article impact prediction has attracted a lot of attention in recent years. Predicting an article impact mainly focuses on predicting citations or citation distributions through network science, data mining and machine learning techniques (see
Table 1
). Early citations of an article played a critical role for predicting its long-run citation [
54
]. They showed that university ranking with cumulative citations can be easily predicted by early received citations across the economics discipline at a university. Cao et al. [
55
] presented a Gaussian mixture model to predict future citations of papers based on short-term citation activities. Peter et al. [
56
] constructed a keyword-term network to predict the numbers of citations in the future by analyzing the recursive centrality measures, indicating document centrality has higher predictive ability for the future citations of papers. Based on quantile regression, Stegehuis et al. [
57
] proposed a model to predict the probability distribution for future citations of an article, and considered two key features: early citations and journal impact factor. Yu et al. [
58
] leveraged four categories of features, including articles, authors, citations, and journals to predict future citations of an article based on stepwise regression analysis. Based on co-authorship networks, a Machine Learning Classifier was developed to predict whether a publication would get high citations [
59
]. Based on Random forest classifier, they showed a supervised classification model, in which multidimensional feature vectors were considered to predict the future citations of a paper. Wang et al. [
3
] constructed a generative model for predicting long-term impact of an article by using three key factors: preferential attachment, citation trend, and fitness. In short, previous researchers are mostly based on early citations for predicting the impact of paper. They mainly focus on the autocorrelation of historical data in citation network. However, a common drawback of these predictive methods is that they are dependent too much on historical citations. Exploring the fundamental characteristics of citations yielded may be able to find a novel predictive method, ignoring the early citations. In recent years, with the development of social media, social media activities are used to reflect the underlying impact of an article. For example, Tweets can predict whether an article can be cited frequently when an article was published for 3 days [
60
]. Based on a heterogeneous scholarly network, Mohan et al. [
61
] predicted academic impact by integrating the bibliometric data with the social data like weblogs and mainstream news, indicating that graph-based measure can reasonably predict the impact of early stage researchers.
There is an increasing interesting in identifying Sleeping Beauties in science. Sleeping Beauty in scientific community refers to that the value of an article can be recognized only after years of publication [
30
]. Ke et al. suggested a common mechanism using a parameter-free method to identify Sleeping Beauties on large-scale datasets.
5. Open Issues and Challenges on Article Impact Metrics
Despite pioneers have obtained success, article impact remains a young field with many open issues. In previous researches, many different datasets are usually used to quantify scholarly article impact. These granulitic and inconsistent data have been applied in various scholarly researches. Sharing datasets are necessary and valuable for objectively evaluating article impact and generating new metrics. Unified and consistent scholarly datasets are an open issue. Citation-based structured metrics are relatively new and have got less attention. Researchers consider that the important degrees of citation structures is newly shaped by PageRank and HITS algorithms introduced in scholarly networks. In addition, social dimensioned assessment and citation distributions have been less explored. Thus, multidimensional metrics for quantifying article impact are an open issue. Altmetrics have been considered for complementing article-level metrics. Pioneered researchers have made some progress. Altmetrics for evaluating scholarly article impact is still an open issue. In this open issue, locating the reasonable and available benchmarks is an urgent need to be solved.
6. Open Issues and Challenges on Article Impact Prediction
Despite our research has summarized article impact prediction so far, a great number of further issues and challenges call for our attention to predict impact accurately. In this section, we point out some potential issues except for unified scholarly datasets and benchmarks.
6.1. Sleeping Beauty
Despite of the previously analyzed Sleeping Beauties phenomena, various issues remain to be addressed in the corresponding researches. How to identify Sleeping Beauties in science? How to predict impact of Sleeping Beauties? Whether the trending topics are related to Sleep Beauties? Whether the trending topics have contributed to predict Sleep Beauties? Whether the correlations between Sleep Beauties and different journals, between Sleep Beauties and institutions can influence the impact of Sleeping Beauties? Therefore, more efforts are needed to explore these critical scientific problems.
6.2. Multidimensional Prediction
Despite pioneered researchers have obtained success from multidimensional perspective in predicting article impact, a full integration of multidimensional datasets needs to be explored in a further step. Characterizing the breadth and the depth of an article impact is unfortunately only from one single perspective. For example, previous researches generally focused on early citations to predict impact of an article [
54
]. However, little attention has been paid to location information such as institutions and countries, social relationships and citation distributions for predicting impact. Therefore, future research needs to predict article impact from multiple dimensions.
6.3. Rising Star
Predicting the fast-rising citations for an article in the future provides valuable guidance to the academia. It can help the academia to find out popular topics or new topics, advanced techniques, significant findings, etc. Meanwhile, a direct benefit is to avoid wasting time in the ocean of scholarly data for researchers. What are the features contributed to enhance an article impact? Finding these features is beneficial to predict rising star in articles.
7. Conclusions
This article presents a detailed overview of evaluating and predicting article impact. It discusses the open issues and challenges that need to be solved in a further step. At first, we have given a simple introduction about article impact research. Next, we have elaborated on core methods and recent progress. Then, we have introduced some key techniques, and some opportunities can be seen by leveraging statistics, machine learning, data mining and network science techniques. Finally, we have presented open research issues regarding the assessment and prediction of article impact, and pointed out potential research directions.
Author Contributions
X.B. conceived the study and wrote the manuscript; F.X. supervised the design and the development of the proposed study; F.Z. contributed statistical analysis work; X.B., H.L., F.Z., Z.N., X.K., I.L. and F.X. revised the manuscript; and all authors have read and approved the final manuscript.
Conflicts of Interest
The authors declare no conflict of interest.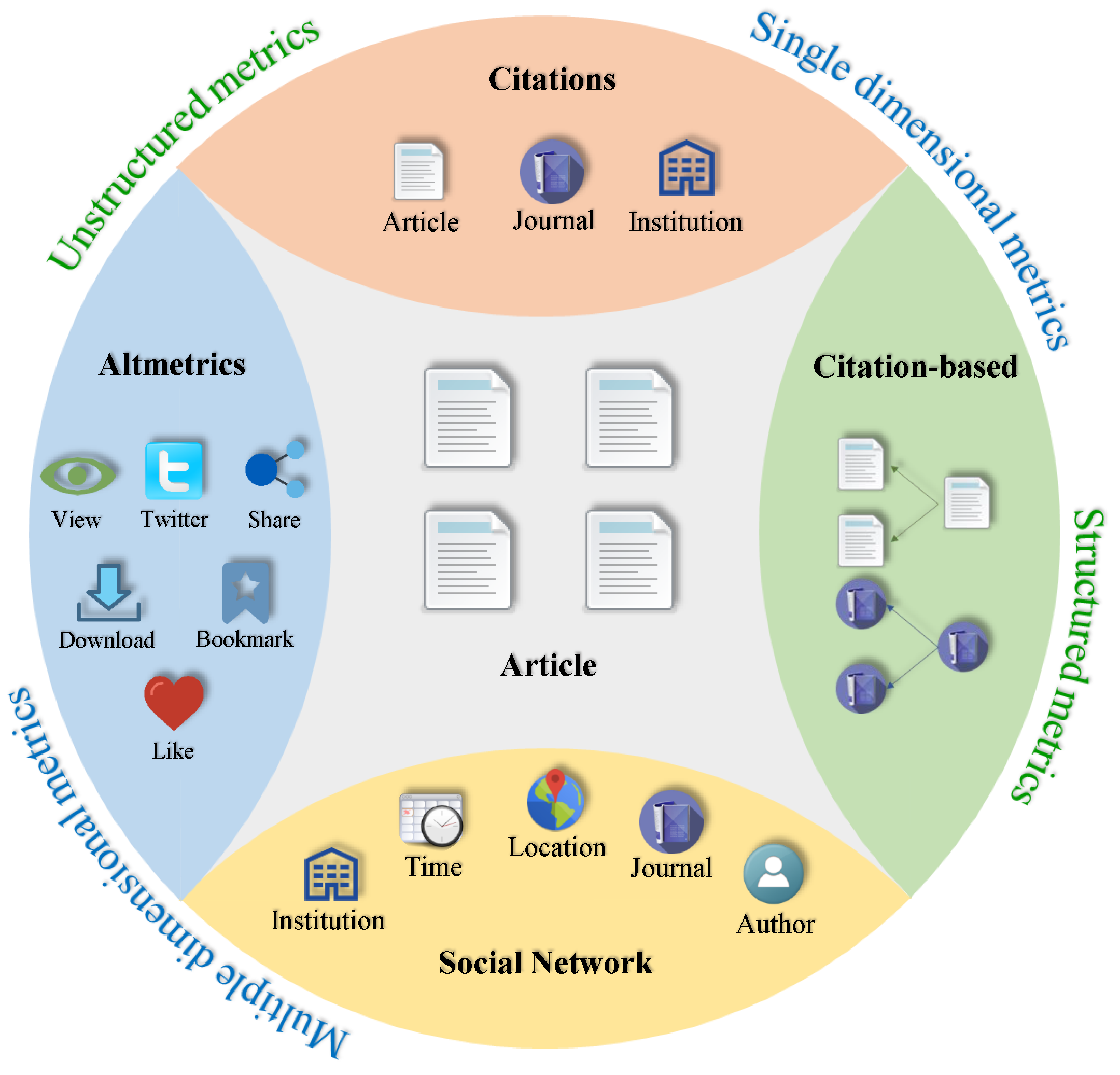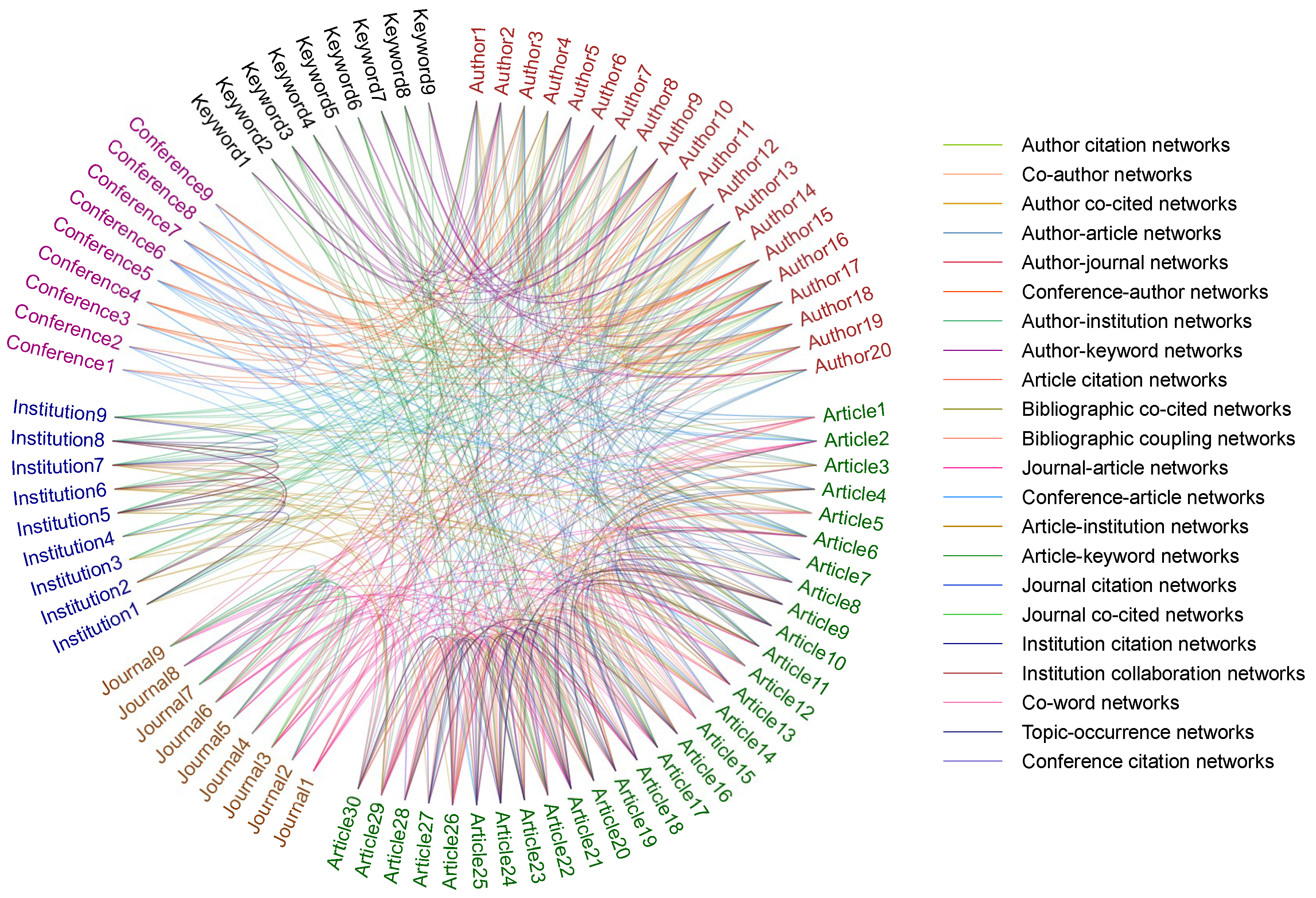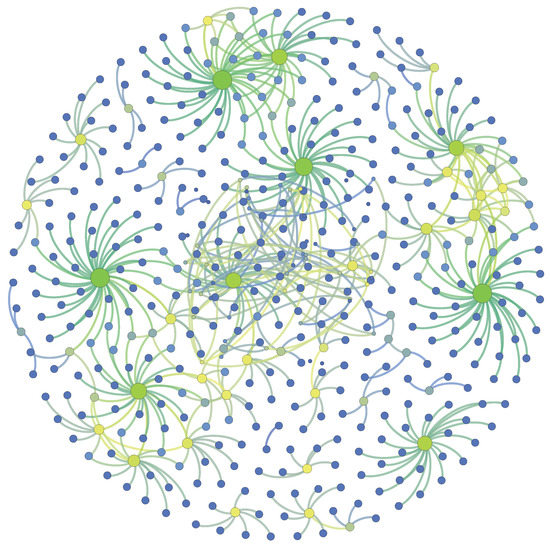 Figure 3. Characterizing citation relationships of article-article networks. The degrees of nodes range from small (blue) to large (green). The larger the degree of a node is, the more references the article has.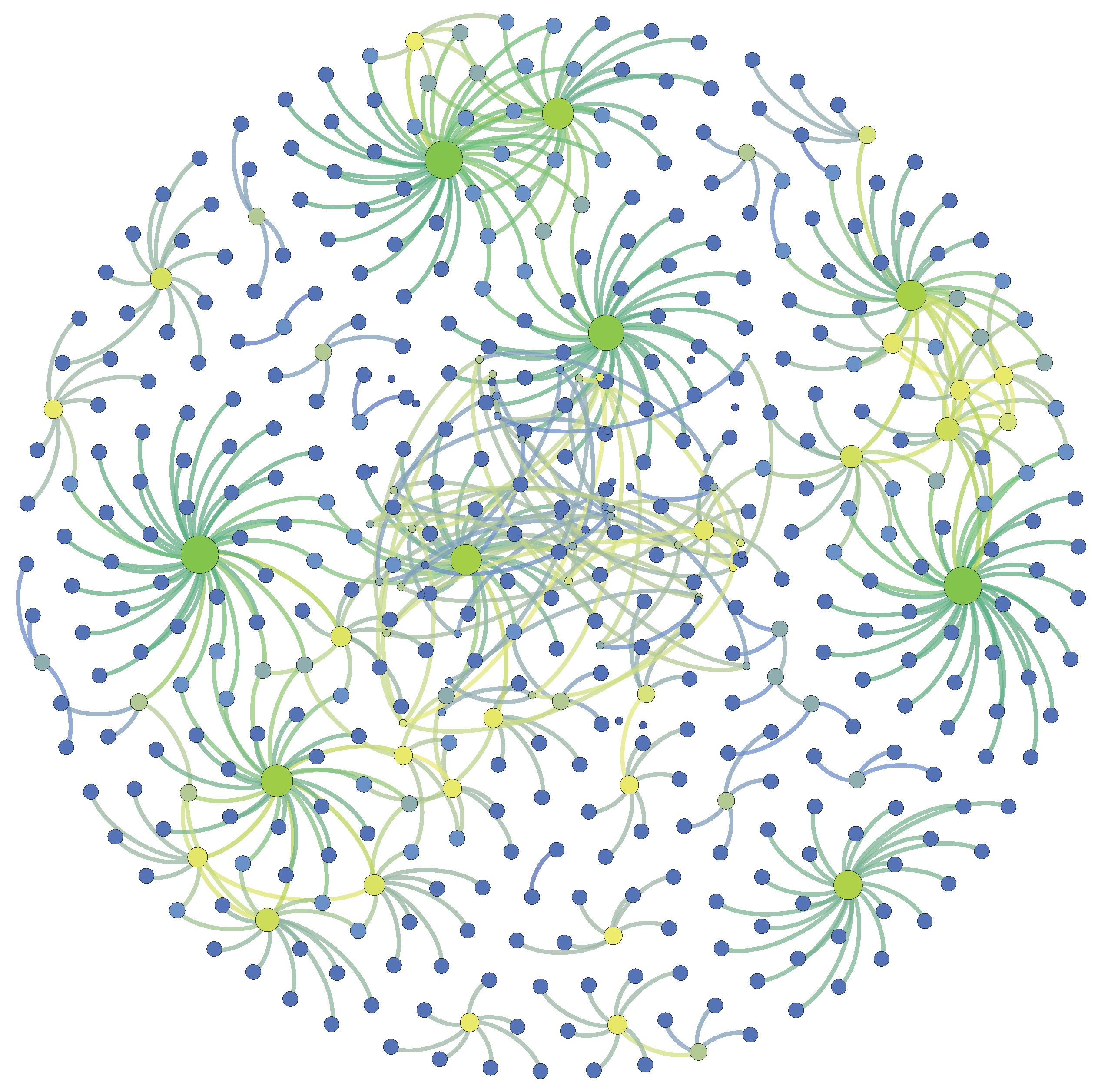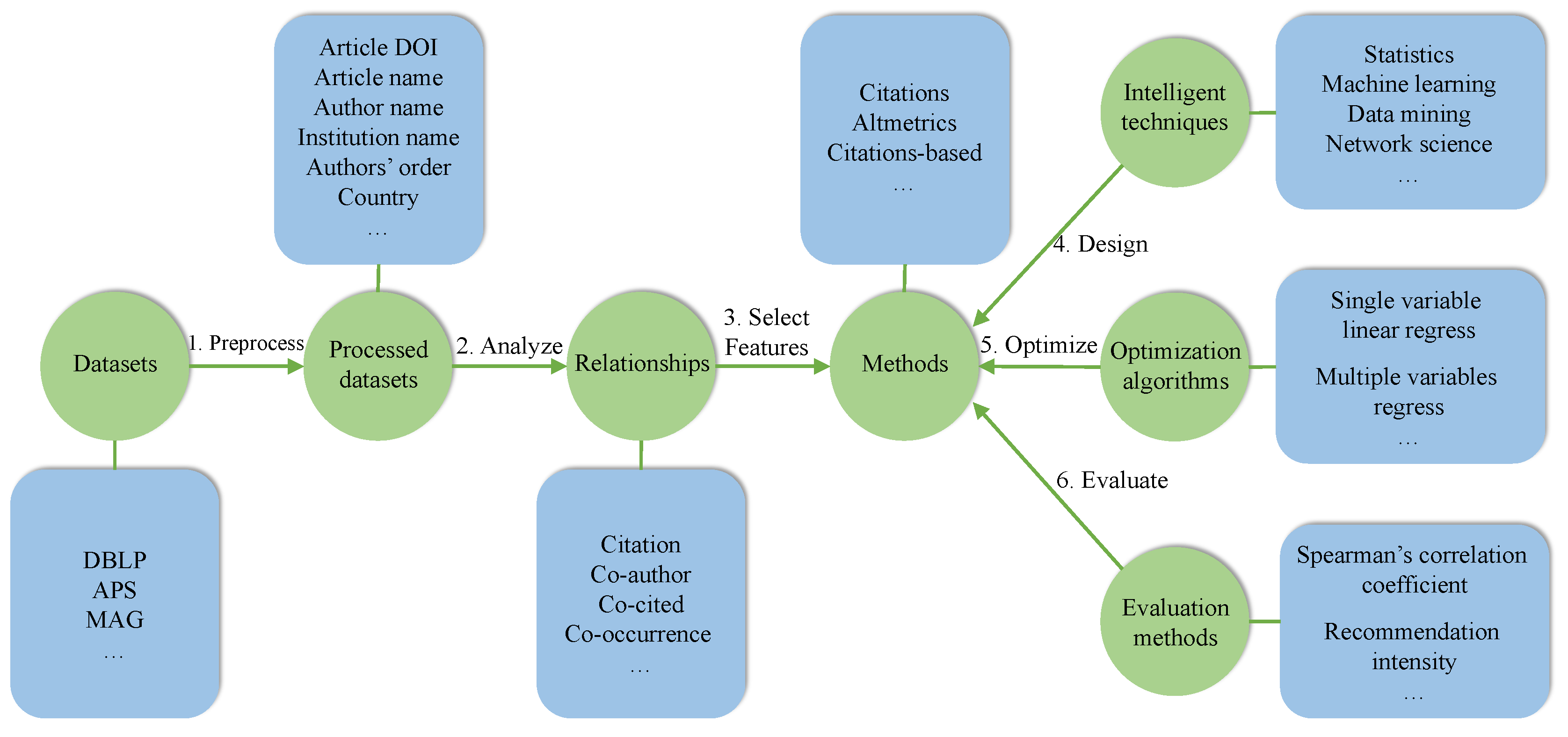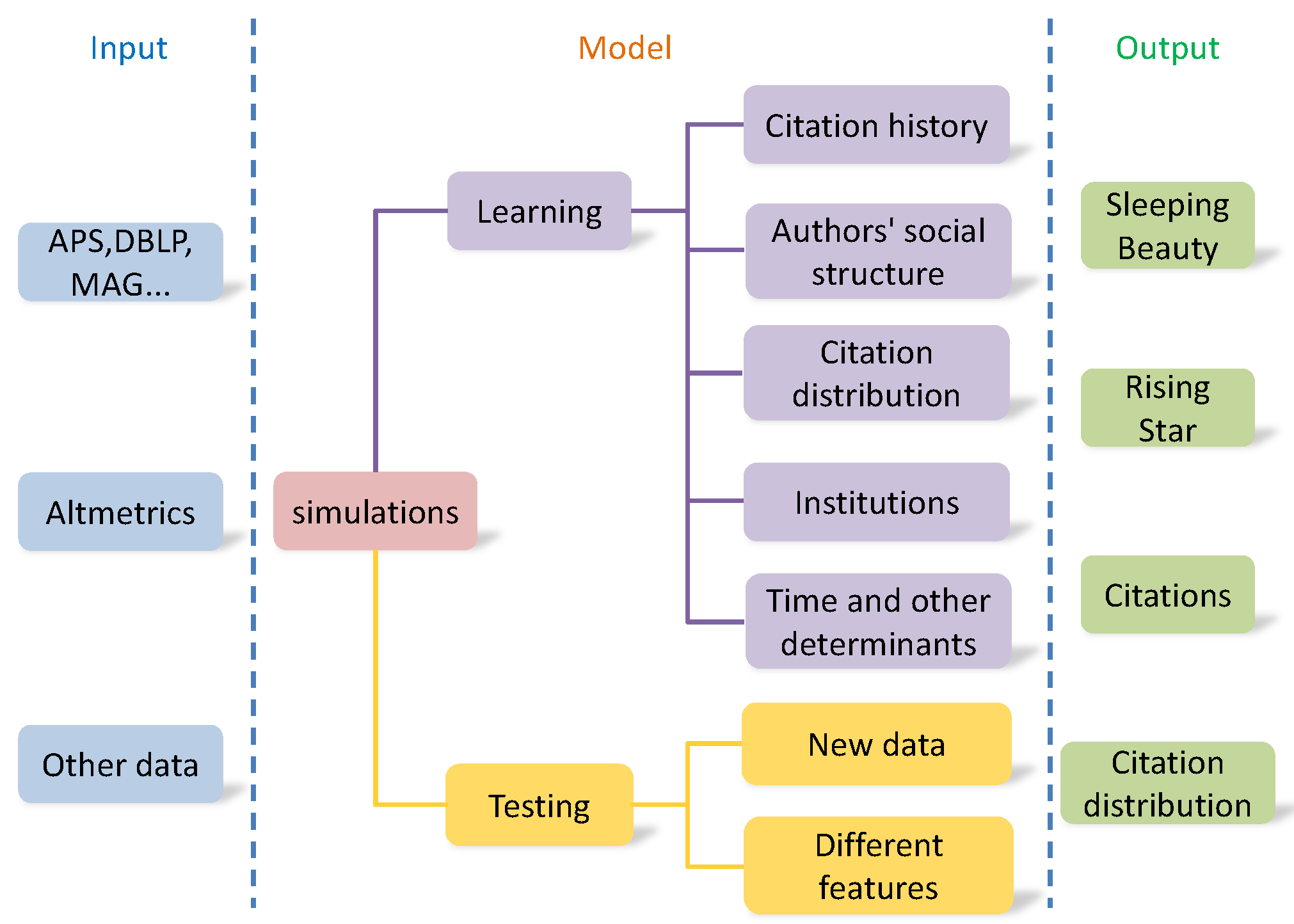 Table 1. Several representative methods for predicting article impact.
Features
Prediction Goal
Main Techniques
early citations, Journal
quantile of citations distribution
quantile regression
Impact Factor
authors characteristics,
citations
multivariate analysis
institutional factors, features
of article organization,
research approach
Social dimension:
citations
random forest classifier
co-authorship networks
year, page count, author count,
long-term citations
random forest
author name, journal, abstract
length, title length, special
issue, etc.
Altmetrics: tweeter
citations
correlation analysis, linear
regression analysis
© 2017 by the authors. Licensee MDPI, Basel, Switzerland. This article is an open access article distributed under the terms and conditions of the Creative Commons Attribution (CC BY) license (http://creativecommons.org/licenses/by/4.0/).