Open Access This article is
freely available
re-usable
Article
Machine Reading Comprehension for Answer Re-Ranking in Customer Support Chatbots
1
Faculty of Mathematics and Informatics, Sofia University, 1164 Sofia, Bulgaria
2
Qatar Computing Research Institute, Hamad Bin Khalifa University, 34110 Doha, Qatar
*
Author to whom correspondence should be addressed.
Received: 21 January 2019 / Accepted: 19 February 2019 / Published: 26 February 2019
Abstract
:
Recent advances in deep neural networks, language modeling and language generation have introduced new ideas to the field of conversational agents. As a result, deep neural models such as sequence-to-sequence, memory networks, and the Transformer have become key ingredients of state-of-the-art dialog systems. While those models are able to generate meaningful responses even in unseen situations, they need a lot of training data to build a reliable model. Thus, most real-world systems have used traditional approaches based on information retrieval (IR) and even hand-crafted rules, due to their robustness and effectiveness, especially for narrow-focused conversations. Here, we present a method that adapts a deep neural architecture from the domain of machine reading comprehension to re-rank the suggested answers from different models using the question as a context. We train our model using negative sampling based on question–answer pairs from the Twitter Customer Support Dataset. The experimental results show that our re-ranking framework can improve the performance in terms of word overlap and semantics both for individual models as well as for model combinations.
Keywords:
conversational agents; chatbots; machine reading comprehension; question answering; information retrieval; answer re-ranking
1. Introduction
The growing popularity of smart devices, personal assistants, and online customer support systems has driven the research community to develop various new methodologies for automatic question answering and chatbots. In the domain of conversational agents, two general types of systems have become dominant: (i) retrieval-based, and (ii) generative. While the former produce clear and smooth output, the latter bring flexibility and the ability to generate new unseen answers.
In this work, we focus on finding the most suitable answer for a question, where each candidate can be produced by a different system, e.g., knowledge-based, rule-based, deep neural network, retrieval, etc. In particular, we propose a re-ranking framework based on machine reading comprehension [
1
,
2
,
3
] for question–answer pairs. Moreover, instead of selecting the top candidate from the re-ranker's output, we use probabilistic sampling that aims to diversify the agent's language and to up-vote popular answers from different input models. We train our model using negative sampling based on question–answer pairs from the Twitter Customer Support Dataset.
In our experimental setup, we adopt a real-world application scenario, where we train on historical logs for some period of time, and then we test on logs for subsequent days. We evaluate the model using both semantic similarity measures, as well as word-overlap ones such as BLEU [
4
] and ROUGE [
5
], which come from machine translation and text summarization.
The remainder of this paper is organized as follows:
Section 2
presents some related work in the domain of conversational agents and answer combination.
Section 3
describes our framework and the general workflow for answer re-ranking.
Section 4
introduces the original dataset and explains how we used in to build a new, task-specific one with negative sampling; it also offers insights about the dialogs and the pre-processing.
Section 5
describes our experiments, and gives details about the training parameters.
Section 6
presents the performance of each model and discusses the results. Finally,
Section 7
concludes and suggests possible directions for future work.
2. Related Work
2.1. Conversational Agents
The emergence of large conversational corpora such as the Ubuntu Dialog corpus [
6
], OpenSubtitles [
7
], CoQA [
8
] and the Microsoft Research Social Media Conversation Corpus [
9
] has enabled the use of generative models and end-to-end neural networks in the domain of conversational agents. In particular, sequence-to-sequence (seq2seq) models, which were initially proposed for machine translation [
10
,
11
,
12
], got adapted to become a standard tool for training end-to-end dialogue systems. Early vanilla seq2seq models [
13
] got quickly extended to model hierarchical structure [
14
], context [
15
], and combination thereof [
16
]. While models were typically trained on corpora such as Ubuntu, some work [
17
] has also used data from Community Question Answering forums [
18
]; this means forming a training pair involving a question and each good answer in the corresponding question-answer thread.
More recently, the Transformer, a model without recurrent connections, was proposed [
19
], demonstrating state-of-the-art results for Machine Translation in various experimental scenarios for several language pairs and translation directions, thus, emerging as a strong alternative to seq2seq methods. The fact that it only uses self-attention makes it a lot faster both at training and at inference time, even though its deep architecture requires more calculations than a seq2seq model, it enables high degree of parallelism, while maintaining the ability to model word sequences through the mechanism of attention and positional embeddings.
In the domain of customer support, it has been shown that generative models such as seq2seq and the Transformer perform better then retrieval-based models, but they fail in the case of insufficient training data [
20
]. Other works have incorporated intent categories and semantic matching into an answer selection model, which uses a knowledge base as its source [
21
]. In the insurance domain, Feng et al. [
22
] proposed a generic deep learning approach for answer selection, based on convolutional neural networks (CNN) [
23
]. In Li et al. [
24
] combined recurrent neural networks based on long short-term memory (LSTM) cells [
25
] and reinforcement learning (RL) to learn without the need of prior domain knowledge.
2.2. Answer Combination
Answer combination has been recognized as an important research direction in the domain of customer support chatbots. For example, Qiu et al. [
26
] used an attentive seq2seq re-ranker to choose dynamically between the outputs of a retrieval-based and a seq2seq model. Similarly, Cui et al. [
27
] combined a fact database, FAQs, opinion-oriented answers, and a neural-based chit-chat generator, by training a meta-engine that chooses between them.
Answer combination is also a key research topic in the related field of information retrieval (IR). For example, Pang et al. [
28
] proposed a generic relevance ranker based on deep learning and CNNs [
23
], which tries to maintain standard IR search engine characteristics, such as exact matching and query term importance, while enriching the results based on semantics, proximity heuristics, and diversification.
3. Re-Ranking Model
Our re-ranking framework uses a classifier based on QANet [
1
], a state-of-the-art architecture for machine reading comprehension, to evaluate whether a given answer is a good fit for the target question. It then uses the posterior probabilities of the classifier to re-rank the candidate answers, as shown in
Figure 1
.
3.1. Negative Sampling
Our goal is to distinguish "good" vs. "bad" answers, but the original dataset only contains valid, i.e., "good" question–answer pairs. Thus, we use
negative sampling
[
29
], where we replace the original answer to the target question with a random answer from the training dataset. We further compare the word-based cosine similarity between the original and the sampled answer, and, in some rare cases, we turn a "bad" answer into "good" one if it is too similar to the original "good" answer.
3.2. QANet Architecture
Machine reading comprehension aims to answer a question by looking to extract a string from a given text context. Here, we use that model to measure the goodness of a given question–answer pair.
The first layer of the network is a standard an embedding layer, which transforms words into low-dimensional dense vectors. Afterwards, a two-layer highway network [
30
] is added on top of the embedding representations. This allows the network to regulate the information flow using a gated mechanism. The output of this layer is of dimensionality , where is the number of words in the encoded sentence (Note that it differs for the question vs. the answer. See
Section 5.1
for more detail.) and
d
is the input/output dimensionality of the model for all Transformer layers, which is required by the architecture.
We experiment with two types of input embeddings. First, we use 200-dimensional GloVe [
31
] vectors trained on 27 billion Twitter posts. We compare their performance to ELMo [
32
], a recently proposed way to train contextualized word representations. In ELMo, these word vectors are learned activation functions of the internal states of a deep bi-directional language model. The latter is built upon a single (embedding) layer, followed by two LSTM [
25
] layers, which are fed the words from a target sentence in a forward and a backward direction, accordingly. We obtain the final embedding by taking a weighted average over all three layers as suggested in [
32
].
The embedding encoder layer is based on a convolution, followed by self-attention [
19
] and a feed-forward network. We use a kernel size of seven,
d
filters, and four convolutional layers within a block. The output of the layer is , where is the layer normalization operation [
33
]. The output again is mapped to by a 1D convolution. The input and the embedding layers are learned separately for the question and the answer.
The attention layer is a standard module for machine reading comprehension models. We call it
answer-to-question
(
A2Q
) and
question-to-answer
(
Q2A
) attention, which are also known as
context-query
and
query-context
, respectively. Let us denote the output of the encoder for the question as
Q
and for the answer as
A
. In order to obtain the attention, the model first computes a matrix
S
with similarities between each two words for the question and the answer, then the values are normalized using softmax. The similarity function is defined as follows: .
We adopt the notation , which is a softmax normalization over the rows of
S
, and is a normalization over the columns. Then, the two attention matrices are computed as , and .
The attention layer is followed by a model layer, which takes as input the concatenation of , where we use small letters to denote rows from the original matrices. For the output layer, we learn two different representations by passing the output of the model layer to two residual blocks, applying dropout [
34
] only to the inputs of the first one. We predict the output as . The weights are learned by minimizing a binary cross-entropy loss.
3.3. Answer Selection
We experimented with two answer selection strategies: (i) max, and (ii) proportional sampling after softmax normalization. The former strategy is standard and it selects the answer with the highest score, while the latter one returns a random answer with probability proportional to the score returned by the softmax, aiming at increasing the variability of the answers.
For both strategies, we use a linear projection applied on the output of the last residual model block, which is shows as "linear block" in
Figure 1
. We can generalize the latter as follows: , where
M
is the concatenation of the outputs of one or more residual model blocks.
We present the formulation of the two strategies, as we introduce the following notation: is the selected utterance by the agent; is the output of the model before applying the sigmoid function;
q
is the original question by the user;
A
is the set of possible answers that we want to re-rank. Equation (
1
) shows the selection process in the max case.
We empirically found that the answer selection based on the
max
strategy does not always perform well. As our experimental results in Tables 3 and Table 4 show, we can gain notable improvement by using proportional sampling after softmax normalization, instead of always selecting the answer with the highest probability. In our experiments, we model as a random variable that follows a categorical distribution over events (candidate answers). For each of the question–answer pairs (
q
,
a
), we define the probability
p
that
a
is a good answer to
q
using softmax as shown in Equations (
2
) and (
3
). Finally, we draw a random sample from Equation (
3
) to obtain the best matching answer.
6. Evaluation Results
Below, we first discuss our auxiliary classification task, where the objective is to predict which question–answer pair is "good", and then we move to the main task of answer re-ranking.
6.1. Auxiliary Task: Question–Answer Goodness Classification
Table 2
shows the results for the auxiliary task of question–answer goodness classification. The first column is the name of the model. It is followed by three columns showing the type of embedding used, the size of the hidden layer, and the number of heads (see
Section 3.2
). The last column reports the accuracy. Since our dataset is balanced (we generate about 50% positive, and about 50% negative examples), accuracy is a suitable evaluation measure for this task. The top row of the table shows the performance for a majority class baseline. The following lines show the results for our full QANet-based model when using different kinds of embeddings. We can see that contextualized sentence-level embeddings are preferable to using simple word embeddings as in GloVe or token-level ELMo embeddings. Moreover, while token-level ELMo outperforms GloVe when the size of the network is small, there is no much difference when the number of parameters grows (, ).
6.2. Answer Selection/Generation: Individual Models
Table 3
reports the performance of the individual models: information retrieval (IR), Sequence-to-sequence (seq2seq), and the Transformer (see
Section 5.3
for more details about these models). In our earlier work [
20
], we performed these experiments using exactly the same experimental setup. The table is organized as follows: The first column contains the name of the model used to obtain the best answer. The second and the third columns report the word overlap measures: (i)
[email protected]
, which uses uni-gram and bi-gram matches between the hypothesis and the reference sentence, and (ii) ROUGE-L [
47
], which uses Longest Common Subsequence (LCS). The last three columns are for the semantic similarity measures: (i) Embedding Average (Emb Avg) with cosine similarity, (ii) Greedy Matching (Greedy Match), and (iii) Vector Extrema (Vec Extr) with cosine similarity. In the three latter measures, we used the standard pre-trained word2vec embeddings because they are not learned during training, which helps avoid bias, as has been suggested in [
43
,
44
].
We can see in
Table 3
that the seq2seq model outperforms IR by a margin on all five evaluation measures, which is consistent with previous results in the literature. What is surprising, however, is the relatively poor performance for the Transformer, which trails behind the seq2seq model on all evaluation measures. We hypothesize that this is due to the Transformer having to learn more parameters as it operates with higher-dimensional word embeddings. Overall, the Transformer is arguably slightly better than the IR model, outperforming it on three of the five evaluation measures.
The last row of
Table 3
is not an individual model; it is our re-ranker applied to the top answers returned by the IR model. In particular, we use
QANet with Sentence level ELMo
(, ). We took the top-5 answer candidates (the value of 5 was found using cross-validation on the training dataset) from the IR model, and we selected the best answer based on our re-ranker's scores. We can see that re-ranking yields improvements for all evaluation measures: on
[email protected]
, on ROUGE_L, on Embedding Average, on Greedy Matching, and +1.64 in Vector Extrema. These results show that we can get sizable performance gains when re-ranking the top-
K
predictions of a single model; below we will combine multiple models.
6.3. Main Task: Multi-Source Answer Re-Ranking
7. Conclusions and Future Work
We have presented a novel framework for re-ranking answer candidates for conversational agents. In particular, we adopted techniques from the domain of machine reading comprehension [
1
,
2
,
3
] to evaluate the quality of a question–answer pair. Our framework consists of two tasks: (i) an auxiliary one, aiming to fit a goodness classifier using QANet and negative sampling, and (ii) a main task that re-ranks answer candidates using the learned model. We further experimented with different model sizes and two types of embedding models: GloVe [
31
] and ELMo [
32
]. Our experiments showed improvements in answer quality in terms of word-overlap and semantics when re-ranking using the auxiliary model. Last but not least, we argued that choosing the top-ranked answer is not always the best option. Thus, we introduced probabilistic sampling that aims to diversify the agent's language and to up-vote the popular answers, while taking their ranking scores into consideration.
In future work, we plan to experiment with different exploration strategies such as Boltzmann exploration (softmax is a degraded version of Boltzmann exploration with ). -Confident, Upper confidence bound, and other bandit methods [
48
] to widen the possible context for each answer over time. We see an interesting research direction in applying deep reinforcement learning (i) to improve the answer selection models when applied to unseen questions, and (ii) to account for user feedback and customer support task success.
Author Contributions
Conceptualization, M.H., P.N. and I.K.; Investigation, M.H.; Writing–original draft, M.H.; Writing–review editing, P.N. and I.K.
Funding
This research is partially supported by Project UNITe BG05M2OP001-1.001-0004 funded by the OP "Science and Education for Smart Growth", co-funded by the EU through the ESI Funds.
Conflicts of Interest
The authors declare no conflict of interest.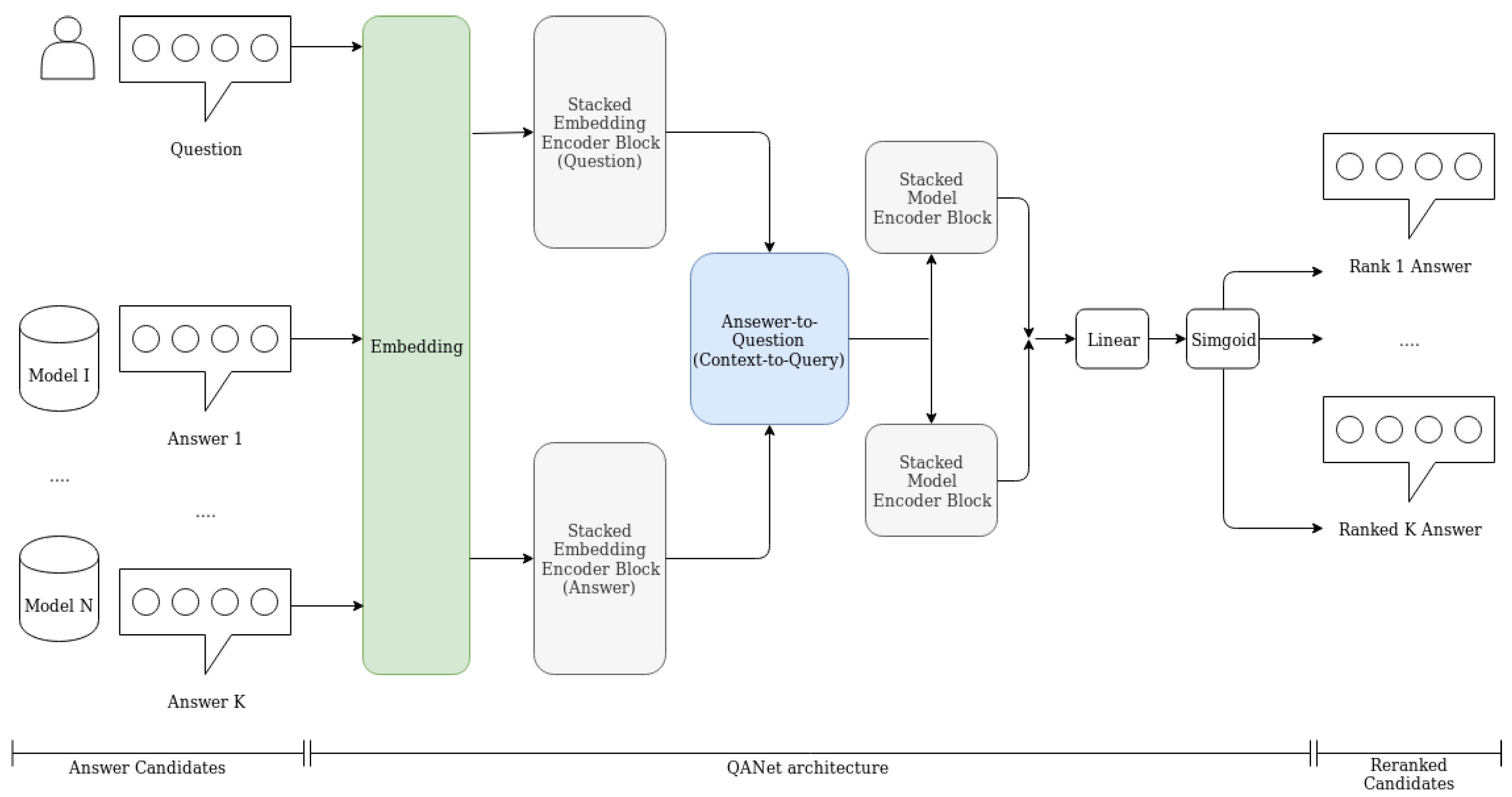 Table 1.
Statistics about our dataset. (Reprinted by permission from Springer Nature: Springer Lecture Notes in Computer Science (Hardalov, M.; Koychev, I.; Nakov, P. Towards Automated Customer Support [
20
]), 2018).
Questions
Answers
Avg. # words
21.31
25.88
Min # words
1st quantile (#words)
Mode (# words)
3rd quantile (#words)
Max # words
Overall
# question–answer pairs
49,626
# words (in total)
26,140
Min # turns per dialog
Max # turns per dialog
Avg. # turns per dialog
2.6
Training set: # of dialogs
45,582
Testing set: # of dialogs
4044
Model
Embedding Type
d_model
Heads
Accuracy
Majority class
–
–
–
QANet
GloVe
64
4
64
8
128
8
QANet
ELMo (token level)
64
4
64
8
128
8
QANet
ELMo (sentence level)
64
8
128
8
85.45
Model
Word Overlap
Semantic Similarity
[email protected]
ROUGE_L
Emb Avg
Greedy Match
Vec Extr
Transformer [20]
IR-BM25 [20]
seq2seq [20]
QANet on IR (Individual)
Model
Word Overlap
Semantic Similarity
[email protected]
ROUGE_L
Emb Avg
Greedy Match
Vec Extr
Random Top Answer
QANet+GloVe
d = 64, h = 4
40.85
Softmax
d = 64, h = 8
Softmax
d = 128, h = 8
Softmax
QANet+ELMo (Token)
d = 64, h = 4
Softmax
d = 64, h = 8
78.54
Softmax
d = 128, h = 8
Softmax
QANet+ELMo (Sentence)
d = 64, h = 8
Softmax
d = 128, h = 8
Softmax
16.05 ± 0.06
24.81 ± 0.08
31.20 ± 0.06

© 2019 by the authors. Licensee MDPI, Basel, Switzerland. This article is an open access article distributed under the terms and conditions of the Creative Commons Attribution (CC BY) license (http://creativecommons.org/licenses/by/4.0/).