Open Access This article is
freely available
re-usable
Review
A Botnets Circumspection: The Current Threat Landscape, and What We Know So Far
1
Department of Computer Science, School of Computing and Engineering Sciences, Babcock University, Ilishan-Remo 121103, Ogun State, Nigeria
2
Department of Computer Science, College of Sciences, Federal University of Agriculture, Abeokuta PMB. 2240, Ogun State, Nigeria
*
Author to whom correspondence should be addressed.
Received: 2 October 2019 / Accepted: 19 October 2019 / Published: 30 October 2019
Abstract
:
Botnets have carved a niche in contemporary networking and cybersecurity due to the impact of their operations. The botnet threat continues to evolve and adapt to countermeasures as the security landscape continues to shift. As research efforts attempt to seek a deeper and robust understanding of the nature of the threat for more effective solutions, it becomes necessary to again traverse the threat landscape, and consolidate what is known so far about botnets, that future research directions could be more easily visualised. This research uses the general exploratory approach of the qualitative methodology to survey the current botnet threat landscape: Covering the typology of botnets and their owners, the structure and lifecycle of botnets, botnet attack modes and control architectures, existing countermeasure solutions and limitations, as well as the prospects of a botnet threat. The product is a consolidation of knowledge pertaining the nature of the botnet threat; which also informs future research directions into aspects of the threat landscape where work still needs to be done.
Keywords:
botnets; cyber security; network security; information security; threat landscape
1. Introduction
Botnets (or, a network of bots) are an army of compromised machines that are often under the control and coordination of a single source of (direct/indirect) influence via a remote secure channel. They are generally able to propagate themselves on a network and infect vulnerable machines. They typically rely either on maintaining contact with the bot master or owner of the botnet for command and control, or on certain modules within the bot code architecture that perform the same function. Over time, however, bot codes could now be engineered to be able to recruit other vulnerable systems as bots into the botnet, report the status of the operations of individual bots in the botnet, and protect the botnet and its member bots from infiltration [
1
]. The design and anatomy of botnets often makes them flexible and robust enough to be able to threaten and even successfully subvert any network topology, from conventional cyber infrastructure and devices to Mobile Ad-hoc networks (MANET) [
2
], Voice over IP (VoIP) infrastructures [
3
], as well as Autonomous Vehicular Networks [
4
]
Every botnet essentially has four general participants: These are
the bots or zombies
(the compromised machines) [
5
],
the bot controller or bot code
(the malicious code that infects the vulnerable hosts/targets in the network),
the bot master or bot herder
(the attacker/hacker/cybercriminal who engineers the bot code and controls the botnet) [
6
,
7
], and the
command and control (C&C) server
(the central rendezvous point for all the bots in the botnet [
8
].
As adapted from [
9
], and in the light of insights received from the existing literature,
Figure 1
illustrates the generic structure of a botnet, showing the interactions between participants in a typical botnet setup.
The power that drives botnets to achieve their various goals lies in the structure and resilience of its architecture. At the centre of this is the Command and Control (C&C) mechanism. Without this mechanism, a botnet is just a collection of infected machines that lack coherence and coordination [
8
]. This mechanism is put in place by the bot herder as a central source from which bots in the botnets receive instructions regarding their various operations, and to which they also report the results and status of their various activities.
Botnets have been repeatedly fingered as the major culprits in a type of subversive cyber-attack, known as Denial of Service (DoS) attacks. A DoS attack is a class of cybercrime attack that aims at maxing out the critical computing resources of servers (
CPU, Bandwidth and Memory resources
), thus making it impossible for clients who have legitimately subscribed to use these resources to have access to them. A Distributed Denial of Service (DDoS) attack involves the use of compromised machines (known as "
zombies
") to orchestrate a DoS attack. This class of attacks aims at incapacitating service-based infrastructures that deliver various services to subscribers over the Internet by overwhelming the servers with useless or malicious traffic, such that they are unable to service legitimate requests from authorised subscribers.
1.1. The Origin of Cybercrimes and the Rise of Modern Botnets
This led to an Internet system that seemed vulnerable at the core; and because nothing had been formalised at the time, it was difficult to chart logical paths towards lasting solutions to the security challenges that were now plaguing this evidently very beneficial system. This was partly due to the fact that in a bid to mitigate some of these security challenges, a lot of similar ad-hoc solutions emerged. This was coupled with the fact that because component networks of the Internet were increasing, expanding and growing exponentially in their reach at the same time, it was difficult to implement solutions at the lower/operational levels of the network architecture that could actually circumvent and solve these emerging problems on the wider scale.
Morris' worm, which was arguably one of the first malware to remotely cause damage to computer systems, effectively took away the innocence of the nascent Internet at the time. Cyber laws became necessary, since malicious individuals no longer had to be present at their target locations to actually cause damage to the machines.
1.2. Typology of Attackers & Botnet Owners
An array of free and easy-to-use attack tools on the Internet implement methods and techniques, using which, computers and networks could be easily taken down, even by novices. However, this reality differs remarkably from the case of botnets. The types of attackers that control modern botnets as owners can be distinguished based on the strength of their resources (e.g., composition, coordination, finance, insider capabilities, power and influence, popularity, etc.). There are three broad types/classes of such attackers:
(a)

Hackers/Skilled Individuals: This class of attackers are basically individuals that possess an extensive knowledge and skillset in the art of scripting and coding. They are often loners who understand the internal workings of information and communication technologies, systems, and networks well enough to be able to obfuscate and bypass routine processes and procedures, in order to gain access and privileges within secure environments where they are not authorised.

(b)

This class of botnet owners tend to use their botnets primarily for financial crimes and identity thefts, and often wield a rather limited amount of resources. They usually cover their tracks very carefully for fear of being found out and prosecuted in line with their jurisdictional cyber laws.

(c)

Hacker Groups: This class of attackers are organised groups of hackers that share a common vision, mission and/or ideology. They possess more resource strength when compared to skilled individual hackers, as they are able to pool skillset, influence and finances to orchestrate coordinated attacks with more organisation, precision and impact. In recent times, we have seen a rise in the numbers and popularity of such hacker groups, such as: Anonymous, Chaos Computer Club and Legion of Doom, amongst many others. Because the composition of these groups typically span across several nationalities and jurisdictions with variations in cybercrime legislation, the individual members often seem insulated from the consequences of the group's activities due to the technical complexities associated with the trans-jurisdictional policing of cybercrimes.

(d)

Government/Nation-state Actors: Until recently, it was not commonplace to see government and nation-state actors as active players in the activities of cyber offence. Today we have seen several governments come up to claim responsibility for the actions of botnets and similar other malware that have featured in the annals of cyberspace offensives. One popular example was the 2014 Denial of Service attack launched against Sony Pictures by the North Korean Government [

35

]. Such offensives and attacks are usually of a high-impact nature, owing to the very vast and seemingly limitless resource base that governments and nation-states are usually able to access.
While skilled individual hackers would often own botnets primarily for financial reasons, hacker groups are more inclined to align the activities of their (botnet) operations with the ideologies and missions that inspire the existence of the group. Hacker groups could launch offensives against rival groups to gain popularity, or against government services and infrastructure to prove a point, or complicate the task of governance. Government/Nation-state actors, on the other hand, are more likely to deliver botnet-enabled attacks against entities that tend to threaten or undermine their sovereignty.
Even though financial benefits would sometimes follow as by-products of their operations, hacker groups are typically not financially-motivated as the primary goal of their operations. In recent times, however, the tracks and footprints left behind by cyber incidents tend to suggest that hacker groups can be hired by mafia organisations, government agencies, or wealthy individuals to launder money and use their botnets for various other cybercrimes that may or may not be financially-motivated. Also, there has been evidence suggesting that hackers groups sometimes voluntarily align their solidarity and operations in support of other propagandist, conspiracy and hacktivist ideologies.
2. Synchronous & Asynchronous Botnet Attacks
Botnets engage in two modes of attacks, which could either be synchronous or asynchronous: Synchronous attacks generally rely upon coordinated commands from C&C servers, from which attackers/botherders simultaneously issue commands to all bots in the network. These commands could be for immediate or post-dated action. In this mode of attacks, botnets have to connect to the C&C servers every time to receive the instructions that make synchronous attacks possible. The operations and activities of many common and popular botnets follow after this synchronous approach.
On the other hand, however, there exists certain botnets that are self-sufficient in their binaries and activities, and are able to deliver on operations without first rallying to the C&C servers every time. Asynchronous botnets are distributed in their operations and attacks, and the absence of a C&C server makes it difficult to track and monitor; reverse engineering now becomes the most feasible way to track the footprints and activities of such botnets [
36
]. Stuxnet was one example of such a botnet. Salamatian et al. in [
37
] demonstrate an example of how asynchronous attacks are no less potent that synchronous botnet attacks.
However, recent evidence in the footprints left behind by certain high-profile new-age botnets suggest that they incorporate, and are able to switch between both modes of attacks: They adopt the synchronous attack mode when they are online or have Internet access; then they switch to the asynchronous mode when they are offline and without Internet connectivity. The known botnet C&C architectures that feature in the synchronous modes of attack are discussed next.
Known Botnet Control Architectures
This makes the direct botnet C&C architecture the least resilient and easiest to take out, because it is easy to traceback commands to the point of origin, which is often the machine under the direct control of the botmaster; however, the hybrid architecture presents better resilience and greater difficulty to take out, because there is very low likelihood that the machine which the commands are traced back to is actually the originating (attackers') machine.
Commands are disseminated the slowest in the hybrid C&C architecture compared to other architectures, with the direct architecture being the fastest, because all bots in the botnet receive commands directly from the botmaster; but then, the possibility of the hybrid architecture failing permanently is near impossible compared to other architectures, and with the direct architecture having a likelihood of instant failure as soon as the botmaster's machine is traced and taken out.
In addition, it is more difficult for security professionals to be able to enumerate (know the actual strength of numbers) of a direct C&C botnet structure, as only the botmaster is likely to have the true picture of such; whereas, it is most difficult for enumeration to be done correctly in a hybrid C&C architecture, and relatively easiest in a centralised architecture. But then again, it is very difficult for a botmaster to franchise the whole or parts of the botnet in a direct C&C architecture, because there is no coordinated structure; however, it is easiest for such to happen in the centralised architecture.
4. Typology of Existing Botnets
Different types of botnets have been discovered in existence within cyberspace today. Amongst these include:
(a)

Spam Botnets: This class of botnets are involved in sending and disseminating large amounts of spamware daily, and seeking to exploit naïve users typically by emails. Popular examples of botnets that belong to the class are the Necrus and Gamut botnets of June 2016 and around early 2013 respectively, which were reported by the McAfee Labs March 2018 Threat Report to comprise a combined 97% of the global spam botnet traffic [

45

]. Others include Bagle of early 2004, the Storm botnet of early 2007, and the Marina botnet, amongst preponderant others. Xie, et al. [

46

] discovered that this class of botnets feature a lot of similarities in bot IP address distribution, email sending patterns and behaviours, email properties and sending time.

Information Gathering/Reconnaissance Botnets: This class of botnets are used to mine information over the Internet in large quantities on a daily basis. They also feature in the espionage operations of coordinated cybercrime syndicates. A popular example of a botnet that belongs in this class is the Mirai botnet that was discovered in August 2016 to have been scanning the Internet for the IP addresses of vulnerable devices that are part of the Internet of Things (IoT) [

47

], and then goes on to infect them to be enlisted as part of the botnet; which was later discovered to have been behind the October 2016 Dyn cyber-attack [

48

]. Kolias, et al. [

49

] and Kambourakis, et al. [

50

] present a detailed analysis of the Mirai botnet, covering its internal structure, system of operations, variants of the Mirai botnet and the realities that Mirai and related botnets portend for the future of the IoT.

(b)

The Satori botnet is a more dreaded variant of the Mirai botnet that was discovered in May 2018 to feature operations similar to its parent form, but was instead focused on mining information pertaining to vulnerable cryptocurrency remote management infrastructures for the purpose of later infiltrating user wallets to steal cryptocurrencies [

51

]. Another example was the Asprox botnet that hit the Internet around 2008.

(c)

Identity Theft Botnets: This class of botnets are involved in stealing large amounts of private user identity information, such as social security and credit card details, health record information, login usernames and passwords, among other forms of sensitive information, typically for fraudulent purposes. Popular examples of botnets that belong in this class include the Zeus botnet that "compromised over 74,000 FTP accounts on websites of such companies as the Bank of America, NASA, Monster.com, ABC, Oracle, Play.com, Cisco, Amazon, and BusinessWeek", stealing sensitive banking information through web browser keystroke logging and form grabbing [

52

], and also the Bredolab botnet, which was developed in 2009 by 27-year-old Russian Hacker Georgy Avanesov to siphon bank account passwords and other confidential information from infected computers [

53

]. Others include the Torpig botnet of since 2005, the Alureon botnet of around 2010, and the Mariposa botnet of December 2008, amongst others.

(d)

Click-Fraud Botnets: This class of botnets attempt to mimic legitimate human click-ad behaviour in a bid to con Internet advertisers into believing that their online adverts have been engaged with by a legitimate, actual human audience, thereby accumulating financial revenue for the botherders as the botnet click-advertising web traffic continues to mount. One popular example of a botnet belonging to this class is the Chameleon botnet of February 2013, which was reported to have amassed a monthly revenue of over

$

6 million USD for the botnet owners following an infection of over 120,000 Windows

®

machines [

54

].

(e)

Crypto Botnets: This class of botnets are used by criminals in mining crypto currencies and resources for financial gain. Examples include the high-profile Smominru and ADB.Miner cryptomining botnets.
The typology of most known botnets can be broadly aligned with one or more of these type groups, based on the features and characteristics exhibited by the botnet.
5. Botnet Countermeasures
The knowledge contained in these studies are valuably complementary and indeed supplementary to this research, because they are fundamental to understanding the principles of botnet operations in general, as well as the strategies that have informed the evolution of countermeasures to botnet activities. Nonetheless, these studies do not cover the systematics goals that various botnet countermeasures have sought to achieve on the rapidly evolving threat landscape. We consider this knowledge to be essential for understanding how research has evolved to solve various aspects of the botnets problem, and how the threat and threat landscape has progressively evolved (expectedly so) to respond to advancements in research. This knowledge is covered in this section of the research.
The more effective countermeasures discovered in literature often combine at best two or three of the above goals in a single countermeasure solution. Most classic and modern countermeasures did not emerge from a perfect synthesis of the above goals. This presents an insight into the fact that, perhaps the ultimate countermeasure(s) to botnets may be that (those) which is/are able to incorporate the most or all of these goals into one single countermeasure solution that is able to present a complete, robust and formidable front against botnet attacks; being able to switch between and synergise these goals effectively in the face of real attacks.
5.1. Categories & Limitations of Existing Botnet Countermeasures
Countermeasures developed for botnets can be grouped into the following categories:
5.1.1. Spoofing
Spoofing countermeasures are beginning to emerge as one of the most promising countermeasures to botnets. These techniques work by seeking to compromise certain characteristics of the bot code, such that the bot codes are unable to return the results pre-configured by the botmaster. In the work by Xiang et al. [
41
], a technique is proposed for spoofing the executable file path for persistent botnets, such that each time they run, they are forced to fire up a countermeasure solution against them. Also, in Liu et al. (2014) [
69
], an anti-spoofing technique is proposed against botnets that carry out flooding/DoS attacks against networks by spoofing the IP addresses of legitimate hosts within the network.
This mutual egress filtering (MEF) technique, implemented within the access control lists of the autonomous border routing systems of networks, works by fishing and filtering outbound packets, these having source addresses that are not members of the local autonomous system, and especially when the packet is set towards a spoofing attack against other MEF-enabled autonomous systems. Liu and Bi (2015) [
70
] present a succinct overview of spoofing techniques and their deployability, with the advantages and added security it could offer to networks.
Most spoofing techniques are built with detection capabilities, oftentimes only for the botnets that they are engineered to spoof. In some cases, they may also generate results that could help to prevent or immunise machines against certain botnets, such as that proposed by Xiang et al. [
41
]. However, this may not always be the case. Hence, they may prove impotent in the face of dynamic or polymorphic botnets.
5.1.3. Exploit/Take Down
Some countermeasures are also proposed in literature that could attempt offensives at botnets. Usually, these techniques are built with capabilities that help them to be able to spot the presence of particular botnets on a network; and they are able to then mitigate the impact of these botnets by launching offensives/counters against them. Sometimes in a bid to overrun them, these botnets are kept busy trying to ward off these attacks, thereby reducing their spread and impact. Watkins et al. [
101
] proposed a technique for exploiting C&C vulnerabilities in botnets. This technique was experimented with the Zeus botnet, and involved the use of fuzzy logic to discover vulnerabilities in its C&C mechanism. The discovered vulnerabilities were now used to engineer a sinkholing countermeasure aimed at redirecting botnet traffic heading to the C&C server to another location known as a sinkhole, so as to cripple the C&C operations of the botnet, thereby dislodging it, and limiting the impact of simulated DoS attacks.
Furthermore, some of these techniques could also incorporate one form of analysis-based capabilities or the other, as part of their botnet detection procedures, while also providing offensive and defensive capabilities. A recent example of such was proposed by Yan et al. [
102
].
One other technique proposed in the work by Hangxia et al. [
103
] takes advantage of the vulnerability posed by the fact that nodes can join a P2P botnet without any way of confirming whether they were honest nodes or not. In this technique, the routing table of botnets are poisoned (compromised by infiltration) with nodes information; thereby causing it to re-route the command information from the attacker to possibly non-existent nodes, and disrupting C&C communication, thereby mitigating the impact of the botnet.
Major limitations in exploiting/taking down countermeasures are the ethical and legal concerns regarding the extent of involvement, meddling and access which these countermeasures often require in order to perform effectively.
5.1.4. Mining
Mining-based countermeasures use data mining/machine learning techniques to acquire relevant information about botnets from already acquired botnet data. These techniques are often used in collaboration with other methods that achieve other countermeasure goals. Recent examples of such techniques include: Lin et al. [
104
], Eskandari and Raesi (2014) [
105
], Tsuruta and Shoudai (2013) [
106
], Garant and Lu (2013) [
107
] and Ohrui et al. [
108
]. Also, Monshizadeh et al. [
109
] and So-In et al. [
110
] present a recent in-depth evaluation and discussion of such mining techniques.
6. Botnets in Mobile and Cloud Environments
The portability and growing popularity of mobile devices also has effects on the threat landscape of botnets [
111
], and this has created inroads to a new area of research. Ref. [
112
] and Ref. [
113
] give a comprehensive review of mobile botnets; covering the state-of-the-art C&C architectures that are featured by contemporary mobile botnets. Anagnostopoulos et al. [
113
] further elucidates the advanced capabilities that Tor's hidden services and DNS protocols avails to hackers for masking their identities and footprints, while also upscaling the resilience of their bot army through optimisations to a TXT-based Tor fluxing scheme for DNS operations. In addition, sources such as Conti et al. [
114
], Kadir et al. [
115
], Farina et al. [
116
], Alzahrani et al. [
117
], Natarajan et al. [
118
], Liao and Li (2014) [
119
], Eslahi et al. [
120
], Mtibaa et al. [
121
], Abdullah et al. [
122
], Hamon (2014) [
123
], Mtibaa (2013) [
124
], Choi et al. [
125
] and Apvrille et al. [
126
] highlight some of the recent techniques and procedures used by attackers in setting up mobile botnets, as well as some countermeasures that have been recently developed for combating the challenge of mobile botnets. Today, malware featuring the likeness and actual characteristics of botnets have been found to compromise known operating systems that power mobile devices; including the popular Symbian Java (Symbian/Yxes worm of 2009), IoS (iKee.B bot client of 2009), and Android (Geinimi malware of 2010) mobile operating systems [
112
].
As mobile botnets continue to exhibit advanced capabilities for coordination and stealth communication, the have become a crucial concern for contemporary cybersecurity.
Botnets have also been discovered in traditional as well as mobile clouds, as a means of enhancing their strength, ubiquity and coverage. This has been discussed by recent studies such as Mtibaa et al. [
127
], Li et al. [
128
] and Zhaoet et al. [
129
]; and techniques for the detection of botnets in cloud environments have been proposed by Badiset al. [
130
] and Kebande and Venter (2014) [
131
], while countermeasures have also been reviewed and proposed to mitigate the impact of botnet-propelled attacks in cloud-based environments, as can be found in Alosaimi et al. [
132
] and Wahab et al. [
133
], who proposed an adaptive solution for detecting insider attacks in cloud environments, and also by Daffu and Kaur (2016) [
134
], respectively, amongst others.
7. The Botnets of the Future
Newer botnets are expected to keep emerging, as old ones keep metamorphosing in order to evade the current solutions landscape. This is because attackers see a new criminal empire building on the Internet, where botnets can now be sold/leased to individuals or corporations for various malicious and nefarious uses, in exchange for some financial benefits. Chang et al. [
135
], along with Bottazzi and Me (2014) [
136
] give insights into botnets-as-a-service, a new paradigm that describes this trend. Furthermore, the presence of botnets in mobile and cloud environments provides insights to the possibility that botnets of the future may soon on their own be able to learn and exploit vulnerabilities in the patterns of user interactions and operations by modifying/re-configuring themselves, through the capabilities of machine learning, to orchestrate malicious activities against such a user/machine, as well as other users and/or machines. Vasilomanolakis et al. [
137
] present such a futuristic botnet that implements computational trust models and is smart, cautious and able to learn from their past experiences.
One other reason why botnets may yet linger on the Internet is due to the ethical and legal implications and reservations that now stall the implementation of some already developed countermeasures. As has been earlier highlighted in this research, even blue chip malware defence and anti-virus manufacturers face trust issues and concerns in trying to implement malware solutions. The extent of access to a user's machine and information, as well as meddling, which these solutions require to produce desired results, are beginning to generate some ethical and legal debates. These are expected to intensify in the future years, even as these solutions continue to get more sophisticated and interfering.
Botnets are also expected to more decisively hit mobile devices and cloud infrastructures in the future. The ubiquity provided by mobile devices, coupled with advancements in mobile communication technologies (LTE, 3G and WiFi), propose a new landscape with great potentials for botherders [
8
]. Furthermore, the Internet of Things presents another viable frontier for the proliferation of botnets and the perpetuation of their activities in cyberspace. In the aftermath of the Mirai botnet of August 2016, recent researches such as that by Kolias et al. [
49
] have emphasised the need for more pragmatic and holistic approaches to IoT security, in order to safeguard the future of the IoT.
As the global landscape is beginning to more tightly embrace the coming revolution of the Internet of things, it is important to point out that all of the devices that are expected to be interconnected by the Internet of Things could also serve to provide a wider pool of takeover victims to be enumerated as part of botnet activities. Kambourakis et al. [
50
] present a comprehensive state-of-the-art review of the IoT botnet threat landscape that is contemporaneous in relevance, and this emphasises that in a poorly-secured IoT landscape, every connected device is a potential hub/rallying point for cybercrimes and various nefarious cyber operations.
8. Summary
Based upon the progress of the literature survey so far,
Figure 7
summarises the current state of the threat landscape of botnets as discovered by the foregoing research survey.
In summary, bot codes are propagated either by active (scanning, war-driving & injection, flooding, physical trans-loading, infusion, etc.) means, or passive (drive-by downloads, trans-loading, social engineering, bugged/pirated software, emails, games, ads, cloned URLs, etc.) means. Botnet participants include the attacker/botmaster/botherder/hacker, the bot code/controller, the zombies/bots/victims and the C&C server and communication traffic. Attackers evade detection using such methods as stepping-stones and surrogacy; bot controllers typically evade detection by encryption methods; the bots adopt the method of binary obfuscation, anti-analysis, security suppression or rootkit technology to hide their network presence; the C&C servers & communication traffic evade detection by using IP & domain flux, rogue servers, anonymisation, encryption, protocol and traffic tweaking, etc.
Botnet operations and attacks could be either synchronous or asynchronous. Synchronous attacks rely on a C&C interaction, while asynchronous attacks do not. Command & control architectures featured by modern botnets are classified as direct, centralised, P2P/decentralised, or hybrid. The typical stages in the lifecycle of a botnet include: Infection/doping, recruitment & rallying, synchronisation & reporting. Existing botnets could be broadly typified as spam botnets, information gathering/reconnaissance botnets, identity theft botnets, or click-fraud botnets; while the attackers/owners of these botnets could be skilled hackers, hacker groups, or government/nation-state actors. Existing botnets countermeasures either focus on prevention, detection, offence, reconnaissance and/or mitigation. These findings characterise the current threat landscape of botnets, generally.
9. Future Research Directions
As we expect to see botnets become even more sophisticated in the near future, further research is needed to unpack the internal workings of botnets that especially feature the decentralised/P2P control architecture. This remains one of the known formidable features of modern botnets, and botnet owners and attackers are expected to begin exploring technologies such as blockchain and advanced crypography towards hardening these nefarious control structures and making them more impervious.
In addition, the exposition of the reverse lifecycle of botnets necessitates future research to explore the covert backdoor channels that help preserve the subsistence of botnets by acting as "open doors" for their reawakening. As modern approaches to sinkholing and darknet implementations continue to reveal valuable information regarding botnets and their key survival features, future research directions should hone these findings and provide robust insights that would help terminate the reverse lifecycle of botnets.
Furthermore, in the wake of brewing political tensions on the global scene, and fears of politically-motivated cyber-attacks, it is also crucial for future research to explore the power and operational dynamics that characterise the different types of attackers who own and control botnets. This is likely to lead to the discovery of new threat and attack categories/classes that would help the security community to better understand the distinguishable characteristics of cyber threats and attacks on a broader scale.
10. Conclusions
In conclusion, this research has been able to circumspect in a relatively extensive manner the current threat landscape of the botnet threat, presenting what is known so far about this threat. This research comes on the heels of exigency of research efforts, especially in light of the growing political tensions sweeping across various parts of the world, particularly those tensions that have accompanied the fear of politically-motivated cyber-attacks. It therefore has become important for knowledge pertaining the botnet threat to be put together in a way that helps to easily visualise how the threat has evolved over the years, as well as the research efforts that have been put forward towards combatting the threat. It is herein that this research makes its contribution. Future researches can now be able to see at a glance what areas of the threat landscape still requires concerted research efforts, and what areas still remain relatively uncharted.
Author Contributions
Conceptualisation, E.C.O.; investigation, E.C.O.; resources, All Authors; writing—original draft preparation, E.C.O.; writing—review and editing, E.C.O.; visualisation, E.C.O.; supervision, O.A.O., O.A. and 'S.K.; project administration, E.C.O.
Funding
This research received no external funding.
Acknowledgments
The inputs of the three expert peer reviewers, as well as journal editors, and colleagues, which helped to enhance the quality of this research, are acknowledged and highly appreciated.
Conflicts of Interest
The authors declare no conflict of interest.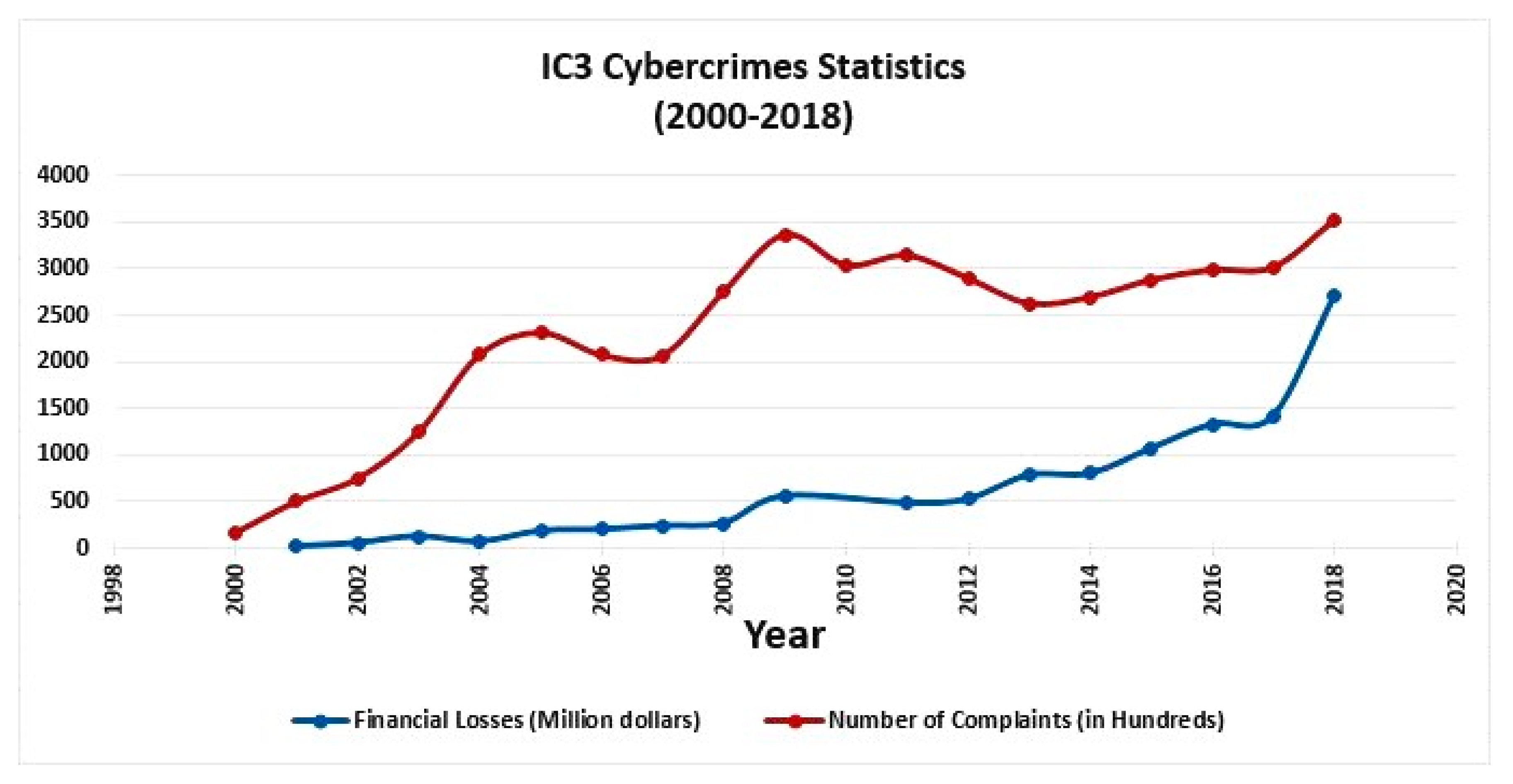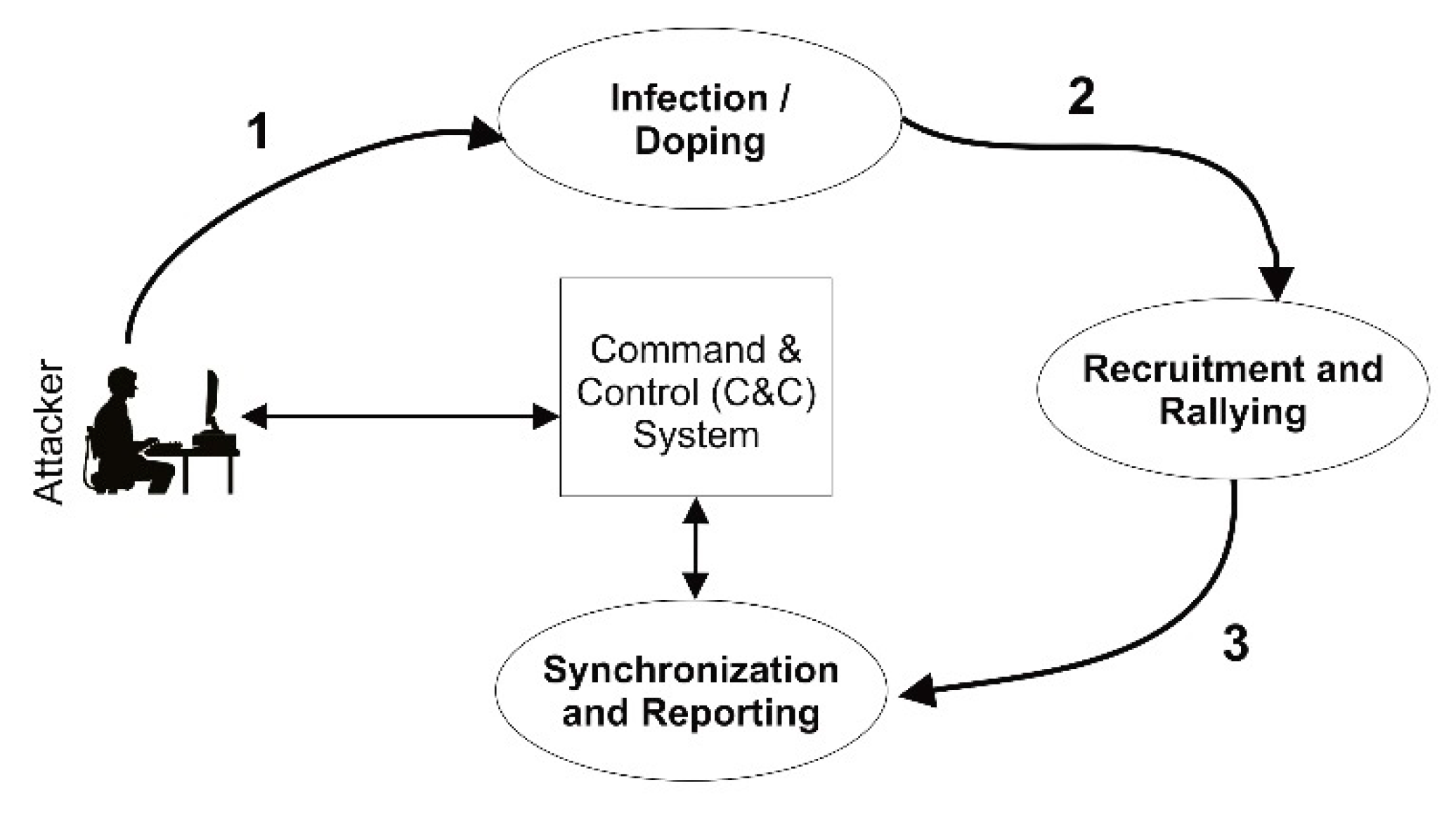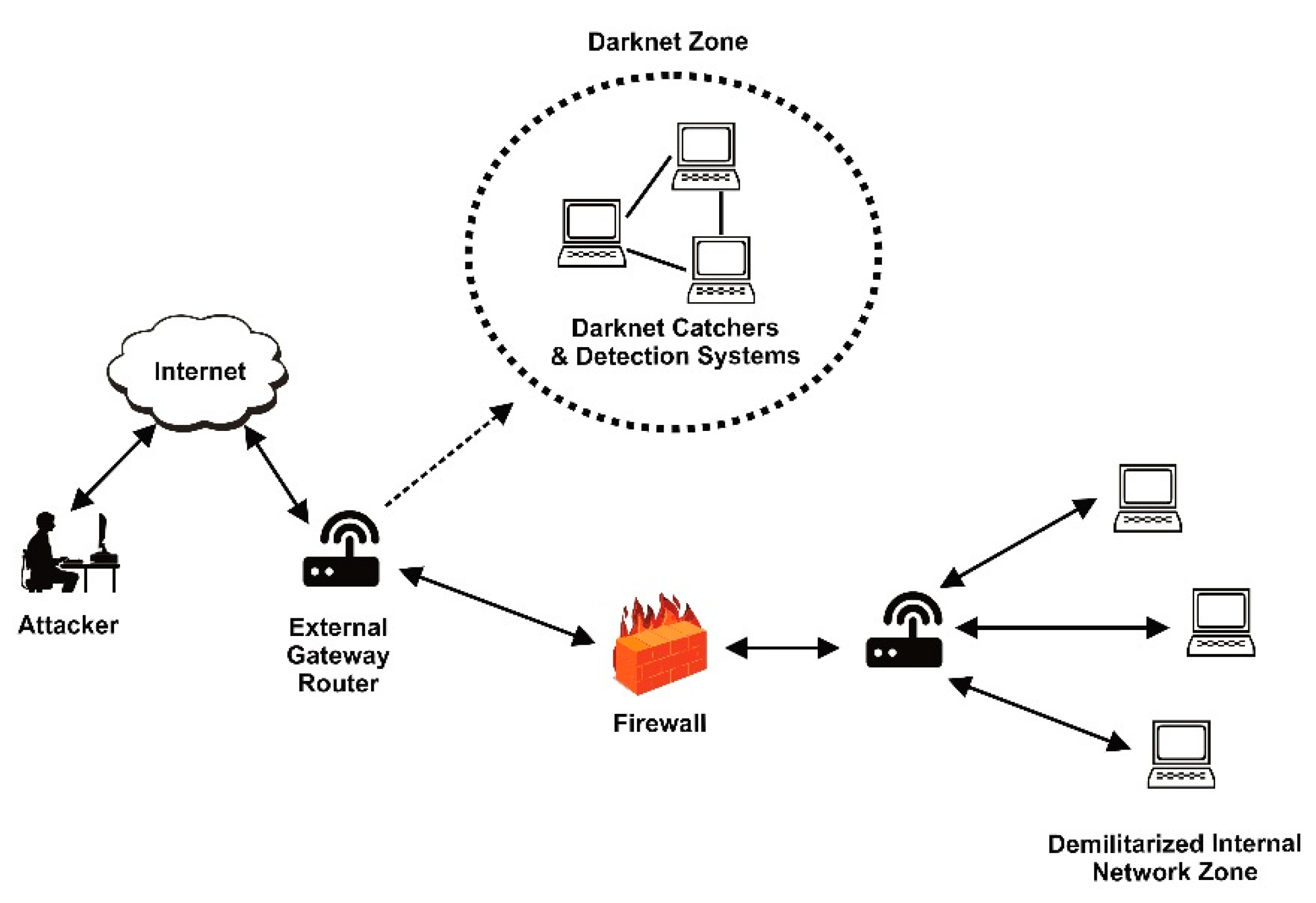 S/N
Characteristics
C&C Architectures
Direct
Centralised
P2P/Decentralised
Hybrid
1
Setup
Easiest
Easy
Fairly Difficult
Difficult (difficulty increases with hybridisation)
2
Administration
Difficult
Less Difficult
Easy
Easier
3
Resilience
Least
Fair
Moderate
High
4
Ease of takeout
Easiest
Easy
Moderately Difficult
Difficult
5
Ease and Accuracy of Traceback
Easiest
Easy
Difficult
Very Difficult
6
Command Dissemination Latency (the time it would take a command issued by the botmaster to travel through to the very last bot in the botnet)
Instant
Fast
Moderately Slow
Slow (speed of dissemination decreases further with depth and level of hybridisation)
7
Possibility of Botnet Failure
Instant
Easier
Easy
Difficult
8
Botnet Enumeration
Near Impossible
Easier
Easy
Difficult
9
Botnet Franchisement
Difficult
Easiest (and more structured)
Easier
Easy

© 2019 by the authors. Licensee MDPI, Basel, Switzerland. This article is an open access article distributed under the terms and conditions of the Creative Commons Attribution (CC BY) license (http://creativecommons.org/licenses/by/4.0/).