Open Access This article is
freely available
re-usable
Technical Note
SISI: A New Device for In Situ Incubations at the Ocean Surface
1
Institute for Chemistry and Biology of the Marine Environment (ICBM), Carl-von-Ossietzky-University Oldenburg, Schleusenstraße 1, 26382 Wilhelmshaven, Germany
2
Leibniz-Institute for Baltic Sea Research Warnemuende (IOW), Seestraße 15, 18119 Rostock, Germany
*
Author to whom correspondence should be addressed.
Received: 4 August 2017 / Accepted: 21 September 2017 / Published: 26 September 2017
Abstract
:
The sea-surface microlayer (SML) forms the uppermost boundary layer between atmosphere and ocean, and has distinctive physico-chemical and biological features compared to the underlying water. First findings on metabolic contributions of microorganisms to gas exchange processes across the SML raised the need for new in situ technologies to explore plankton-oxygen turnover in this special habitat. Here, we describe an inexpensive research tool, the Surface In Situ Incubator (SISI), which allows simultaneous incubations of the SML, and water samples from 1 m and 5 m, at the respective depths of origin. The SISI is deployed from a small boat, seaworthy up to 5 bft (Beaufort scale), and due to global positioning system (GPS) tracking, capable of drifting freely for hours or days. We tested the SISI by applying light/dark bottle incubations in the Baltic Sea and the tropical Pacific Ocean under various conditions to present first data on planktonic oxygen turnover rates within the SML, and two subsurface depths. The SISI offers the potential to study plankton-oxygen turnover within the SML under the natural influence of abiotic parameters, and hence, is a valuable tool to routinely monitor their physiological role in biogeochemical cycling and gas exchange processes at, and near, the sea surface.
Keywords:
sea-surface microlayer; net community production; respiration; plankton; neuston; oxygen; air–sea boundary; gas exchange; floating chamber; in situ incubator
1. Introduction
The sea-surface microlayer (SML) at the air–sea interface spans two-thirds of the global surface area. Despite having a maximum thickness of 1 mm, the SML has profoundly different physico-chemical and biological characteristics compared to the underlying water column [
1
,
2
,
3
]. In addition, due to the accumulation of organic matter and surface-active molecules [
4
,
5
], the SML constitutes a unique biofilm-like habitat for microorganisms [
3
,
6
]. Life within the SML is heavily influenced by a range of "extreme" conditions such as enhanced solar and ultraviolet (UV) radiation [
7
,
8
,
9
], strong wind-wave dynamics [
10
,
11
] and the accumulation of pollutants [
12
]. Heterotrophic microbes in particular benefit from the enrichment of organic substrates, allowing them to thrive and form distinctive communities within the SML compared to the underlying water [
13
,
14
]. Increased abundance of heterotrophic microorganisms within the SML is a typical observation [
15
], and is accompanied by remarkably enhanced respiratory activity [
16
,
17
].
The light/dark bottle incubation technique is the primary approach used to measure planktonic production and respiration in surface water [
18
]. For assessment of the plankton's metabolic potential, it is common practice to incubate sea water samples in closed containers on deck [
19
], although this method is less compatible with adequate temperature control, especially in tropical regions [
20
]. Other approaches involve incubations in bottles attached to a conductivity-temperature-depth (CTD) device [
21
], in floating racks attached to the mother-ship [
9
,
22
], or incubations are replaced by performing consecutive water sampling over several hours or days from the same depth [
23
]. Although a practical incubation method for assessing in situ oxygen (O
2
) turnover in SML samples exists [
24
], an incubation apparatus that additionally allows for incubations at two reference depths in subsurface layers is missing to date.
Therefore, the Surface In Situ Incubator (SISI) was built to enable in situ bottle incubations at the oceanic air–sea interface, and at two near-surface depths (1 and 5 m) for the purpose of comparison. It was designed on the basis of a similar incubation apparatus for coastal work under calm conditions [
24
]. Oceanic data on metabolic processes at the SML are scarce, due to the non-existence of incubation devices for routine and reliable deployments. The SML is a crucial but understudied component for air–sea exchange processes, for example, of climate relevant gases or organic matter. For instance, phytoplankton-derived surfactants accumulating within the SML are known to influence gas exchange [
25
]. Moreover, the direct metabolic control of gas exchange by the SML microorganisms has been previously suggested [
26
,
27
]. Such findings demonstrate that biology-driven gas turnover within the SML requires further attention, and stresses the need for new methodologies to improve our knowledge on the SML's biogeochemical nature and climate-related implications.
The aim of this technical note is to describe the SISI as a new and inexpensive research tool for oceanographers to carry out routine incubation studies in the SML and the near surface layer. We discuss first, results on planktonic O2 turnover obtained from the Baltic Sea and the Pacific Ocean using the SISI. We additionally present a range of other possible applications in the field of environmental science.
3. Results and Discussion
The test tubes made of borosilicate glass type 3.3 allowed for transmission of UV radiation in the 310–400 nm wavelength range, whereas UV radiation in the lower 280–310 nm range was blocked (manufacturer's specification). Alternatively, customer-made test tubes of quartz glass can be used to cover a wider range of UV radiation, but could not be used in this study due to the high costs of these tubes. To make intermediate readings with the microelectrode during an incubation period, test tubes with a resealable rubber septum as a lid could be used.
The SISI is a new tool that allows in situ incubations in surface water and at the SML; the immediate boundary between the atmosphere and hydrosphere. The SISI has several advantages:
Possible improvements for a future version of the SISI could include larger frames to allow for a higher number of replicates (more test tubes) to be installed, and to facilitate incubations of larger sample volumes for more analyses to be made (e.g., measurements of pigment composition and concentration). Although it is of strong interest to study processes within the SML as close to in situ conditions as possible, the here presented SISI does not allow for incubations of the SML in its natural integrity and surface-to-volume ratio, i.e., as a thin film in atmospheric contact. Technically, it is very challenging to sample and incubate the SML at exact in situ conditions as this would require expensive technology such as the application of sensor spots. Our design simulates the closest conditions keeping the device practical for routine measurements.
Future Research Directions
Apart from the purpose presented here, we envision using the SISI for various future applications. Since long-term incubations are possible, the SISI could be applied to study the fate of marine pollutants, which frequently accumulate within the SML [
12
], and which are probably exposed to different rates of photochemical or microbial transformation at different depths. This could be relevant to the study of the biodegradation of oil products forming oil slicks at the sea surface [
45
], and associated impacts on marine biota and ecosystem functioning [
46
]. Another application for the SISI might be the incubation of water samples containing microplastics, whose higher abundance in the SML, compared to underlying water, has been recently described [
47
]. Bacterial colonization of polymer-based materials and biofilm formation [
48
], as well as microbial degradation of microplastic particles [
49
], constitute highly topical research areas that could be further investigated using the SISI.
In addition, the photochemical and microbial transformation of dissolved organic matter (DOM), which is enriched in the SML, compared to the underlying water [
17
], and plays a profound role in marine biogeochemical cycling, could be explored using incubations in the SISI. Photolysis transforms recalcitrant DOM into bioavailable, labile carbon compounds, a process that occurs even at low intensities of visible light [
50
]. Such labile compounds can be further utilized by heterotrophic microorganisms [
51
]. On the other hand, labile DOM components under the influence of UV radiation can also undergo crosslinking and, in turn, contribute to the refractory DOM pool [
50
].
For ecological questions, the SISI could help to elucidate the short-term adaptation potential of bacteria, phyto- and microzoo- plankton when exposed to different temperatures, UV, and light regimes. As sea-surface temperature and UV radiation are predicted to increase with ongoing climate change [
52
,
53
], incubation experiments can contribute to a better understanding on how planktonic organisms may adapt to environmental changes and influence food webs in a future ocean.
Supplementary Materials
The following are available online at
www.mdpi.com/2077-1312/5/4/46/s1
, Supplement Video S1: Deployment and operation of the SISI, Supplement Data S1: R code outlier test and dataset, Supplement Data S2: Cell counts St9 SISI, Supplement Note 1: Microelectrode temperature correction.
Acknowledgments
The described research tool herein was built for use in the Parameterization of the Sea-Surface Microlayer Effect (PASSME) project funded by the European Research Council (ERC) project (grant number GA336408), and we received funds to publish in open access. We thank the captains and crew members of the R/V Meteor (cruise M117) and R/V Falkor (cruise FK161010). We would also like to acknowledge our colleagues at the ICBM workshop for construction of the SISI, as well as M. Ladehoff, L. Oeljeschläger, K. Bird, and M. Ribas-Ribas for their kind assistance during deployment. We are also grateful to R. Baaske for analyzing cell abundances, and S. Trinkler for performing the Winkler analyses. We further thank S. Constable for producing the video, I. Schüller for the scientific illustration of the SISI, and T.-B. Robinson for language editing.
Author Contributions
Oliver Wurl developed the concept of the SISI and together with Janina Rahlff carried out the deployments and sample preparation; Janina Rahlff conducted oxygen measurements, analyzed the data and wrote the first manuscript draft; Christian Stolle contributed to data analysis and experimental design; All authors contributed to writing, discussion and editing of the manuscript.
Conflicts of Interest
The authors declare no conflict of interest. The founding sponsors had no role in the design of the study; in the collection, analyses, or interpretation of data; in the writing of the manuscript, and in the decision to publish the results.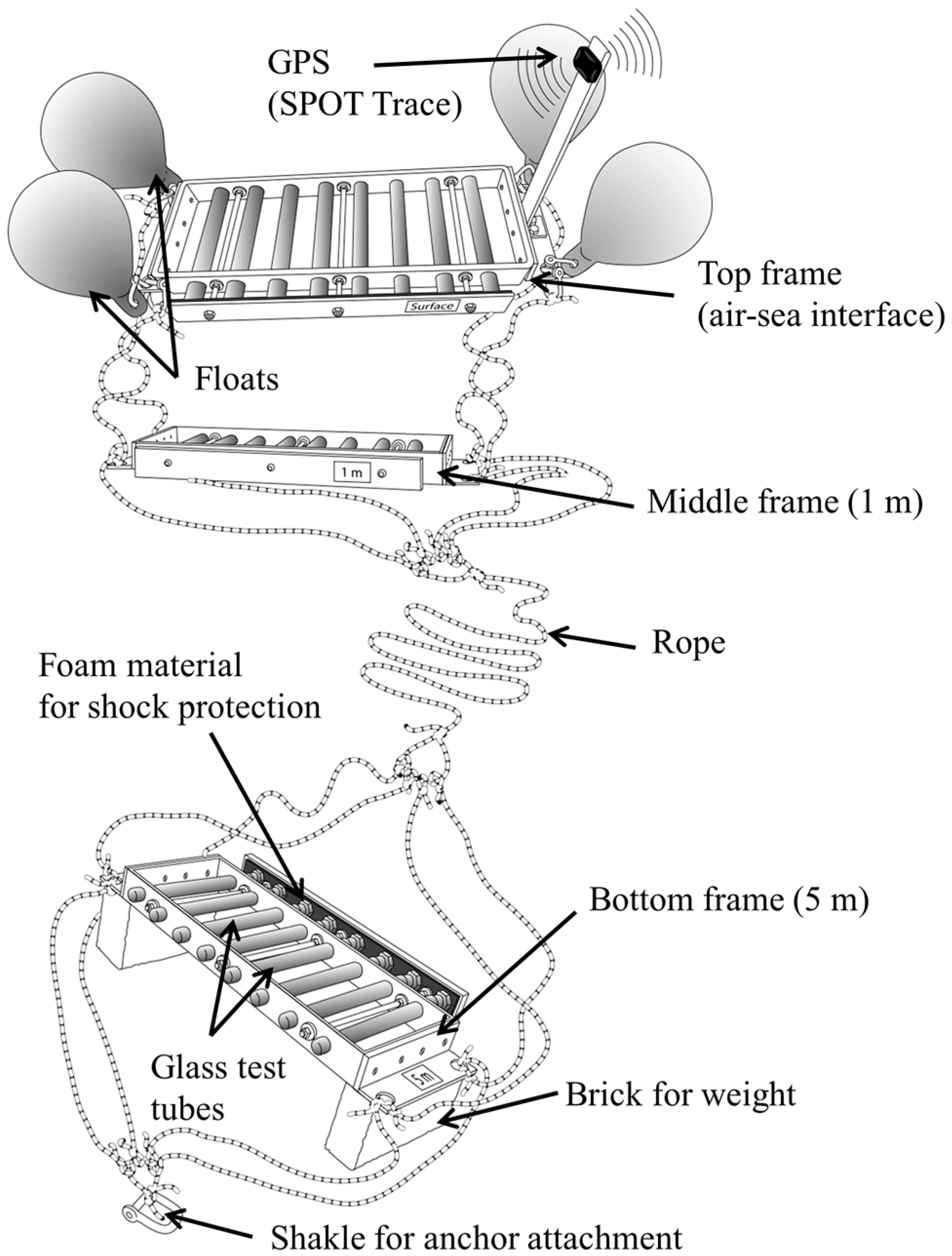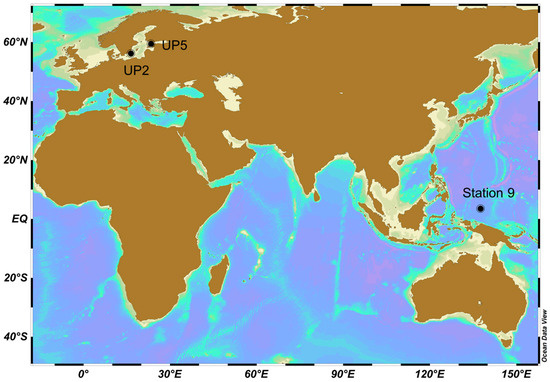 Figure 2.
Station map for deployment locations of the Surface In Situ Incubator (SISI). Stations are presented using Ocean Data View [
30
].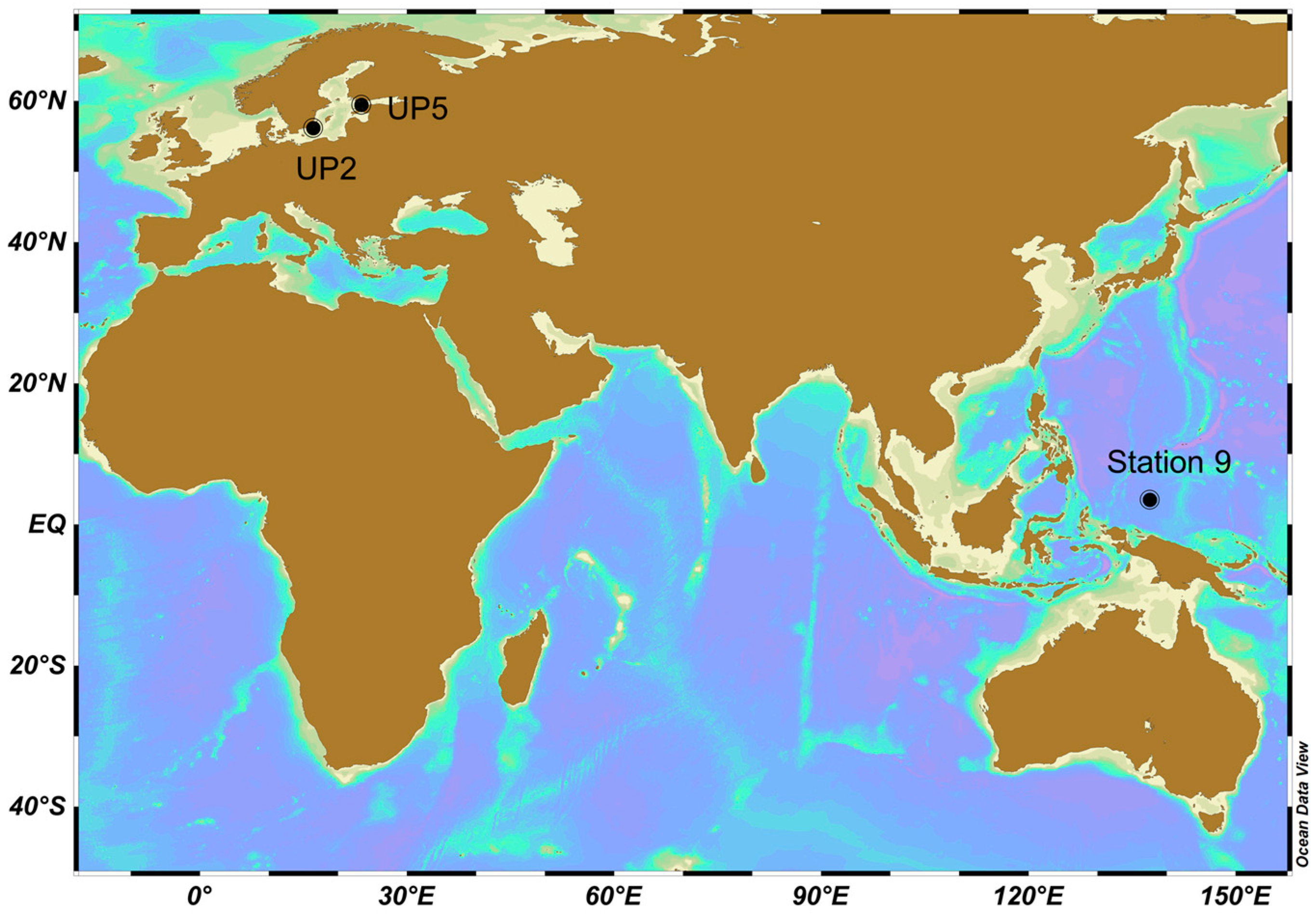 Figure 3. Oxygen turnover rates per hour recorded using the SISI and the light/dark bottle incubation technique for stations in the Baltic Sea (a,b) and the Pacific Ocean (c). Shown are single replicates and all outliers (blue symbols). NCP = net community production, R = respiration, SML = sea-surface microlayer.


Table 1. Time of incubation of seawater samples, wind speeds and sea states during operation of the Surface In Situ Incubator.
Location
Position (Decimal)
Date (UTC) Incubation Start
Station Name
Method of O2 Measurement
Incubation Period (h)
Mean Wind Speed (m s−1)
Mean Beaufort
Max. Wind Speed (m s−1)
Max. Beaufort
Station Feature
Latitude (East)
Longitude (North)
Baltic Sea
56.1709
16.4275
03/Aug/2015 11:15
UP2
Winkler
12
4.3
3
5.4
3
Coastal, Upwelling
Baltic Sea
59.4609
23.3726
08/Aug/2015 10:30
UP5
Winkler
10.7
6.1
4
8.3
5
Coastal
Pacific Ocean
3.5109
137.5965
28/Oct/2016 00:34
Station 9
Microelectrode
29.5–35.5
8.1
5
16.6
7
Open ocean

© 2017 by the authors. Licensee MDPI, Basel, Switzerland. This article is an open access article distributed under the terms and conditions of the Creative Commons Attribution (CC BY) license (http://creativecommons.org/licenses/by/4.0/).