Open Access This article is
freely available
re-usable
Brief Report
Road Network and the Spatial Distribution of Wildfires in the Valencian Community (1993–2015)
1
Department of Agricultural and Forestry Sciences (DAFNE), Tuscia University, Via San Camillo de Lellis, 5, I-01100 Viterbo, Italy
2
Soil Erosion and Degradation Research Group, Department of Geography, University of Valencia, ES-46010 Valencia, Spain
3
Global Change Research Institute of the Czech Academy of Sciences, Lipová 9, CZ-37005 České Budějovice, Czech Republic
4
Grumets Research Group, Department of Geography, Universitat Autònoma de Barcelona, Edifici B, Campus de la UAB, ES-08193 Barcelona, Spain
5
Department of Architecture and Project, Sapienza University of Rome, Via Flaminia 369, I-00196 Rome, Italy
6
Council for Agricultural Research and Economics (CREA), Viale Santa Margherita 80, I-52100 Arezzo, Italy
*
Author to whom correspondence should be addressed.
Received: 26 March 2019 / Accepted: 2 May 2019 / Published: 5 May 2019
Abstract
:
Understanding the role of wildfire drivers is essential to implement more effective prevention strategies at the regional scale and to promote specific mitigation actions at the local scale. By considering municipalities as the elementary analysis domain, the present study investigates the spatial distribution of wildfires (1993–2015) in the Valencian Community, a Mediterranean fire-prone area with variable climate regimes, heterogeneous landscapes and increasing human pressure. Assuming that a denser road network increases the probability of wildfire occurrence, results of a quantitative analysis exploring the relationship between spatial location of ignition points and roads were presented. The empirical findings of this study contribute to ascertain the role of roads as a direct (or indirect) cause of wildfires in the Mediterranean region.
Keywords:
indicators; human activity; land-use; spatial analysis; Mediterranean basin
2. Methodology
2.1. Study Area
The Valencian Community is a region located in the east side of the Iberian Peninsula, including 23,255 km
2
of land administered by three provinces (Valencia, Castellón and Alicante) and 534 municipalities. The resident population (4.5 million inhabitants) is distributed along the inland–coastal gradient, from uninhabited internal land to overpopulated coastal districts. With about 500 km of coastline on the Mediterranean Sea, the climate is mainly arid to dry sub-humid, with hot summers and rainy autumns [
52
,
53
,
54
]. Annual precipitation and elevation respectively range between 300 and 900 mm, and between 0 m and 2000 m at sea level. About 44% of the Valencian Community is devoted to agricultural activities, and 52% of land is covered by forests [
53
]. Rural abandonment since the late 1970s has increased the incidence of large fires [
55
]. Replacement of local species with flammable plants was rather common because of recovery of natural vegetation and recurrent fires [
56
]. Farmland abandonment led to a generalized accumulation of fuel in forests, shrubland and pastures. At the same time, population increase in wildland/urban interfaces (WUI) increased fire risk [
56
,
57
,
58
,
59
]. Wildfires in the Valencian Community occurred primarily during dry and hot summers [
1
,
2
], being representative of Mediterranean-type ecosystem complexity.
2.2. Analysis of Wildfire Distribution in the Valencian Community
Based on fire statistics provided by the Spanish Ministry of Agriculture, Environment, Climate Change and Rural Development, Forest Fire Prevention and Awareness, perimeters of each wildfire recorded in the Valencian Community between 1993 and 2015 were mapped in a vector file, including the geographical coordinates of the ignition point. The geographical coordinates were estimated during the official inspection of each burnt area and transmitted to the Valencian Community. The spatial pattern of wildfire starting points is gaining attention due to the important role ignition plays in fire regimes [
60
,
61
,
62
,
63
,
64
,
65
].
2.3. Data Analysis
Data analysis included a synchronic, descriptive examination of wildfire characteristics. Average burnt surface area per year and frequency of wildfires in the same location were calculated for each municipality of the Valencian community. Indicators include (i) burnt surface area in total municipal area and (ii) the ratio between the number of wildfires and the burnt area.
Spatial elaborations were carried out through the ArcGIS software (ArcGIS software (ESRI Company, Redlands, CA, USA). A shapefile representing roads and provided by the Valencian Community, was overlapped on a fire location map (representing the ignition point of each fire). Two buffers (100 m and 500 m radius) were designed around each ignition point to identify the specific conditions under which each fire took place. Spatial concordance between wildfires and human activities, particularly along roads, was documented in earlier studies [
66
]. The road network was derived from the shapefile delivered by the Valencian community, where each road is classified in the following types: motorway/highway, basic road, local infrastructure, municipal infrastructure, collecting way, auxiliary branch, service road, and road 'under construction'. A descriptive analysis of wildfire occurrence close to each of these road classes provides indications on the relevance of road density in both intentional and accidental fires. A correlation analysis was finally carried out to test the relationship between the distance from roads and fire size (ha). A Spearman non-parametric co-graduation coefficient was used to identify both linear and non-linear associations between variables, testing for significance at
p
< 0.05 irrespective of the normality assumption of the data.
3. Results
A spatial analysis was finally adopted to investigate fire characteristics considering the percentage of road length by type around each ignition point. Two buffers (100 m and 500 m radius from the ignition point) were considered. While highways had only a few meters affected by fire, more than 50% of fires had their origin alongside local and municipal streets. This is a well-known issue because in Spain protective zones exist only along highways, while most fires started close to secondary roads. Wildfires along local and municipal roads were more frequent during the day, particularly between 1 p.m. and 6 p.m. The largest fires had ignition points close to local roads; fires occurring within 0.1 km of local roads burned 23 ha of land on average, while fires occurring near highways had a smaller average surface area (slightly more than 1 ha).
5. Conclusions
The present study indicates that wildfires are more likely to occur along specific types of roads. In the Valencian community, most severe fires were recorded in correspondence to secondary roads, where there are no buffer/protection zones as there are prepared along highways and high-distance national roads that can effectively prevent a fire from spreading. Moreover, severe and large wildfires sometimes had ignition points very close to local roads. They often occurred in small isolated villages, endangering the safety of their inhabitants and delaying rescue operations. Taken together, these results indicate the need of enhanced environmental/landscape planning along local roads, with the creation of buffer areas, with both natural cover and agricultural use, increasing road maintenance and reducing vegetation fuel along them. Vegetation along local roads should be considered a unique landscape type with heterogeneous fuel characteristics, and with relevant socioeconomic and environmental consequences for wildfire containment. Furthermore, due to recent and rapid changes along urban–rural gradients, research should focus more intensively on agro-forest fringe contexts, where recent low-density urban expansion at growing distances from the main urban centers may have unpredictable long-term impacts on local landscapes, particularly evident in environmentally-fragile areas [
40
,
90
,
91
,
92
].
Author Contributions
Conceptualization, I.Z. and P.S.; methodology, P.S.; validation, A.C., P.C. and S.P.; formal analysis, P.S. and A.C.; investigation, I.Z, L.S. and P.C.; writing—original draft preparation, I.Z., A.C., L.S. and P.S.; writing—review and editing, I.Z. and L.S.; supervision, A.C.
Funding
This research received no external funding.
Conflicts of Interest
The authors declare no conflict of interest.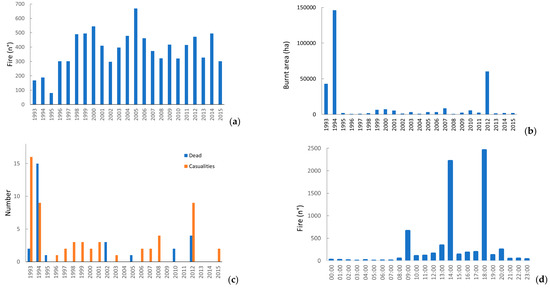 Figure 1. Number of fires (a), hectares of burnt surface area per year (b), number of fatalities (c) and daytime intervals when fires occurred (d) in the Valencian community, 1993–2015.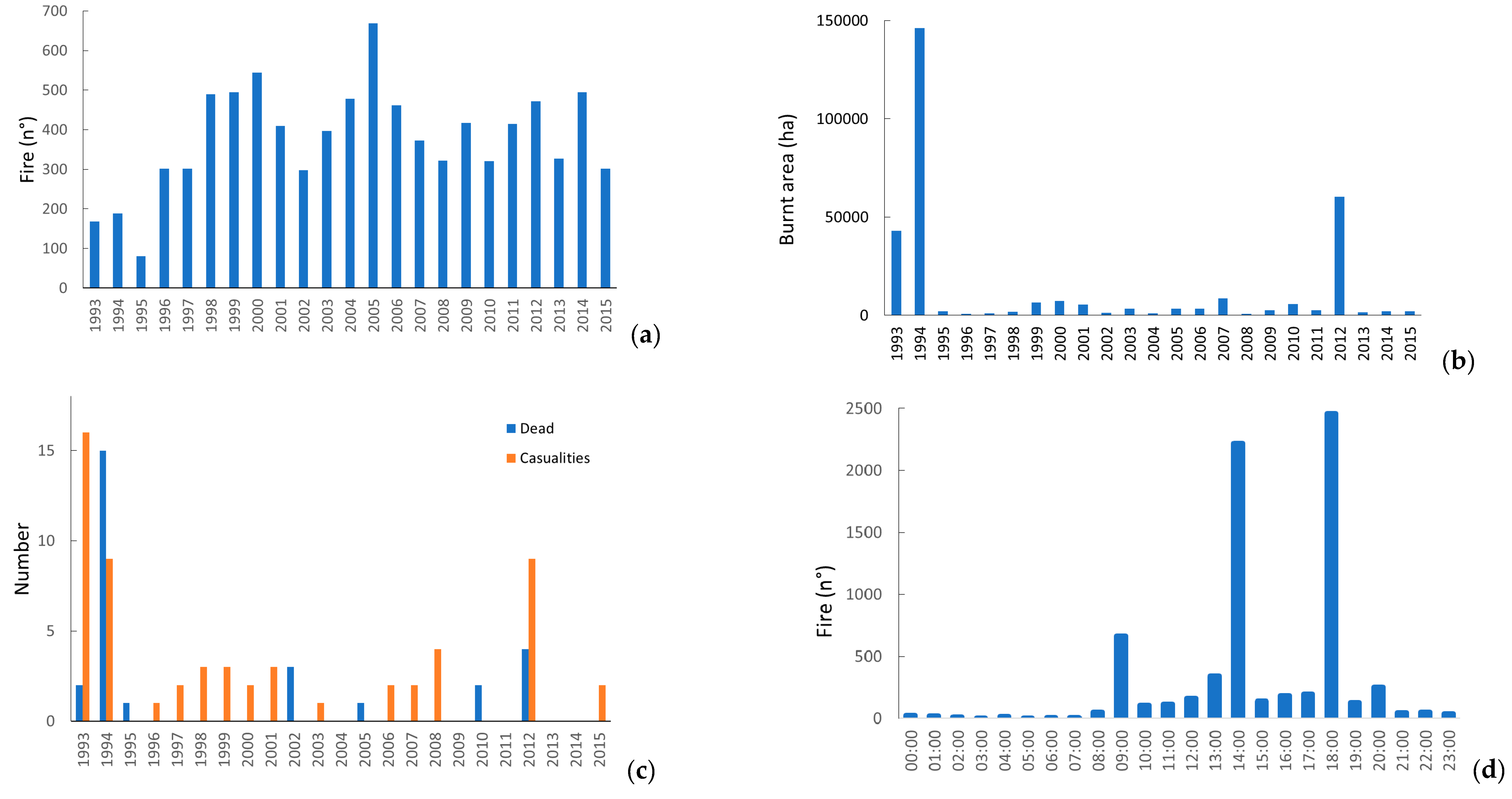 Figure 2. Burned and not-burned areas (a); number of times when a fire occurs at the same location (insert highlights the most exposed area) (b); time series of fires per year (c); duration of fires (in days) in the last years (d); burnt surface in municipal surface area (e); and the ratio of number of fires to burnt areas (f).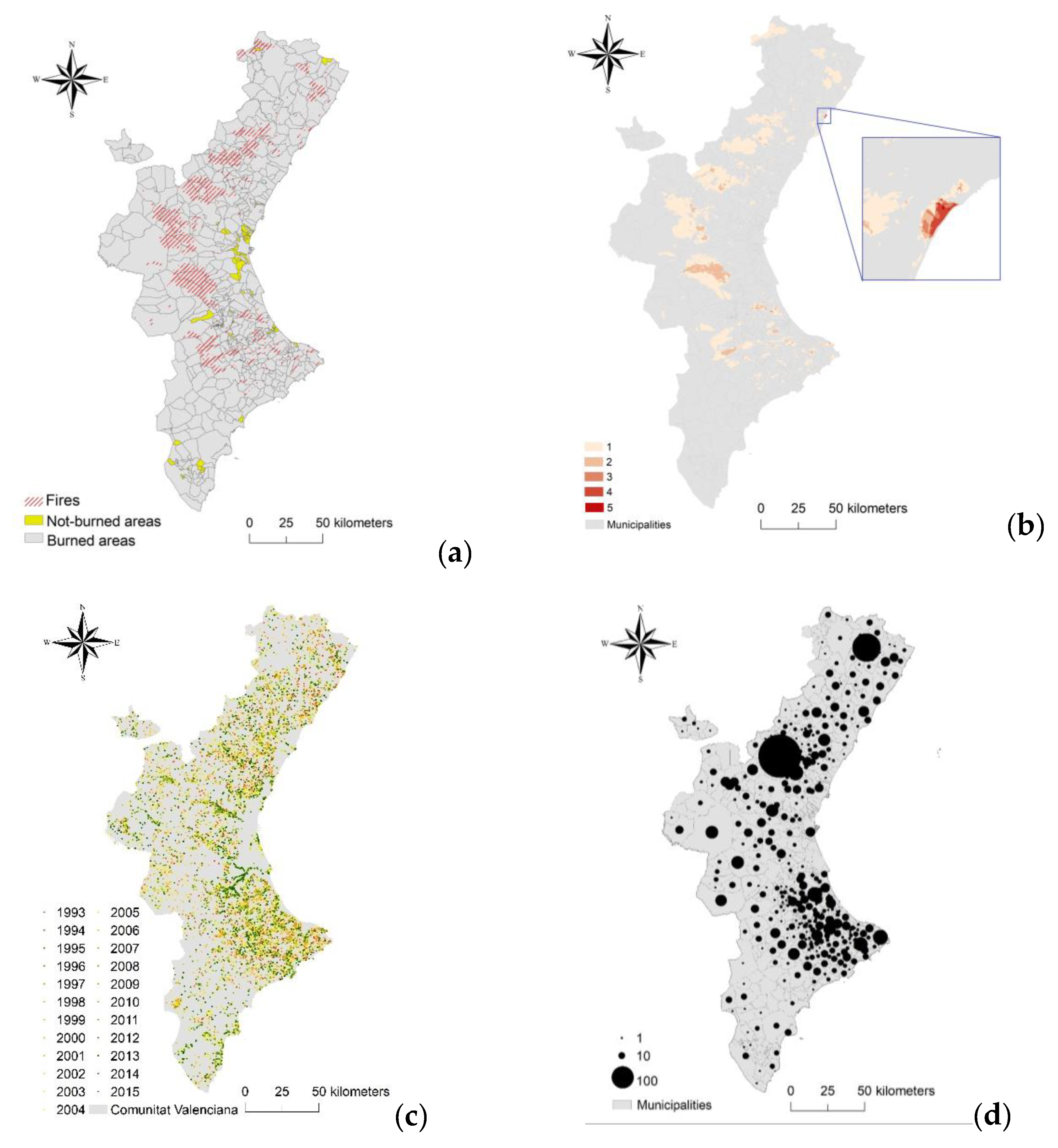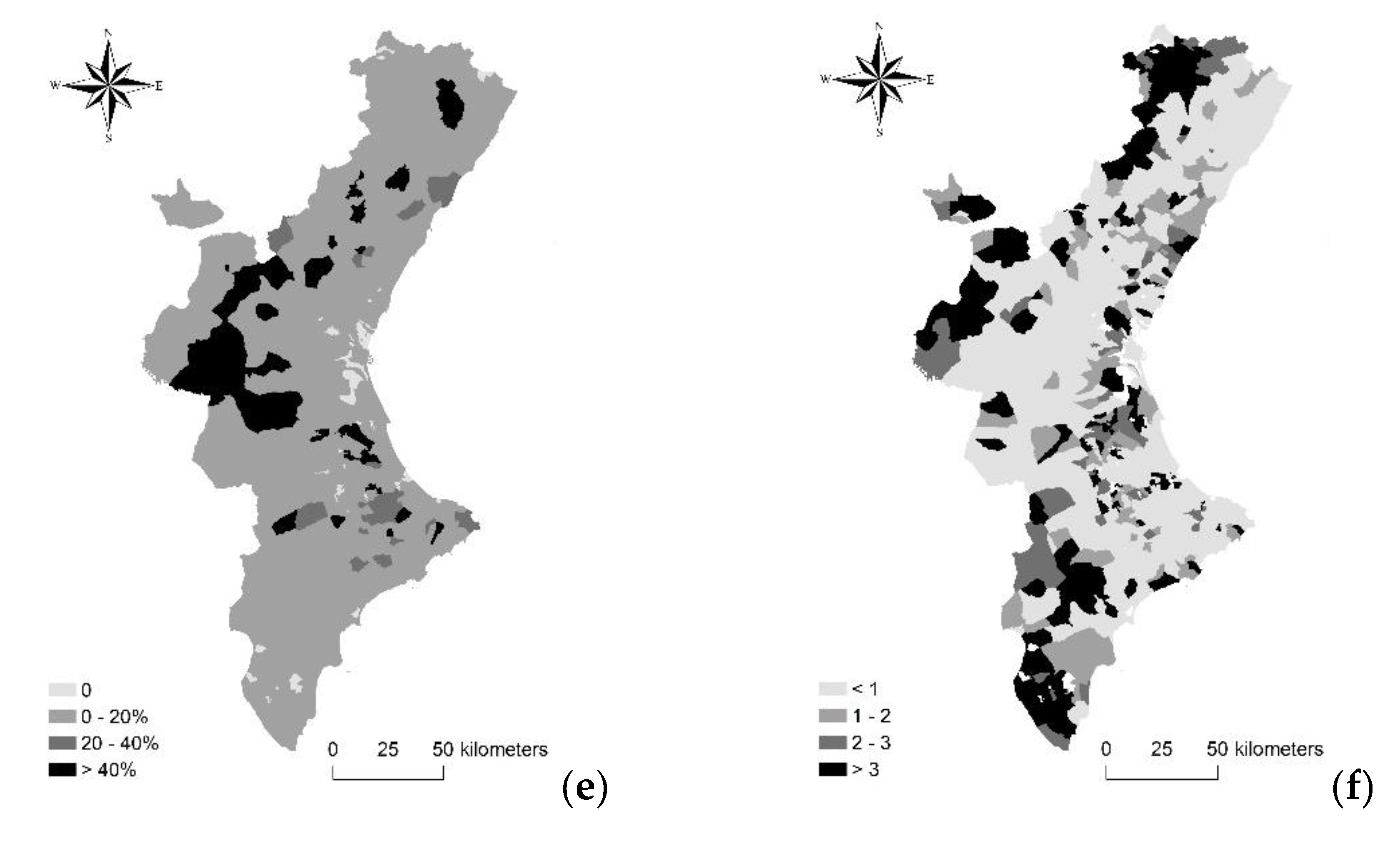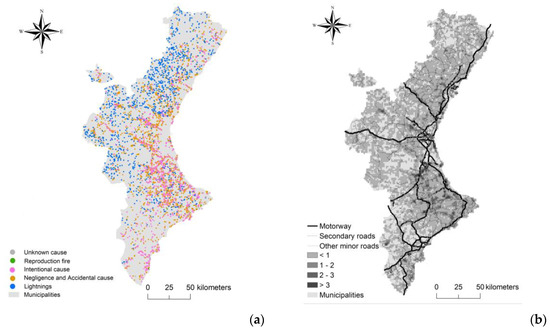 Figure 3. Spatial distribution of wildfires by type of cause (a) and density of the ignition points overlapped with the road system (b).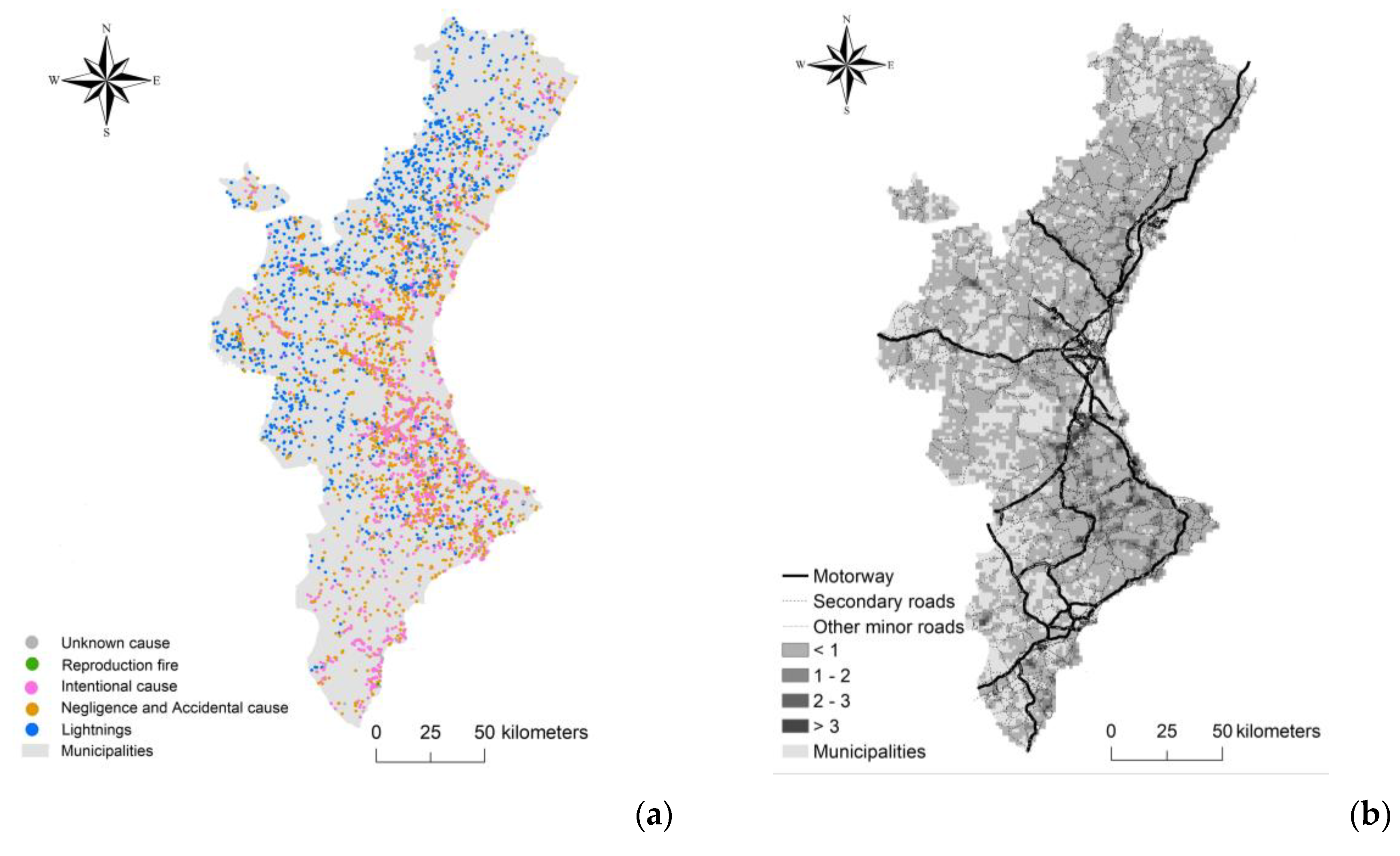 Figure 4.
Forest fire in Carcaixent. June 2016. View in September 2016. Quick recovery thorough the spotters such as thorny oak -
Quercus coccifera
(
a
); recently abandoned fields in densely populated areas results in fires (Carcaixent, June 2016) (
b
,
c
); and forest fire in Carcaixent, June 2016. One week after the fire (see dwarf palm -
Chamaerops humilis
already sprouting) (
d
); new plantations (citrus) and forest fires. The opening of new roads for the new plantations contributes to enhance fire risk (
e
); and fire was a tool for farmers. Less prescribed fires result in higher biomass and higher fire risk (
f
).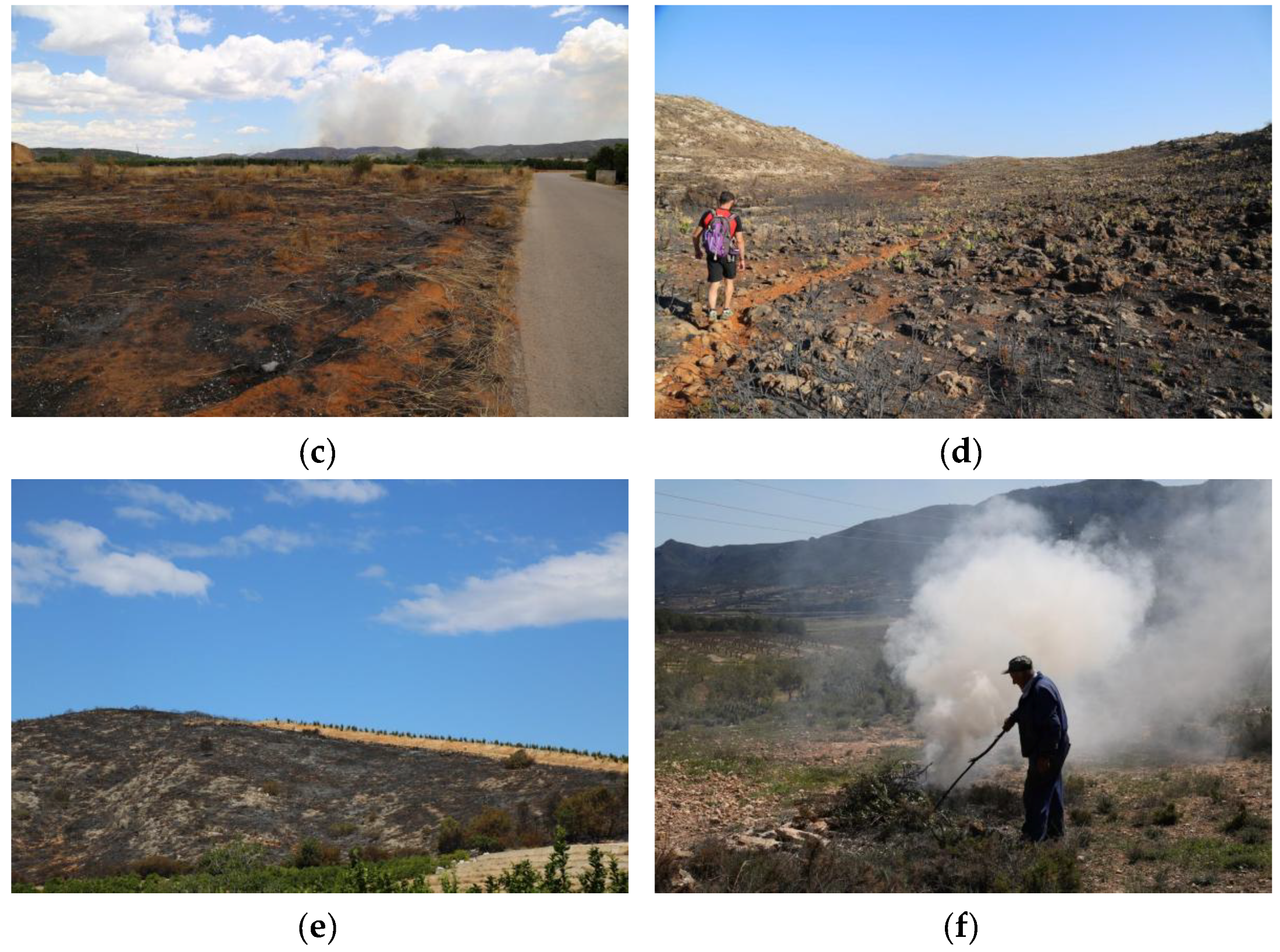 Table 1. Road length (per cent share in total network length) by type, within a buffer of 0.1 and 0.5 km from the origin of the fire (i.e., ignition point) by type of cause.
Road Type
Percentage Share in Total Length of Road Affected by Wildfires
Average
Unknown
Reproduction Fire
Intentional
Negligence Accidental
Lightning
Total
Fire Size (ha)

0.1 km buffer

Highway
8.4
26.8
9.0
14.3
5.3
11.3
1.2
Basic
15.5
6.4
10.4
12.7
8.3
11.5
0.3
Local
52.9
57.5
46.0
44.3
55.0
46.5
23.3
Municipal
16.5
0.0
25.3
20.4
27.3
22.5
1.9
Collecting way
0.0
0.0
0.3
0.0
0.0
0.1
0
Auxiliary branches
5.1
2.2
4.4
4.6
1.4
4.2
0.2
Service road
1.6
7.1
4.6
3.7
2.6
3.9
1.8
Under construction
0.0
0.0
0.0
0.0
0.0
0.0
0

0.5 km buffer

Highway
10.8
20.0
13.3
15.7
8.6
13.9
1.5
Basic
13.0
11.7
11.7
12.3
9.8
11.9
0.9
Local
41.3
56.0
39.9
39.3
51.4
41.0
7.1
Municipal
22.3
8.7
22.0
20.9
21.3
21.3
0.8
Collecting way
0.3
0.0
0.3
0.1
0.0
0.2
0.2
Auxiliary branches
10.1
0.7
7.8
6.5
5.5
7.0
0.6
Service road
2.0
2.8
5.0
5.1
3.3
4.7
2.5
Under construction
0.0
0.0
0.0
0.0
0.0
0.0
0.2

© 2019 by the authors. Licensee MDPI, Basel, Switzerland. This article is an open access article distributed under the terms and conditions of the Creative Commons Attribution (CC BY) license (http://creativecommons.org/licenses/by/4.0/).