Effects of Olive Mill Wastewater on Soil Microarthropods and Soil Chemistry in Two Different Cultivation Scenarios in Israel and Palestinian Territories
1
Group of Environmental and Soil Chemistry, Institute for Environmental Sciences, University of Koblenz-Landau, Fortstraße 7, Landau 76829, Germany
2
Group of Ecotoxicology and Environment, Institute for Environmental Sciences, University of Koblenz-Landau, Fortstraße 7, Landau 76829, Germany
3
Agricultural Research Organization, Gilat Research Center, Gilat 85280, Israel
4
Department of Earth and Environmental Science, Al-Quds University, Abu-Dis, P.O. Box 20002, Jerusalem, Palestine
*
Author to whom correspondence should be addressed.
Academic Editor: Stephen R. Smith
Received: 30 May 2015 / Revised: 12 August 2015 / Accepted: 31 August 2015 / Published: 18 September 2015
Abstract
Although olive mill wastewater (OMW) is often applied onto soil and is known to be phytotoxic, its impact on soil fauna is still unknown. The objective of this study was to investigate how OMW spreading in olive orchards affects Oribatida and Collembola communities, physicochemical soil properties and their interdependency. For this, we treated plots in two study sites (Gilat, Bait Reema) with OMW. Among others, the sites differed in irrigation practice, soil type and climate. We observed that soil acidity and water repellency developed to a lower extent in Gilat than in Bait Reema. This may be explained by irrigation-induced dilution and leaching of OMW compounds in Gilat. In Bait Reema, OMW application suppressed emergence of Oribatida and induced a community shift, but the abundance of Collembola increased in OMW and water-treated plots. In Gilat, Oribatida abundance increased after OMW application. The effects of OMW application on soil biota result from an interaction between stimulation of biological activity and suppression of sensitive species by toxic compounds. Environmental and management conditions are relevant for the degree and persistence of the effects. Moreover, this study underlines the need for detailed research on the ecotoxicological effects of OMW at different application rates.
View Full-Text
►

▼

Figures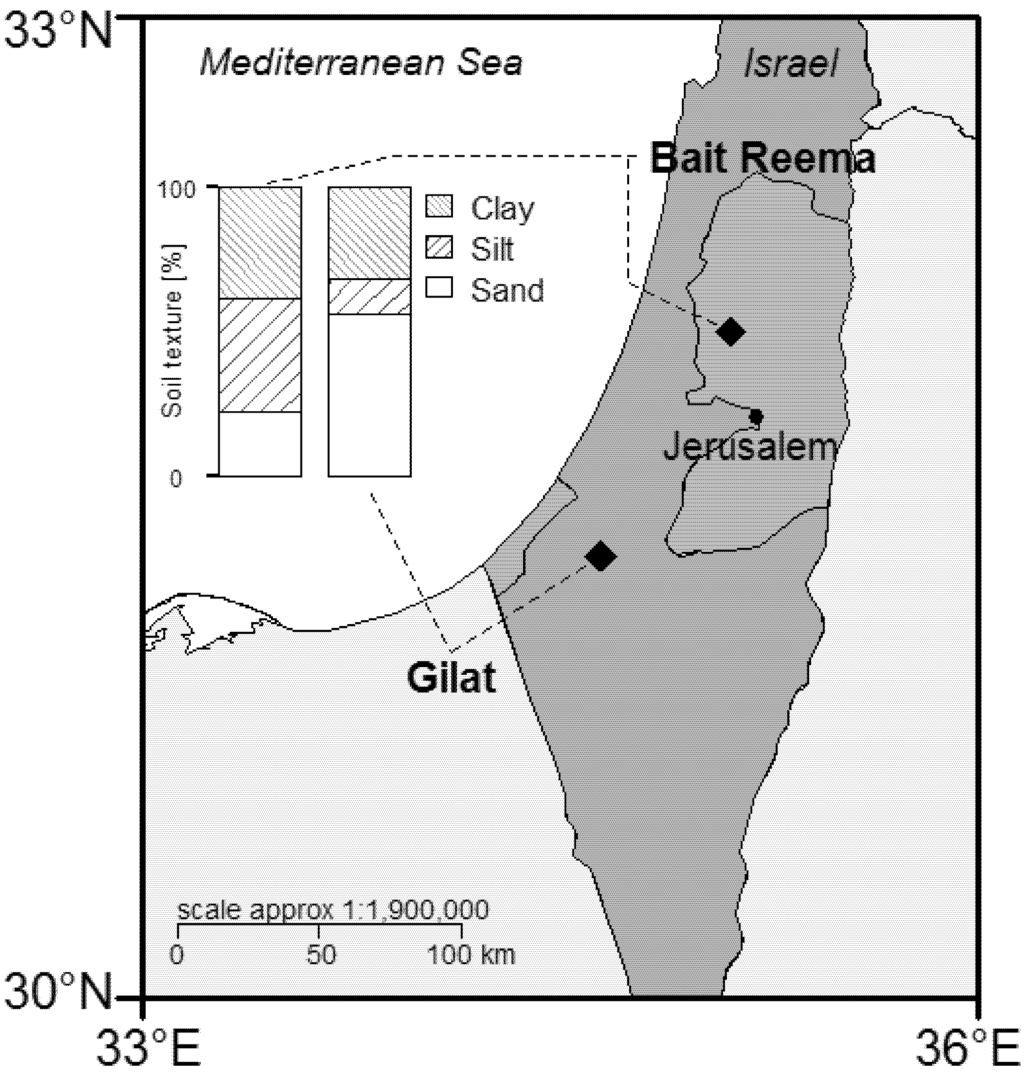 Figure 1
This is an open access article distributed under the
Creative Commons Attribution License
which permits unrestricted use, distribution, and reproduction in any medium, provided the original work is properly cited (CC BY 4.0).

Share & Cite This Article
MDPI and ACS Style
Kurtz, M.P.; Peikert, B.; Brühl, C.; Dag, A.; Zipori, I.; Shoqeir, J.H.; Schaumann, G.E. Effects of Olive Mill Wastewater on Soil Microarthropods and Soil Chemistry in Two Different Cultivation Scenarios in Israel and Palestinian Territories. Agriculture 2015, 5, 857-878.
Related Articles
Comments
[Return to top]