Vertical Distribution of Structural Components in Corn Stover
1
USDA-Agricultural Research Service, North Central Soil Conservation Research Laboratory, 803 Iowa Avenue, Morris, MN 56267, USA
2
USDA-Agricultural Research Service, National Laboratory for Agriculture and the Environment, 2110 University Boulevard, Ames, IA 50011, USA
3
US-Department of Energy, Idaho National Laboratory, P.O. Box 1625, Idaho Falls, ID 83415-2025, USA
4
USDA-Agricultural Research Service, Coastal Plains Research Center, 2611 W. Lucas St., Florence, SC 29501, USA
5
USDA-Agricultural Research Service, Northern Great Plains Research Laboratory, P.O. Box 459, Mandan, ND 58554, USA
6
USDA-Agricultural Research Service, Agroecosystem Management Research Unit, 117 Keim Hall, Lincoln, NE 68583, USA
7
Department of Agronomy, Iowa State University, 2104 Agronomy Hall, Ames, IA 50011, USA
8
USDA-Agricultural Research Service, Soil and Water Management Research Unit, 439 Borlaug Hall, 1991 Upper Buford Circle, St. Paul, MN 55108, USA
9
Department of Plant and Soil Sciences, Oklahoma State University, 368 Agricultural Hall, Stillwater, OK 74078-6028, USA
10
USDA-Agricultural Research Service, 2150 Centre Ave., Bldg. D. Suite 100, Fort Collins, CO 80526, USA
11
Department of Soil Science, University of Wisconsin, 1525 Observatory Drive, Madison, WI 53706-1299, USA
12
CPESC #651, 105 Meadow Lane, Labadie, MO 63055, USA
*
Author to whom correspondence should be addressed.
†
These authors contributed equally to this work.
Received: 26 September 2014 / Revised: 31 October 2014 / Accepted: 10 November 2014 / Published: 17 November 2014
Abstract
In the United States, corn (
Zea mays
L.) stover has been targeted for second generation fuel production and other bio-products. Our objective was to characterize sugar and structural composition as a function of vertical distribution of corn stover (leaves and stalk) that was sampled at physiological maturity and about three weeks later from multiple USA locations. A small subset of samples was assessed for thermochemical composition. Concentrations of lignin, glucan, and xylan were about 10% greater at grain harvest than at physiological maturity, but harvestable biomass was about 25% less due to stalk breakage. Gross heating density above the ear averaged 16.3 ± 0.40 MJ kg
−1
, but with an alkalinity measure of 0.83 g MJ
−1
, slagging is likely to occur during gasification. Assuming a stover harvest height of 10 cm, the estimated ethanol yield would be >2500 L ha
−1
, but it would be only 1000 L ha
−1
if stover harvest was restricted to the material from above the primary ear. Vertical composition of corn stover is relatively uniform; thus, decision on cutting height may be driven by agronomic, economic and environmental considerations.
View Full-Text
►

▼

Figures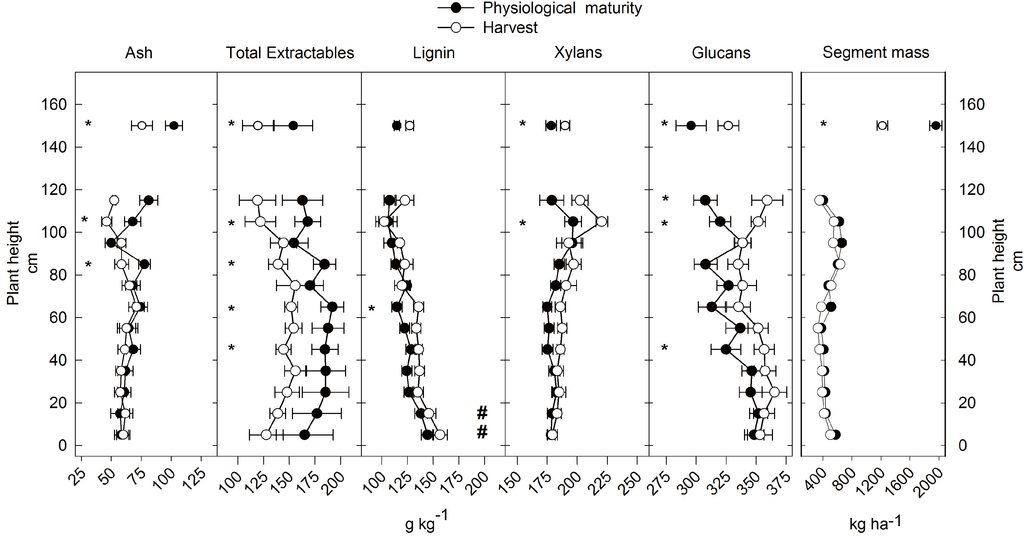 Figure 1
This is an open access article distributed under the
Creative Commons Attribution License
which permits unrestricted use, distribution, and reproduction in any medium, provided the original work is properly cited (CC BY 4.0).

Share & Cite This Article
MDPI and ACS Style
Johnson, J.M.F.; Karlen, D.L.; Gresham, G.L.; Cantrell, K.B.; Archer, D.W.; Wienhold, B.J.; Varvel, G.E.; Laird, D.A.; Baker, J.; Ochsner, T.E.; Novak, J.M.; Halvorson, A.D.; Arriaga, F.; Lightle, D.T.; Hoover, A.; Emerson, R.; Barbour, N.W. Vertical Distribution of Structural Components in Corn Stover. Agriculture 2014, 4, 274-287.
Related Articles
Comments
[Return to top]