The Development and Testing of a Chemotherapy-Induced Phlebitis Severity (CIPS) Scale for Patients Receiving Anthracycline Chemotherapy for Breast Cancer
1
Velindre Cancer Centre, Velindre Road, Cardiff CF14 2TL, UK
2
Faculty of Life Sciences and Education, University of South Wales, Pontypridd CF37 1DL, UK
*
Author to whom correspondence should be addressed.
Received: 10 February 2020 / Revised: 21 February 2020 / Accepted: 29 February 2020 / Published: 5 March 2020
A chemotherapy induced phlebitis severity (CIPS) scale was developed in patients receiving anthracycline chemotherapy for breast cancer. A five-point severity scoring scale for chemotherapy-induced phlebitis was tested for inter-rater reliability. Ease of use was observed through timing assessments and a review of the completeness of documentation. A comparison of CIPS scale grade with participant reported severity scores was made. The final version was tested for inter-rater reliability, with 122 patient assessments. There was an 89.3% (109 of 122) agreement between the assessors (κ = 0.82, SE ± 0.042, 95% CI 0.74–0.90). Mean time to complete the scale was 1 min 36 s and documentation was fully completed for 98% of assessments. Patient reported severity closely matched the CIPS grade (κ = 0.54, SE ± 0.045, 95% CI 0.46–0.63). This new scale provides a list of symptoms associated with chemotherapy phlebitis, which can be scored quickly and accurately. It provides a reliable method for assessing chemotherapy-induced phlebitis, enabling a better understanding of its impact on patients' quality of life, and to inform the appropriate choice of peripheral or central intravenous administration. Multicentre testing of the CIPS scale is recommended.
1. Introduction
This study aims to develop a chemotherapy induced phlebitis severity (CIPS) scale, which provides a comprehensive and reliable measure of the severity of chemotherapy-induced phlebitis, which can be used to help assess the impact on patients and inform the choice of intravenous access.
2. Methods
Six practitioners were recruited to take part in the inter-rater reliability assessments of the final version of the scale. All were nurses practising in breast cancer, chemotherapy or intravenous access. They received guidance on the use of the CIPS scale from the initial group of expert nurses who developed the scale. Following a verbal agreement from the patient, two assessors used the measurement scale to grade phlebitis in separate assessments a few minutes apart.
In addition to inter-rater reliability assessments, feasibility of use in practice was tested by timing the assessment using the scale and reviewing whether all documentation on the assessment form was complete. The CIPS scale grade recorded by clinical staff was then compared with participant reported severity of symptoms.
A statistical analysis was performed using the Statistical Package for Social Science software (V25, SPSS, IBM, New York, NY, USA).
3. Results
A total of 122 assessments were performed during the inter-rater reliability testing process from November 2016–March 2018. A convenience sample of patients, attending for routine assessment between anthracycline chemotherapy treatments, were used for the testing.
The inter-rater agreement for all assessors, with grade given on review, was high at 86.9% (106 out of 122), Cohen's kappa (κ), 0.82 (SE 0.04, 95% CI's 0.74–0.90) (
Table 1
).
The time taken to complete the assessment for a nurse experienced with using the scale was measured for 25 assessments (
Table 2
). The mean time to complete was 1 min 36 s (range 42 s–2 min 51 s). Out of 122 assessments, assessor 1 fully completed 98% (120 of 122) of the assessment forms and assessor 2 fully completed 97% (118 of 122) of the assessment forms.
After development and testing for inter-rater reliability the final version of CIPS was used for a study of anthracycline induced phlebitis [
9
]. Included in this study was a questionnaire, enabling patients to self- report and score any phlebitis symptoms, which was used in parallel with the staff assessment of symptoms using the CIPS scale. The patient reported severity scores compared to the staff CIPS scale grading (
Table 3
) demonstrated a good level of agreement (κ = 0.54, SE ± 0.045, 95% CI 0.46–0.63). As the patient reported severity score increased, the severity of the CIPS scale grade increased by 77% (57 of 66), and participants reporting no symptoms were graded as CIPS scale 0 or 1, and all 7 patients who reported severe symptoms were graded by staff as CIPS grade 3 or 4.
4. Discussion
Limitations
Primarily only patients with breast cancer patients receiving anthracycline chemotherapy were chosen to test the CIPS scale. Further evaluation with other chemotherapy regimens and other larger patient groups would be recommended to assess its applicability to all chemotherapy agents and to ensure it is a reliable effective measurement of chemotherapy-induced phlebitis. It is recognised that the individuals involved in completing the CIPS scale were experienced chemotherapy or breast cancer specialist practitioners with a thorough understanding of the signs of phlebitis and how to clinically diagnose its symptoms. Further information concerning the feasibility of the CIPS scale could be drawn from the evaluation of nurses with varied levels of experience completing the tool. To further establish the validity of the CIPS scale, it should be tested in parallel with the Rittenberg scale [
16
], the only other published chemotherapy specific phlebitis scale. It is recommended that the inter-rater reliability, feasibility of use in practice, and ability to closely reflect patient reported symptoms of both scales should be compared.
5. Conclusions
The aim of this study was to test a newly devised scale designed specifically to identify and measure the severity of chemotherapy-related chemical phlebitis. The CIPS scale includes a comprehensive list of recognised symptoms to grade the severity of phlebitis and the effects on the patients' activities of daily living. The CIPS scale is easy, quick, reliable and robust to use in the clinic and has been shown to closely reflect the breast cancer patient's experience of chemotherapy- induced phlebitis.
Although the focus throughout the testing was on phlebitis-related to anthracycline chemotherapy, the CIPS scale could potentially be used in the assessment of all chemotherapy agents. It is recommended that for a more complete patient assessment chemical phlebitis should be recorded routinely along with other chemotherapy-related toxicities. This will enable a greater understanding of the impact of chemotherapy treatment and provide data about phlebitis rates and severity to inform evidence-based discussions with patients about the choice of central or peripheral venous access for chemotherapy administration.
Author Contributions
Conceptualization, V.H., M.H. and R.R.; methodology, V.H., M.H. and R.R.; software, R.R.; validation, R.R. and E.M.W.; formal analysis, R.R.; investigation, V.H., M.H. and R.R.; resources, V.H., M.H. and R.R.; data curation, R.R.; writing—original draft preparation, V.H., M.H., R.R, G.D, E.M.W.; writing—review and editing, V.H., M.H., R.R., G.D., E.M.W.; visualization, V.H., M.H., R.R., G.D., E.M.W.; supervision, V.H.; project administration, V.H. M.H.; funding acquisition, V.H. and M.H. All authors have read and agreed to the published version of the manuscript.
Funding
Funding was received from Velindre NHS Trust charitable funds for V. Harris, M. Hughes and R. Roberts.
Acknowledgments
We are grateful for the support of the Velindre Cancer Centre Breast Cancer Specialist Nurses, Advanced Nurse practitioners, Breast Consultant Oncologists and Registrars and outpatient clinic staff. Thank you to all the patients for their willingness to participate in this study.
Conflicts of Interest
The authors declare no conflicts of interest.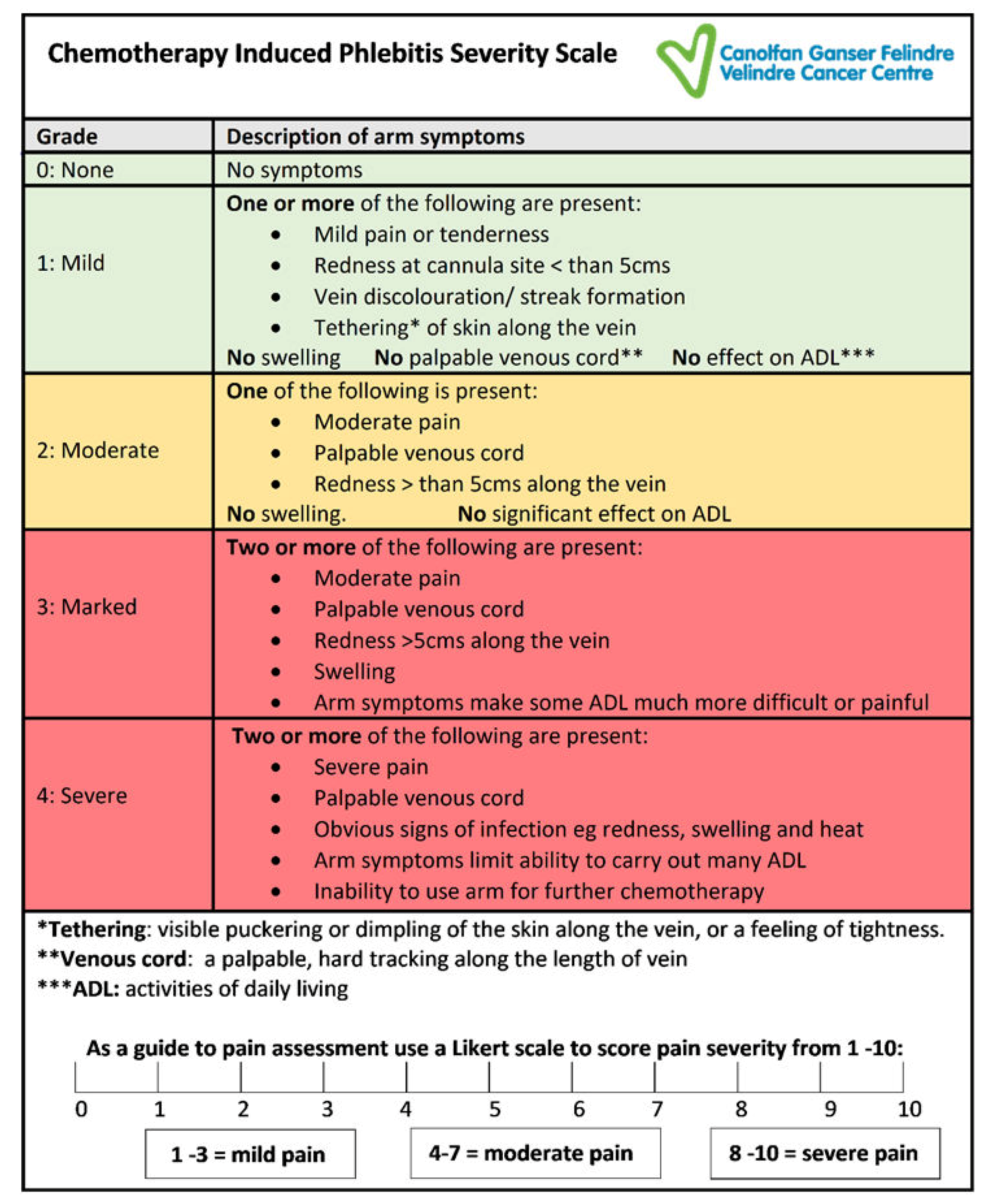 Grade
Assessments

n

(%)
Agreement

n

(%)
Grade 0
44 (36)
41 (93)
Grade 1
29 (24)
26 (90)
Grade 2
33 (27)
26 (79)
Grade 3
13 (11)
13 (100)
Grade 4
3 (2)
3 (100)

Table 2. Time taken for assessor to complete chemotherapy induced phlebitis severity (CIPS) scale (V8).
| Grade | Number of Assessments | Mean Time Taken |
| --- | --- | --- |
| 0 | 9 | 1 min 8 s |
| 1 | 8 | 1 min 42 s |
| 2 | 7 | 2 min 10 s |
| 3 | 1 | 1 min 14 s |
| 4 | 0 | NA |
| All grades | 25 | 1 min 36 s |
CIPS Scale Grade
Patient Reported Symptom Severity
None

n

= 66
Mild

n

= 101
Moderate

n

= 55
Severe

n

= 7
Grade 0
38 (58%)
  3 (3%)
 0
0
Grade 1
19 (29%)
59 (58%)
 3 (5%)
0
Grade 2
 5 (8%)
33 (33%)
17 (31%)
0
Grade 3
 4 (6%)
  5 (5%)
30 (55%)
5 (71%)
Grade 4
0
  1 (1%)
 5 (9%)
2 (29%)
The comparison of patient reported severity of symptoms with staff assessment of grade using the CIPS scale is illustrated with red indicating the highest proportion of CIPS grade recorded for each level of participant reported symptoms, amber illustrating where the proportion was <10% and green where it was zero.

© 2020 by the authors. Licensee MDPI, Basel, Switzerland. This article is an open access article distributed under the terms and conditions of the Creative Commons Attribution (CC BY) license (http://creativecommons.org/licenses/by/4.0/).