APOE

Promoter Polymorphism-219T/G is an Effect Modifier of the Influence of

APOE

ε4 on Alzheimer's Disease Risk in a Multiracial Sample

1

National Research Center for Dementia, Chosun University, Gwangju 61452, Korea

2

Department of Biomedical Science, Chosun University, Gwangju 61452, Korea

3

Department of Life Science, Chosun University, Gwangju 61452, Korea

4

Department of Life Science, Chung-Ang University, Seoul 06974, Korea

5

Department of Medicine (Biomedical Genetics), Boston University School of Medicine, Boston, MA 02118, USA

6

Department of Biostatistics, Boston University School of Public Health, Boston, MA 02118, USA

7

Department of Biochemistry and Signaling Disorder Research Center, College of Medicine, Chungbuk National University, Cheongju 28644, Korea

8

Department of Premedical Science, Chosun University College of Medicine, Gwangju 61452, Korea

9

Department of Neurology, Chosun University Hospital, Gwangju 61452, Korea

10

Department of Nuclear Medicine, Chosun University Hospital, Gwangju 61452, Korea

11

Department of Neuropsychiatry, Seoul National University Hospital, Seoul 03080, Korea

12

Department of Public Health Science, Graduate School of Public Health, Seoul National University, Seoul 08826, Korea

13

Department of Neurology, Kyungpook National University School of Medicine, Daegu 41944, Korea

14

Department of Neuropsychiatry, Seoul National University Bundang Hospital, Seongnam, Gyeonggi-do 13620, Korea

15

Department of Pathology, The Alfred Hospital, Melbourne, Victoria 3004, Australia

16

Department of Molecular Genetics, Brain Research Institute, Niigata University, Niigata 951-8585, Japan

17

Department of Neurology, Chonnam National University Medical School, Gwangju 61469, Korea

18

Department of Neurology, Ewha Womans University Mokdong Hospital, Ewha Womans University School of Medicine, Seoul 07985, Korea

19

Chonnam national university Gwangju 2nd geriatric hospital, Gwangju 61748, Korea

20

Department of Bionanotechnology, Gachon University, Seongnam, Gyeonggi-do 13120, Korea

21

Department of Psychiatry, Pusan National University School of Medicine, Busan 50612, Korea

22

Department of Neurology, Donga University College of Medicine, Busan 49315, Korea

23

Department of Neurology, Inha University School of Medicine, Incheon 22212, Korea

24

Bio Imaging and Cell Logistics Research Center, School of Life Sciences, Gwangju Institute of Science and Technology, Gwangju 61005, Korea

25

Department of Neurology and Sergievsky Center, Columbia University, New York, NY 10032, USA

26

Department of Population & Quantitative Health Sciences, Case Western Reserve University, Cleveland, OH 44106, USA

27

Hussman Institute for Human Genomics, University of Miami Miller School of Medicine, Miami, FL 33101, USA

28

Department of Neuropsychiatry, Chosun University School of Medicine and Hospital, Gwangju 61453, Korea

29

Department of Radiology and Imaging Sciences, Center for Neuroimaging, Indiana University School of Medicine, Indianapolis, IN 46202, USA

30

Department of Neurology, Seoul National University Bundang Hospital, Seongnam, Gyeonggi-do 13620, Korea

31

Department of Pathology and Laboratory Medicine, University of Pennsylvania, Philadelphia, PA 19104-4238, USA

32

Departments of Neurology, Ophthalmology, and Epidemiology, Boston University Schools of Medicine and Public Health, Boston, MA 02118, USA

33

Department of Neural Development and Disease, Korea Brain Research Institute, Daegu 41062, Korea

*

Author to whom correspondence should be addressed.

Received: 5 July 2019 / Revised: 9 August 2019 / Accepted: 12 August 2019 / Published: 16 August 2019
Abstract
Variants in the
APOE
gene region may explain ethnic differences in the association of Alzheimer's disease (AD) with ε4. Ethnic differences in allele frequencies for three
APOE
region SNPs (single nucleotide polymorphisms) were identified and tested for association in 19,398 East Asians (EastA), including Koreans and Japanese, 15,836 European ancestry (EuroA) individuals, and 4985 African Americans, and with brain imaging measures of cortical atrophy in sub-samples of Koreans and EuroAs. Among ε4/ε4 individuals, AD risk increased substantially in a dose-dependent manner with the number of
APOE
promoter SNP rs405509
T
alleles in EastAs
(TT
: OR (odds ratio) = 27.02,
p
= 8.80 × 10
−94
;
GT
: OR = 15.87,
p
= 2.62 × 10
−9
) and EuroAs (
TT
: OR = 18.13,
p
= 2.69 × 10
−108
;
GT
: OR = 12.63,
p
= 3.44 × 10
−64
), and rs405509-
T
homozygotes had a younger onset and more severe cortical atrophy than those with
G
-allele. Functional experiments using
APOE
promoter fragments demonstrated that
TT
lowered
APOE
expression in human brain and serum. The modifying effect of rs405509 genotype explained much of the ethnic variability in the AD/ε4 association, and increasing
APOE
expression might lower AD risk among ε4 homozygotes.
View Full-Text
►

▼

Figures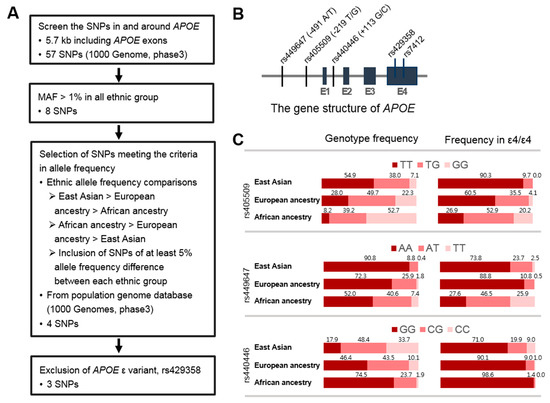 Figure 1
This is an open access article distributed under the
Creative Commons Attribution License
which permits unrestricted use, distribution, and reproduction in any medium, provided the original work is properly cited (CC BY 4.0).

Share & Cite This Article
MDPI and ACS Style
Choi, K.Y.; Lee, J.J.; Gunasekaran, T.I.; Kang, S.; Lee, W.; Jeong, J.; Lim, H.J.; Zhang, X.; Zhu, C.; Won, S.-Y.; Choi, Y.Y.; Seo, E.H.; Lee, S.C.; Gim, J.; Chung, J.Y.; Chong, A.; Byun, M.S.; Seo, S.; Ko, P.-W.; Han, J.-W.; McLean, C.; Farrell, J.; Lunetta, K.L.; Miyashita, A.; Hara, N.; Won, S.; Choi, S.-M.; Ha, J.-M.; Jeong, J.H.; Kuwano, R.; Song, M.K.; An, S.S.A.; Lee, Y.M.; Park, K.W.; Lee, H.-W.; Choi, S.H.; Rhee, S.; Song, W.K.; Lee, J.S.; Mayeux, R.; Haines, J.L.; Pericak-Vance, M.A.; Choo, I.H.; Nho, K.; Kim, K.-W.; Lee, D.Y.; Kim, S.; Kim, B.C.; Kim, H.; Jun, G.R.; Schellenberg, G.D.; Ikeuchi, T.; Farrer, L.A.; Lee, K.H.; Neuroimaging Initative, A.D. APOE Promoter Polymorphism-219T/G is an Effect Modifier of the Influence of APOE ε4 on Alzheimer's Disease Risk in a Multiracial Sample. J. Clin. Med. 2019, 8, 1236.
Note that from the first issue of 2016, MDPI journals use article numbers instead of page numbers. See further details here.
Related Articles
Comments
[Return to top]