Therapeutic Potential of
Lespedeza bicolor

to Prevent Methylglyoxal-Induced Glucotoxicity in Familiar Diabetic Nephropathy

1

College of Pharmacy, Gachon University, 191, Hambakmoero, Yeonsu-gu, Incheon 21936, Korea

2

Division of Functional Food Research, Korea Food Research Institute, 245 Nongsaengmyeong-ro, Iseo-myeon, Wanju-gun, Jeollabuk-do 55365, Korea

3

Gachon Institute of Pharmaceutical Science, Gachon University, 191, Hambakmoero, Yeonsu-gu, Incheon 21936, Korea

*

Authors to whom correspondence should be addressed.

Received: 7 June 2019 / Revised: 23 July 2019 / Accepted: 29 July 2019 / Published: 31 July 2019
Abstract
Lespedeza bicolor
(LB) is often used in traditional medicine to remove toxins, replenish energy stores, and regulate various symptoms of diabetes. This study aimed to explore the use of LB as a therapeutic to prevent diabetic nephropathy in methylglyoxal (MGO)-treated models in vitro and in vivo. Western blotting, immunostaining, and biochemical assays were used to obtain several experimental readouts in renal epithelial cells (LLC-PK1) and BALB/c mice. These include: production of reactive oxygen species (ROS), formation of advanced glycation end-products (AGEs), expression of receptor for advanced glycation end-products (RAGE), apoptotic cell death, glucose levels, fatty acid and triglyceride levels, expression of pro-inflammatory cytokines IL-1β and TNF-α, glyoxalase 1 (Glo1), and nuclear factor erythroid 2-related factor 2 (Nrf2). Pretreatment with LB significantly reduced MGO-induced cellular apoptosis, intracellular production of ROS, and formation of AGEs to ameliorate renal dysfunction in vitro and in vivo. Interestingly, administering LB in MGO-treated cells and mice upregulated the expression of Nrf2 and Glo1, and downregulated the expression of IL-1β and TNF-α. Moreover, LB reduced MGO-induced AGE accumulation and RAGE expression in the kidneys, which subsequently reduced AGE-RAGE interactions. Overall, LB ameliorates renal cell apoptosis and corrects renal dysfunction in MGO-treated mice. These findings extend our understanding of the pathogenic mechanism of MGO-induced nephrotoxicity and regulation of the AGE/RAGE axis by
Lespedeza bicolor
.
View Full-Text
►

▼

Figures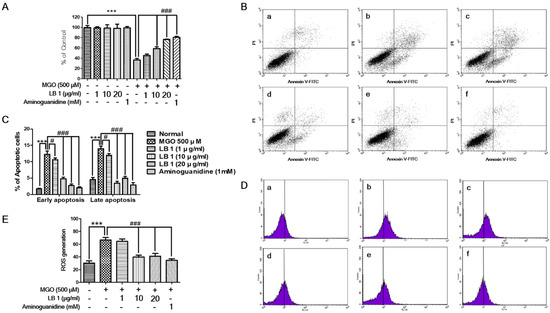 Figure 1
This is an open access article distributed under the
Creative Commons Attribution License
which permits unrestricted use, distribution, and reproduction in any medium, provided the original work is properly cited (CC BY 4.0).

Share & Cite This Article
MDPI and ACS Style
Do, M.H.; Lee, J.H.; Cho, K.; Kang, M.C.; Subedi, L.; Parveen, A.; Kim, S.Y. Therapeutic Potential of Lespedeza bicolor to Prevent Methylglyoxal-Induced Glucotoxicity in Familiar Diabetic Nephropathy. J. Clin. Med. 2019, 8, 1138.
Note that from the first issue of 2016, MDPI journals use article numbers instead of page numbers. See further details here.
Related Articles
Comments
[Return to top]