Open Access This article is
freely available
re-usable
Article
A Novel Heterozygous Deletion Variant in
KLOTHO
Gene Leading to Haploinsufficiency and Impairment of Fibroblast Growth Factor 23 Signaling Pathway
1
Unidad de Investigación, Hospital Universitario Nuestra Señora de Candelaria, Santa Cruz de Tenerife 38010, Spain
2
Escuela de Doctorado y Estudios de Posgrado, Universidad de La Laguna, San Cristóbal de La Laguna 38200, Spain
3
GEENDIAB (Grupo Español para el estudio de la Nefropatía Diabética), Sociedad Española de Nefrología, Santander 39008, Spain
4
REDINREN (Red de Investigación Renal), Instituto de Salud Carlos III, Madrid 28029, Spain
5
Department of Genetics, CHU Paris Nord-Val de Seine, Hospital Xavier Bichat, Paris 75877, France
6
INSERM U1151-CNRS UMR8253, University Paris Descartes, and Functional Explorations Service, Hospital Necker-Enfants Malades, Paris 75015, France
7
Unidad de Genética Humana, Hospital Universitario Nuestra Señora de Candelaria, Santa Cruz de Tenerife 38010, Spain
8
Nephrology-Dialysis Service, AURA Nord Saint Ouen, Saint-Ouen, 93400, France, and Department of Renal Physiology, Necker Hospital, University of Paris Descartes, Paris 75015, France
9
Servicio de Nefrología, Hospital Universitario Nuestra Señora de Candelaria, Santa Cruz de Tenerife 38010, Spain
10
Instituto de Tecnologías Biomédicas, Universidad de La Laguna, San Cristóbal de La Laguna 38200, Spain
†
These authors contributed equally to this work.

‡
These authors share senior autorship.

Received: 23 February 2019 / Accepted: 8 April 2019 / Published: 12 April 2019
Abstract
:
Hyperphosphatemia is commonly present in end-stage renal disease. Klotho (KL) is implicated in phosphate homeostasis since it acts as obligate co-receptor for the fibroblast growth factor 23 (FGF23), a major phosphaturic hormone. We hypothesized that genetic variation in the KL gene might be associated with alterations in phosphate homeostasis resulting in hyperphosphatemia. We performed sequencing for determining
KL
gene variants in a group of resistant hyperphosphatemic dialysis patients. In a 67-year-old female, blood DNA sequencing revealed a heterozygous deletion of a T at position 1041 (c.1041delT) in exon 2. This variation caused a frameshift with substitution of isoleucine for phenylalanine and introduction of a premature termination codon (p.Ile348Phefs*28). cDNA sequencing showed absence of deletion-carrier transcripts in peripheral blood mononuclear cells suggesting degradation of these through a nonsense-mediated RNA decay pathway. Experiments in vitro showed that p.Ile348Phefs*28 variant impaired FGF23 signaling pathway, indicating a functional inactivation of the gene. In the patient, serum levels of KL were 2.9-fold lower than the mean level of a group of matched dialysis subjects, suggesting a compromise in the circulating protein concentration due to haploinsufficiency. These findings provide a new loss-of-function variant in the human
KL
gene, suggesting that genetic determinants might be associated to clinical resistant hyperphosphatemia.
Keywords:
Klotho; deletion; haploinsufficiency; fibroblast growth factor 23; hyperphosphatemia; end-stage renal disease
Supplementary Materials
The following are available online at
https://www.mdpi.com/2077-0383/8/4/500/s1
; Table S1: Data of the two groups of hemodialysis patients with normal and elevated serum phosphate; File S1: Sequence data files of
KL
gene variant identified. (A)
KL
gene exon 2 and (B)
KL
cDNA; File S2:
EGR1
gene expression in HEK293 cells results assessed by quantitative RT-PCR; Figure S1. Immunoblot of total and phosphorylated ERK1/2 in HEK293 cells at different time expositions.
Author Contributions
P.A.U.-T. and J.F.N.-G. contributed to the study concept and design. P.A.U.-T., D.-P.D.B., C.L. and G.F. performed clinical data acquisition. C.O., C.K., D.-P.D.B., C.L., G.F. and C.P.-M. performed sequencing of samples and genetic variant analysis. E.M.-N., J.D.-C., C.K. and V.G.T. carried out the in vitro experiments and performed statistical analysis. E.M.-N. and J.D.-C. performed ELISA measurements. E.M.-N., J.D.-C. and C.K. drafted and reviewed the manuscript with comments and edits from the rest of authors. All authors approved the final version of the manuscript for publication.
Funding
This work was supported by Instituto de Salud Carlos III (ISCIII): (PI13/01726, PI16/00024 and REDINREN RD16/0009/0022) and Sociedad Española de Nefrología. We acknowledge co-funding by Fondo Europeo de Desarrollo Regional, Unión Europea ("Una forma de hacer Europa"). E.M.-N. is recipient of a PFIS research contract from ISCIII (FI14/00033). J.D.-C. is recipient of a Sara Borrell contract from ISCIII (CD16/00165). V.G.T. is recipient of a research grant "Stop Fuga de Cerebros" from Roche España and FUNCANIS (C16/004).
Acknowledgments
We thank to the participants in the study and, specially, to the patient characterized in this paper.
Conflicts of Interest
The authors declare no conflict of interest. The funders of the study had no role in the design, collection, analyses, or interpretation of data, neither in the writing of the manuscript or in the decision to publish the results.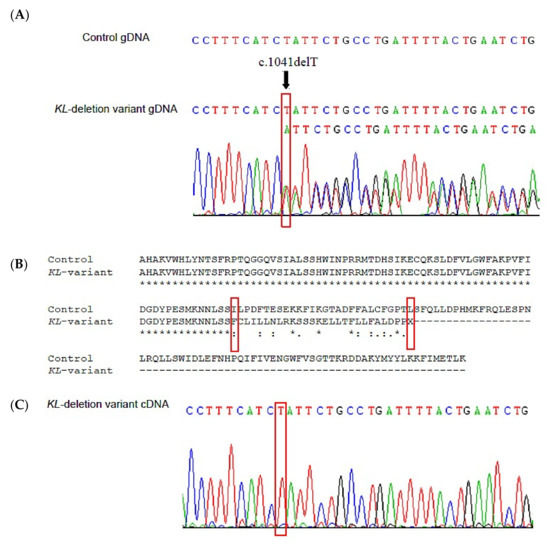 Figure 1.
Analysis of deletion variant in the
KL
gene. (
A
) DNA sequencing of the
KL
gene revealed deletion of a T at 1041 in exon 2. Up, wild-type control; down, patient with heterozygous deletion. (
B
) CLUSTAL multiple sequence alignment by MUSCLE (Ver. 3.8) of the predicted amino acid sequences of control and patient deletion allele showing the substitution of isoleucine-348 for phenylalanine, the reading frame shift and the appearing of a premature stop codon. (
C
) cDNA sequencing of the region corresponding to exon 2 in PBMCs of the patient showing the permanence of the T.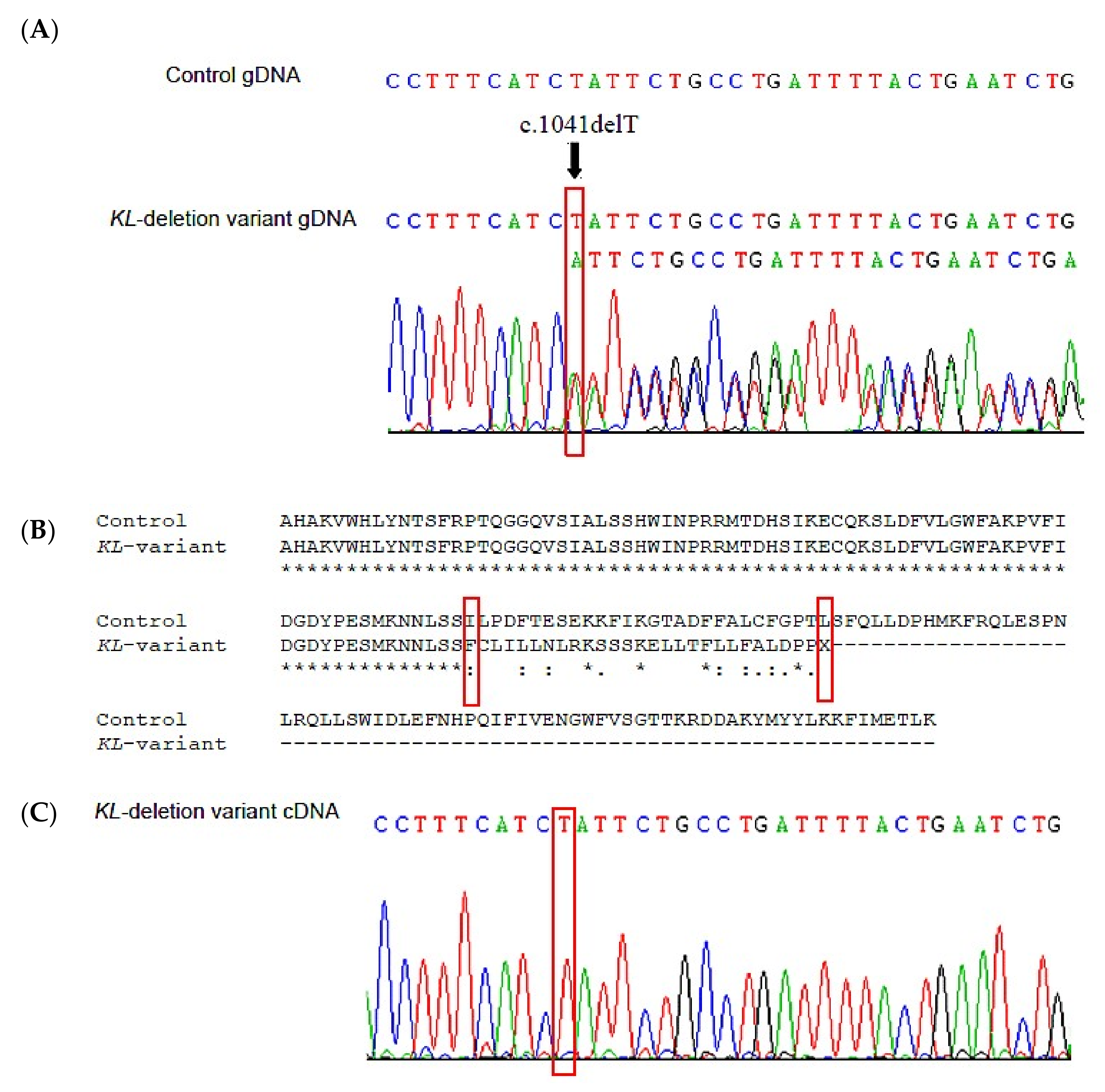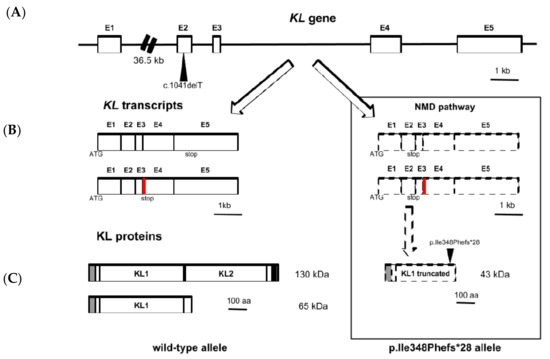 Figure 2.
KL
gene expression with the heterozygous p.Ile348Phefs*28 variant. (
A
)
KL
gene (50 Kb) is structured in five exons with c.1041delT allele located within exon 2. (
B
)
KL
processed transcripts carrying wild-type allele (left) can be found as complete mRNAs (coding for exons 1–5) or as shorter splicing variants (coding for exons 1-4, with an alternative sequence between exons 3–4 indicated in red).
KL
transcripts carrying c.1041delT allele (right) are degraded through an NMD pathway due to the introduction of a premature termination codon in exon 2 (dashed line). (
C
) The transcripts are translated into a full-length transmembrane KL protein (130 KDa) with two functional domains (KL1 and KL2) that can generate a soluble form from its shedding by membrane metalloproteases or into a shorter soluble form (only with KL1 domain), encoded by the alternative splicing transcript, which is directly secreted from the cell (65 KDa) (left). The putative KL protein with the p.Ile348Phefs*28 variant would be a shorter form (43 KDa) with a truncated KL1 domain (right).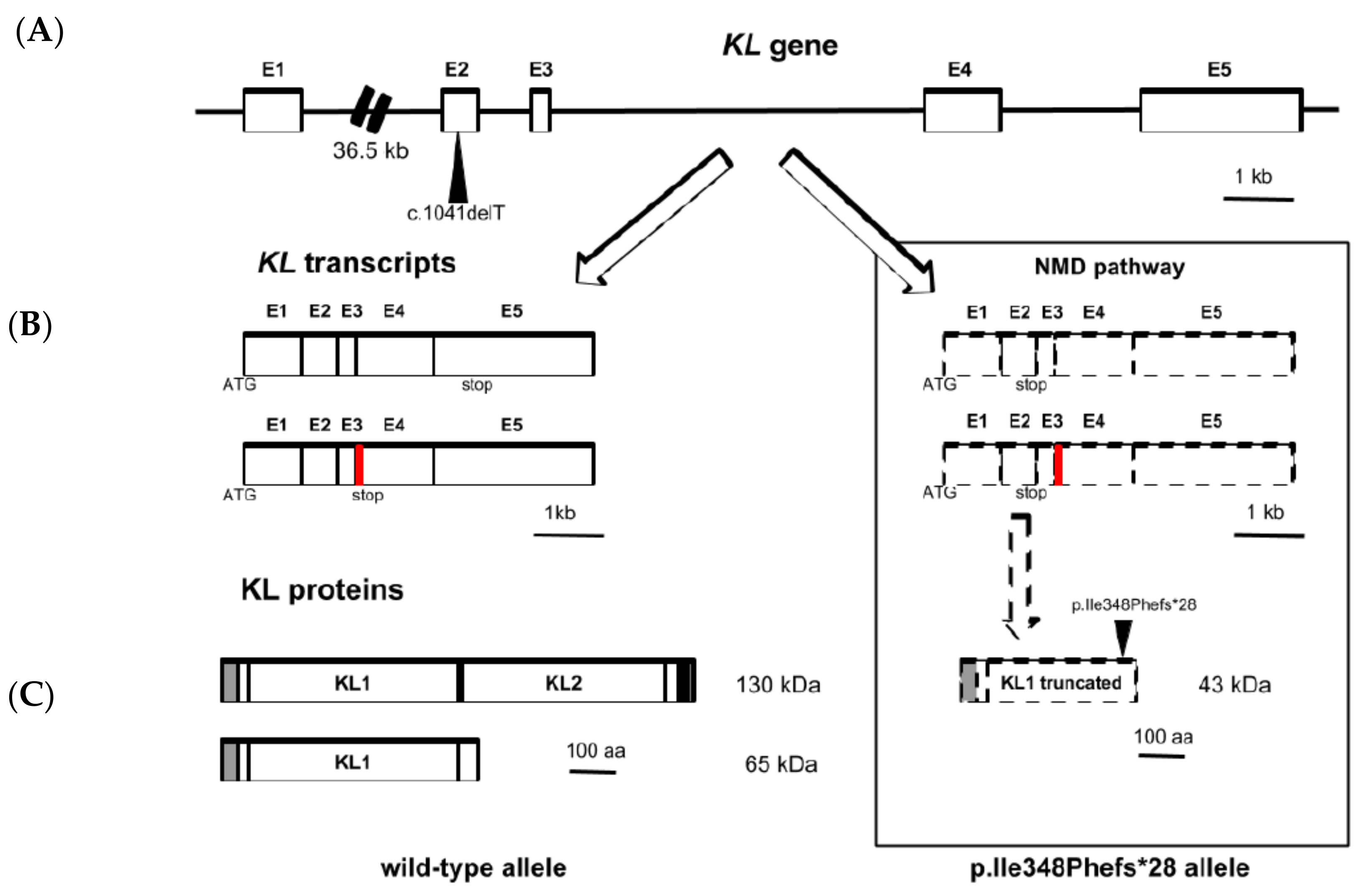 Figure 3.
The p.Ile348Phefs*28 variant in
KL
gene impairs FGF23 signaling pathway. HEK293 cells were transfected with empty vector (Control), full-length (FL) or p.Ile348Phefs*28
KL
gene variant and treated with vehicle (PBS with BSA 0.1%; −) or recombinant FGF23 (100 ng/mL; +) for 60 min. (
A
) Immunoblot of total and phosphorylated ERK1/2 (
n
= 3 for each condition). Molecular weights for ERK1, ERK2 and β-actin are, respectively, 44 kDa, 42 kDa and 45 kDa. (
B
) Relative
EGR1
gene expression assessed by quantitative RT-PCR using
GAPDH
as the housekeeping gene (
n
= 8 for each condition). Results are presented as fold change (mean ± SEM). ***
p
< 0.001 vs. vehicle,
##
p
< 0.01 or
###
p
< 0.001 vs.
KL
-FL+FGF23.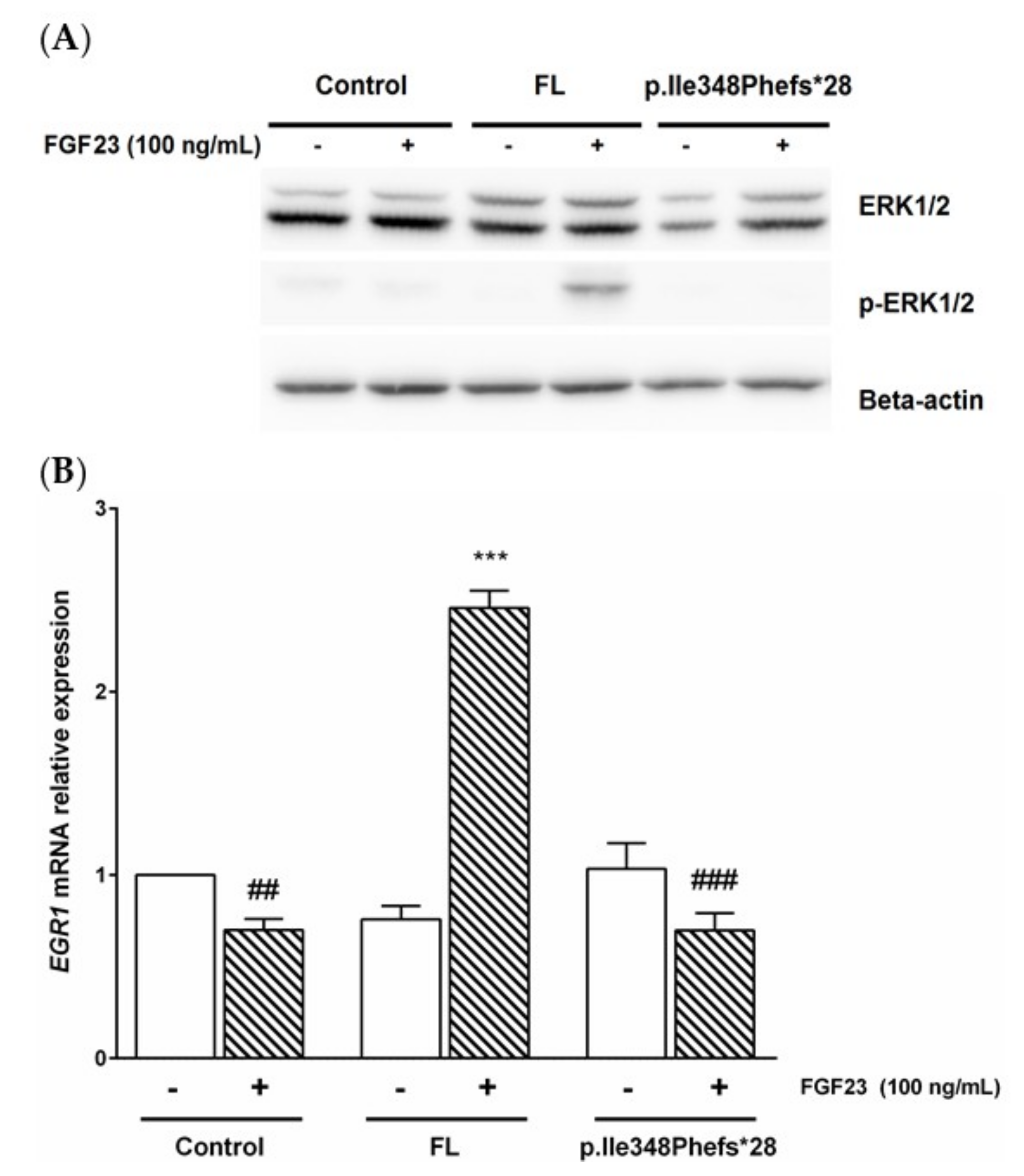 | | Normal Ranges | Patient Values |
| --- | --- | --- |
| Calcium (mM) | 2.25–2.60 | 2.5 |
| Albumin (g/L) | 30–42 | 35.6 |
| Phosphorous (mM) | 0.85–1.5 | 2.7 |
| Potassium (mM) | 3.5–4.5 | 5.8 |
| Sodium (mM) | 136–146 | 135 |
| Bicarbonate (mM) | 22–29 | 21 |
| Chloride (mM) | 98–106 | 101 |
| Glucose (mM) | 3.9–5.8 | 4.8 |
| Urea (mM) | 2.5–7.5 | 27.6 |
| Creatinine (µM) | 62–106 | 620 |
| eGFR (mL/min) | >60 | <5 |
| PTH (pg/mL) | 10–46 | 533 |
| 25(OH)D3 (ng/mL) | 30–80 | 21.5 |
| 1,25(OH)2D3 (pg/mL) | 15–60 | 30 |
| Alkaline phosphatase (IU/L) | 30–160 | 25.1 |
| C-terminal Telopeptide (pg/mL) | 650–5300 | 2580 |
| C-terminal FGF23 (RU/mL) | 1–149 | 1375.9 |
| KL (pg/mL) | 239–1266 | 99.72 |
eGFR, estimated glomerular filtration rate; FGF23, fibroblast growth factor 23; PTH, parathyroid hormone; KL, Klotho.

Table 2. Summary of outcomes from the in silico analysis of the impact of c.1041delT variant in KL protein in the Mutation Taster software.
Issue
Result
Length of Protein
NMD
AA Sequence Altered
Yes
AA Changes
I348Ffs*28
Position of Altered AA
348 (frameshift or PTC)
Position (AA) of Stopcodon in Wild-Type/Mutated AA Sequence
1013/375
Protein Features Affected
Start (AA)
End (AA)
Feature
Details
Result
34
981
TOPO_DOM
Extracellular
Lost
57
506
REGION
Glycosyl hydrolase-1.1.
Lost
497
497
MOD_RES
Phosphotyrosine
Lost
515
953
REGION
Glycosyl hydrolase-1.2.
Lost
607
607
CARBOHYD
N-linked (GlcNAc)
Lost
612
612
CARBOHYD
N-linked (GlcNAc)
Lost
694
694
CARBOHYD
N-linked (GlcNAc)
Lost
982
1002
TRANSMEM
Helical
Lost
1003
1012
TOPO_DOM
Cytoplasmic
Lost
AA: amino acid; NMD: nonsense-mediated mRNA decay; PTC: premature termination codon; TOPO_DOM: topological domain; MOD_RES: modified residue; CARBOHYD: carbohydrate attached group; TRANSMEM: transmembrane.

© 2019 by the authors. Licensee MDPI, Basel, Switzerland. This article is an open access article distributed under the terms and conditions of the Creative Commons Attribution (CC BY) license (http://creativecommons.org/licenses/by/4.0/).