A Novel Heterozygous Deletion Variant in
KLOTHO

Gene Leading to Haploinsufficiency and Impairment of Fibroblast Growth Factor 23 Signaling Pathway

1

Unidad de Investigación, Hospital Universitario Nuestra Señora de Candelaria, Santa Cruz de Tenerife 38010, Spain

2

Escuela de Doctorado y Estudios de Posgrado, Universidad de La Laguna, San Cristóbal de La Laguna 38200, Spain

3

GEENDIAB (Grupo Español para el estudio de la Nefropatía Diabética), Sociedad Española de Nefrología, Santander 39008, Spain

4

REDINREN (Red de Investigación Renal), Instituto de Salud Carlos III, Madrid 28029, Spain

5

Department of Genetics, CHU Paris Nord-Val de Seine, Hospital Xavier Bichat, Paris 75877, France

6

INSERM U1151-CNRS UMR8253, University Paris Descartes, and Functional Explorations Service, Hospital Necker-Enfants Malades, Paris 75015, France

7

Unidad de Genética Humana, Hospital Universitario Nuestra Señora de Candelaria, Santa Cruz de Tenerife 38010, Spain

8

Nephrology-Dialysis Service, AURA Nord Saint Ouen, Saint-Ouen, 93400, France, and Department of Renal Physiology, Necker Hospital, University of Paris Descartes, Paris 75015, France

9

Servicio de Nefrología, Hospital Universitario Nuestra Señora de Candelaria, Santa Cruz de Tenerife 38010, Spain

10

Instituto de Tecnologías Biomédicas, Universidad de La Laguna, San Cristóbal de La Laguna 38200, Spain

*

Authors to whom correspondence should be addressed.

†

These authors contributed equally to this work.

‡

These authors share senior autorship.

Received: 23 February 2019 / Revised: 31 March 2019 / Accepted: 8 April 2019 / Published: 12 April 2019
Abstract
Hyperphosphatemia is commonly present in end-stage renal disease. Klotho (KL) is implicated in phosphate homeostasis since it acts as obligate co-receptor for the fibroblast growth factor 23 (FGF23), a major phosphaturic hormone. We hypothesized that genetic variation in the KL gene might be associated with alterations in phosphate homeostasis resulting in hyperphosphatemia. We performed sequencing for determining
KL
gene variants in a group of resistant hyperphosphatemic dialysis patients. In a 67-year-old female, blood DNA sequencing revealed a heterozygous deletion of a T at position 1041 (c.1041delT) in exon 2. This variation caused a frameshift with substitution of isoleucine for phenylalanine and introduction of a premature termination codon (p.Ile348Phefs*28). cDNA sequencing showed absence of deletion-carrier transcripts in peripheral blood mononuclear cells suggesting degradation of these through a nonsense-mediated RNA decay pathway. Experiments in vitro showed that p.Ile348Phefs*28 variant impaired FGF23 signaling pathway, indicating a functional inactivation of the gene. In the patient, serum levels of KL were 2.9-fold lower than the mean level of a group of matched dialysis subjects, suggesting a compromise in the circulating protein concentration due to haploinsufficiency. These findings provide a new loss-of-function variant in the human
KL
gene, suggesting that genetic determinants might be associated to clinical resistant hyperphosphatemia.
View Full-Text
►

▼

Figures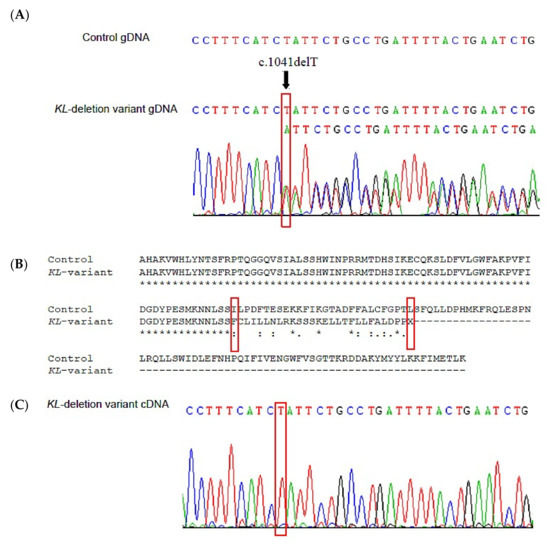 Figure 1
This is an open access article distributed under the
Creative Commons Attribution License
which permits unrestricted use, distribution, and reproduction in any medium, provided the original work is properly cited (CC BY 4.0).
Supplementary materials
Supplementary File 1:

ZIP-Document (ZIP, 4436 KB)

Externally hosted supplementary file 1
Link: http://Supplementary Materials
Description: Table S1. Data of the two groups of hemodialysis patients with normal and elevated serum phosphate. File S1. Sequence data files of KL gene variant identified. (A) KLOTHO_B1120_exon2_1F.ab1: sequence data of KL gene exon 2. (B) KLOTHO_B1120_cDNA_R-reverse: sequence data of KL cDNA. File S2. EGR1 gene expression in HEK293 cells results assessed by quantitative RT-PCR. EGR 1_gene expression analysis results.xls. Figure S1. Immunoblot of total and phosphorylated ERK1/2 in HEK293 cells at different time expositions. HEK293 cells were transfected with empty vector (Control), full-length (FL) or p.Ile348Phefs*28 KL gene variant and treated with vehicle (PBS with BSA 0.1%; -) or recombinant FGF23 (100 ng/mL; +) for 60 min. Two replicates (#1 and #2) of the same experiment are shown.

Share & Cite This Article
MDPI and ACS Style
Martín-Núñez, E.; Donate-Correa, J.; Kannengiesser, C.; De Brauwere, D.-P.; Leroy, C.; Oudin, C.; Friedlander, G.; Prieto-Morín, C.; Tagua, V.G.; Ureña-Torres, P.A.; Navarro-González, J.F. A Novel Heterozygous Deletion Variant in KLOTHO Gene Leading to Haploinsufficiency and Impairment of Fibroblast Growth Factor 23 Signaling Pathway. J. Clin. Med. 2019, 8, 500.
Note that from the first issue of 2016, MDPI journals use article numbers instead of page numbers. See further details here.
Related Articles
Comments
[Return to top]