The Effects of High- Versus Moderate-Intensity Exercise on Fatigue in Sarcoidosis
1
LHL Hospital Gardermoen, 2067 NO Jessheim, Norway
2
Department of Interdisciplinary Health Sciences, University of Oslo, 0318 NO Oslo, Norway
3
LHL, Clinics Trondheim, 7041 NO Trondheim, Norway
4
Department of Public Health and Nursing, Faculty of Medicine and Health Sciences, Norwegian University of Technology and Science (NTNU), 7491 NO Trondheim, Norway
5
Department of Research & Education, CIRO, Center of Expertise for Chronic Organ Failure, 6085 NM Horn, The Netherlands
6
Department of Respiratory Medicine, Maastricht University Medical Centre, NUTRIM School of Nutrition and Translational Research in Metabolism, 6229 HX Maastricht, The Netherlands
7
REVAL—Rehabilitation Research Center, BIOMED—Biomedical Research Institute, Faculty of Rehabilitation Sciences, Hasselt University, 3590 BE Diepenbeek, Belgium
*
Author to whom correspondence should be addressed.
Received: 28 February 2019 / Revised: 25 March 2019 / Accepted: 2 April 2019 / Published: 5 April 2019
Abstract
Background: Fatigue is a common symptom in patients with sarcoidosis. Despite lacking evidence on whether high-intensity interval training (HIIT) will aggravate fatigue, moderate-intensity exercise is often recommended. This study aimed to investigate whether a single session of HIIT would affect fatigue differently from a single session of moderate-intensity continuous training (MICT). Methods: Forty-one patients with pulmonary sarcoidosis were recruited to a cross-over study. All patients completed one treadmill session of HIIT (85% of peak heart rate (HRpeak)) and one of MICT (70% of HRpeak). Fatigue was assessed with the Visual Analogue Scale 0–100 mm, before (T0), after (T1), and 24 hours after (T2) each exercise session. Paired sample t-test was used to compare changes in fatigue from T0 to T1 and from T0 to T2 between HIIT and MICT. Results: No statistically significant difference in fatigue levels was found between HIIT and MICT, either at T1 (3.6 (13.5) and 1.4 (13.5)) or at T2 (8.2 (17.0) and 2.1 (17.1)). Conclusions: A single session of HIIT did not affect fatigue differently than a single session of MICT. These preliminary findings support the need for further research on the long-term effect of HIIT on fatigue in patients with sarcoidosis.
View Full-Text
►

▼

Figures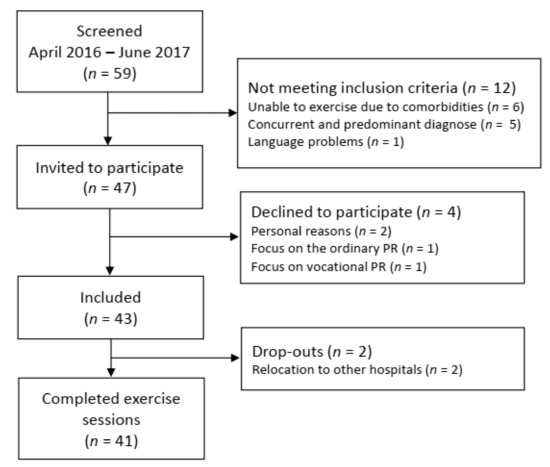 Figure 1
This is an open access article distributed under the
Creative Commons Attribution License
which permits unrestricted use, distribution, and reproduction in any medium, provided the original work is properly cited (CC BY 4.0).

Share & Cite This Article
MDPI and ACS Style
Grongstad, A.; Vøllestad, N.K.; Oldervoll, L.M.; Spruit, M.A.; Edvardsen, A. The Effects of High- Versus Moderate-Intensity Exercise on Fatigue in Sarcoidosis. J. Clin. Med. 2019, 8, 460.
Note that from the first issue of 2016, MDPI journals use article numbers instead of page numbers. See further details here.
Related Articles
Comments
[Return to top]