CO-Releasing Molecule-2 Induces Nrf2/ARE-Dependent Heme Oxygenase-1 Expression Suppressing TNF-α-Induced Pulmonary Inflammation
1
Department of Anesthetics, Chang Gung Memorial Hospital at Linkuo, Kwei-San, Tao-Yuan 333, Taiwan
2
Department of Anesthetics, College of Medicine, Chang Gung University, Kwei-San, Tao-Yuan 333, Taiwan
3
Department of Physiology and Pharmacology and Health Aging Research Center, College of Medicine, Chang Gung University, Kwei-San, Tao-Yuan 333, Taiwan
4
Research Center for Chinese Herbal Medicine and Research Center for Food and Cosmetic Safety, College of Human Ecology, Chang Gung University of Science and Technology, Tao-Yuan 333, Taiwan
*
Author to whom correspondence should be addressed.
Received: 27 February 2019 / Revised: 22 March 2019 / Accepted: 23 March 2019 / Published: 30 March 2019
Abstract
The upregulation of heme oxygenase-1 (HO-1) by the carbon monoxide-releasing molecule (CORM)-2 may be mediated through the activation of nicotinamide adenine dinucleotide phosphate (NADPH) oxidases [Nox] and reactive oxygen species (ROS) generation, which could provide cytoprotection against various cellular injuries. However, the detailed mechanisms of CORM-2-induced HO-1 expression in human pulmonary alveolar epithelial cells (HPAEpiCs) remain largely unknown. Therefore, we dissected the mechanisms underlying CORM-2-induced HO-1 expression in HPAEpiCs. We found that the administration of mice with CORM-2 attenuated the tumor necrosis factor-alpha (TNF-α)-induced intercellular adhesion molecule-1 (ICAM-1) expression and leukocyte count as revealed by immunohistochemical staining, western blot, real-time polymerase chain reaction (PCR), and cell count. Furthermore, TNF-α-induced ICAM-1 expression associated with monocyte adhesion to HPAEpiCs was attenuated by infection with adenovirus (adv)-HO-1 or incubation with CORM-2. These inhibitory effects of HO-1 were reversed by pretreatment with hemoglobin (Hb). Moreover, CORM-2-induced HO-1 expression was mediated via the phosphorylation of p47
phox
, c-Src, epidermal growth factor receptor (EGFR), Akt, and NF-E2-related factor 2 (Nrf2), which were inhibited by their pharmacological inhibitors, including diphenyleneiodonium (DPI) or apocynin (APO), ROS [N-acetyl-L-cysteine (NAC)], PP1, AG1478, PI3K (LY294002), or Akt (SH-5), and small interfering RNAs (siRNAs). CORM-2-enhanced Nrf2 expression, and anti-oxidant response element (ARE) promoter activity was also inhibited by these pharmacological inhibitors. The interaction between Nrf2 and AREs was confirmed with a chromatin immunoprecipitation (ChIP) assay. These findings suggest that CORM-2 increases the formation of the Nrf2 and AREs complex and binds with ARE-binding sites via Src, EGFR, and PI3K/Akt, which further induces HO-1 expression in HPAEpiCs. Thus, the HO-1/CO system might suppress TNF-α-mediated inflammatory responses and exert a potential therapeutic strategy in pulmonary diseases.
View Full-Text
►

▼

Figures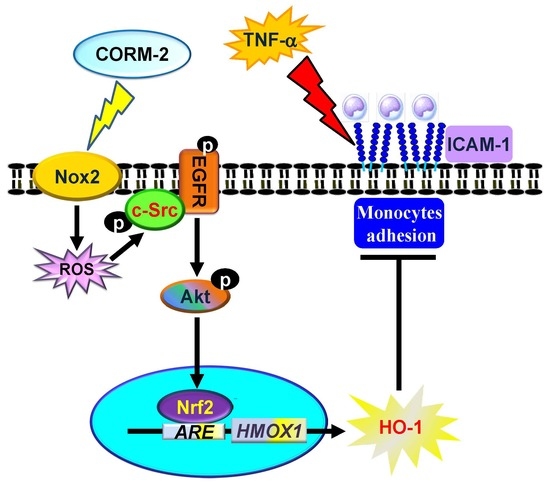 Graphical abstract
This is an open access article distributed under the
Creative Commons Attribution License
which permits unrestricted use, distribution, and reproduction in any medium, provided the original work is properly cited (CC BY 4.0).

Share & Cite This Article
MDPI and ACS Style
Lin, C.-C.; Hsiao, L.-D.; Cho, R.-L.; Yang, C.-M. CO-Releasing Molecule-2 Induces Nrf2/ARE-Dependent Heme Oxygenase-1 Expression Suppressing TNF-α-Induced Pulmonary Inflammation. J. Clin. Med. 2019, 8, 436.
Note that from the first issue of 2016, MDPI journals use article numbers instead of page numbers. See further details here.
Related Articles
Comments
[Return to top]