Predictors of Uric Acid Stones: Mean Stone Density, Stone Heterogeneity Index, and Variation Coefficient of Stone Density by Single-Energy Non-Contrast Computed Tomography and Urinary pH
1
Department of Urology, Severance Hospital, Urological Science Institute, Yonsei University College of Medicine, Seoul 03722, Korea
2
Department of Urology, Gangnam Severance Hospital, Urological Science Institute, Yonsei University College of Medicine, Seoul 06273, Korea
3
Department of Urology, Yongin Severance Hospital, Yonsei University Health System, Yongin 17046, Korea
*
Author to whom correspondence should be addressed.
Received: 21 January 2019 / Revised: 9 February 2019 / Accepted: 11 February 2019 / Published: 13 February 2019
Abstract
We analyzed the capacities of pertinent parameters (determined by single-energy non-contrast computed tomography [NCCT]) and urinary pH to predict uric acid stones. We reviewed the medical records of 501 patients whose stones were removed surgically or passed spontaneously between December 2014 and April 2016. Qualifying participants (
n
= 420) were stratified by the nature of the stone (calcium oxalate, uric acid, or infectious). Based on NCCT, we determined maximal stone length (MSL), mean stone density (MSD), and stone heterogeneity index (SHI) using Hounsfield units (HU) and calculated the variant coefficient of stone density (VCSD = SHI/MSD × 100). Urinary pH was also ascertained. Mean patient age was 55.55 ± 15.46 years. MSD (448.59 ± 173.21 HU), SHI (100.81 ± 77.37 HU), and VCSD (22.58 ± 10.55) proved to be significantly lower in uric acid versus other types of stones, as did urinary pH (5.33 ± 0.56; all
p
< 0.001). Receiver operating characteristic (ROC) curves depicting predictability of uric acid stones yielded area under ROC curve (AUC) values for MSD, SHI, VCSD, and urinary pH of 0.806 (95% CI: 0.761–0.850), 0.893 (95% CI: 0.855–0.931), 0.782 (95% CI: 0.726–0.839), and 0.797 (95% CI: 0.749–0.846), respectively, with corresponding cutpoints of 572.3 HU, 140.4 HU, 25.79, and 6.0. Among these four parameters, SHI was verifiably (DeLong's test) the most effective predictor of uric acid stones (all
p
< 0.001). Compared with MSD, VCSD, and urinary pH, SHI may better predict uric acid stones, using a cutpoint of 140.4 HU.
View Full-Text
►

▼

Figures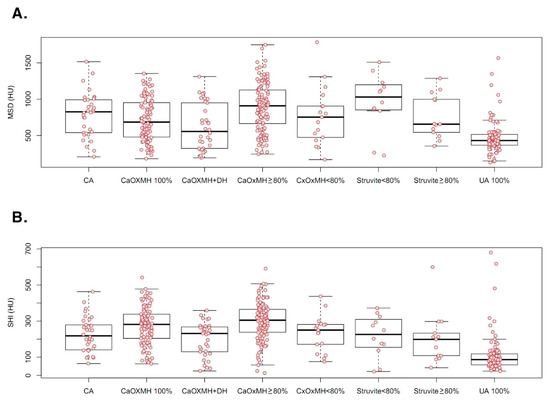 Figure 1
This is an open access article distributed under the
Creative Commons Attribution License
which permits unrestricted use, distribution, and reproduction in any medium, provided the original work is properly cited (CC BY 4.0).

Share & Cite This Article
MDPI and ACS Style
Kim, J.C.; Cho, K.S.; Kim, D.K.; Chung, D.Y.; Jung, H.D.; Lee, J.Y. Predictors of Uric Acid Stones: Mean Stone Density, Stone Heterogeneity Index, and Variation Coefficient of Stone Density by Single-Energy Non-Contrast Computed Tomography and Urinary pH. J. Clin. Med. 2019, 8, 243.
Note that from the first issue of 2016, MDPI journals use article numbers instead of page numbers. See further details here.
Related Articles
Comments
[Return to top]