Comparison of Rigid and Soft-Brace Treatments for Acute Osteoporotic Vertebral Compression Fracture: A Prospective, Randomized, Multicenter Study
1
Department of Orthopaedics, Graduate School, Tokyo Medical and Dental University, Tokyo 108-0075, Japan
2
Department of Orthopaedics, Ome Municipal General Hospital, Tokyo 198-0042, Japan
3
Department of Orthopaedics, Kyorin University, Tokyo 181-8611, Japan
4
Department of Orthopaedic Surgery, Nihon University, Tokyo 173-8610, Japan
5
Department of Orthopedic Surgery, Graduate School of Medicine, Osaka City University, Osaka 545-8585, Japan
6
Department of Orthopaedic Surgery, Hamamatsu University of Medicine, Shizuoka 431-3192, Japan
7
Department of Orthopedic Surgery, Niigata University Medical and Dental General Hospital, Niigata 951-8520, Japan
8
Department of Orthopaedic Surgery, University of Yamanashi, Yamanashi 409-3898, Japan
9
Department of Orthopaedic Surgery, Kitasato University Kitasato Institute Hospital, Tokyo 108-8642, Japan
10
Department of Orthopaedic Surgery, Kurume University School of Medicine, Kurume University, Fukuoka 830-0011, Japan
11
Department of Orthopaedic Surgery, Graduate School, School of Medicine, St. Marianna University, Kanagawa 216-8511, Japan
12
Department of Orthopaedic Surgery, Hokkaido University Graduate School of Medicine, Hokkaido 060-8638, Japan
13
Department of Orthopaedic Surgery, Fukushima Medical University School of Medicine, Fukushima 960-1295, Japan
14
Department of Diagnostic Radiology, Center for Preventive Medicine, Keio University School of Medicine, Tokyo 160-8582, Japan
15
Department of Diagnostic Radiology, Medical Hospital, Tokyo Medical and Dental University, Tokyo 113-8510, Japan
16
Clinical Research Center, Tokyo Medical and Dental University, Tokyo 113-8510, Japan
17
Department of Orthopaedic Surgery, Kochi Medical School, Kochi 783-8505, Japan
*
Author to whom correspondence should be addressed.
†
These authors contributed equally to this manuscript.
Received: 17 January 2019 / Revised: 1 February 2019 / Accepted: 2 February 2019 / Published: 6 February 2019
Abstract
While bracing is the standard conservative treatment for acute osteoporotic compression fracture, the efficacy of different brace treatments has not been extensively studied. We aimed to clarify and compare the preventive effect of the different brace treatments on the deformity of the vertebral body and other clinical results in this patient cohort. This multicenter nationwide prospective randomized study included female patients aged 65–85 years with acute one-level osteoporotic compression fractures. We assigned patients within four weeks of injury to either a rigid-brace treatment or a soft-brace treatment. The main outcome measure was the anterior vertebral body compression percentage at 48 weeks. Secondary outcome measures included scores on the European Quality of Life-5 Dimensions (EQ-5D), visual analog scale (VAS) for lower back pain, and the Japanese Orthopaedic Association Back Pain Evaluation Questionnaire (JOABPEQ). A total of 141 patients were assigned to the rigid-brace group, whereas 143 patients were assigned to the soft-brace group. There were no statistically significant differences in the primary outcome and secondary outcome measures between groups. In conclusion, among patients with fresh vertebral compression fractures, the 12-week rigid-brace treatment did not result in a statistically greater prevention of spinal deformity, better quality of life, or lesser back pain than soft-brace.
View Full-Text
►

▼

Figures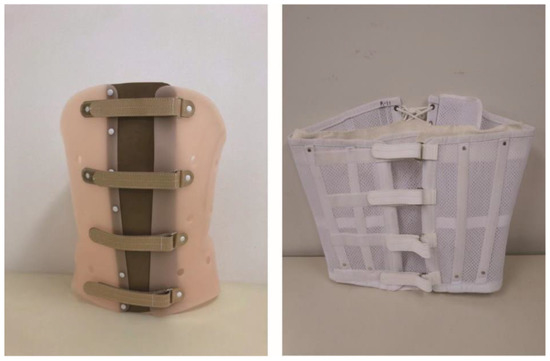 Figure 1
This is an open access article distributed under the
Creative Commons Attribution License
which permits unrestricted use, distribution, and reproduction in any medium, provided the original work is properly cited (CC BY 4.0).

Share & Cite This Article
MDPI and ACS Style
Kato, T.; Inose, H.; Ichimura, S.; Tokuhashi, Y.; Nakamura, H.; Hoshino, M.; Togawa, D.; Hirano, T.; Haro, H.; Ohba, T.; Tsuji, T.; Sato, K.; Sasao, Y.; Takahata, M.; Otani, K.; Momoshima, S.; Tateishi, U.; Tomita, M.; Takemasa, R.; Yuasa, M.; Hirai, T.; Yoshii, T.; Okawa, A. Comparison of Rigid and Soft-Brace Treatments for Acute Osteoporotic Vertebral Compression Fracture: A Prospective, Randomized, Multicenter Study. J. Clin. Med. 2019, 8, 198.
Note that from the first issue of 2016, MDPI journals use article numbers instead of page numbers. See further details here.
Related Articles
Comments
[Return to top]