Alterations of the Gut Microbiome in Chronic Hepatitis B Virus Infection Associated with Alanine Aminotransferase Level
1
Gwanghwamun Medical Study Centre, Syntekabio Inc., Seoul 03186, Korea
2
Department of Occupational and Environmental Medicine, Kangbuk Samsung Hospital, Sungkyunkwan University School of Medicine, Seoul 04514, Korea
3
Center for Cohort Studies, Total Healthcare Center, Kangbuk Samsung Hospital, Sungkyunkwan University, School of Medicine, Seoul 04514, Korea
4
Department of Clinical Research Design and Evaluation, SAIHST, Sungkyunkwan University, Seoul 06351, Korea
5
Medical Research Institute, Kangbuk Samsung Hospital, Sungkyunkwan University, School of Medicine, Seoul 03181, Korea
6
Department of Laboratory Medicine, Kangbuk Samsung Hospital, Sungkyunkwan University School of Medicine, Seoul 03181, Korea
7
Division of Gastroenterology and Hepatology, Department of Internal Medicine, Kangbuk Samsung Hospital, Sungkyunkwan University School of Medicine, Seoul 03181, Korea
8
Department of Biochemistry, College of Medicine, Ewha Womans University, Seoul 07985, Korea
9
Division of Infectious Diseases, Department of Internal Medicine, Kangbuk Samsung Hospital, Sungkyunkwan University School of Medicine, Seoul 03181, Korea
*
Author to whom correspondence should be addressed.
†
These authors contributed equally to this work.
Received: 8 January 2019 / Revised: 28 January 2019 / Accepted: 31 January 2019 / Published: 2 February 2019
Full-Text
|
PDF
[1023 KB, uploaded 26 February 2019]
|
|

Review Reports
Abstract
The changes in the gut microbiota of healthy hepatitis B virus (HBV) carriers, including asymptomatic and non-cirrhotic subjects, have been rarely scrutinized. From 1463 faecal samples in health examinees, in total 112 subjects, including 36 hepatitis B surface antigen (HBsAg)-positive and 76 control subjects, were included. Twenty-eight of 36 HBsAg-positive individuals (78%) showed normal alanine aminotransferase (ALT) levels (normal ALT group), whereas eight subjects exhibited elevated ALT levels (22%, high ALT group). By using 16S rRNA gene sequencing, the distance between normal and high ALT groups among HBsAg-positive subjects showed a significant separation after the pairwise comparison of weighted UniFrac distance (permutational analysis of variance
q
-value = 0.039), when compared with the distances to the control group. In comparison with the control group, the normal ALT group had
Anaerostipes
as a significant taxon that showed a positive association (Coefficient (
Coef.
) = 0.028,
q
= 0.039).
Desulfovibrio
(
Coef.
= 0.54,
q
= 0.014) and
Megasphaera
(
Coef.
= 1.41,
q
= 0.030) showed positive correlations, and
Acidaminococcus
(
Coef.
= −1.31,
q
= 4.15 × 10
−75
) exhibited a negative correlation with high ALT level. Gut microbial composition was different according to HBV-induced serum ALT levels, indicative of a potential link between gut and liver metabolism.
View Full-Text
►

▼

Figures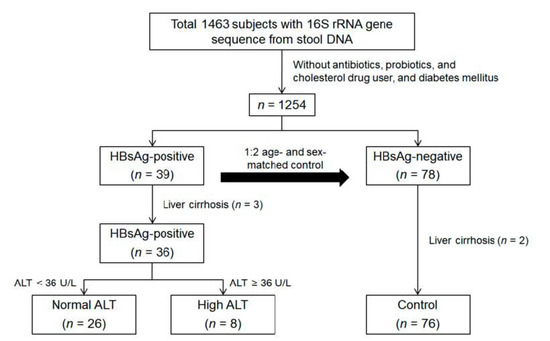 Figure 1
This is an open access article distributed under the
Creative Commons Attribution License
which permits unrestricted use, distribution, and reproduction in any medium, provided the original work is properly cited (CC BY 4.0).

Share & Cite This Article
MDPI and ACS Style
Yun, Y.; Chang, Y.; Kim, H.-N.; Ryu, S.; Kwon, M.-J.; Cho, Y.K.; Kim, H.-L.; Cheong, H.S.; Joo, E.-J. Alterations of the Gut Microbiome in Chronic Hepatitis B Virus Infection Associated with Alanine Aminotransferase Level. J. Clin. Med. 2019, 8, 173.
Note that from the first issue of 2016, MDPI journals use article numbers instead of page numbers. See further details here.
Related Articles
Comments
[Return to top]