Open Access This article is
freely available
re-usable
Review
Clinical Relevance of Immunobiology in Umbilical Cord Blood Transplantation
1
Division of Hematology, Oncology and Cellular Therapy, Department of Medicine, Rush University, Chicago, IL 60091, USA
2
Division of Hematology, Oncology and Transplantation, Department of Medicine, University of Minnesota, Minneapolis, MN 60612, USA
*
Author to whom correspondence should be addressed.
Received: 9 September 2019 / Accepted: 7 November 2019 / Published: 14 November 2019
Abstract
:
Umbilical cord blood transplantation (UCBT) has been an important donor source for allogeneic hematopoietic stem cell transplantation, especially for patients who lack suitable matched donors. UCBT provides unique practical advantages, such as lower risks of graft-versus-host-disease (GVHD), permissive HLA mismatch, and ease of procurement. However, there are clinical challenges in UCBT, including high infection rates and treatment-related mortality in selected patient groups. These clinical advantages and challenges are tightly linked with cell-type specific immune reconstitution (IR). Here, we will review IR, focusing on T and NK cells, and the impact of IR on clinical outcomes. Better understanding of the immune biology in UCBT will allow us to further advance this field with improved clinical practice.
Keywords:
umbilical cord blood transplantation; NK cells; T cells; immune reconstitution; acute myeloid leukemia (AML); acute lymphoblastic leukemia (ALL); relapse; treatment-related mortality; leukemia free survival; overall survival
Author Contributions
H.D.Y. and C.B. conceived the idea. H.D.Y. analyzed and synthesized literature data. C.B. supervised the entire project. H.D.Y. and C.B. wrote and edited the manuscript. A.V., M.J.H., S.N. did literature search and edited the manuscript. All authors approved the publication.
Funding
This work was supported by no external funding.
Acknowledgments
We appreciate commitment and support in cancer research from both institutions, Rush University Medical Center and University of Minnesota.
Conflicts of Interest
The authors declare no conflicts of interest.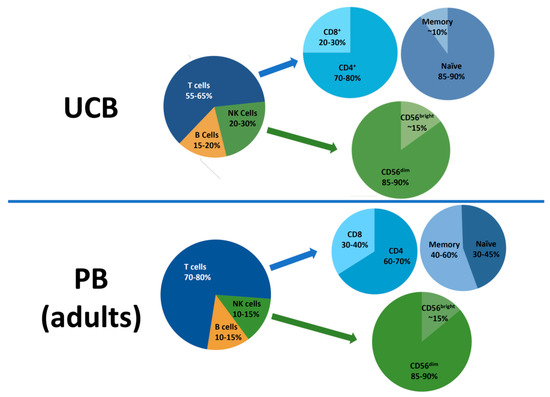 Figure 1. Cell composition in the umbilical cord blood (UCB) graft. The majority of T cells are CD4+ and naïve T cells in the UCB graft. The ratio of CD56dim/CD56bight NK cells is similar to that of PB. However, the cytotoxicity of CD56dim NK cells in the UCB graft is poor compared to that of PB NK cells. UCB, umbilical cord blood; PB, peripheral blood; CD, cluster of differentiation; NK, natural killer.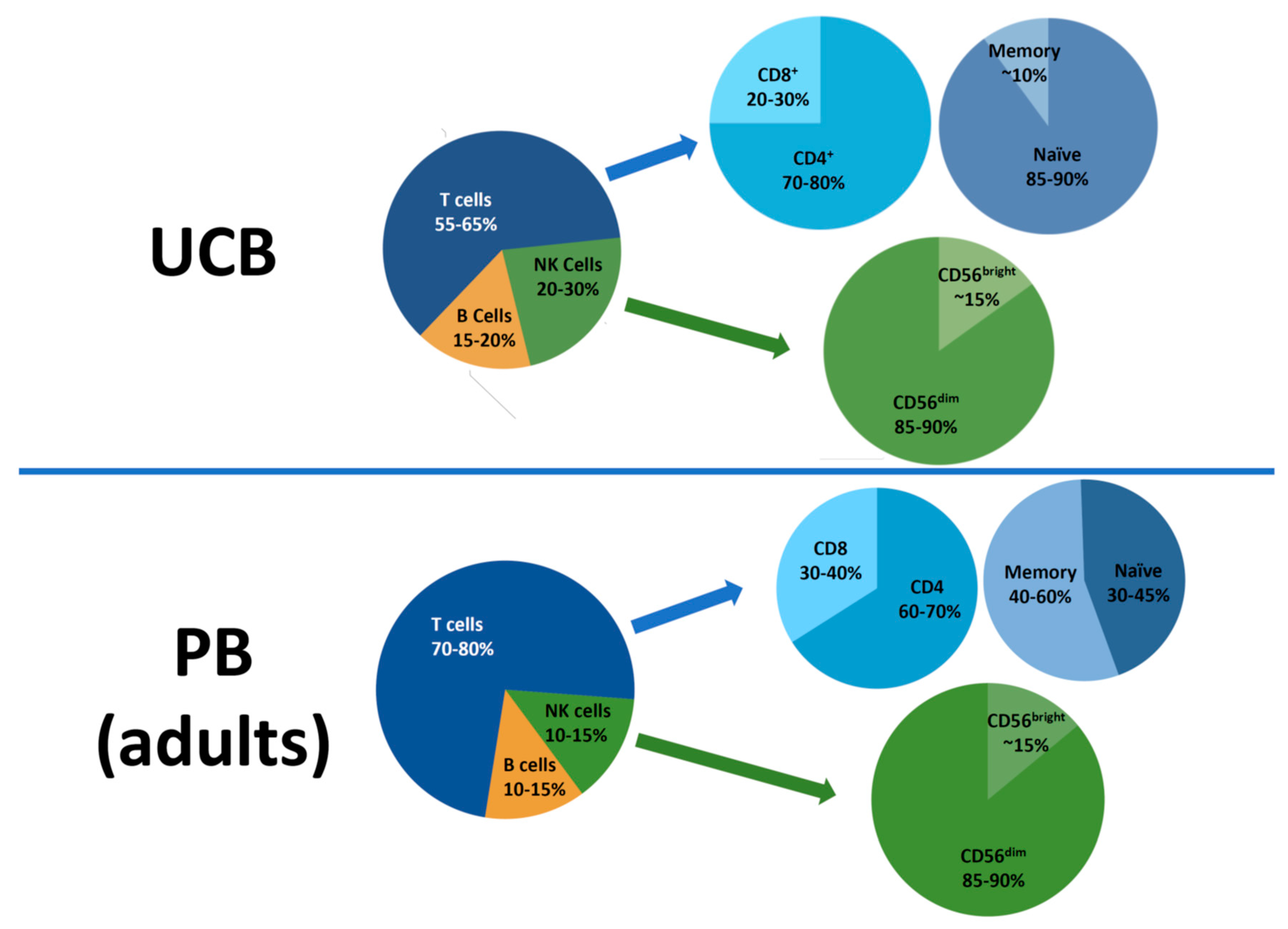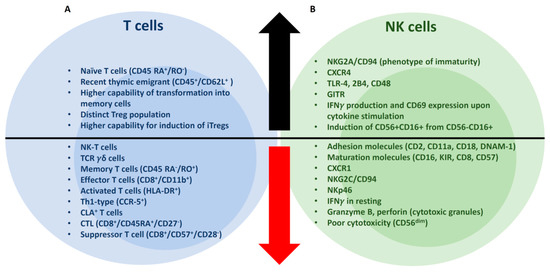 Figure 2. The immunophenotypic and functional characteristics of T and NK cells in the UCB graft. (A) Naïve T cells, the major subset of UCB T cells have a better plasticity to transform into memory T cells and iTreg cells than PB T cells. The UCB graft contains a distinct Treg population. The fractions of memory, effector, activated T cells are low in UCB graft. (B) NK cells of the UCB graft are characterized by the phenotype of immaturity. The cytotoxicity of resting UCB NK cells is markedly low. However, the UCB NK cells acquire potent cytotoxicity with phenotypic maturation upon cytokine stimulation.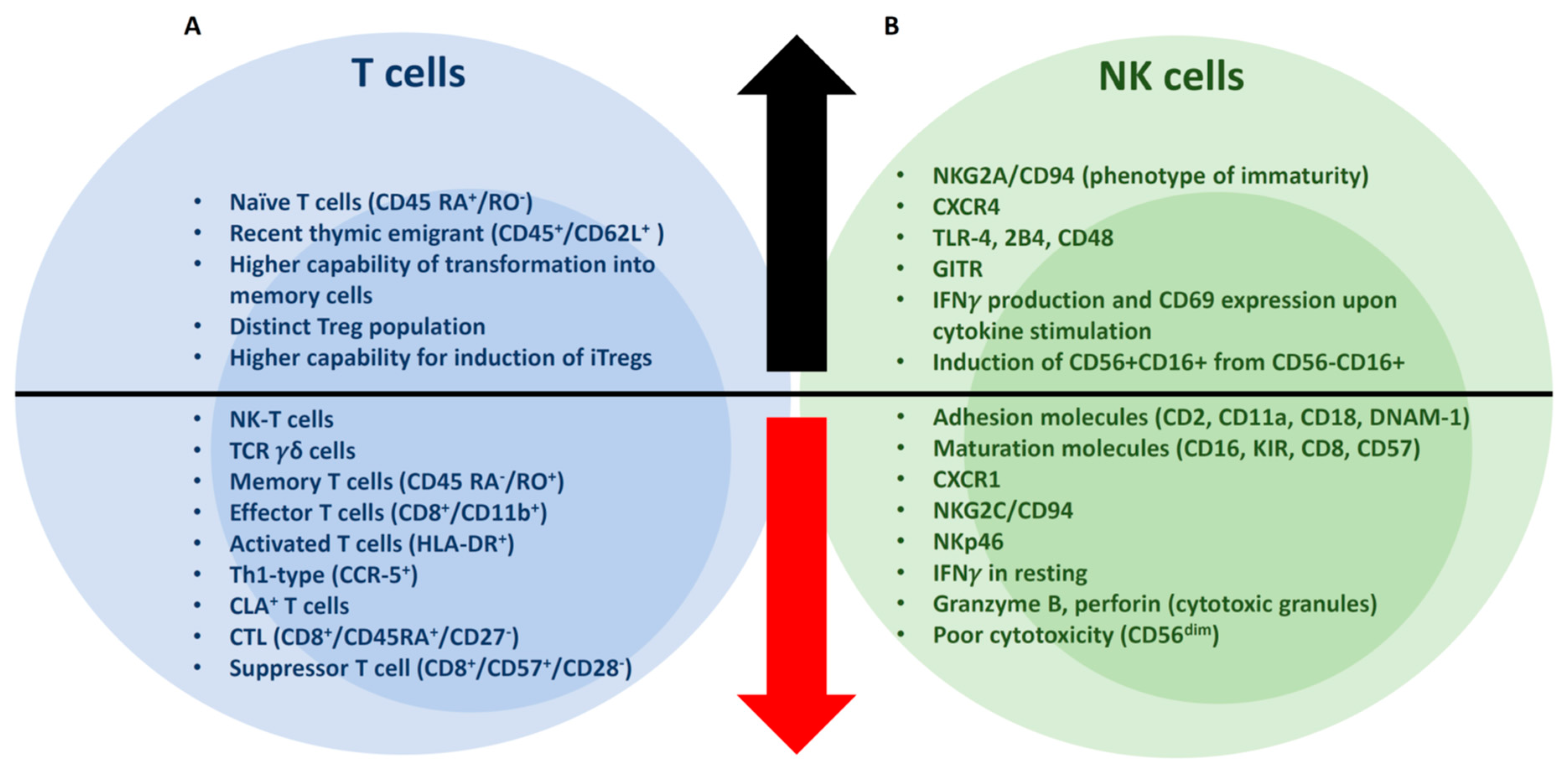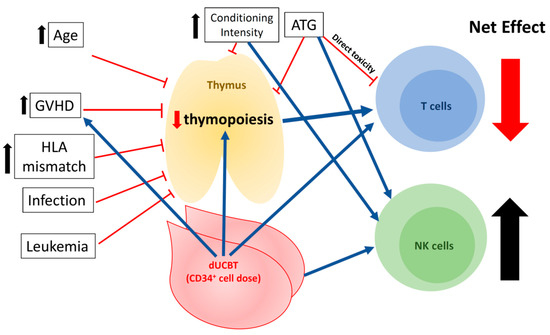 Figure 3. Impacts of clinical factors on immune reconstitution of T and NK cells in UCBT. Advanced age, acute and chronic GVHD, HLA mismatch, infection, myeloablative conditioning, and ATG result in impaired thymopoiesis. Furthermore, relatively low T cells in the UCB graft cause delayed T cell recovery. Double UCBT enhances early T cell IR and thymopoiesis (in adults). Contrarily, NK cell IR in UCBT is comparable or better, compared to other types of HCT, given relatively high fractions of NK cells in the UCB graft. ATG and myeloablative conditioning are known to further prompt NK cell IR. GVHD, graft-versus-host disease; UCB, umbilical cord blood; UCBT, umbilical cord blood transplantation; NK, natural killer; IR, immune reconstitution; HCT, hematopoietic cell transplantation.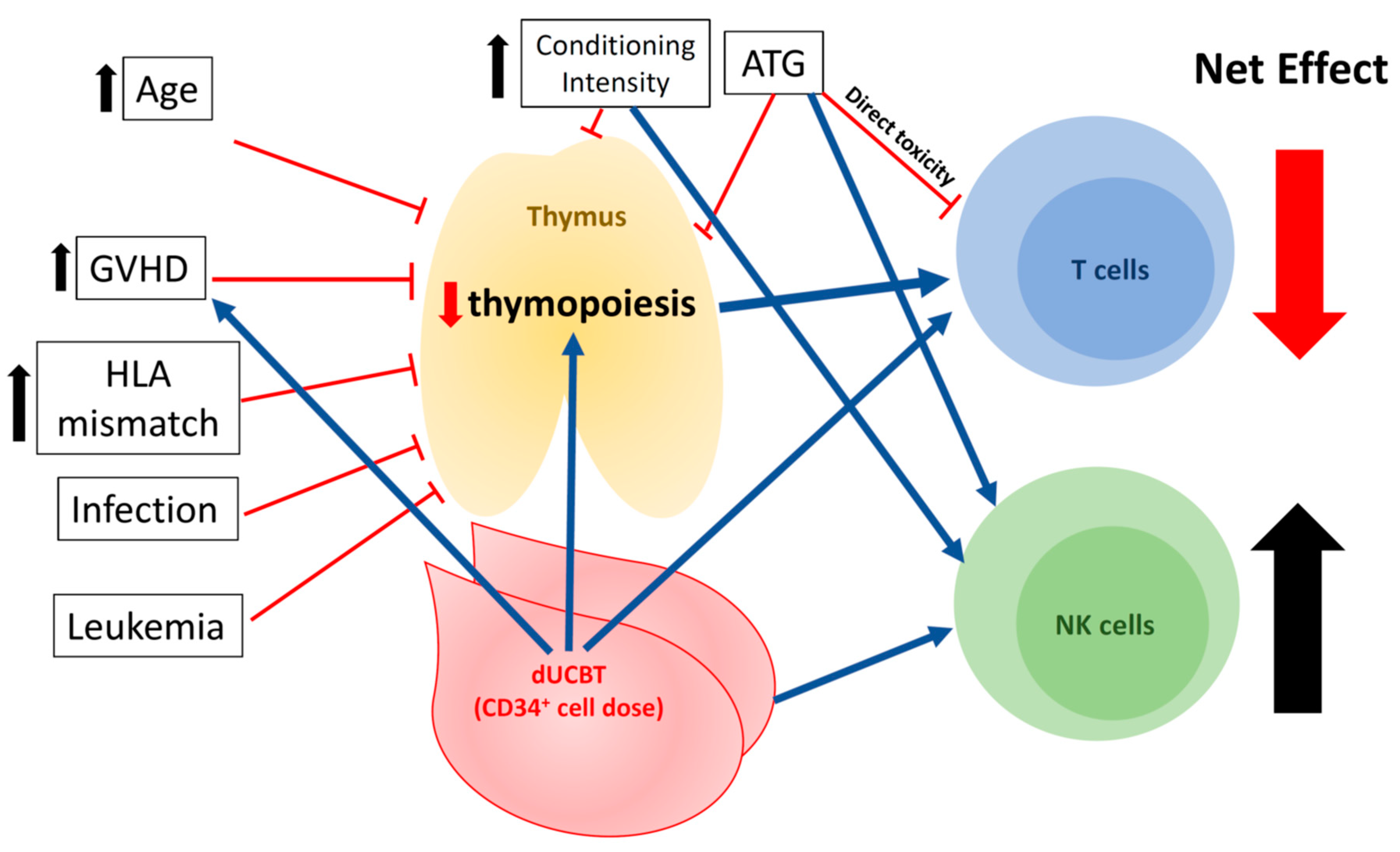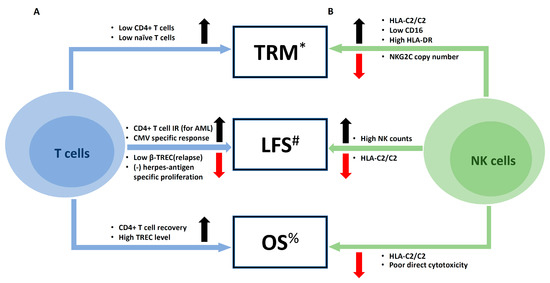 Figure 4. Impacts of T and NK cell IR on major clinical outcomes in UCBT. (A) Impacts of T cell IR on clinical outcomes. CD4+, naïve T cell IR, thymopoiesis measured by TREC, viral antigen-specific T cell immunity significantly impact clinical outcomes. (B) NK cell effects on clinical outcomes in UCBT. Immunogenetic factors such as recipients' HLA typing play a critical role in clinical outcomes in UCBT by KIR–HLA interactions. Furthermore, the NK cell function (e.g., cytotoxicity against K562) and the phenotype (CD16, HLA-DR expression) can affect clinical outcomes. There are conflicting data in the literature on effects of KIR-L mismatch in clinical outcomes. * treatment-related mortality; # leukemia-free survival; % overall survival.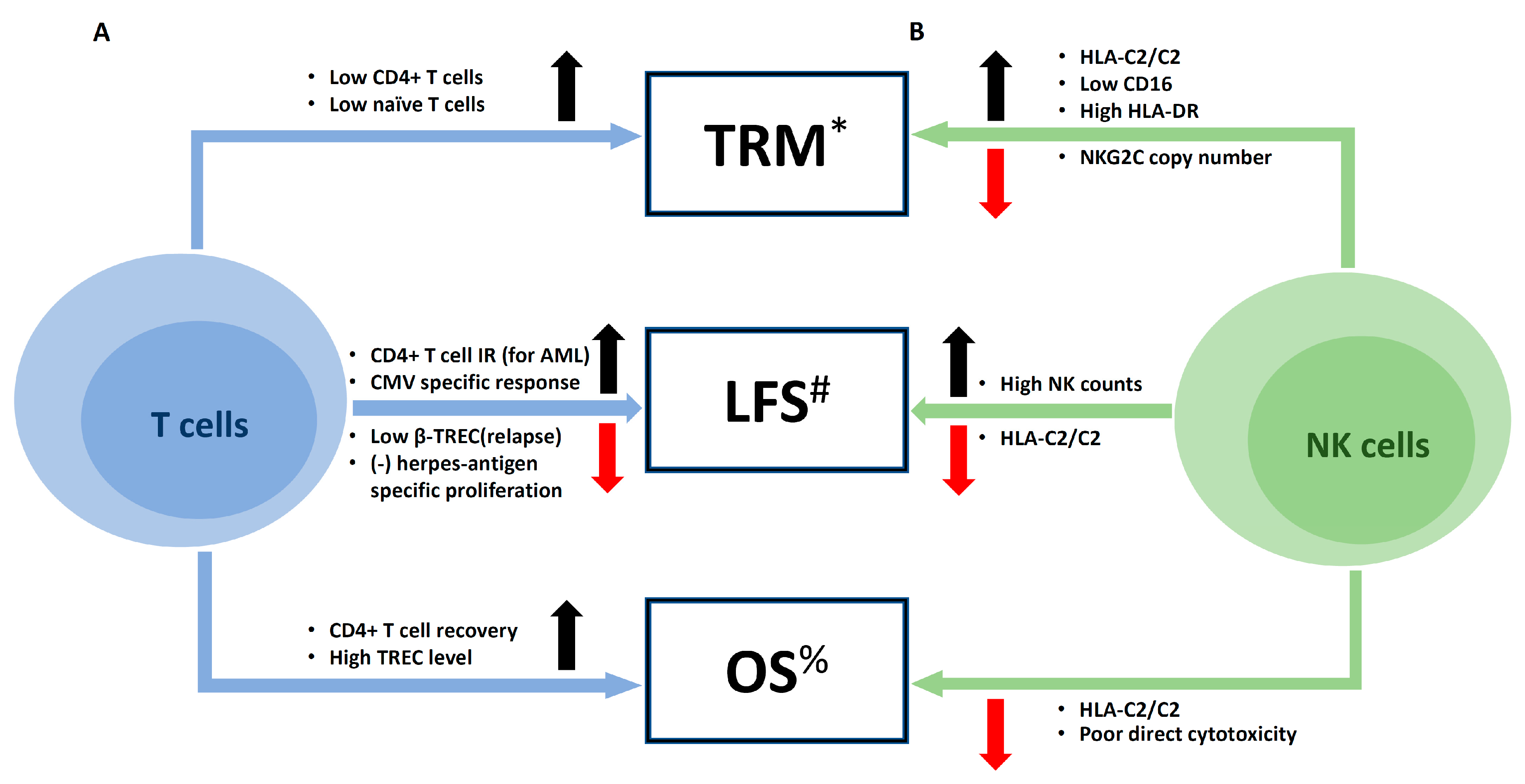 © 2019 by the authors. Licensee MDPI, Basel, Switzerland. This article is an open access article distributed under the terms and conditions of the Creative Commons Attribution (CC BY) license (http://creativecommons.org/licenses/by/4.0/).