Low TIP30 Protein Expression is Associated with a High Risk of Metastasis and Poor Prognosis for Non-Small-Cell Lung Cancer
1
Graduate Institute of Medicine, College of Medicine, Kaohsiung Medical University, Kaohsiung 807, Taiwan
2
Department of Laboratory Medicine, Kaohsiung Medical University Hospital, Kaohsiung Medical University, Kaohsiung 807, Taiwan
3
Division of Pulmonary and Critical Care Medicine, Department of Internal Medicine, E-DA Cancer Hospital, Kaohsiung 807, Taiwan
4
School of Medicine, College of Medicine, I-Shou University, Kaohsiung 807, Taiwan
5
Graduate Institute of Clinical Medicine, College of Medicine, Kaohsiung Medical University, Kaohsiung 807, Taiwan
6
Research Center for Environmental Medicine, Kaohsiung Medical University, Kaohsiung 807, Taiwan
7
Center for Infectious Disease and Cancer Research, Kaohsiung Medical University, Kaohsiung 807, Taiwan
*
Author to whom correspondence should be addressed.
Received: 6 December 2018 / Revised: 7 January 2019 / Accepted: 8 January 2019 / Published: 12 January 2019
Abstract
Non-small-cell lung cancer (NSCLC) is a deadly malignancy with a high prevalence worldwide. A reliable biomarker that can predict the prognosis is required to determine the therapeutic strategy. TIP30 was first identified as a tumor suppressor. A number of mechanistic studies indicated that the downregulation of TIP30 enhances the stemness, migration and survival of NSCLC cells. However, the clinical relevance of TIP30 for the prognosis of NSCLC is unknown. From a meta-analysis of public microarray datasets, we showed the upregulation of TIP30 mRNA expression was associated with worse overall survival of NSCLC patients, which contradicted the tumor suppressive role of TIP30. It is worth noting that the TIP30 mRNA expression was not correlated with its protein expression in 15 NSCLC cell lines. The results from the immunohistochemistry of a tissue microarray showed the downregulation of the TIP30 protein expression was associated with a higher risk of metastasis. In addition, the decrease in TIP30 protein was correlated with worse overall and progression-free survival of the NSCLC patients. Multivariate analysis suggested the loss of TIP30 protein was an independent factor to predict the poor prognosis of NSCLC. Our data indicated that TIP30 protein, not mRNA, would be a potential prognostic biomarker of NSCLC.
View Full-Text
►

▼

Figures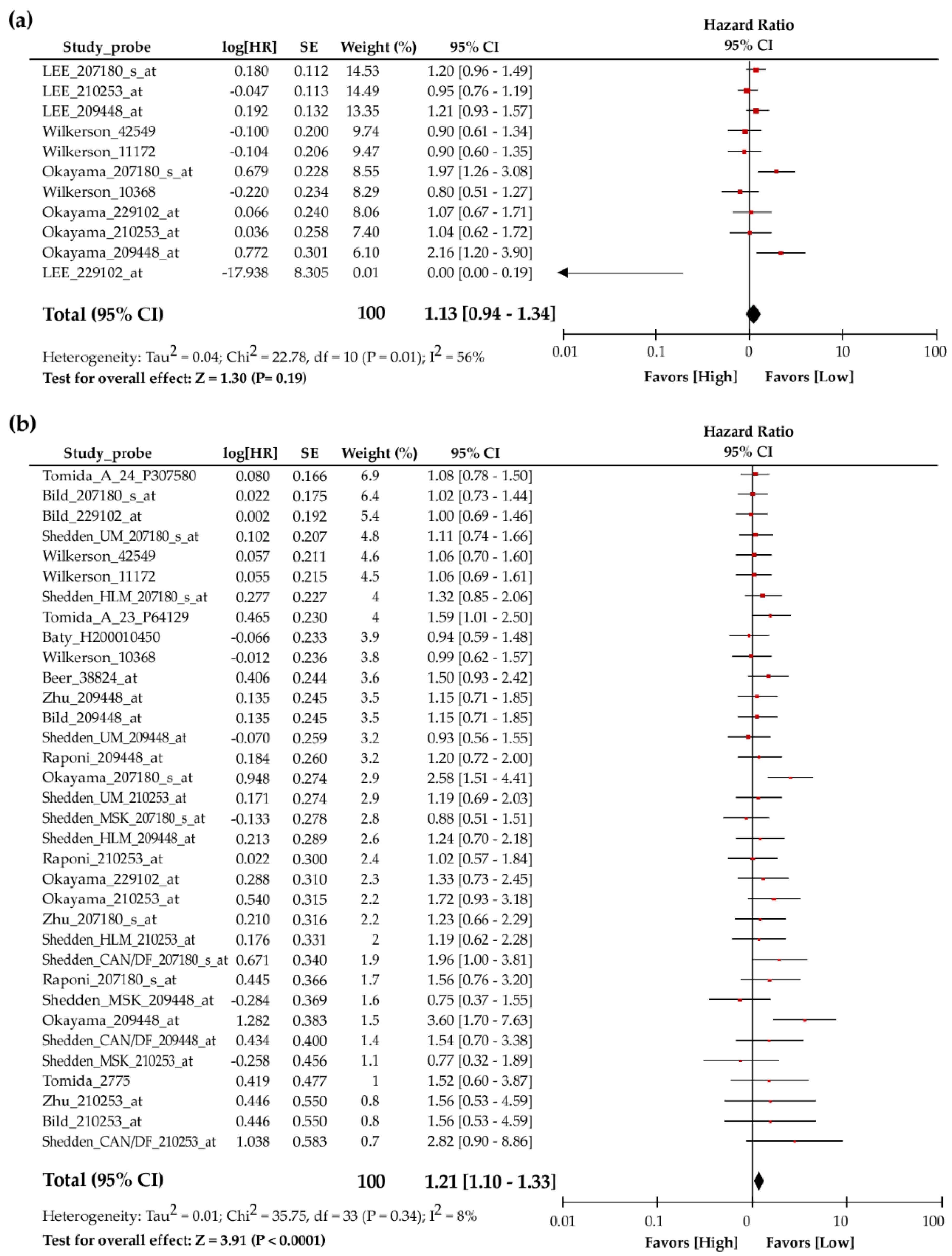 Figure 1
This is an open access article distributed under the
Creative Commons Attribution License
which permits unrestricted use, distribution, and reproduction in any medium, provided the original work is properly cited (CC BY 4.0).

Share & Cite This Article
MDPI and ACS Style
Chen, C.-J.; Chou, P.-A.; Huang, M.-S.; Liu, Y.-P. Low TIP30 Protein Expression is Associated with a High Risk of Metastasis and Poor Prognosis for Non-Small-Cell Lung Cancer. J. Clin. Med. 2019, 8, 83.
Note that from the first issue of 2016, MDPI journals use article numbers instead of page numbers. See further details here.
Related Articles
Comments
[Return to top]