Clinicopathologic Features and Treatment Outcomes in Patients with Stage I, High-Risk Histology or High-Grade Endometrial Cancer after Primary Staging Surgery: A Taiwanese Gynecologic Oncology Group Study
1
Department of Obstetrics and Gynecology, Taipei Veterans General Hospital, Taipei 112, Taiwan
2
Department of Obstetrics and Gynecology, Changhua Christian Hospital, Changhua 500, Taiwan
3
Department of Obstetrics and Gynecology, Taichung Veterans General Hospital, Taichung 407, Taiwan
4
Department of Obstetrics and Gynecology, National Cheng Kung University Hospital, Tainan 704, Taiwan
5
Department of Obstetrics and Gynecology, Mackay Memorial Hospital, Taipei 104, Taiwan
6
Department of Obstetrics and Gynecology, Tri Service General Hospital, Taipei 114, Taiwan
7
Department of Obstetrics and Gynecology, Kaohsiung Chang Gung Memorial Hospital, Kaohsiung 833, Taiwan
8
Department of Obstetrics and Gynecology, Cathay General Hospital, Taipei 106, Taiwan
9
Department of Obstetrics and Gynecology, Kaohsiung Veterans General Hospital, Kaohsiung 813, Taiwan
10
Department of Obstetrics and Gynecology, ChiaYi Chang Gung Memorial Hospital, ChiaYi 613, Taiwan
11
Department of Obstetrics and Gynecology, Far Eastern Memorial Hospital, New Taipei City 220, Taiwan
12
Department of Obstetrics and Gynecology, Yuan's General Hospital, Kaohsiung 802, Taiwan
13
Department of Obstetrics and Gynecology, Show Chwan Memorial Hospital, Changhua 500, Taiwan
*
Author to whom correspondence should be addressed.
Received: 9 August 2018 / Revised: 29 August 2018 / Accepted: 31 August 2018 / Published: 4 September 2018
Abstract
To investigate the clinicopathological features and treatment outcomes in patients with stage I, high-risk endometrial cancer. Patients with International Federation of Gynecology and Obstetrics stage I, papillary serous, clear cell, or grade 3 endometrioid carcinoma treated between 2000 and 2012 were analyzed for the clinical and pathological factors in relation to prognosis. A total of 267 patients (stage IA;
n
= 175, stage IB;
n
= 92) were included. Among the clinicopathological features, stage and age were significant prognostic factors. The recurrence rate and overall survival for stage IB versus IA were 22.8% versus 9.1% (
p
= 0.003) and 149.7 months versus 201.8 months (
p
< 0.001), respectively. The patients >60 years of age also had a higher recurrence rate (21.7% versus 9.7%,
p
= 0.008) and poorer survival (102.0 months versus 196.8 months,
p
= 0.001) than those ≤60 years of age. Distant recurrence (64.9%) occurred more frequently than local recurrence (24.3%) and local combined with distant recurrence (10.8%) (
p
< 0.001). The postoperative treatment modality had no impact on tumor recurrence rate, recurrence site, or overall survival. Distant recurrence is a major cause of treatment failure in patients with stage I, high-risk endometrial cancer. However, current adjuvant treatment appeared to have little effect in preventing its occurrence.
View Full-Text
►

▼

Figures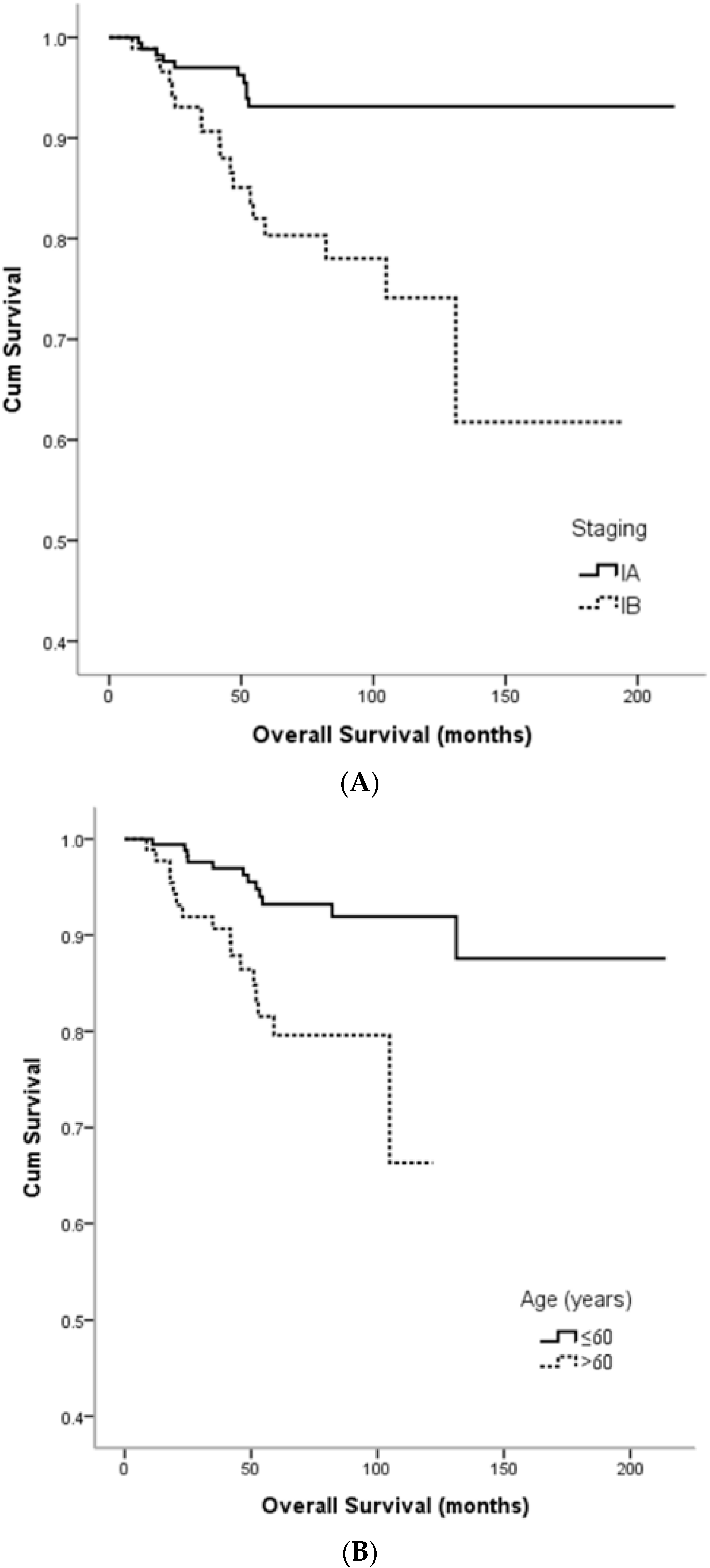 Figure 1
This is an open access article distributed under the
Creative Commons Attribution License
which permits unrestricted use, distribution, and reproduction in any medium, provided the original work is properly cited (CC BY 4.0).

Share & Cite This Article
MDPI and ACS Style
Yen, M.-S.; Chen, T.-H.; Ke, Y.-M.; Hsu, K.-F.; Chen, J.-R.; Yu, M.-H.; Fu, H.-C.; Huang, C.-Y.; Chiang, A.-J.; Chen, C.-Y.; Hsiao, S.-M.; Kan, Y.-Y.; Liu, F.-S. Clinicopathologic Features and Treatment Outcomes in Patients with Stage I, High-Risk Histology or High-Grade Endometrial Cancer after Primary Staging Surgery: A Taiwanese Gynecologic Oncology Group Study. J. Clin. Med. 2018, 7, 254.
Note that from the first issue of 2016, MDPI journals use article numbers instead of page numbers. See further details here.
Related Articles
Comments
[Return to top]