Open Access This article is
freely available
re-usable
Review
Quadrilateral Space Syndrome: Diagnosis and Clinical Management
1
Department of General Surgery, Mayo Clinic, Phoenix, AZ 85054, USA
2
Department of Vascular Interventional Surgery, Minimally Invasive Therapeutics Laboratory, Mayo Clinic, Phoenix, AZ 85054, USA
3
Mayo Clinic School of Medicine, Scottsdale, AZ 85259, USA
*
Authors to whom correspondence should be addressed.
Received: 1 April 2018 / Accepted: 18 April 2018 / Published: 21 April 2018
Abstract
:
Quadrilateral space syndrome (QSS) is a rare disorder characterized by axillary nerve and posterior humeral circumflex artery (PHCA) compression within the quadrilateral space. Impingement is most frequently due to trauma, fibrous bands, or hypertrophy of one of the muscular borders. Diagnosis can be complicated by the presence of concurrent traumatic injuries, particularly in athletes. Since many other conditions can mimic QSS, it is often a diagnosis of exclusion. Conservative treatment is often first trialed, including physical exercise modification, physical therapy, and therapeutic massage. In patients unrelieved by conservative measures, surgical decompression of the quadrilateral space may be indicated.
Keywords:
quadrilateral space syndrome; axillary nerve; posterior humeral circumflex artery; magnetic resonance imaging; digital subtraction angiography
Acknowledgments
R.O. gratefully acknowledges funding from the National Institutes of Health (EB021148, CA172738, EB024403, HL137193, HL140951) and the Mayo Clinic.
Author Contributions
(I) Conception and design: P.T.H., IB., R.O.; (II) Administrative support: R.O.; (III)~Provision of study materials or patients: None; (IV) Collection and assembly of data: P.T.H., I.B., R.O.; (V) Data analysis and interpretation: P.T.H., I.B.; (VI) Manuscript writing: All authors; (VII) Final approval of manuscript: All authors.
Conflicts of Interest
The authors declare no conflict of interest.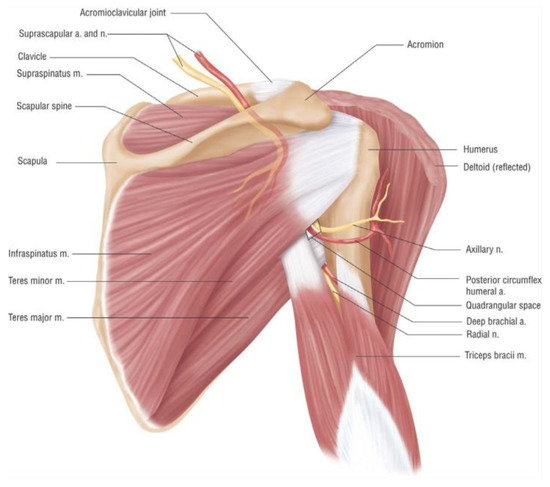 Figure 1.
Anatomy of the quadrilateral space. This posterior view of the right shoulder shows the quadrilateral space which is bounded superiorly by the teres minor muscle, inferiorly by the teres major muscle, medially by the long head of the triceps, and laterally by the humeral shaft (reprinted with permission from [
14
].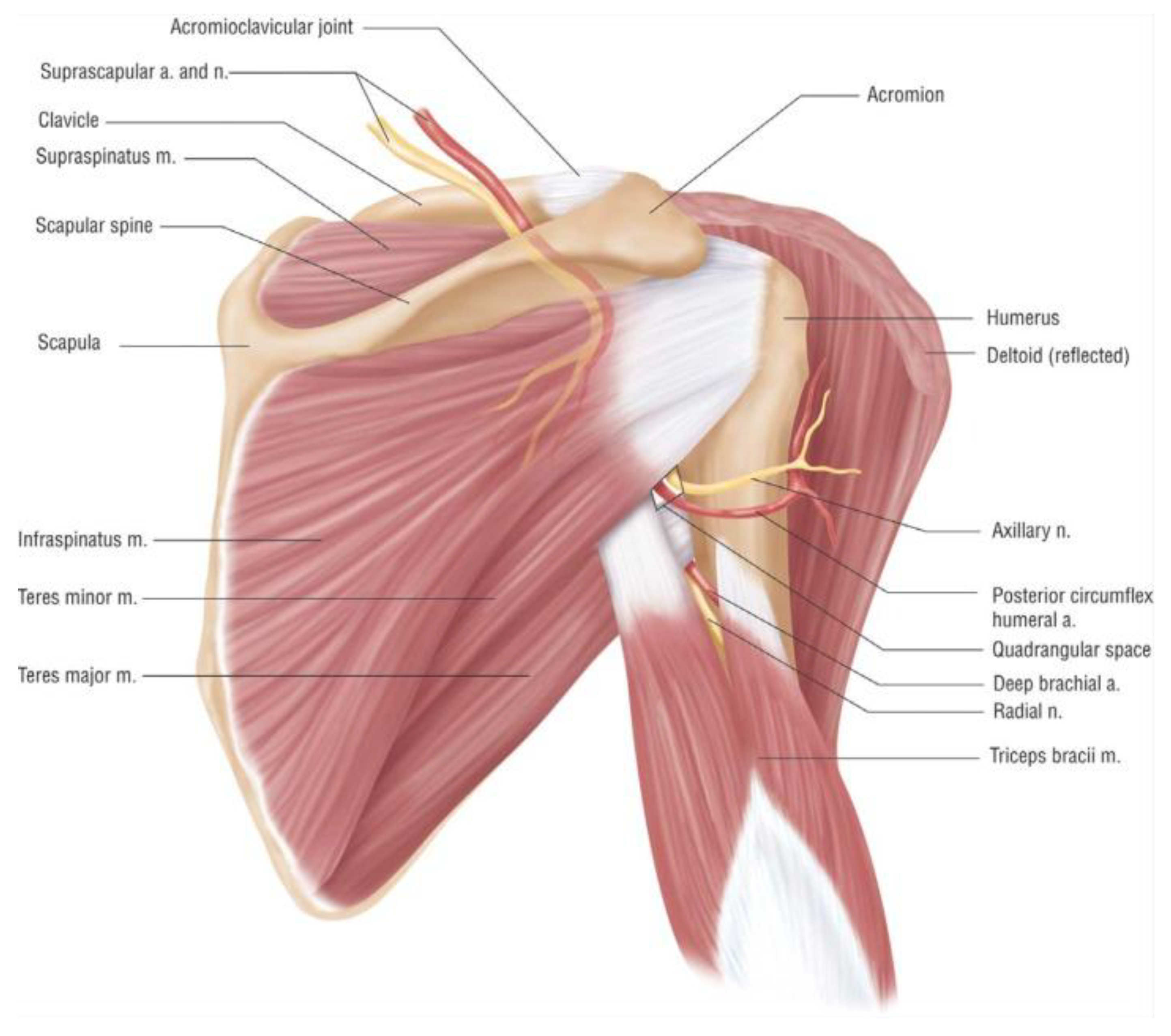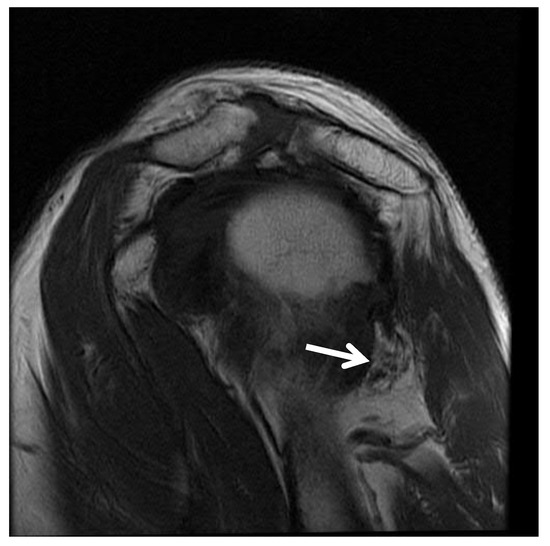 Figure 2. Atrophic left teres minor on magnetic resonance imaging (MRI) of shoulder in patient with quadrilateral space syndrome.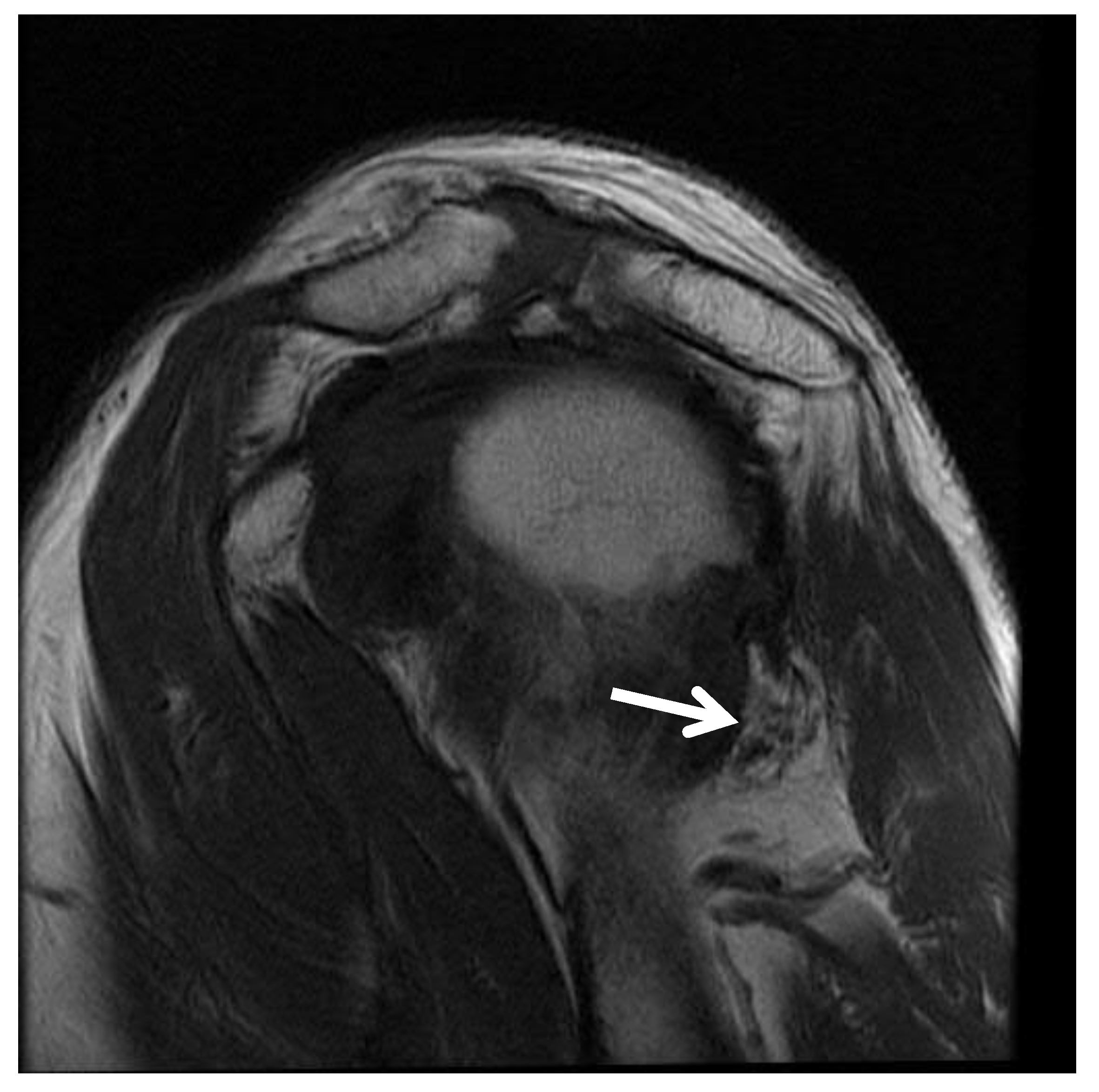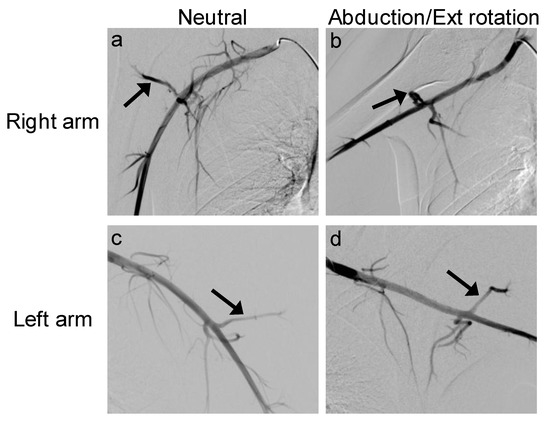 Figure 3. A 27-year-old right hand-dominant man presented with right shoulder pain and weakness, which had been nonresponsive to conservative measures. His pain was located in the right posterior shoulder with point tenderness directly over the quadrilateral space. This pain was aggravated by abduction and external and internal rotation. Following clinical examination, bilateral upper extremity arteriography was performed in neutral position and following provocative maneuvers. Bilateral provocative digital subtraction angiography of posterior humeral circumflex artery (PHCA) in patient with chronic right-sided shoulder pain. (a) Arrow pointing to normal flow of right PHCA with patient in neutral, supine position. (b) Arrow pointing to external compression of right PHCA following abduction and external (Ext) rotation of right shoulder. (c) Arrow pointing to normal flow of left PHCA with patient in neural, supine position. (d) Arrow pointing to normal flow of left PHCA following abduction and external rotation of left shoulder.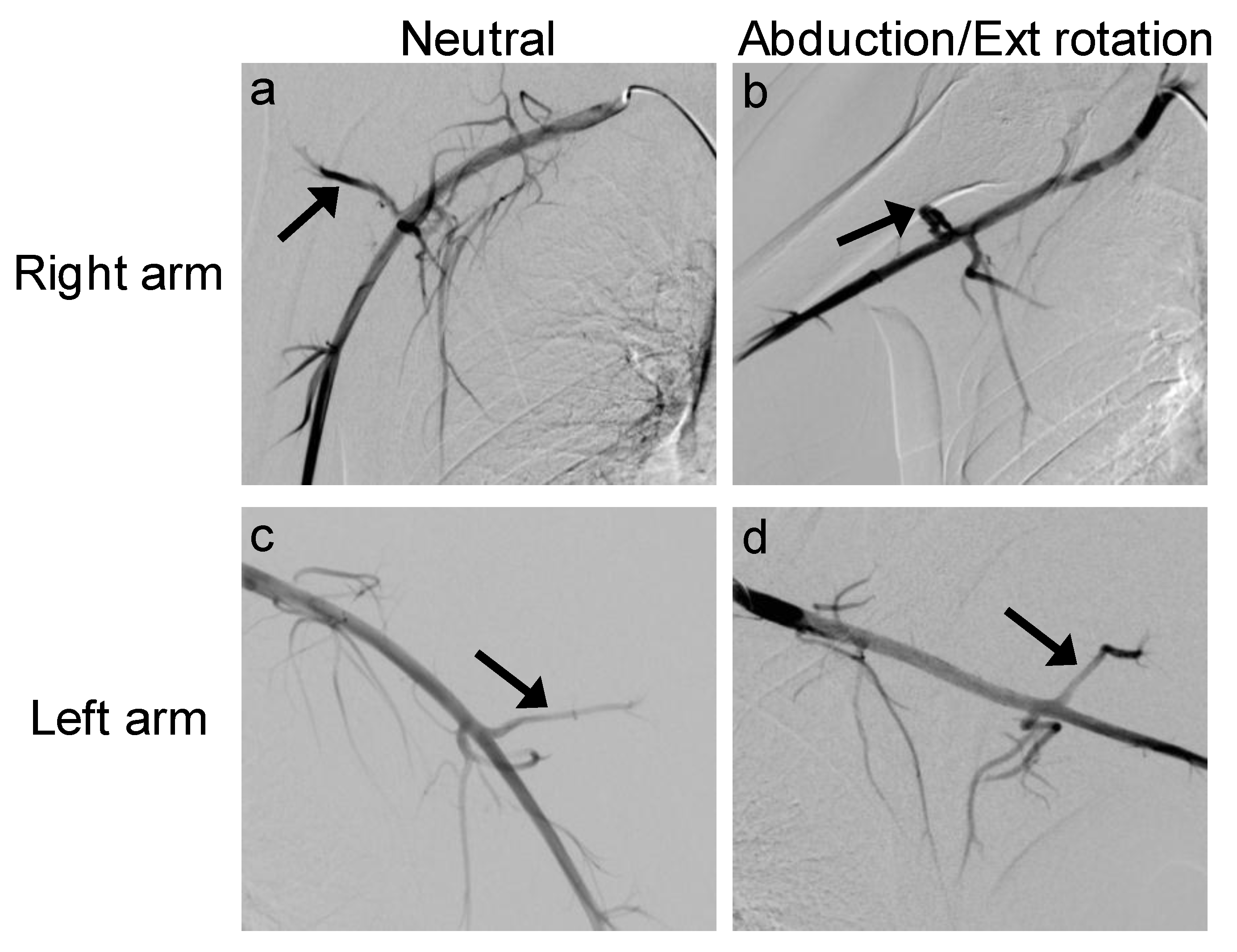 © 2018 by the authors. Licensee MDPI, Basel, Switzerland. This article is an open access article distributed under the terms and conditions of the Creative Commons Attribution (CC BY) license (http://creativecommons.org/licenses/by/4.0/).