Comparative Effectiveness of the Core Components of Cardiac Rehabilitation on Mortality and Morbidity: A Systematic Review and Network Meta-Analysis
1
Toronto Health Economics and Technology Assessment (THETA) Collaborative, 200 Elizabeth Street, Toronto, ON M5G 2C4, Canada
2
Faculty of Pharmacy, University of Toronto, 144 College St, Toronto, ON M5S 3M2, Canada
3
Department of Medicine, University Health Network, 27 King's College Circle, Toronto, ON M5S 1A1, Canada
4
Institute of Health Policy, Management and Evaluation (IHPME), University of Toronto, 4th Floor, 155 College St, Toronto, ON M5T 3M6, Canada
5
Faculty of Medicine, University of Toronto, Medical Sciences Building, 1 King's College Cir, Toronto, ON M5S 1A8, Canada
6
Cardiac Rehabilitation and Secondary Prevention Program, Toronto Rehabilitation Institute, University Health Network, University of Toronto, 550 University Ave, Toronto, ON M5G 2A2, Canada
7
School of Kinesiology and Health Science, York University, 4700 Keele St, Toronto, ON M3J 1P3, Canada
8
Department of Physical Therapy, Federal University of Minas Gerais, Av. Pres. Antônio Carlos, 6627-Pampulha, Belo Horizonte, MG 31270-901, Brazil
9
Human Nutrition, Bridgeport University, 126 Park Ave, Bridgeport, CT 06604, USA
*
Author to whom correspondence should be addressed.
Received: 1 November 2018 / Revised: 26 November 2018 / Accepted: 30 November 2018 / Published: 4 December 2018
Abstract
A systematic review and network meta-analysis (NMA) of randomized controlled trials (RCTs) evaluating the core components of cardiac rehabilitation (CR), nutritional counseling (NC), risk factor modification (RFM), psychosocial management (PM), patient education (PE), and exercise training (ET)) was undertaken. Published RCTs were identified from database inception dates to April 2017, and risk of bias assessed using Cochrane's tool. Endpoints included mortality (all-cause and cardiovascular (CV)) and morbidity (fatal and non-fatal myocardial infarction (MI), coronary artery bypass surgery (CABG), percutaneous coronary intervention (PCI), and hospitalization (all-cause and CV)). Meta-regression models decomposed treatment effects into the main effects of core components, and two-way or all-way interactions between them. Ultimately, 148 RCTs (50,965 participants) were included. Main effects models were best fitting for mortality (e.g., for all-cause, specifically PM (hazard ratio HR = 0.68, 95% credible interval CrI = 0.54–0.85) and ET (HR = 0.75, 95% CrI = 0.60–0.92) components effective), MI (e.g., for all-cause, specifically PM (hazard ratio HR = 0.76, 95% credible interval CrI = 0.57–0.99), ET (HR = 0.75, 95% CrI = 0.56–0.99) and PE (HR = 0.68, 95% CrI = 0.47–0.99) components effective) and hospitalization (e.g., all-cause, PM (HR = 0.76, 95% CrI = 0.58–0.96) effective). For revascularization (including CABG and PCI individually), the full interaction model was best-fitting. Given that each component, individual or in combination, was associated with mortality and/or morbidity, recommendations for comprehensive CR are warranted.
View Full-Text
►

▼

Figures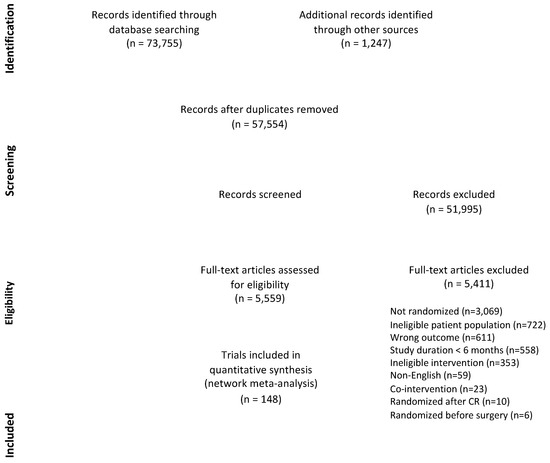 Figure 1
This is an open access article distributed under the
Creative Commons Attribution License
which permits unrestricted use, distribution, and reproduction in any medium, provided the original work is properly cited (CC BY 4.0).

Share & Cite This Article
MDPI and ACS Style
Kabboul, N.N.; Tomlinson, G.; Francis, T.A.; Grace, S.L.; Chaves, G.; Rac, V.; Daou-Kabboul, T.; Bielecki, J.M.; Alter, D.A.; Krahn, M. Comparative Effectiveness of the Core Components of Cardiac Rehabilitation on Mortality and Morbidity: A Systematic Review and Network Meta-Analysis. J. Clin. Med. 2018, 7, 514.
Note that from the first issue of 2016, MDPI journals use article numbers instead of page numbers. See further details here.
Related Articles
Comments
[Return to top]