Circulating Levels of Osteopontin Predict Patients' Outcome after Resection of Colorectal Liver Metastases
1
Department of Medicine III, University Hospital RWTH Aachen, 52062 Aachen, Germany
2
Department of General, Visceral and Transplantation Surgery, University Hospital RWTH Aachen, 52062 Aachen, Germany
3
Department of Surgery, Maastricht University Medical Centre, 6229 HX Maastricht, The Netherlands
4
Division of Gastroenterology, Hepatology and Hepatobiliary Oncology, University Hospital RWTH Aachen, 52062 Aachen, Germany
5
Department of General and Visceral Surgery, Klinikum Bielefeld, 33604 Bielefeld, Germany
*
Author to whom correspondence should be addressed.
Received: 30 August 2018 / Revised: 17 October 2018 / Accepted: 23 October 2018 / Published: 26 October 2018
(This article belongs to the Section
Oncology
)
Abstract
For colorectal liver metastases (CRLM), surgical resection is the only potentially curative therapy, but even successfully resected patients often face disease recurrence, leading to 5-year survival rate below 50%. Despite available preoperative stratification strategies, it is not fully elucidated which patients actually benefit from CRLM resection. Here we evaluated osteopontin, a secreted glyco-phosphoprotein, as a biomarker in the context of CRLM resection. Tissue levels of osteopontin were analysed in CRLM using reverse transcription polymerase chain reaction (RT-PCR) and immunohistochemistry. Pre- and postoperative osteopontin serum concentrations were analysed by enzyme-linked immunosorbent assay (ELISA) in 125 patients undergoing resection of CRLM as well as 65 healthy controls. Correlating with an upregulation of osteopontin tissue expression in CRLM, osteopontin serum levels were significantly elevated in patients with CRLM compared to healthy controls. Importantly, high pre- and post-operative osteopontin serum levels were associated with a poor prognosis after tumour resection. Patients with initial osteopontin serum levels above our ideal cut-off value of 264.4 ng/mL showed a significantly impaired median overall survival of 304 days compared to 1394 days for patients with low osteopontin levels. Together, our data suggest a role of osteopontin as a prognostic biomarker in patients with resectable CRLM that might help to identify patients who particularly benefit from liver resection.
View Full-Text
►

▼

Figures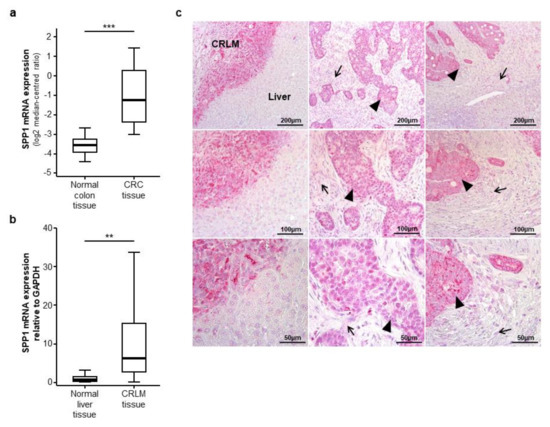 Figure 1
This is an open access article distributed under the
Creative Commons Attribution License
which permits unrestricted use, distribution, and reproduction in any medium, provided the original work is properly cited (CC BY 4.0).

Share & Cite This Article
MDPI and ACS Style
Loosen, S.H.; Heise, D.; Dejong, C.H.; Roy, S.; Tacke, F.; Trautwein, C.; Roderburg, C.; Luedde, T.; Neumann, U.P.; Binnebösel, M. Circulating Levels of Osteopontin Predict Patients' Outcome after Resection of Colorectal Liver Metastases. J. Clin. Med. 2018, 7, 390.
Note that from the first issue of 2016, MDPI journals use article numbers instead of page numbers. See further details here.
Related Articles
Comments
[Return to top]