Drug-Induced Interstitial Lung Disease: A Systematic Review
1
Arthritis Research UK Centre for Epidemiology, Division of Musculoskeletal and Dermatological Sciences, School of Biological Sciences, Faculty of Biology Medicine & Health, University of Manchester, Manchester Academic Health Sciences Centre, Manchester M13 9PL, UK
2
Royal National Hospital for Rheumatic Diseases, Royal United Hospitals Bath NHS Foundation Trust, Bath BA1 1RL, UK
3
Department of Infection, Immunity & Cardiovascular Disease, University of Sheffield, Sheffield S10 2TN, UK
4
North West Lung Centre, Manchester University NHS Foundation Trust, Manchester Academic Health Science Centre, Manchester M6 8HD, UK
5
Leeds Institute of Rheumatic and Musculoskeletal Medicine, NIHR Leeds Biomedical Research Centre, University of Leeds, Leeds LS2 9JT, UK
6
Rheumatology Unit, Department of Medicine, University of Verona, 37134 Verona, Italy
7
Bioxydyn Limited, Rutherford House, Manchester Science Park, Manchester M15 6SZ, UK
8
Centre for Imaging Sciences, Division of Informatics Imaging & Data Sciences, School of Health Sciences, Faculty of Biology Medicine & Health, University of Manchester, Manchester Academic Health Sciences Centre, Manchester M13 9PL, UK
9
Division of Cancer Sciences, School of Medical Sciences, Faculty of Biology Medicine and Health, University of Manchester, Manchester Academic Health Sciences Centre, Manchester M13 9PL, UK
10
The Kellgren Centre for Rheumatology, NIHR Manchester Biomedical Research Centre, Manchester University NHS Foundation Trust, Manchester Academic Health Science Centre, Manchester M6 8HD, UK
11
Academic Directorate of Respiratory Medicine, Sheffield Teaching Hospitals NHS Foundation Trust, Sheffield S10 2JF, UK
*
Author to whom correspondence should be addressed.
Received: 19 August 2018 / Revised: 4 October 2018 / Accepted: 8 October 2018 / Published: 15 October 2018
Abstract
Background: Drug-induced interstitial lung disease (DIILD) occurs as a result of numerous agents, but the risk often only becomes apparent after the marketing authorisation of such agents. Methods: In this PRISMA-compliant systematic review, we aimed to evaluate and synthesise the current literature on DIILD. Results: Following a quality assessment, 156 full-text papers describing more than 6000 DIILD cases were included in the review. However, the majority of the papers were of low or very low quality in relation to the review question (78%). Thus, it was not possible to perform a meta-analysis, and descriptive review was undertaken instead. DIILD incidence rates varied between 4.1 and 12.4 cases/million/year. DIILD accounted for 3–5% of prevalent ILD cases. Cancer drugs, followed by rheumatology drugs, amiodarone and antibiotics, were the most common causes of DIILD. The radiopathological phenotype of DIILD varied between and within agents, and no typical radiological pattern specific to DIILD was identified. Mortality rates of over 50% were reported in some studies. Severity at presentation was the most reliable predictor of mortality. Glucocorticoids (GCs) were commonly used to treat DIILD, but no prospective studies examined their effect on outcome. Conclusions: Overall high-quality evidence in DIILD is lacking, and the current review will inform larger prospective studies to investigate the diagnosis and management of DIILD.
View Full-Text
►

▼

Figures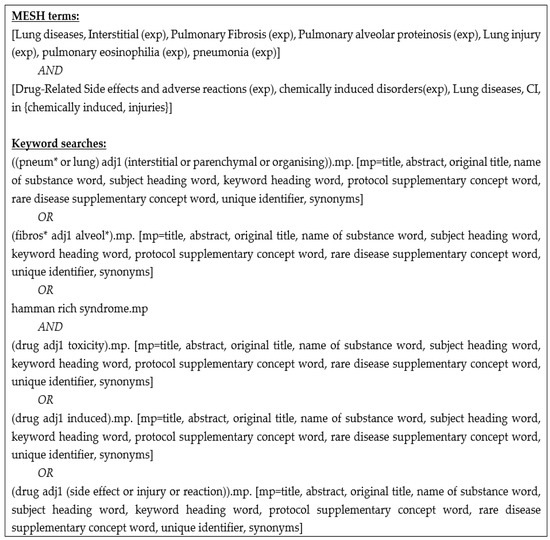 Figure 1
This is an open access article distributed under the
Creative Commons Attribution License
which permits unrestricted use, distribution, and reproduction in any medium, provided the original work is properly cited (CC BY 4.0).

Share & Cite This Article
MDPI and ACS Style
Skeoch, S.; Weatherley, N.; Swift, A.J.; Oldroyd, A.; Johns, C.; Hayton, C.; Giollo, A.; Wild, J.M.; Waterton, J.C.; Buch, M.; Linton, K.; Bruce, I.N.; Leonard, C.; Bianchi, S.; Chaudhuri, N. Drug-Induced Interstitial Lung Disease: A Systematic Review. J. Clin. Med. 2018, 7, 356.
Note that from the first issue of 2016, MDPI journals use article numbers instead of page numbers. See further details here.
Related Articles
Comments
[Return to top]