Health Resource Utilization Associated with Skeletal-Related Events in Patients with Advanced Prostate Cancer: A European Subgroup Analysis from an Observational, Multinational Study
1
University Hospitals Bristol, Bristol Royal Infirmary, Upper Maudlin St., Bristol, Avon BS2 8HW, UK
2
Research Centre Ruhr, Pferdebach Street 30, Witten 58455, Germany
3
Integrated Cancer Centre Clara Campal (CIOCC), Calle Oña 10, Madrid 28050, Spain
4
Health Economics, Amgen (Europe) GmbH, Dammstrasse 23, Zug 6301, Switzerland
5
Institute of Oncology Catalá ICO-IDIBELL, Avenue Gran Via de l'Hospitalet, 199-203, Hospitalet de Llobregat, Barcelona 08908, Spain
6
Pinderfields General Hospital, Mid Yorkshire Hospitals NHS Trust, Wakefield WF1 4DG, UK
7
National Cancer Institute IRCCS Giovanni Paolo II, Viale Orazio Flacco 65, 70124, Bari, Italy
8
Oncology Institute ASL, Via Antonio Miglietta, Lecce 5 73100, Province of Lecce, Italy
9
Biostatistics, Ovatech Solutions, 112 Morden Road Abbey, London SW19 2NA, UK
10
Biostatistics, Amgen Inc., 1 Amgen Center Drive, Thousand Oaks, CA 91320, USA
11
Scientific Publications, Amgen (Europe) GmbH, Dammstrasse 23, 6301 Zug, Switzerland
12
Charité-University Medical Hospital Berlin, Charité Campus Benjamin Franklin, Charitéplatz 1, Berlin D-10117, Germany
*
Author to whom correspondence should be addressed.
Received: 29 April 2014 / Revised: 3 June 2014 / Accepted: 7 July 2014 / Published: 29 July 2014
Abstract
This study aimed to increase the understanding of health resource utilization (HRU) associated with skeletal-related events (SREs) occurring in patients with bone metastases secondary to advanced prostate cancer. A total of 120 patients from Germany, Italy, Spain and the United Kingdom were enrolled in this observational study. They had bone metastases secondary to prostate cancer and had experienced at least one SRE in the 97 days before giving informed consent. HRU data were collected retrospectively for 97 days before enrolment and prospectively for up to 18–21 months. HRU, including the number and duration of inpatient hospitalizations, number of outpatient and emergency department visits and procedures, was independently attributed by investigators to an SRE. Of the 222 SREs included in this analysis, 26% were associated with inpatient stays and the mean duration per SRE was 21.4 days (standard deviation (SD) 17.8 days). Overall, 174 SREs (78%) required an outpatient visit and the mean number of visits per SRE was 4.6 (SD 4.6). All SREs are associated with substantial HRU. Preventing SREs in patients with advanced prostate cancer and bone metastases may help to reduce the burden to both patients and European healthcare systems.
View Full-Text
►

▼

Figures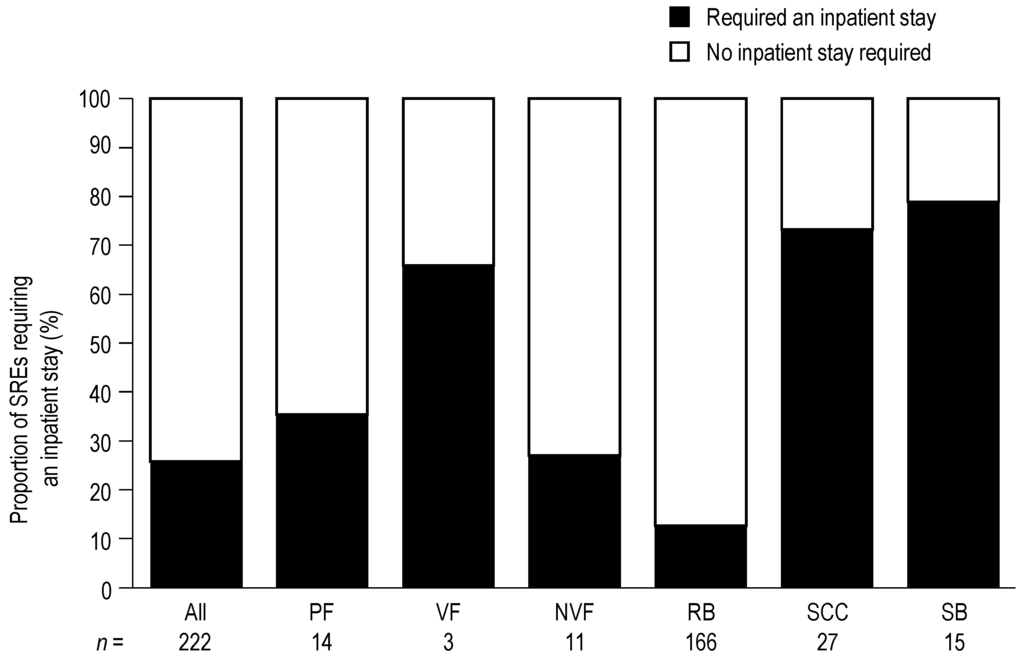 Figure 1

Share & Cite This Article
MDPI and ACS Style
Bahl, A.; Hoefeler, H.; Duran, I.; Hechmati, G.; Garzon-Rodriguez, C.; Ashcroft, J.; Lorusso, V.; Ghelani, P.; Wei, R.; Thomas, E.; Lüftner, D. Health Resource Utilization Associated with Skeletal-Related Events in Patients with Advanced Prostate Cancer: A European Subgroup Analysis from an Observational, Multinational Study. J. Clin. Med. 2014, 3, 883-896.
Related Articles
Comments
[Return to top]