Hyponatremia: A Risk Factor for Early Overt Encephalopathy after Transjugular Intrahepatic Portosystemic Shunt Creation
1
Department of Medicine, New York University School of Medicine, New York, NY, 10016, USA
2
Department of Biostatistics, New York University School of Medicine, New York, NY 10016, USA
3
Department of Radiology, New York University School of Medicine, New York, NY 10016, USA
4
Department of Surgery, New York University School of Medicine, New York, NY 10016, USA
*
Author to whom correspondence should be addressed.
Received: 11 February 2014 / Revised: 4 March 2014 / Accepted: 7 March 2014 / Published: 4 April 2014
Abstract
Hepatic encephalopathy (HE) is a frequent complication in cirrhotic patients undergoing transjugular intrahepatic portosystemic shunt (TIPS). Hyponatremia (HN) is a known contributing risk factor for the development of HE. Predictive factors, especially the effect of HN, for the development of overt HE within one week of TIPS placement were assessed. A single-center, retrospective chart review of 71 patients with cirrhosis who underwent TIPS creation from 2006–2011 for non-variceal bleeding indications was conducted. Baseline clinical and laboratory characteristics were collected. Factors associated with overt HE within one week were identified, and a multivariate model was constructed. Seventy one patients who underwent 81 TIPS procedures were evaluated. Fifteen patients developed overt HE within one week. Factors predictive of overt HE within one week included pre-TIPS Na, total bilirubin and Model for End-stage Liver Disease (MELD)-Na. The odds ratio for developing HE with pre-TIPS Na <135 mEq/L was 8.6. Among patients with pre-TIPS Na <125 mEq/L, 125–129.9 mEq/L, 130–134.9 mEq/L and ≥135 mEq/L, the incidence of HE within one week was 37.5%, 25%, 25% and 3.4%, respectively. Lower pre-TIPS Na, higher total bilirubin and higher MELD-Na values were associated with the development of overt HE post-TIPS within one week. TIPS in hyponatremic patients should be undertaken with caution.
View Full-Text
►

▼

Figures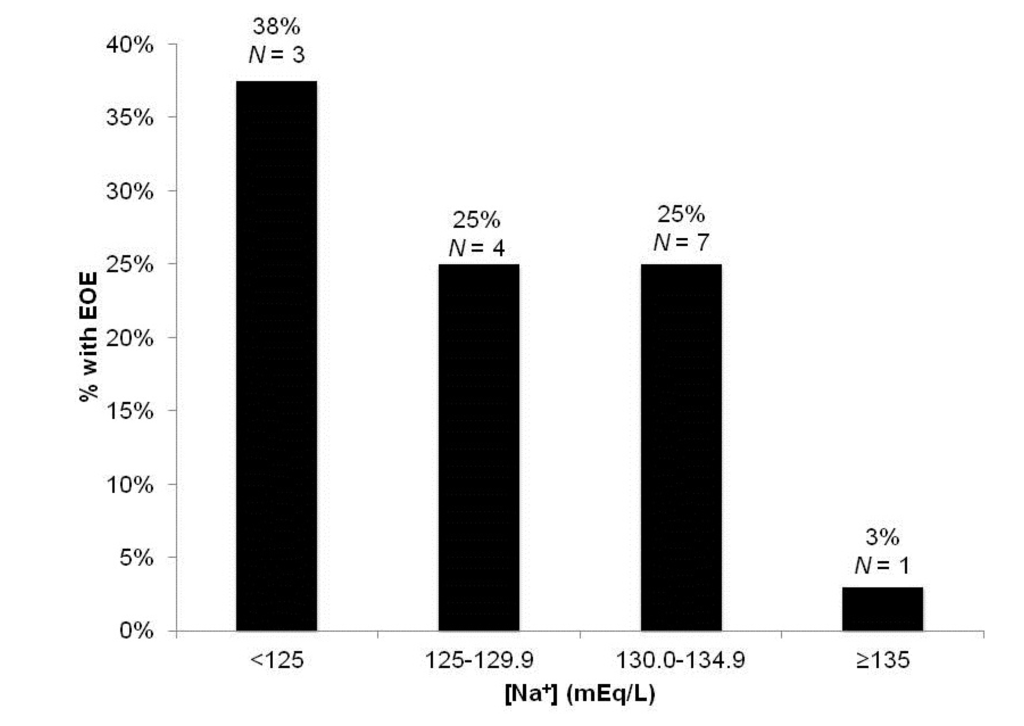 Figure 1

Share & Cite This Article
MDPI and ACS Style
Merola, J.; Chaudhary, N.; Qian, M.; Jow, A.; Barboza, K.; Charles, H.; Teperman, L.; Sigal, S. Hyponatremia: A Risk Factor for Early Overt Encephalopathy after Transjugular Intrahepatic Portosystemic Shunt Creation. J. Clin. Med. 2014, 3, 359-372.
Related Articles
Comments
[Return to top]