Improving Clinical Prediction of Bipolar Spectrum Disorders in Youth
1
Center for Autism, Cleveland Clinic, Cleveland, OH 44104, USA
2
Department of Psychology, University of North Carolina at Chapel Hill, Chapel Hill, NC 27599, USA
3
Department of Psychiatry, Division of Child and Adolescent Psychiatry, Ohio State University, Columbus, OH 43210, USA
4
Department of Psychiatry, Division of Child and Adolescent Psychiatry, University Hospitals Case Medical Center, Cleveland, OH 44106, USA
5
Department of Psychiatry, Western Psychiatric Institute and Clinic, University of Pittsburgh Medical Center, University of Pittsburgh, Pittsburgh, PA 15213, USA
6
Department of Psychiatry, Nationwide Children's Hospital, Columbus, OH 4320, USA
7
Department of Child and Adolescent Psychiatry, New York University School of Medicine, New York, NY 10016, USA
8
Department of Psychiatry, Johns Hopkins University, Baltimore, MD 21287, USA
*
Author to whom correspondence should be addressed.
Received: 13 December 2013 / Revised: 8 February 2014 / Accepted: 12 February 2014 / Published: 10 March 2014
Abstract
This report evaluates whether classification tree algorithms (CTA) may improve the identification of individuals at risk for bipolar spectrum disorders (BPSD). Analyses used the Longitudinal Assessment of Manic Symptoms (LAMS) cohort (629 youth, 148 with BPSD and 481 without BPSD). Parent ratings of mania symptoms, stressful life events, parenting stress, and parental history of mania were included as risk factors. Comparable overall accuracy was observed for CTA (75.4%) relative to logistic regression (77.6%). However, CTA showed increased sensitivity (0.28
vs
. 0.18) at the expense of slightly decreased specificity and positive predictive power. The advantage of CTA algorithms for clinical decision making is demonstrated by the combinations of predictors most useful for altering the probability of BPSD. The 24% sample probability of BPSD was substantially decreased in youth with low screening and baseline parent ratings of mania, negative parental history of mania, and low levels of stressful life events (2%). High screening plus high baseline parent-rated mania nearly doubled the BPSD probability (46%). Future work will benefit from examining additional, powerful predictors, such as alternative data sources (e.g., clinician ratings, neurocognitive test data); these may increase the clinical utility of CTA models further.
View Full-Text
►

▼

Figures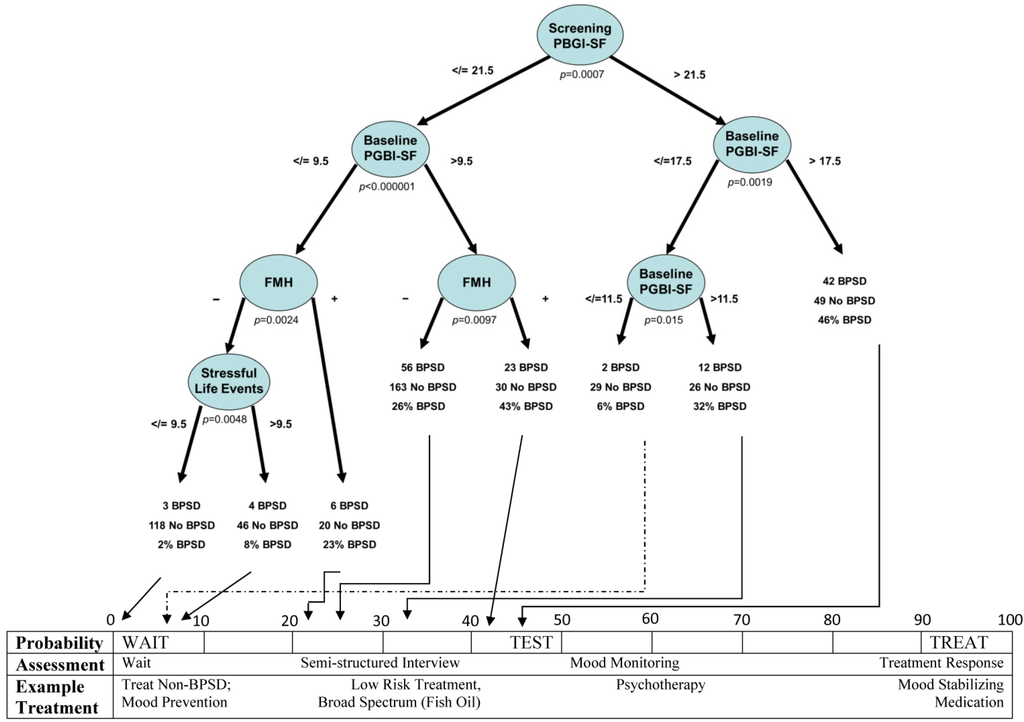 Figure 1

Share & Cite This Article
MDPI and ACS Style
Frazier, T.W.; Youngstrom, E.A.; Fristad, M.A.; Demeter, C.; Birmaher, B.; Kowatch, R.A.; Arnold, L.E.; Axelson, D.; Gill, M.K.; Horwitz, S.M.; Findling, R.L. Improving Clinical Prediction of Bipolar Spectrum Disorders in Youth. J. Clin. Med. 2014, 3, 218-232.
Related Articles
Comments
[Return to top]