Transport Characteristics of Fujifilm Ion-Exchange Membranes as Compared to Homogeneous Membranes АМХ and СМХ and to Heterogeneous Membranes MK-40 and MA-41
1
Kuban State University, 149 Stavropolskaya st., 350040 Krasnodar, Russia
2
Institut de Chimie et des Matériaux Paris-Est, UMR7182 CNRS—Université Paris-Est, 2 rue Henri Dunant, 94320 Thiais, France
*
Author to whom correspondence should be addressed.
Received: 15 June 2019 / Revised: 8 July 2019 / Accepted: 10 July 2019 / Published: 14 July 2019
PDF
[2768 KB, uploaded 14 July 2019]
|

Review Reports
Abstract
Ion-exchange membranes (IEMs) find more and more applications; the success of an application depends on the properties of the membranes selected for its realization. For the first time, the results of a comprehensive characterization of the transport properties of IEMs from three manufactures (Astom, Japan; Shchekinoazot, Russia; and Fujifilm, The Netherlands) are reported. Our own and literature data are presented and analyzed using the microheterogeneous model. Homogeneous Neosepta AMX and CMX (Astom), heterogeneous MA-41 and MK-40 (Shchekinoazot), and AEM Type-I, AEM Type-II, AEM Type-X, as well as CEM Type-I, CEM Type-II, and CEM Type-X produced by the electrospinning method (Fujifim) were studied. The concentration dependencies of the conductivity, diffusion permeability, as well as the real and apparent ion transport numbers in these membranes were measured. The counterion transport number characterizing the membrane permselectivity increases in the following order: CEM Type-I MA-41 < AEM Type-I < MK-40<CMX CEM Type-II CEM Type-X AEM Type-II < AMX < AEM Type-X. It is shown that the properties of the AEM Type-I and CEM Type-I membranes are close to those of the heterogeneous MA-41 and MK-40 membranes, while the properties of Fujifilm Type-II and Type-X membranes are close to those of the homogeneous AMX and CMX membranes. This difference is related to the fact that the Type-I membranes have a relatively high parameter
f
2
, the volume fraction of the electroneutral solution filling the intergel spaces. This high value is apparently due to the open-ended pores, formed by the reinforcing fabric filaments of the Type-I membranes, which protrude above the surface of these membranes.
►

▼

Figures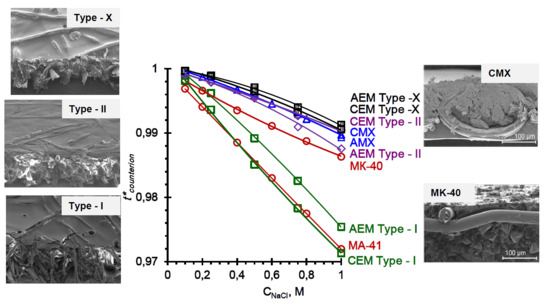 Graphical abstract
This is an open access article distributed under the
Creative Commons Attribution License
which permits unrestricted use, distribution, and reproduction in any medium, provided the original work is properly cited (CC BY 4.0).

Share & Cite This Article
MDPI and ACS Style
Sarapulova, V.; Shkorkina, I.; Mareev, S.; Pismenskaya, N.; Kononenko, N.; Larchet, C.; Dammak, L.; Nikonenko, V. Transport Characteristics of Fujifilm Ion-Exchange Membranes as Compared to Homogeneous Membranes АМХ and СМХ and to Heterogeneous Membranes MK-40 and MA-41. Membranes 2019, 9, 84.
Note that from the first issue of 2016, MDPI journals use article numbers instead of page numbers. See further details here.
Related Articles
Comments
[Return to top]