Assessment of Blend PVDF Membranes, and the Effect of Polymer Concentration and Blend Composition
1
Department of Chemical and Materials Engineering, King Abdulaziz University, Rabigh 21911, Saudi Arabia
2
Center of Excellence in Desalination Technology, King Abdulaziz University, P.O. Box 80200, Jeddah 21589, Saudi Arabia
3
Department of Chemical Engineering, Faculty of Engineering, Port Said University, Port Said 42511, Egypt
4
Chemical Engineering Department, Faculty of Engineering, Alexandria University, Alexandria 21544, Egypt
5
Department of Civil Engineering, King Abdulaziz University, Rabigh 21911, Saudi Arabia
6
Civil Engineering Department, Aswan University, Aswan 81528, Egypt
7
Institute on Membrane Technology, ITM-CNR, c/o University of Calabria, Via P. Bucci, cubo 17/C, 87036 Rende, CS, Italy
8
Mechanical Engineering Department, King Abdulaziz University, Jeddah 21589, Saudi Arabia
*
Author to whom correspondence should be addressed.
Received: 19 October 2017 / Revised: 22 February 2018 / Accepted: 27 February 2018 / Published: 5 March 2018
Abstract
In this work, PVDF homopolymer was blended with PVDF-co-HFP copolymer and studied in terms of morphology, porosity, pore size, hydrophobicity, permeability, and mechanical properties. Different solvents, namely N-Methyl-2 pyrrolidone (NMP), Tetrahydrofuran (THF), and Dimethylformamide (DMF) solvents, were used to fabricate blended PVDF flat sheet membranes without the introduction of any pore forming agent, through a non-solvent induced phase separation (NIPS) technique. Furthermore, the performance of the fabricated membranes was investigated for pressure and thermal driven applications. The porosity of the membranes was slightly increased with the increase in the overall content of PVDF and by the inclusion of PVDF copolymer. Total PVDF content, copolymer content, and mixed-solvent have a positive effect on mechanical properties. The addition of copolymer increased the hydrophobicity when the total PVDF content was 20%. At 25% and with the inclusion of mixed-solvent, the hydrophobicity was adversely affected. The permeability of the membranes increased with the increase in the overall content of PVDF. Mixed-solvents significantly improved permeability.
View Full-Text
►

▼

Figures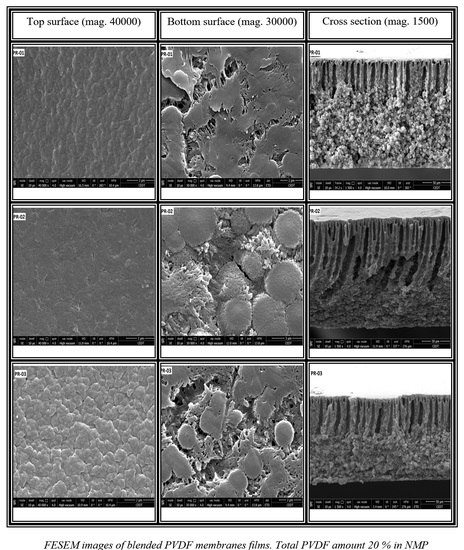 Graphical abstract
This is an open access article distributed under the
Creative Commons Attribution License
which permits unrestricted use, distribution, and reproduction in any medium, provided the original work is properly cited (CC BY 4.0).

Share & Cite This Article
MDPI and ACS Style
Ali, I.; Bamaga, O.A.; Gzara, L.; Bassyouni, M.; Abdel-Aziz, M.H.; Soliman, M.F.; Drioli, E.; Albeirutty, M. Assessment of Blend PVDF Membranes, and the Effect of Polymer Concentration and Blend Composition. Membranes 2018, 8, 13.
Note that from the first issue of 2016, MDPI journals use article numbers instead of page numbers. See further details here.
Related Articles
Comments
[Return to top]