The Position of Aβ22-40 and Aβ1-42 in Anionic Lipid Membranes Containing Cholesterol
1
Soft Matter and Functional Materials, Helmholtz-Zentrum Berlin für Materialien und Energie, Lise-Meitner-Campus, Berlin, Germany
2
Department of Physics and Astronomy, McMaster University, Hamilton, ON L8S 4M1, Canada
*
Author to whom correspondence should be addressed.
Academic Editor: Shiro Suetsugu
Received: 30 September 2015 / Accepted: 25 November 2015 / Published: 30 November 2015
Abstract
Amyloid-β peptides interact with cell membranes in the human brain and are associated with neurodegenerative diseases, such as Alzheimer's disease. An emerging explanation of the molecular mechanism, which results in neurodegeneration, places the cause of neurotoxicity of the amyloid- peptides on their potentially negative interaction with neuronal membranes. It is known that amyloid-β peptides interact with the membrane, modifying the membrane's structural and dynamic properties. We present a series of X-ray diffraction experiments on anionic model lipid membranes containing various amounts of cholesterol. These experiments provide experimental evidence for an interaction of both the full length amyloid-β
1-42
peptide, and the peptide fragment amyloid-β
22-40
with anionic bilayer containing cholesterol. The location of the amyloid-β peptides was determined from these experiments, with the full length peptide embedding into the membrane, and the peptide fragment occupying 2 positions—on the membrane surface and embedded into the membrane core.
View Full-Text
►

▼

Figures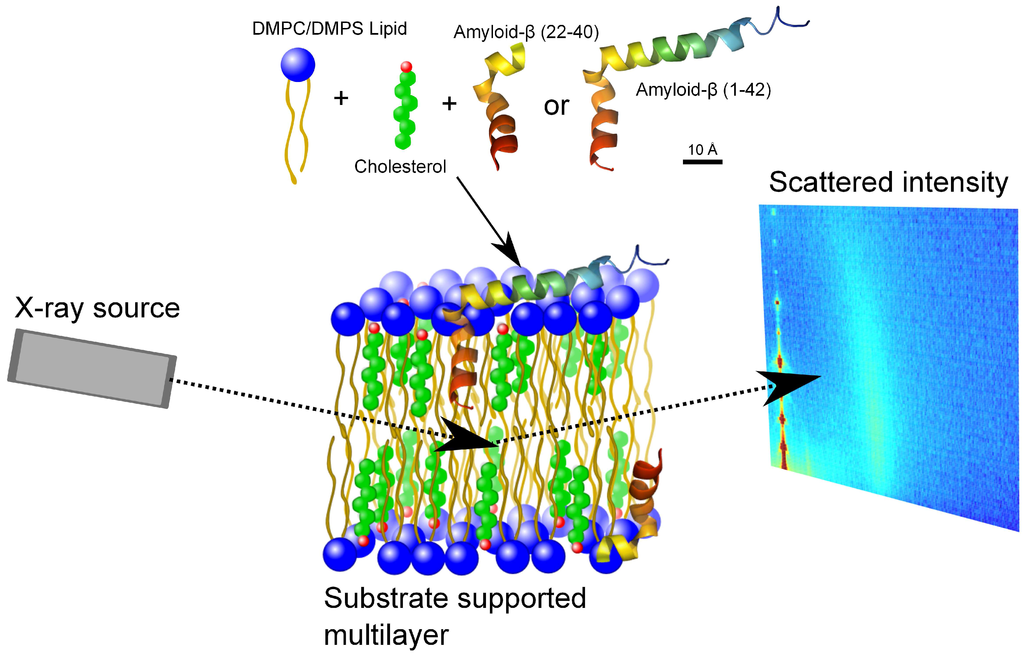 Figure 1
This is an open access article distributed under the
Creative Commons Attribution License
which permits unrestricted use, distribution, and reproduction in any medium, provided the original work is properly cited (CC BY 4.0).

Share & Cite This Article
MDPI and ACS Style
Barrett, M.A.; Alsop, R.J.; Hauß, T.; Rheinstädter, M.C. The Position of Aβ22-40 and Aβ1-42 in Anionic Lipid Membranes Containing Cholesterol. Membranes 2015, 5, 824-843.
Related Articles
Comments
[Return to top]