Safety and Immunogenicity of the Heterosubtypic Influenza A Vaccine MVA-NP+M1 Manufactured on the AGE1.CR.pIX Avian Cell Line
1
The Jenner Institute, University of Oxford, ORCRB, Roosevelt Drive, Oxford OX3 7DQ, UK
2
Vaccitech Ltd., The Schrodinger Building, 2nd Floor, Oxford Science Park, Heatley Road, Oxford OX4 4GE, UK
*
Author to whom correspondence should be addressed.
Received: 22 January 2019 / Revised: 27 February 2019 / Accepted: 18 March 2019 / Published: 22 March 2019
Abstract
Seasonal influenza infections have a significant global impact leading to increased health and economic burden. The efficacy of currently available seasonal influenza vaccines targeting polymorphic surface antigens has historically been suboptimal. Cellular immune responses against highly conserved Influenza A virus antigens, such as nucleoprotein (NP) and matrix protein-1 (M1), have previously been shown to be associated with protection from disease, whilst viral-vectored vaccines are an effective strategy to boost cell-mediated immunity. We have previously demonstrated that MVA encoding NP and M1 can induce potent and persistent T cell responses against influenza. In this Phase I study, we evaluated the safety and immunogenicity of MVA-NP+M1, which was newly manufactured on an immortalized cell line, in six healthy adult participants. The vaccine was well-tolerated with only mild to moderate adverse events that resolved spontaneously and were comparable to previous studies with the same vaccine manufactured in chick embryo fibroblasts. A significant increase in vaccine-specific T cell responses was detected seven days after immunization and was directed against both antigens in the vector insert. This small Phase I study supports progression of this vaccine to a Phase IIb study to assess immunogenicity and additional protective efficacy in older adults receiving licensed seasonal influenza vaccines.
View Full-Text
►

▼

Figures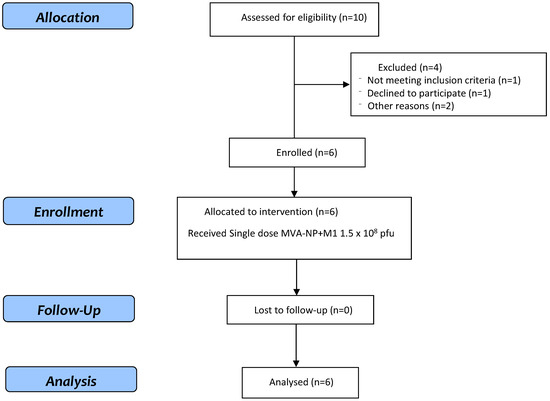 Figure 1
This is an open access article distributed under the
Creative Commons Attribution License
which permits unrestricted use, distribution, and reproduction in any medium, provided the original work is properly cited (CC BY 4.0).

Share & Cite This Article
MDPI and ACS Style
Folegatti, P.M.; Bellamy, D.; Flaxman, A.; Mair, C.; Ellis, C.; L. Ramon, R.; Ramos Lopez, F.; Mitton, C.; Baker, M.; Poulton, I.; Lawrie, A.; Roberts, R.; Minassian, A.; Ewer, K.J.; Evans, T.G.; Hill, A.V.S.; Gilbert, S.C. Safety and Immunogenicity of the Heterosubtypic Influenza A Vaccine MVA-NP+M1 Manufactured on the AGE1.CR.pIX Avian Cell Line. Vaccines 2019, 7, 33.
Note that from the first issue of 2016, MDPI journals use article numbers instead of page numbers. See further details here.
Related Articles
Comments
[Return to top]