Open Access This article is
freely available
re-usable
Review
Does the Immunocompetent Status of Cancer Patients Have an Impact on Therapeutic DC Vaccination Strategies?
1
Center of Experimental Therapeutics, Ludwig Center for Cancer Research, Department of Oncology, University of Lausanne, Lausanne 1011, Switzerland
2
Vaccine development laboratory, Ludwig Center for Cancer Research, Lausanne 1011, Switzerland
*
Author to whom correspondence should be addressed.
Received: 4 October 2018 / Accepted: 21 November 2018 / Published: 23 November 2018
Abstract
:
Although different types of therapeutic vaccines against established cancerous lesions in various indications have been developed since the 1990s, their clinical benefit is still very limited. This observed lack of effectiveness in cancer eradication may be partially due to the often deficient immunocompetent status of cancer patients, which may facilitate tumor development by different mechanisms, including immune evasion. The most frequently used cellular vehicle in clinical trials are dendritic cells (DCs), thanks to their crucial role in initiating and directing immune responses. Viable vaccination options using DCs are available, with a positive toxicity profile. For these reasons, despite their limited therapeutic outcomes, DC vaccination is currently considered an additional immunotherapeutic option that still needs to be further explored. In this review, we propose potential actions aimed at improving DC vaccine efficacy by counteracting the detrimental mechanisms recognized to date and implicated in establishing a poor immunocompetent status in cancer patients.
Keywords:
DC vaccine; immunotherapy; cancer
Author Contributions
Conceptualization, L.E.K.; Resources, S.M.L, M.G., and C.C.; Writing-Original Draft Preparation, S.M.L.; Writing-Review & Editing, S.M.L, M.G., C.C., L.E.K.; Visualization, S.M.L., L.E.K.; Supervision, L.E.K.
Funding
This work was funded by the Ludwig Institute for Cancer Research and a grant by the Ovacure Foundation (to L.E.K. and others).
Acknowledgments
We thank Ms Klara Balint for her support searching literature concerning vaccines in pancreatic cancer, as well as Ms Laurène Cagnon for reviewing this information. We thank Mr Samuel Cooper for English language revision.
Conflicts of Interest
The authors declare no conflict of interest.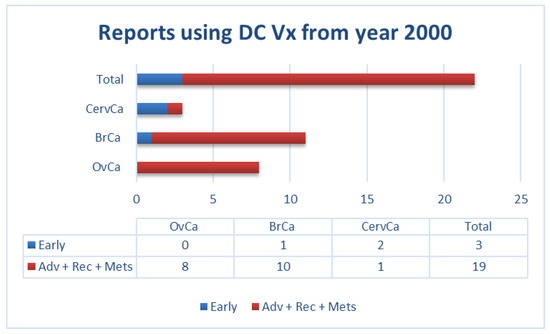 Figure 1.
Number of reports in literature (source: PubMed) using dendritic cell (DC) vaccination in patients with the indicated gynecological and breast cancers (not exhaustive; according to data summarized in
Supplementary Materials Table S1
). Adv: advanced; BrCa: breast cancer; CervCa: cervical cancer; Mets: metastatic; OvCa: ovarian cancer; Rec: recurrent.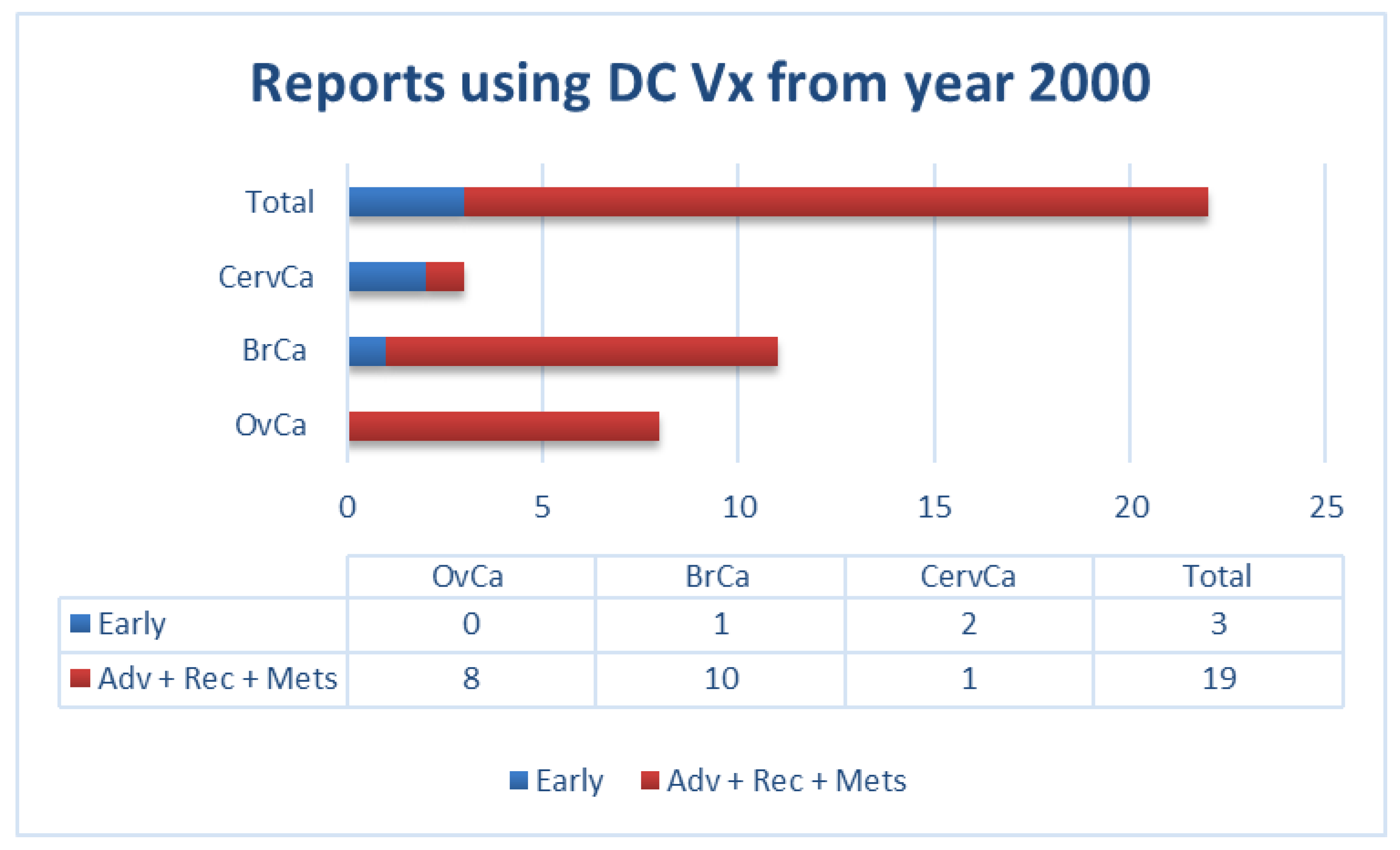 © 2018 by the authors. Licensee MDPI, Basel, Switzerland. This article is an open access article distributed under the terms and conditions of the Creative Commons Attribution (CC BY) license (http://creativecommons.org/licenses/by/4.0/).