Melatonin Prevents Oxidative Stress-Induced Mitochondrial Dysfunction and Apoptosis in High Glucose-Treated Schwann Cells via Upregulation of Bcl2, NF-κB, mTOR, Wnt Signalling Pathways
1
School of Postgraduate Studies, International Medical University, Kuala Lumpur 57000, Malaysia
2
School of Pharmacy, Monash University Malaysia, Selangor 47500, Malaysia
3
School of Health Science, International Medical University, Kuala Lumpur 57000, Malaysia
4
School of Medicine, International Medical University, Kuala Lumpur 57000, Malaysia
*
Author to whom correspondence should be addressed.
Received: 29 April 2019 / Revised: 7 June 2019 / Accepted: 14 June 2019 / Published: 26 June 2019
Abstract
Neuropathy is a complication that affects more than 50% of long-standing diabetic patients. One of the causes of diabetes neuropathy (DN) is the apoptosis of Schwann cells due to prolonged exposure to high glucose and build-up of oxidative stress. Melatonin is a hormone that has a known antioxidant property. In this study, we investigated the protective effect of melatonin on high glucose-induced Schwann cells' apoptosis. Our results revealed that high glucose promoted apoptosis via mitochondrial-related oxidative stress and downregulated Bcl-2 family proteins in Schwann cells. In this signalling pathway, Bcl-2, Bcl-XL and Mcl-1 proteins were down-regulated while p-BAD and Puma proteins were up-regulated by high glucose treatment. Besides, we also proved that high glucose promoted apoptosis in Schwann cells through decreasing the p-NF-κB in the NF-κB signalling pathway. Key regulators of mTOR signalling pathway such as p-mTOR, Rictor and Raptor were also down-regulated after high glucose treatment. Additionally, high glucose treatment also decreased the Wnt signalling pathway downstream proteins (Wnt 5a/b, p-Lrp6 and Axin). Our results showed that melatonin treatment significantly inhibited high glucose-induced ROS generation, restored mitochondrial membrane potential and inhibited high glucose-induced apoptosis in Schwann cells. Furthermore, melatonin reversed the alterations of protein expression caused by high glucose treatment. Our results concluded that melatonin alleviates high glucose-induced apoptosis in Schwann cells through mitigating mitochondrial-related oxidative stress and the alterations of Bcl-2, NF-κB, mTOR and Wnt signalling pathways.
View Full-Text
►

▼

Figures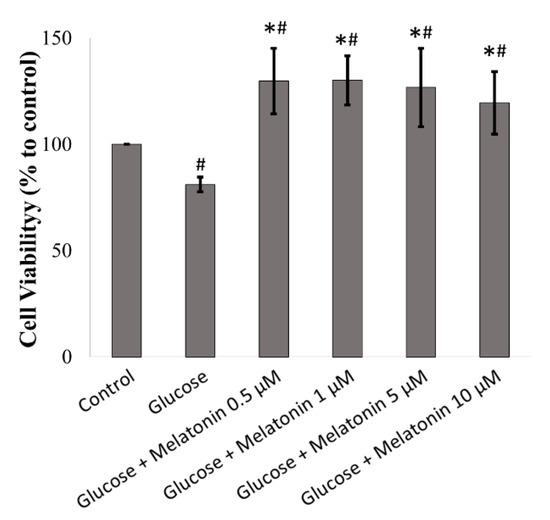 Figure 1
This is an open access article distributed under the
Creative Commons Attribution License
which permits unrestricted use, distribution, and reproduction in any medium, provided the original work is properly cited (CC BY 4.0).

Share & Cite This Article
MDPI and ACS Style
Tiong, Y.L.; Ng, K.Y.; Koh, R.Y.; Ponnudurai, G.; Chye, S.M. Melatonin Prevents Oxidative Stress-Induced Mitochondrial Dysfunction and Apoptosis in High Glucose-Treated Schwann Cells via Upregulation of Bcl2, NF-κB, mTOR, Wnt Signalling Pathways. Antioxidants 2019, 8, 198.
Note that from the first issue of 2016, MDPI journals use article numbers instead of page numbers. See further details here.
Related Articles
Comments
[Return to top]