Fucoxanthin, A Carotenoid Derived from
Phaeodactylum tricornutum

Exerts Antiproliferative and Antioxidant Activities In Vitro

1

Institute of Clinical Nutrition, University of Hohenheim, Fruwirthstr. 12, 70593 Stuttgart, Germany

2

Fraunhofer Institute for Interfacial Engineering and Biotechnology IGB, Nobelstr. 12, 70569 Stuttgart, Germany

3

Institute of Interfacial Process Engineering and Plasma Technology IGVP, University of Stuttgart, Nobelstr. 12, 70569 Stuttgart, Germany

4

Karlsruhe Institute for Technology, Kaiserstr. 12, 76131 Karlsruhe, Germany

*

Author to whom correspondence should be addressed.

Received: 20 May 2019 / Revised: 12 June 2019 / Accepted: 17 June 2019 / Published: 19 June 2019
Abstract
Microalgae contain a multitude of nutrients and can be grown sustainably. Fucoxanthin, a carotenoid from
Phaeodactylum tricornutum,
could have beneficial health effects. Therefore, we investigated the anti-inflammatory, antioxidative and antiproliferative effects of fucoxanthin derived from this diatom in vitro. The effects of purified fucoxanthin on metabolic activity were assessed in blood mononuclear cells and different cell lines. In cell lines, caspase 3/7 activity was also analyzed. Nitrogen monoxide release and mRNA-expression of proinflammatory cytokines were measured. For antioxidant assays, cell free assays were conducted. Additionally, the antioxidant effect in neutrophils was quantified and glutathione was determined in HeLa cells. The results show that neither did fucoxanthin have anti-inflammatory properties nor did it exert cytotoxic effects on mononuclear cells. However, the metabolic activity of cell lines was decreased up to 58% and fucoxanthin increased the caspase 3/7 activity up to 4.6-fold. Additionally, dose-dependent antioxidant effects were detected, resulting in a 63% decrease in chemiluminescence in blood neutrophils and a 3.3-fold increase in the ratio of reduced to oxidized glutathione. Our studies show that fucoxanthin possesses antiproliferative and antioxidant activities in vitro. Hence, this carotenoid or the whole microalgae
P. tricornutum
could be considered as a food or nutraceutical in human nutrition, showcasing beneficial health effects.
View Full-Text
►

▼

Figures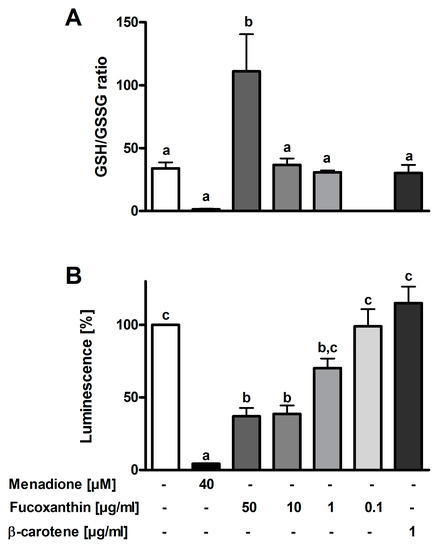 Figure 1
This is an open access article distributed under the
Creative Commons Attribution License
which permits unrestricted use, distribution, and reproduction in any medium, provided the original work is properly cited (CC BY 4.0).

Share & Cite This Article
MDPI and ACS Style
Neumann, U.; Derwenskus, F.; Flaiz Flister, V.; Schmid-Staiger, U.; Hirth, T.; Bischoff, S.C. Fucoxanthin, A Carotenoid Derived from Phaeodactylum tricornutum Exerts Antiproliferative and Antioxidant Activities In Vitro. Antioxidants 2019, 8, 183.
Note that from the first issue of 2016, MDPI journals use article numbers instead of page numbers. See further details here.
Related Articles
Comments
[Return to top]