Open Access This article is
freely available
re-usable
Article
Investigation of In-Vitro Antioxidant and Electrochemical Activities of Isolated Compounds from
Salvia chamelaeagnea
P.J.Bergius Extract
1
Chemistry Department, University of the Western Cape, Private Bag X17, Bellville 7535, South Africa
2
Chemistry Department, Cape Peninsula University of Technology, Symphony Rd., Bellville 7535, South Africa
3
Pharmacognosy Department, Faculty of Pharmacy, Cairo University, Cairo 11562, Egypt
*
Author to whom correspondence should be addressed.
Received: 20 February 2019 / Accepted: 26 March 2019 / Published: 12 April 2019
Abstract
:
We have investigated the in-vitro antioxidant activity and electrochemical redox properties of a number of natural compounds (carnosol, carnosic acid, 7-ethoxyrosmanol, ursolic acid, rosmanol and ladanein) isolated from the methanolic extract of
Salvia chamelaeagnea
collected from the Cape floristic region, South Africa. The results from trolox equivalent antioxidant capacity (TEAC), ferric-ion reducing antioxidant parameter (FRAP) oxygen radical absorbance capacity (ORAC), as well as the inhibition of Fe
2+
-induced lipid peroxidation showed strong antioxidant capacities for carnosol and rosmanol. A structural analysis of the compounds suggests that multiple OH substitution, conjugation and lactone ring in carnosol and rosmanol are important determinants of the free radical scavenging activity and electrochemical behavior. Pharmacophore generated demonstrates H-donor/acceptor capabilities of the most active compounds. Rosmanol, when compared to other compounds, exhibits the lowest oxidation potential value with an anodic peak potential (E
pa
) value of 0.11 V, indicating that rosmanol has the highest antioxidant power, which is in good agreement with ORAC and lipid peroxidation experiments. The lipophilic nature of carnosol, carnosic acid and rosmanol enhanced their absorption and activity against oxidative stress related to the treatment of age-related diseases. These results confirm the first report on the in-vitro antioxidant and electrochemical activities of
S. chamelaeagnea
constituents and underline the medicinal uses of this plant as natural preservatives for skin ageing or in pharmaceutical applications.
Keywords:
Salvia chamelaeagnea
; antioxidant activity; cyclic voltammetry; oxidative stress; anti-ageing properties; abietane diterpenes
1. Introduction
Natural products and plant materials have been used since time immemorial in diverse applications including cosmetics. In recent times, they have become increasingly useful in the prevention of skin hyper-pigmentation through the inhibitory action of tyrosinase enzyme [
1
]. A set of structurally related phenolic compounds have been found to play an important role in the neutralization of free radicals [
2
], reducing oxidative stress and other related diseases associated with the over-accumulation of free radicals such as brain disorder, diabetes, cancer, heart disease and immune response dismiss [
3
]. Numerous factors behind the accumulation of reactive oxygen species (ROS) in the body have been previously highlighted; these include: continuous contact with series of environmental pollutants, lifestyle (smoking, alcohol consumption), when above threshold level, can cause oxidative stress by damaging important intracellular macromolecules such as protein, lipids and deoxyribonucleic acid (DNA) [
4
].
Salvia chamelaeagnea
belongs to the genus
Salvia
(Lamiaceae), with about 900 species worldwide, and only 26 among them are indigenous to Southern Africa. It is a flowering plant commonly known as "sage" which originates from the South Western part of the Cape of Good Hope [
5
]. Literature shows that
S. chamelaeagnea
has been used for medicinal purposes in the treatment of coughs, colds, and heartburn [
6
]. It has also been documented that the extract of this plant exhibits pharmaceutical activities including antioxidant [
3
], anti-microbial and bacterial infections [
6
,
7
].
Salvia
species have been reported to be rich source of phytochemicals constituents including phenolic acid, polyphenols and flavonoids. Among these phytochemical constituents are carnosol and carnosic acid which are the most abundant that contribute about 90% of the antioxidant activity of Lamiaceae family [
8
]. Previous chemical and biological studies also showed some terpenoids like carnosol, carnosic acid, ursolic acid and its isomer oleanolic acid with notable antibacterial activities against
Staphylococcus aureus
[
5
].
This work primarily examines the antioxidant, as well as the anti-tyrosinase activities of six compounds isolated from
S. chamelaeagnea
. Their electrochemical properties and structure-activity relationships were used to explain the observed effects and suggest the mechanism of reaction.
2. Experimental Section
2.1. Plant Collection
The fresh leaves of
Salvia chamelaeagnea
P.J.Bergius was identified by Christopher Cupido (South African National Biodiversity Institute (SANBI), Kirstenbosch, Cape Town, South Africa) and collected from Cape Flats Nature Reserve, Western Cape, South Africa (
Supplementary Materials
). A voucher specimen with herbarium number NBG1465544-0 was deposited at the Compton Herbarium, Kirstenbosch.
2.2. Chemical and Reagents
Nuclear magnetic resonance (1H- and 13C-NMR) spectra were recorded on Avance 400 MHz NMR spectrometer (Bruker, Rheinstetten, Germany) in CDCl3 using tetramethylsilane (TMS) as the internal reference standard. Preparative high-performance liquid chromatography (HPLC) column separation technique using HPLC grade Methanol and de-ionized water was further used in the purification of isolated compounds.
2.3. Extraction and Purification of Chemical Constituents
The leaves of fresh plant material (1.09 kg) were grounded and extracted with methanol (4.50 L) at room temperature (25 °C) for 24 h. The methanolic extract was filtered and evaporated to dryness under reduced pressure using a rotary evaporator working at 40 °C. Of the 29.55 g total crude extract obtained (2.71% yield), 29 g was applied to a silica gel column (30 × 18 cm) and eluted using gradient of hexane (Hex) and ethyl acetate (EtOAc) in order of increasing polarity: Sixty-four (64) fractions (500 mL each) were collected and combined according to their thin layer chromatography profiles resulting in fifteen fractions, which were labeled I to XV. Fraction VII (0.55 g) was subjected to re-chromatography column on Sephadex LH-20 and then eluted with aqueous-ethanol (5:95), to afford carnosol as compound 1 (0.19 g, 0.017%). Fraction VIII (0.50 g) was further re-chromatographed on Sephadex LH-20 using same solvent system of aqueous-ethanol (5:95) to isolate carnosic acid as compound 2 (0.09 g; 0.0082%). Sub-fraction VIII-6 (50 mg) obtained from fraction VIII, was injected to the HPLC and eluted with gradient solvent system of MeOH and de-ionized water (3:1 to 100% MeOH in 40 min) to isolate 7-ethoxyrosmanol (3, 28 min, 0.037 g; 0.0034%). Other sub-fractions (VIII-2 and VIII-5) from fraction VIII, gave ursolic acid (4, Rt 22.1 min, 0.014 g; 0.0012%), and rosmanol (5, Rt 32.1 min, 0.007 g; 0.0000064%) via the same HPLC procedure.
Compound 6 (ladanein (
6
, R
t
12.7 min, 0.136 g, 0.0037%) was isolated from fraction XIV (0.50 g) on Sephadex LH-20 column using aqueous-methanol (1:9,
v
/
v
) which was further purified on HPLC gradient elution for 45 min in MeOH and de-ionized water (3:1,
v
/
v
).
2.4. Anti-Tyrosinase Assay
This assay was performed using the method previously described with slight modifications [
9
]. Samples were dissolved in DMSO (dimethyl sulphoxide) to a stock solution of 1 mg/mL (
w
/
v
). Further dilutions were done with phosphate buffer (pH 6.5) for all working solutions to the concentrations of 1000, 500, 100, 50, 10 μg/mL. Kojic acid was used as a positive control. In each well of a 96-well plate, 70 μL of each sample working solution (extract/pure compounds) was combined with 30 μL of tyrosinase [from mushroom, 500 Units/mL in phosphate buffer (pH 6.5)] in triplicate. After incubation at room temperature for 5 min, 110 μL of substrate (2 mM L-tyrosine) was added to each well. The sample control was made up of each sample with phosphate buffer in the absence of tyrosinase enzyme. The reacting mixture was then incubated for 30 min at room temperature. The enzyme activity was determined by measuring the absorbance at 490 nm using plate reader. The percentage of tyrosinase inhibition was calculated as follows.
[(A − B) − (C − D)]/(A − B) × 100
where A is the absorbance of the control with the enzyme, B is the absorbance of the control without the enzyme, C is the absorbance of the test sample with the enzyme and D is the absorbance of the test sample without the enzyme.
2.6. Pharmacophore Generation for the Active Compounds
A pharmacophore model for the isolated compounds was generated using a Molecular Operating Environment (MOE) software version MOE 2018.01 (Chemical Computing Group, Cambridge, United Kingdom). A database of the isolated compounds with their IC50 values was first generated before the pharmacophore. The energy of 3D conformation of the compounds was minimized by MMF94X force field with features including Aro/Pir (radius, 1.4 Å Hyd, Don and acc. 1.0 Å) and Cat and Ani (radius, 1.0 Å). The query cluster was adjusted to 1.25 and conformation to As-Is.
2.7. Cyclic Voltammetry Measurement
Cyclic voltammetry (CV) was performed using the BAS100B electrochemical analyzer (Bioanalytical systems, West Lafayette, IN, USA) a glassy carbon electrode (GCE) as working electrode, Ag/AgCl as a reference electrode, and platinum (Pt) as a counter electrode. The CV was recorded at 50 mV/s within the potential window ranging from −1300 mV to 1300 mV, with a measured concentration of samples in phosphate buffer.
3. Results and Discussion
4. Conclusions
These studies revealed that
S. chamelaeagnea
methanolic extract is a source of abietane diterpenes which show appreciable antioxidant activity when FRAP, TEAC, ORAC were used as test methods. The electrochemical property of all the compounds isolated and reported was also examined. The effective use of cyclic voltammetry as a reliable analytical method to characterize the reducing ability and electrochemical behavior of phenolic antioxidants in plants has been shown previously. We observed that the measured oxidation potential was closely related to the structures of the investigated compounds. The antioxidant activity of these compounds relates well to the number of OH group in structure, and compounds with two or more electron donating groups have lower anodic peak potentials and higher antioxidant abilities than those with free alcohol or mono-substituted phenols as expressed in ladanein with OCH
3
. Generally, some of the isolated compounds show appreciable antioxidant and lipid peroxidation activity, but a very weak antityrosinase activity was obtained when compared to the crude methanolic extract. We viewed that the low antityrosinase profiles of the tested isolated compounds may not be unconnected with synergism due to the fact that the crude methanolic extract of
S. chamelaeagnea
as the source shows very strong antityrosinase property, however, there is a good correlation between antioxidative activities and oxidation potentials.
Author Contributions
Conceptualization, experimental and drafting of manuscript, N.G.E.R.E., modeling of compounds, review and editing, A.O.A.; modeling of compounds, A.E.-H.; conceptualization, data curation, review and editing, A.A.H.; and electroanalysis, review and editing E.I.I.
Funding
This research was funded by the National Research Foundation (NRF) of South Africa's SARChI Chair Research Grant (UID: 85102) and CPRR160506164193.
Acknowledgments
Thanks to Christopher N. Cupido (Department of Botany, University of Fort Hare, Alice, South Africa) for the identification of plant materials.
Conflicts of Interest
The authors declare that there is no conflict of interest.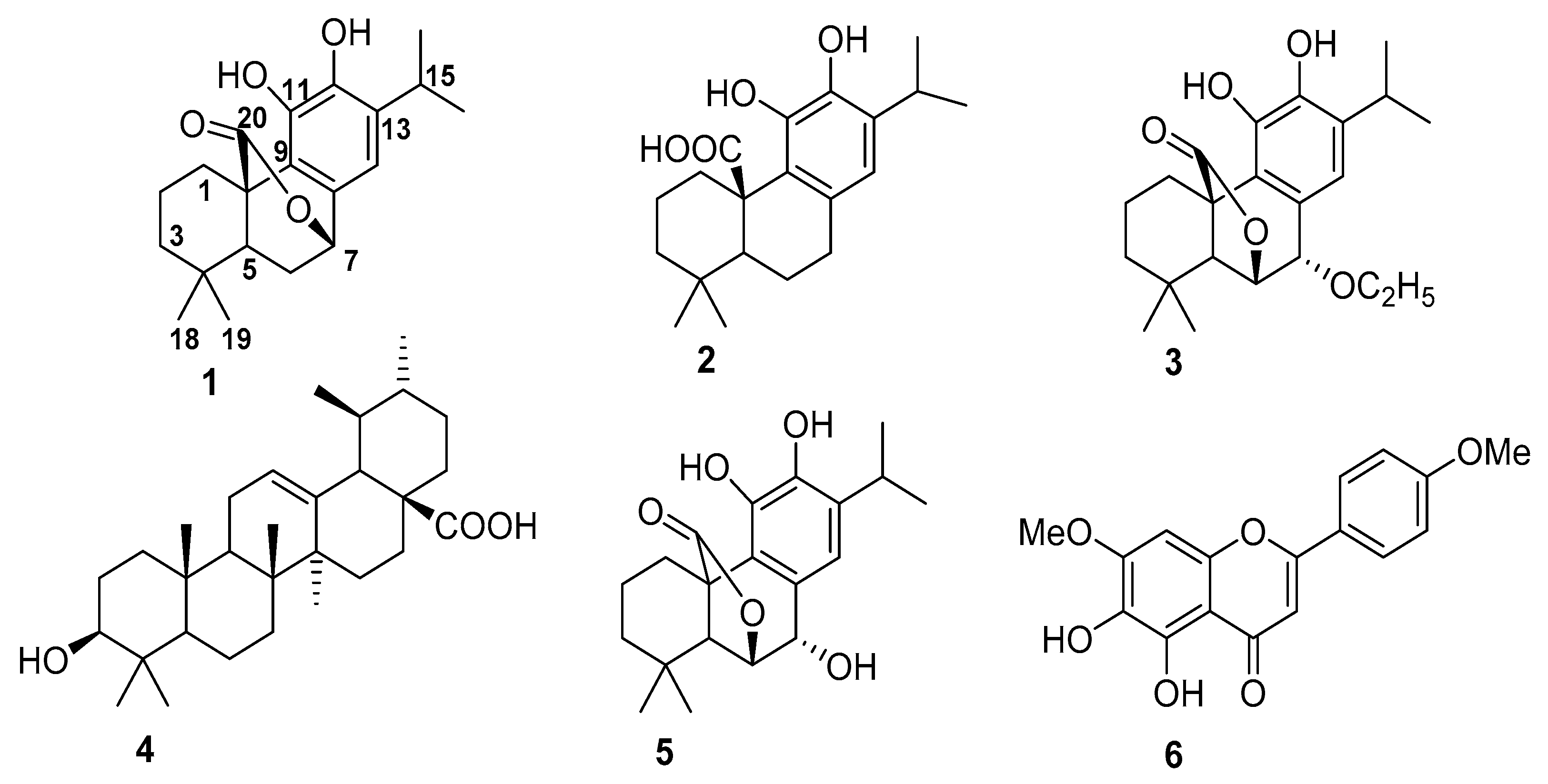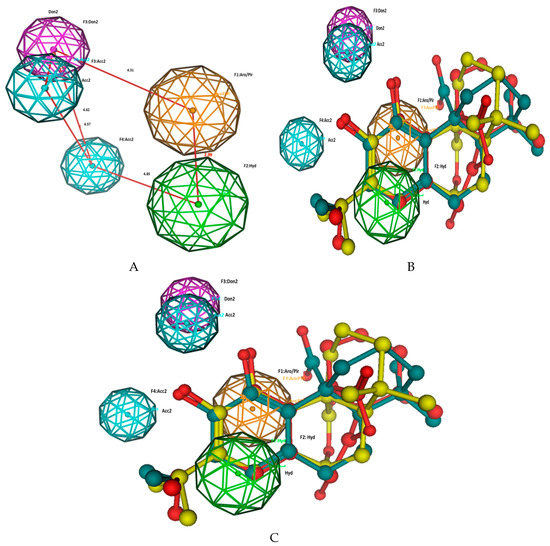 Figure 2. Pharmacophore model and structure requirements of the isolated compounds carnosol, carnosic acid and rosmanol as antioxidant agents. (A) Pharmacophiric model of compounds, distances are measured in Å. (B) Alignment of the most active compounds carnosol, carnosic acid and rosmanol on the pharmacophore model. (C) Superimpositions of the pharmacophore model on rosmanol. Aro/Pir; aromatic, Don; H-bond donner, ACC; H-bond acceptor, Cat and Ani; cationic and anionic.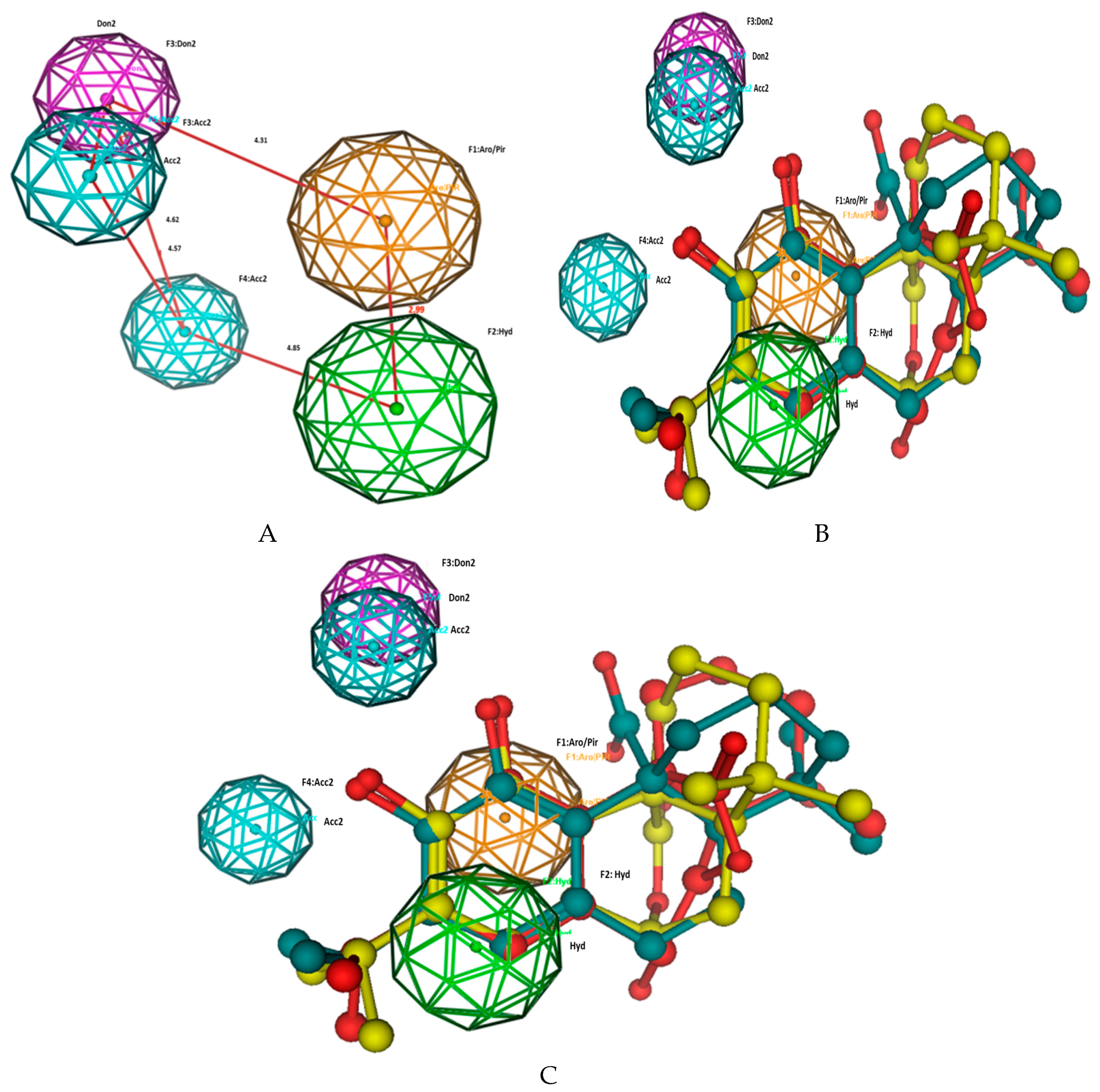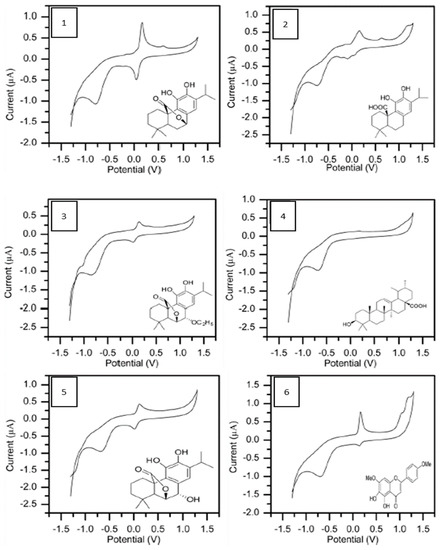 Figure 3. Cyclic voltammograms of isolated compounds. The voltammograms were recorded at 50 mV/s (from −1300 to 1300 mV) for 1 mg/L of each compound in phosphate buffer (pH 6.5).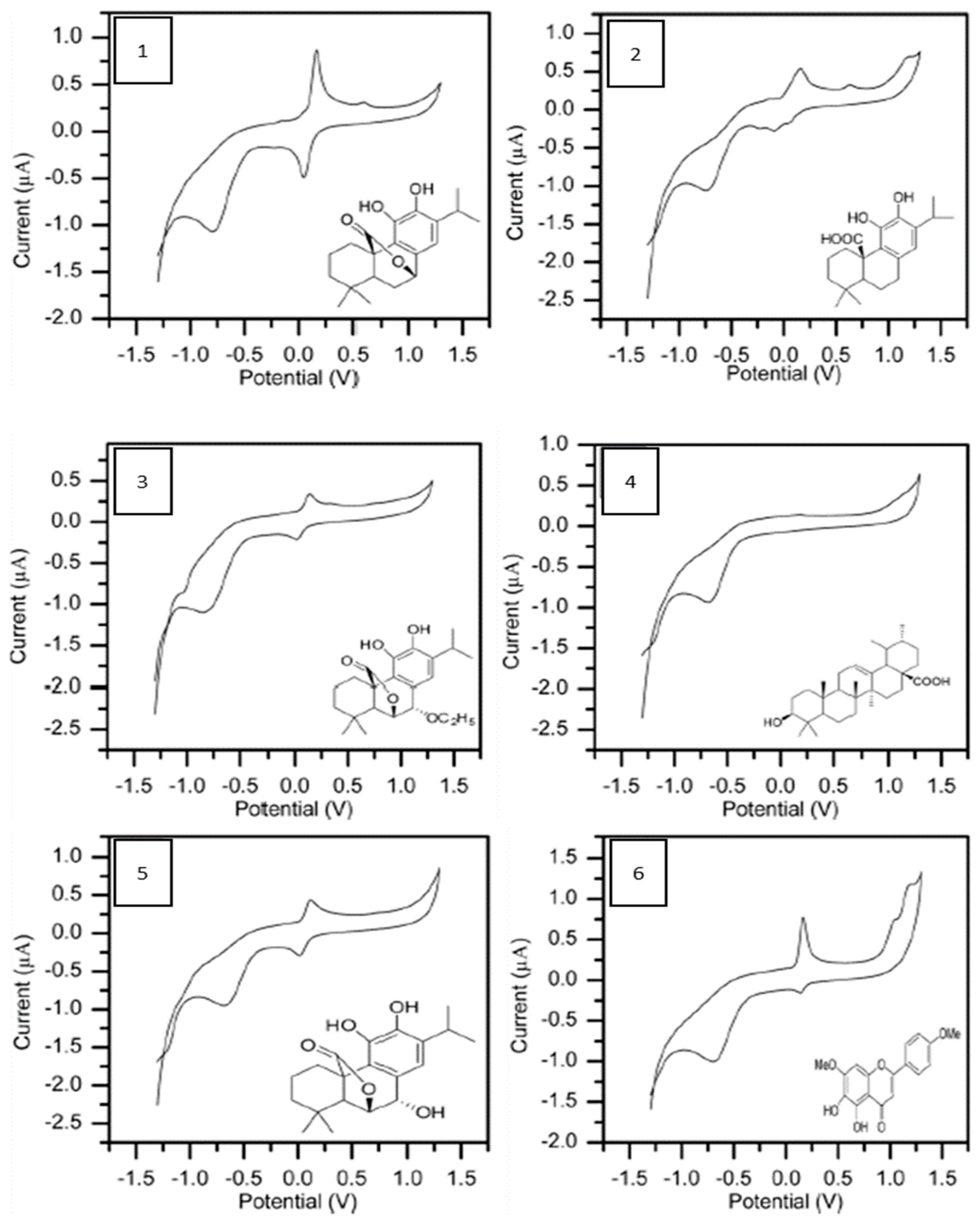 Compds
Carnosol (1)
Carnosic Acid (2)
Rosmanol (3)
7-Ethoxy-rosmanol (5)
No.
1H
13C
1H
13C
1H
13C
1H
13C
1.
2.36 ddd
28.6
1.17
34.4
1.94 ddd
27.3 t
1.96 ddd
27.4 t
2.71 dddd
3.26 br d
3.11 br d
3.31 br d
2.
1.51 ddddd
18.6
1.73 br d
20.3
1.46 m
19.1 t
1.64 m
19.0 t
1.81 ddddd
1.56 m
1.39 m
1.4 m
3.
1.39 ddd
40.7
1.29 ddd
41.6
1.1 br d
38.2 t
1.09 m
38.0 t
1.13 ddd
1.44 br d
1.37 m
1.53 m
4.
34.2
34.5 s
31.3 s
31.4 s
5.
1.6 dd
45.3
1.53 br d
53.9 d
2.15 s
50.8 d
2.26 s
50.9 d
6.
2.06 ddd
29.5
2.37 m
18.9
4.49 d
78.2 d
4.34 d
75.3 d
1.75 dddd
1.82 m
7.
5.26 dd
78.1
2.79 m
31.5
4.66 d
68.5 d
4.63 d
75.7 d
2.79 m
8.
131.6
129.0
128.1 s
126.6 s
9.
121.5
122.6
124.5 s
124.6 s
10.
48.2
48.7 s
47.2 s
47.0 s
11.
142.3
142.3
142.9 s
142.7 s
12.
142.4
141.2
141.8 s
141.4 s
13.
134.2
133.6
135.1
134.6 s
14.
6.51 s
111.6
6.53 s
119.1 d
6.8 s
120.3
6.77 s
120.8 d
15.
3.07 sept
26.6
3.14 sept
27.0 d
3.07 sept
27.3
3.05 sept
27.2 d
16.
1.06 d
22.4
1.17 d
22.5 q
1.16 d
22.1 q
1.2 d
22.2 q
17.
1.05 d
22.4
1.17 d
22.1 q
1.13 d
22.6 q
1.2 d
22.3 q
18.
0.75 s
31.4
0.97 s
32.6 q
0.95 s
31.4 q
0.99 s
31.3 q
19.
0.72 s
19.3
0.87 s
21.5 q
0.85 s
22.3 q
0.91 s
22.0 q
20.
177.5
182.1
178.9 s
3.83 m
179.1 s
–CH2CH3
1.31
66.2 t
CH2CH3
15.8 q
1H-NMR: S: singet; d: doublet; sept: septuplet; m: multiplet; br d: broadening doublet; 13C NMR: S: secondary; q: quaternary; t: tertiary; dd: two doublets; ddd: three doublets; dddd: four doublets.
Sample
FRAP
(µM AAE/g)
TEAC
(µM TE/g)
ORAC (µMTE/g)
Carnosol
9338.92 ± 1.72
16505.5 ± 0.86
14550.50 ± 3.65
Carnosicacid
4695.98 ± 2.59
5897.5 ± 1.03
10398 ± 1.81
7-ethoxyrosmanol
1113.05 ± 5.6
4618.2 ± 1.11
8247.35 ± 6.83
Ursolic acid
117.26 ± 2.6
NA
2080.19 ± 8.52
Rosmanol
8622.73 ± 1.92
10641.5 ± 0.52
14633.90 ± 3.84
Ladanein
5027.55 ± 4.62
8296.2 ± 1.18
8380.08 ± 4.52
SC
9869.43 ± 7.87
13706.5 ± 0.95
14338.49 ± 5.16
EGCG
4722.51 ± 2.22
10455.1 ± 0.81
14970 ± 5.53
EGCG: Epigallocatechingallate; SC: methanolic extract of

S. chamelaeagnea;

NA: Not active.

Table 3.
Effects of
S. chamelaeagnea
constituents on inhibition of Fe (II)-induced microsomal lipid peroxidation, anti-tyrosinase activities.
Sample
% Inhibition (μg/mL)
Lipid Peroxidation
IC50
Tyrosinase
IC50
Carnosol
32.5
455.5
Carnosic acid
38.35
514.9
7-ethoxyrosmanol
>100
465.7
Ursolicacid
>100
485.2
Rosmanol
30.25
>500
Ladanein
>100
554.5
SC
>100
267.4
EGCG
41.50
3.4
Data are given as IC50 with tested sample; SC methanolic extract.
| Sample | ipa/µA | Epa/V |
| --- | --- | --- |
| Carnosol | 0.70 | 0.16 |
| Carnosic acid | 0.33 | 0.15 |
| 7-ethoxyrosmanol | 0.18 | 0.33 |
| Ursolic acid | / | / |
| rosmanol | 0.26 | 0.11 |
| ladanein | 0.60 | 0.16 |
| SC | 0.14 | 0.15 |
SC: methanol extract of

S. chamelaeagnea

.

© 2019 by the authors. Licensee MDPI, Basel, Switzerland. This article is an open access article distributed under the terms and conditions of the Creative Commons Attribution (CC BY) license (http://creativecommons.org/licenses/by/4.0/).