Maternal Supplementation with Antioxidant Vitamins in Sheep Results in Increased Transfer to the Fetus and Improvement of Fetal Antioxidant Status and Development
1
INIA-Kampenaike, Punta Arenas 6212707, Chile
2
Faculty of Veterinary Sciences, University of Chile, Santiago 8820808, Chile
3
AgResearch Grasslands, Palmerston North 4442, New Zealand
4
INIA-Madrid, Ciudad Universitaria s/n, 28040 Madrid, Spain
5
Facultad de Veterinaria, Universidad Complutense de Madrid, Ciudad Universitaria s/n, 28040 Madrid, Spain
6
Faculty of Agricultural Sciences, University of Chile, Santiago 8820808, Chile
*
Author to whom correspondence should be addressed.
Received: 5 February 2019 / Revised: 3 March 2019 / Accepted: 5 March 2019 / Published: 8 March 2019
Abstract
Twinning and maternal nutritional restriction leads to fetal hypoxia, oxidative stress, and intrauterine growth restriction (IUGR) in near-term sheep pregnancies. Our aim was to determine the effect of oral supplementation of vitamins C and E in pregnant sheep on maternal and umbilical cord blood concentrations of vitamins C and E and the effects on fetal antioxidant status, growth, and placental efficiency. Sixteen single- and sixteen twin-bearing ewes, grazing natural Patagonian prairies, were selected after transrectal ultrasound at day 30 after mating. Half of ewes from each pregnancy rank were supplemented daily with vitamins C and E, administered orally, from 30 to 140 days of gestation, when maternal jugular and fetal venous cord blood samples were obtained during cesarean section. Fetuses were weighed and sexed. Placental weight in each fetus was also obtained. Blood plasma was harvested for measurements of maternal and fetal vitamins concentration and fetal antioxidant capacity. Maternal administration of vitamin C and E was associated with increased fetal cord levels of both vitamins, improved antioxidant status, and enhanced fetal growth in both singleton and twin pregnancies associated with increased placental efficiency. These results highlight the potential of vitamin C and E supplementation to reduce the impact of IUGR in both livestock and humans.
View Full-Text
►

▼

Figures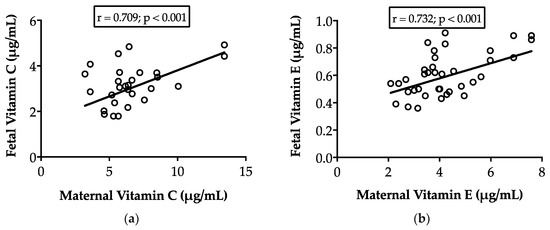 Figure 1
This is an open access article distributed under the
Creative Commons Attribution License
which permits unrestricted use, distribution, and reproduction in any medium, provided the original work is properly cited (CC BY 4.0).

Share & Cite This Article
MDPI and ACS Style
Sales, F.; Peralta, O.A.; Narbona, E.; McCoard, S.; Lira, R.; De Los Reyes, M.; González-Bulnes, A.; Parraguez, V.H. Maternal Supplementation with Antioxidant Vitamins in Sheep Results in Increased Transfer to the Fetus and Improvement of Fetal Antioxidant Status and Development. Antioxidants 2019, 8, 59.
Note that from the first issue of 2016, MDPI journals use article numbers instead of page numbers. See further details here.
Related Articles
Comments
[Return to top]