Antioxidant Defense Mechanisms in Erythrocytes and in the Central Nervous System
1
Molecular Neurobiology Laboratory, Department of Biochemistry and Molecular Biomedicine, Biology School, University of Barcelona, Barcelona 08028, Spain
2
Centro de Investigación en Red, Enfermedades Neurodegenerativas (CIBERNED), Instituto de Salud Carlos III, Madrid 28031, Spain
3
Department of Biochemistry and Physiology, Pharmacy and Food Science School, University of Barcelona, Barcelona 08028, Spain
4
Departamento de Morfología y Biología Celular, Facultad de Medicina, Universidad de Oviedo, Asturias 33006, Spain
5
Instituto de Neurociencias del Principado de Asturias (INEUROPA), Asturias 33006, Spain
6
Instituto de Salud del Principado de Asturias (ISPA), Asturias 33006, Spain
*
Authors to whom correspondence should be addressed.
Received: 12 December 2018 / Revised: 9 February 2019 / Accepted: 13 February 2019 / Published: 18 February 2019
Abstract
Differential antioxidant action is found upon comparison of organ/tissue systems in the human body. In erythrocytes (red blood cells), which transport oxygen and carbon dioxide through the circulatory system, the most important issue is to keep hemoglobin in a functional state that requires maintaining the haem group in ferrous (Fe
2+
) state. Conversion of oxidized Fe
3+
back into Fe
2+
in hemoglobin needs a special mechanism involving a tripeptide glutathione, glucose-6-phosphate dehydrogenase, and glucose and NADPH as suppliers of reducing power. Fava beans are probably a good resource to make the detox innate system more robust as the pro-oxidant molecules in this food likely induce the upregulation of members of such mechanisms. The central nervous system consumes more oxygen than the majority of human tissues, i.e., 20% of the body's total oxygen consumption and, therefore, it is exposed to a high level of oxidative stress. This fact, together with the progressive age-related decline in the efficiency of the antioxidant defense system, leads to neuronal death and disease. The innate mechanism operating in the central nervous system is not well known and seems different to that of the erythrocytes. The strategies of antioxidant intervention in brain will be reviewed here.
View Full-Text
►

▼

Figures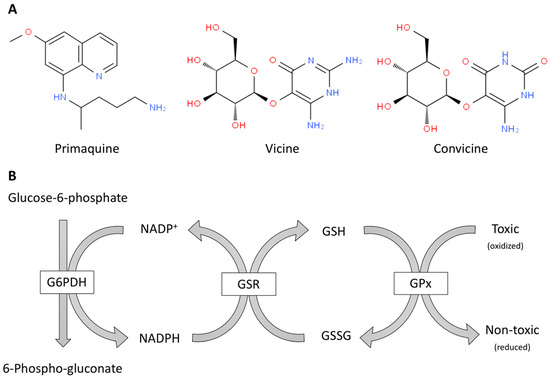 Figure 1
This is an open access article distributed under the
Creative Commons Attribution License
which permits unrestricted use, distribution, and reproduction in any medium, provided the original work is properly cited (CC BY 4.0).

Share & Cite This Article
MDPI and ACS Style
Franco, R.; Navarro, G.; Martínez-Pinilla, E. Antioxidant Defense Mechanisms in Erythrocytes and in the Central Nervous System. Antioxidants 2019, 8, 46.
Note that from the first issue of 2016, MDPI journals use article numbers instead of page numbers. See further details here.
Related Articles
Comments
[Return to top]