Open Access This article is
freely available
re-usable
Review
Betalains in Some Species of the Amaranthaceae Family: A Review
Faculdade de Ciências e Tecnologia, MeditBio, Universidade do Algarve, Campus de Gambelas, 8005-139 Faro, Portugal
Received: 6 February 2018 / Accepted: 27 March 2018 / Published: 4 April 2018
Abstract
:
Natural pigments are largely distributed in the plant kingdom. They belong to diverse groups, with distinct biochemical pathways. Betalains with colours that range from yellow to red-violet can de divided into two main subgroups: betaxanthins and betacyanins. These types of pigments are confined into 13 families of the order Caryophyllales and in some genera of higher fungi (
Amanita muscaria
,
Hygrocybe
and
Hygrophorus
). The Amaranthaceae family includes diverse genera in which betalains are present:
Alternanthera
,
Amaranthus
,
Beta
,
Chenopodium
,
Celosia
and
Gomphrena
. The biosynthesis of betalains and their general biological properties were reviwed in the present work. In addition, the types of betalains present in some species of the aforementioned genera, their stability and production, as well as biological attributes, were reviewed.
Keywords:
betalains; alternanthera; amaranthus; beta; chenopodium; celosia; gomphrena
1. Introduction
The colour of flowers, fruits, vegetables and grains result from the presence of chlorophylls, carotenoids, flavonoids and of the water-soluble anthocyanins and betalains [
1
,
2
]. Anthocyanins and betalains have never been detected jointly in plant tissues. Anthocyanin pigments (orange, red, purple, blue) occur in all members of the Angiospermae, whereas betalains occur only in 13 families of the order Caryophyllales [
3
,
4
].
Betalains are water-soluble pigments classified into betacyanins (red colour) and betaxanthins (yellow colour). They are dissolved inside the vacuoles as
bis
-anions. Betalains can be found in edible fruits and roots, flowers, stems and bracts of species belonging to the families of Caryophyllales, except for Caryophyllaceae and Molluginaceae [
5
]. These pigments have also been detected in some genera of higher fungi (
Amanita muscaria
,
Hygrocybe
and
Hygrophorus
) [
6
].
The present work aims to make a review of the betalains present in some species of the genera
Alternanthera
,
Amaranthus
,
Beta
,
Chenopodium
,
Celosia
and
Gomphrena
, which belong to the
Amaranthaceae
family.
2. Betalains
2.1. General Chemical Aspects of Betalains
2.2. Stability of Betalains
Despite betalains pigments are considered more stable than anthocyanins [
13
] there are several factors that negatively affect their stability: pH < 3 or pH > 7; high a
w
(water activity); metal cations (Fe
3+
, Fe
2+
, Cu
2+
, Cu
+
, Sn
2+
, Al
3+
, Hg
2+
, Cr
3+
); high temperature; light; O
2
; H
2
O
2
, low pigment content; among other factors [
7
]. For these reasons, betalains have had little application in food industry as colourants, unless if they can be used in frozen foods, low temperature dairy products or short-shelf life foods [
14
].
Heat mostly induces dehydrogenation in the presence of oxygen (oxidation), aldimine bond hydrolysis and decarboxylation of batalains, which induce a colour change to orange-yellow. At pH values < 3, the betalain structure is converted from anionic form (red) to cationic form (violet), generating a visible colour change from red to blue-violet shade. At pH values > 7, there is the aldimine bond hydrolysis of betalain, giving rise to betalamic acid and
cyclo
-dopa-5-
O
-glucoside and the colour change to yellow-brown. Metal ions can accelerate oxidation of betalains with the consequent loss of colours [
15
]. Epimerization is another process that can occur [
16
].
Figure 3
represents the possible chemical processes that can occur in betanin when exposed to acid or basic conditions or when submitted to heating, according to that previously reported by Gonçalves et al. [
16
].
2.3. Extraction, Separation, Identification and Quantification of Betalains
Betalains are generally extracted from ground plant material by maceration extraction with water, cold, or at room temperature or Soxhlet extraction. For a complete extraction, it is preferable to use methanol or ethanol solutions (20–50%,
v
/
v
). Before extraction, a short heat treatment (70 °C, 20 min) can be made for inactivating degradative enzymes, despite the possible destruction of some pigments. A slight acidification with HCl or citric acid or acidified ethanol (0.4 to 1% HCl) can be used for the precipitation of betacyanins. The addition of aqueous ethanol (95%) will give betaxanthins [
1
]. However, other techniques have been assayed to extract betalains, particularly from red beet, in order to enhance the yields in a shorter time period, to increase the cell membrane permeabilisation and to be more environmentally friendly—diffusion extraction, ultrafiltration and reverse osmosis and loose reverse osmosis (LRO), cryogenic freezing, aqueous two-phase extraction, pulsed electric fields and gamma irradiation, microwave and ultrasound-assisted extractions [
11
,
17
,
18
,
19
].
Purification and isolation of betalains is needed before their qualitative and quantitative analysis for eliminating possible interfering compounds. Chromatographic and electrophoretic procedures have been used to separate and/or purify betalains. For the separation of these pigments, ion chromatography on cation exchange resins followed by adsorption chromatography on polyamide column or a sequential chromatography on a series of Sephadex ion exchangers can be used [
20
]. Separation, identification and quantification of betalains have been carried through high performance liquid chromatography (HPLC) coupled to ultraviolet-visible (UV-Vis), photodiode array (PDA) mass spectrometry (MS) and nuclear magnetic resonance detection (NMR) by using reversed phase columns and binary gradient dilutions (acidified water with formic acid 2–5%,
v
/
v
) and acetonitrile or methanol. As betaxanthins are fluorescent pigments, the detection of these pigments may be done using fluorescence methods [
20
].
2.4. Biosynthesis of Betalains
The biosynthesis of betalains will be described according to the review by Gandía-Herrero and García-Carmona [
21
]. The pathways are schematised in
Figure 4
.
Betalains are secondary metabolites derived from the amino acid
l
-tyrosine. The amino acid undergoes hydroxylation and
l
-dopa is formed—the reaction is catalysed by the enzyme tyrosinase (or polyphenoloxidase). A second enzyme (4,5-dopa extradiol dioxygenase) catalyses the cleavage of dopa to form the intermediate 4,5-
seco
-dopa. A spontaneous intramolecular condensation occurs between the amine group and the aldehyde group of 4,5-
seco
-dopa, giving rise to betalamic acid (
Figure 4
).
Betalamic acid, a structure that holds the chromogenic electron resonance, may accept spontaneously amines or amino acids, which leads, by the reaction between the amine group of the amine and the aldehyde group of betalamic acid, to the formation of yellow betaxanthins.
For the formation of betacyanins two pathways could be considered:
Pathway 1.
Formation of betanidin through the condensation with free
l
-dopa derivatives
l
-Dopa, in the absence of a reducing agent (ascorbic acid or an analogous reducing agent), is transformed by tyrosinase to
o
-dopa-quinone in the presence of molecular oxygen. Then, a spontaneous cyclization takes place involving the amine group of the
o
-quinone that, through an intramolecular nucleophilic attack on the ring, forms the molecule
leuko
-dopa-chrome, also known as
cyclo
-dopa. This compound may react with betalamic acid to generate the pigment betanidin. This pigment is an intermediate in the formation of betacyanins. In the absence of a reducing agent,
cyclo
-dopa (unstable) undergoes a spontaneous oxidation with the formation of dopa-chrome with the simultaneous reduction of a molecule of dopa-quinone back to
l
-dopa. This mechanism was reported by Schliemann et al. [
22
], nevertheless is considered improbable to occur at a biological level [
21
].
Pathway 2.
Formation of betanidin through tyrosine-betaxanthin (tyrosine-bx) and dopa-bx (dopaxanthin)
The reaction starts with the condensation of
l
-tyrosine with betalamic acid originating the pigment tyrosine-bx. This pigment is the substrate for tyrosinase that converts it in dopa-bx. This pigment is also substrate for tyrosinase that transforms it in dopaxanthin-quinone. In the absence of a reducing agent, this quinone undergoes an intramolecular nucleophilic attack with a consequent cyclization and formation of betanidin. Another possibility is the condensation of betalamic acid with
l
-dopa to form dopaxanthin [
21
].
Betanidin can incorporate a glucose residue in position 5, reaction catalysed by the enzyme betanidin-5-
O
-glucosyltransferase and betanin is formed. Other reactions of glycosylation and acylations may occur that lead to a wide variety of known betacyanins [
21
].
2.5. Role of Betalains in Plants
The function of betalains in plants is diverse: for plant propagation through pollen transfer or the dispersion of indigestible seeds by animals that are attracted by the colour of flowers and fruits; as a repelling signal to deter herbivores; to screen tissue against damaging ultraviolet (UV) radiation; for increasing pathogen resistance and improving viral defence; for providing higher tolerance to heat stress; as osmoregulators by modelling the amino acid pool from betaxanthins, among other functions [
2
,
23
,
24
,
25
].
2.6. Importance of Betalains for Consumers
Some species are edible sources of betalains: red beet roots (
Beta vulgaris
subsp.
vulgaris
convar.
vulgaris
var.
vulgaris
; Conditiva Group); fruits of cacti, particularly
Opuntia ficus-indica
; the dragon fruits from
Hylocereus polyrhizus
; Swiss chard (
Beta vulgaris
subsp.
vulgaris
convar.
cicla
. var.
flavescens
; Flavescens Group). For instance, the extracts of beetroot containing betalains are pink or violet pigments used as food additive under the E-162 code (betanin), in the European Union, or 73.40 of the Food and Drug Administration (FDA) [
5
]. E-162 is mainly applied for colouring fruit yogurts, ice-creams, jams, chewing gums, sauces and soups. The same pigment has also been used in cosmetics and pharmaceuticals [
26
].
Beyond the application of betalains as colourants in food industry, these secondary metabolites also possess biological properties beneficial for human health: anti-inflammatory, antioxidant, inhibitory effect towards skin and lung cancer in mice and chemo-preventive properties (positive effects on metabolic, cardiovascular and gastrointestinal health in humans), with the advantage to be devoid of toxicity, mutagenic action or allergic reactions [
2
,
5
,
27
,
28
,
29
,
30
,
31
,
32
,
33
,
34
].
The colouring properties of betalains along with their biological properties have led to the development of in vitro strategies for producing these secondary metabolites, however this has been without success. Georgiev et al. [
35
] reviewed progress in plant in vitro systems for producing betalains. At the same time, the authors cited the factors that could be manipulated for improving the betalain yields as well as the bioreactor systems that could be used.
2.7. Production of Betalains
Owing to the importance of betalains as natural pigments, there has been research with the aim to obtain them by synthetic procedures. Generally, it starts with the production of betalamic acid or even better, with extraction in ethyl acetate from natural sources and then condensation with amines or amino acids. Nevertheless, this procedure gives rise to very low yields. Another way to produce betalains is based on a combined procedure of betanin degradation and betalains synthesis. This methodology requires an immediate purification to avoid reverse reactions [
36
,
37
].
New methods have been developed and one of them consists of betalamic acid derivatized by a support generated from a primary amine polymer. This material is stable for months. The imine bond between polymer surface and betalamic acid may be broken at mild conditions through the addition of amines in water over a pH range at room temperature. Betalains (betaxanthins and betalains) originate from the displacement of betalamic acid from the surface polymer and its reaction with amines or amino acids. This procedure is optimized for the formation of betalains derived from tyramine, dopamine, pyrrolidine and indoline [
38
].
Plant cell and tissue cultures have also been used to produce betalains because such production is independent on the climate or soil properties, pest and diseases; it also allows continuous supplies with uniform quality and yield. However, the yield production is generally low and almost always needing bioreactor systems for improving large scale production [
35
]. Some examples include the production of betalains by hairy root cultures, cell suspension and callus culture of beetroot [
39
,
40
,
41
,
42
,
43
,
44
,
45
,
46
]. Generally, in these works, the authors used methods and studied factors that could improve the production or recovery of betalains by cell cultures of
Beta vulgaris
(radiation, light, utilization of adsorbents, changes in the composition of the culture medium, alterations of the bioreactors, among other factors). Other approaches include improving betalain yield in beet through the improvement of the utilization of tyrosine or enhancement of its production, depending on the beet genotype [
47
] or developing new betalains sources (microbes and/or plants) by metabolic engineering [
48
].
2.8. Biological Properties of Betalains
3. Amaranthaceae
Amaranthaceae
family is characterised by its diversity in secondary metabolites: essential oils, sesquiterpenes, diterpenes, triterpenes, phenolic acids, flavonoids and betalains [
67
]. This family includes diverse genera in which betalains have been reported:
Alternanthera
,
Amaranthus
,
Beta
,
Chenopodium
,
Celosia
and
Gomphrena
[
27
,
29
,
68
,
69
,
70
].
Several properties have been attributed to some of these genera: antioxidant, positive effects on metabolic, cardiovascular and gastrointestinal health in humans; antimalarial, inhibitors of LOX and COX [
27
,
28
,
29
,
30
,
33
,
34
,
49
,
70
].
3.1. Gomphrena globosa
L.
3.6. Chenopodium quinoa
Willd
4. Conclusions
Natural pigments, namely carotenoids, flavonoids, anthocyanins or betalains, have been used in food and pharmaceutical industries, replacing the synthetic pigments, since they are considered less deleterious for human health. However, particularly anthocyanins possess limitations: weak stability to processing and storage conditions. The weak stability of the pigments to pH or temperature is, however, less important for betalains since they are stable for broader pH range and are also able to regenerate after thermal treatment. Nevertheless, natural resources are not inexhaustible being also highly dependent on the climatic conditions. In addition, the possibility to obtain diverse hue colours with synthetic pigments is generally easier when compared to the natural ones, unless diverse pigments of different groups are mixed.
Therefore, several approaches need to be followed in order to obtain natural pigments in a sustainable way, cheaper and closer to the consumer requirements. Biotechnological production of betalains through plant cell culture from betalain producing species, so far showing weak yield, or microbes must be more deeply studied and even considered as alternatives to the traditional production of betalains. Studies regarding the encapsulation of natural pigments, such as betalains, for enhancing their colour stabilities, are possibilities to take into account. Nevertheless, the utilization of these natural products requires that they do not interfere on the final quality of the product where the pigments are applied.
Acknowledgments
The author wishes to acknowledge the financial support provided by the Portuguese National Funding Agency for Science, Research and Technology (Fundação para a Ciência e a Tecnologia—FCT; Portugal), under the projects UID/BIA/04325/2013-MeditBio.
Conflicts of Interest
The author declares no conflict of interest.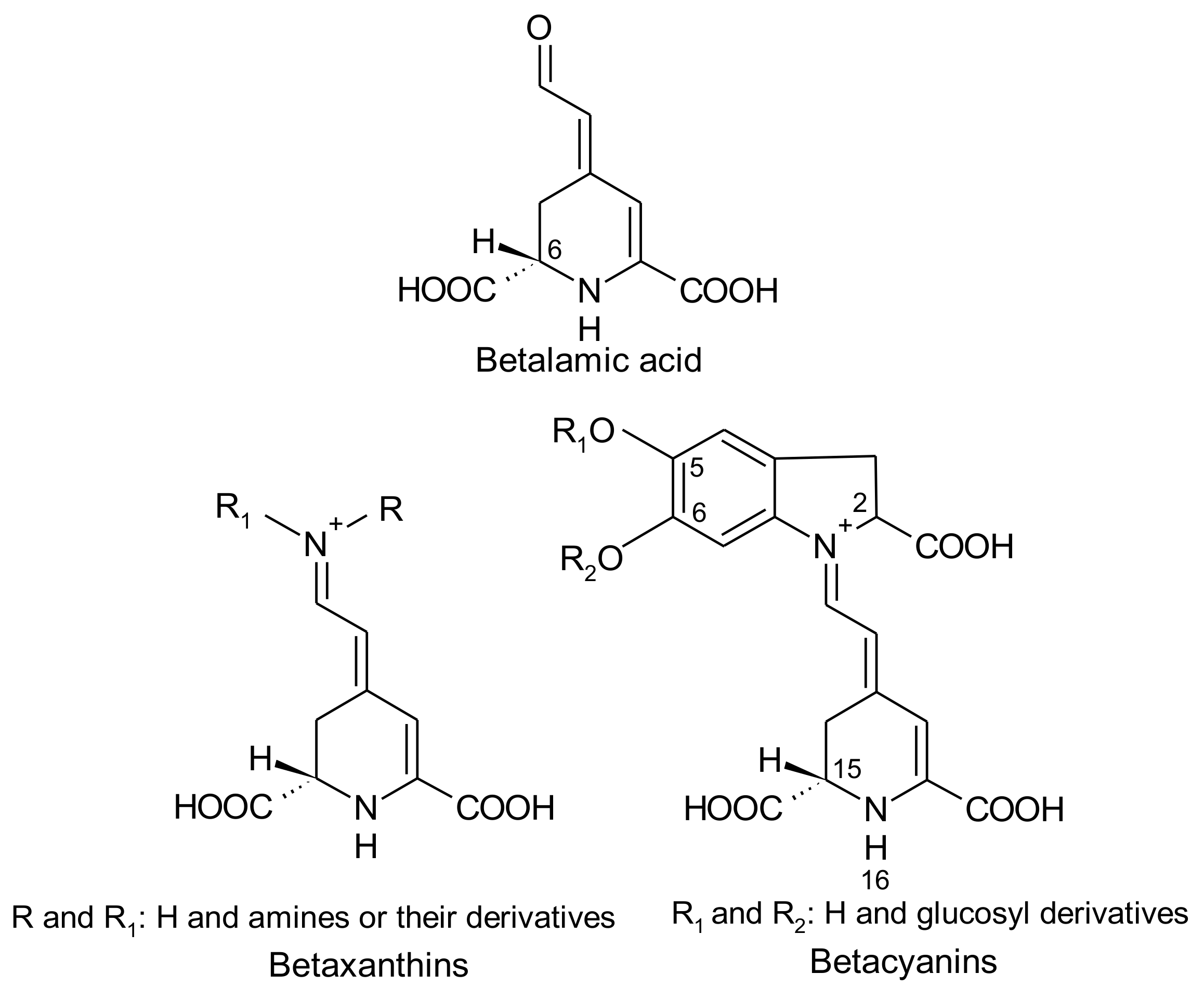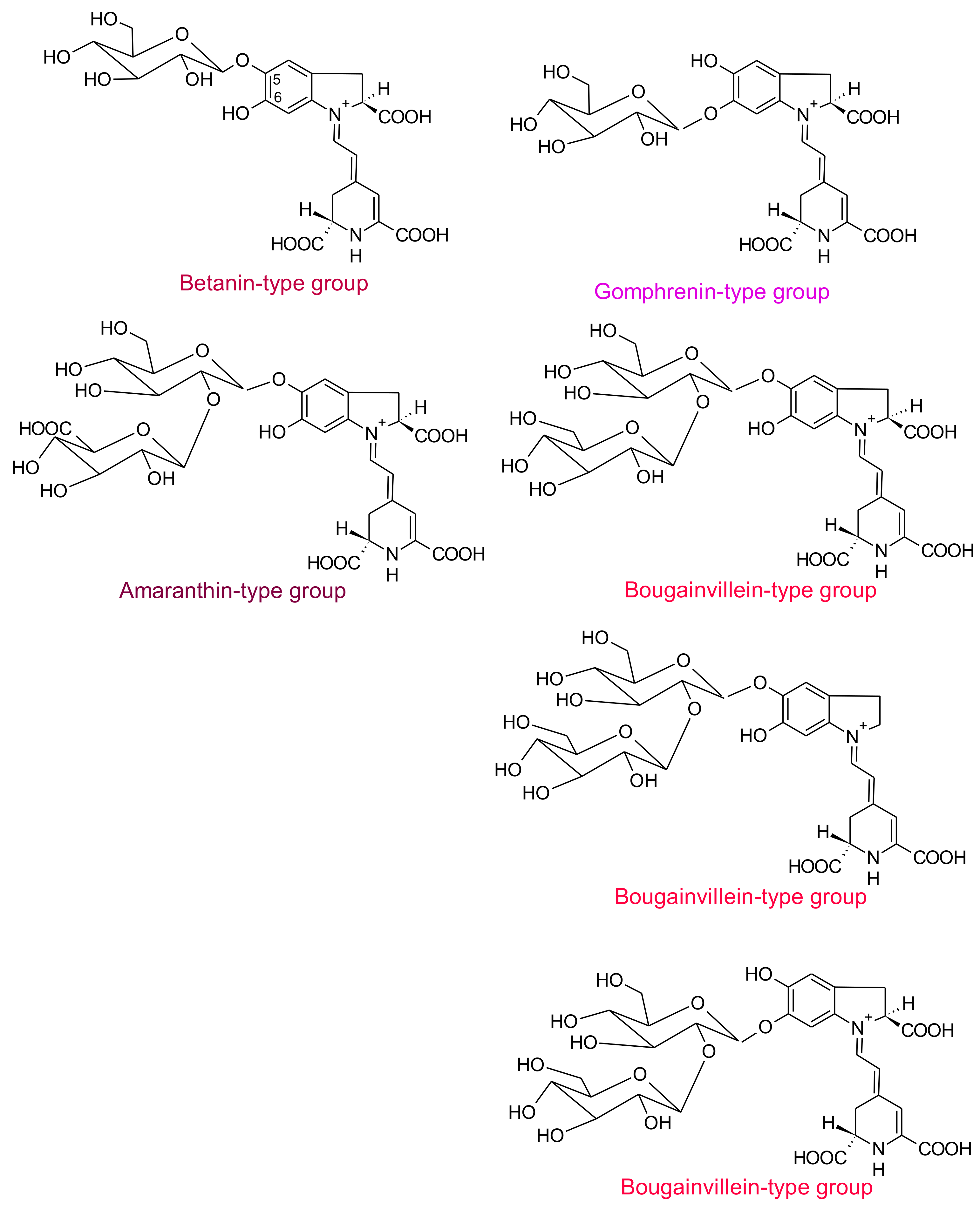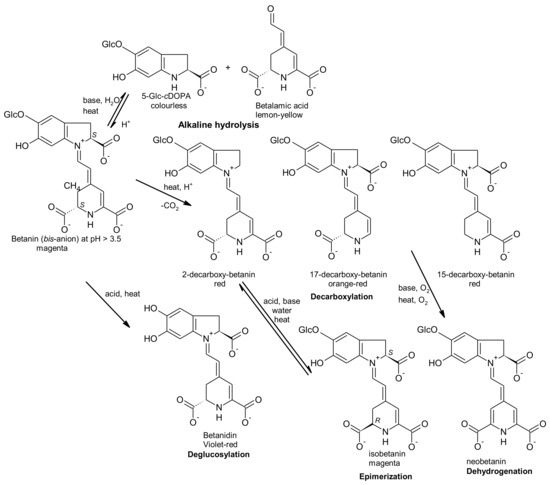 Figure 3.
Betanin degradation products and some degradation pathways (adapted from [
16
]).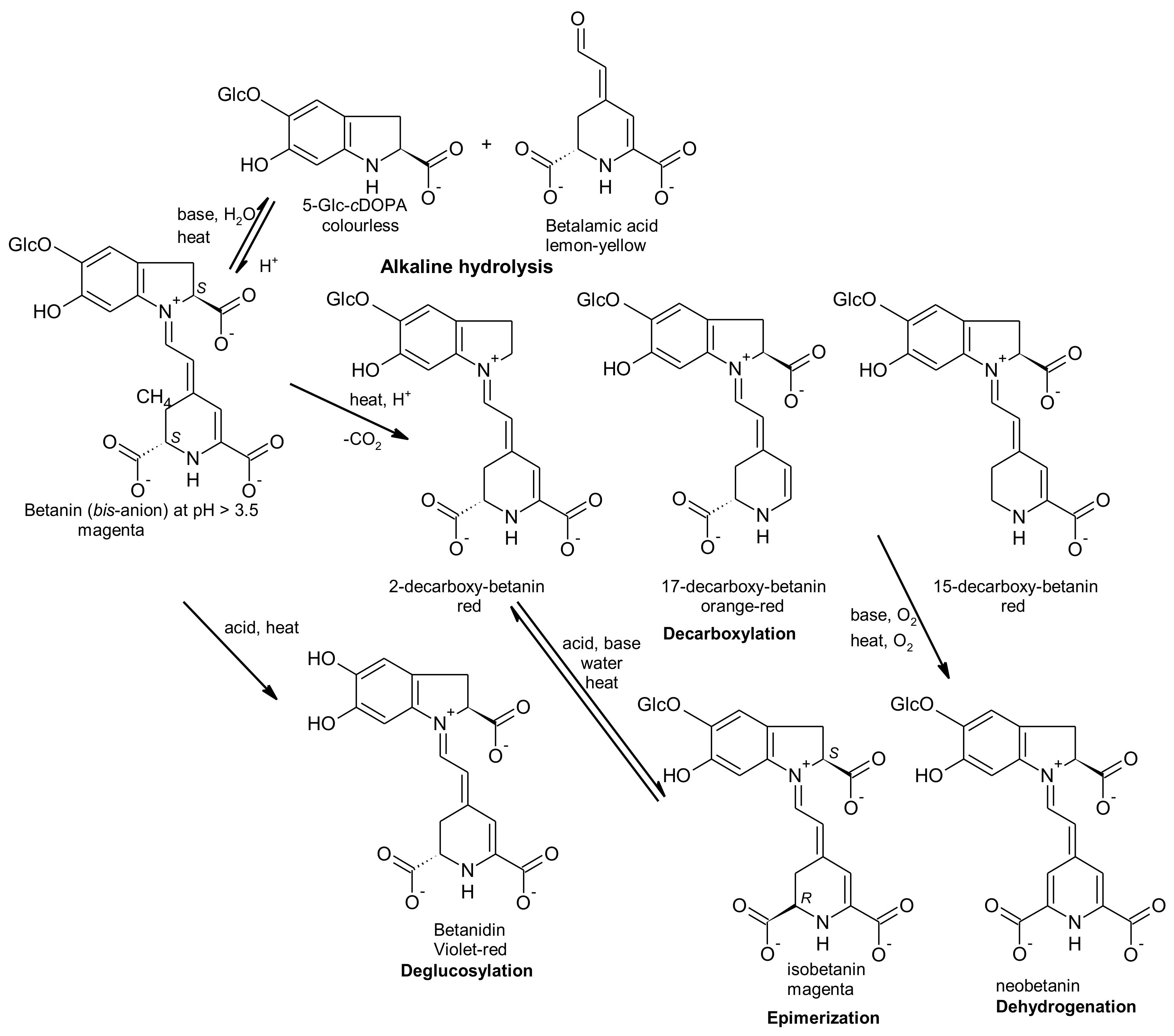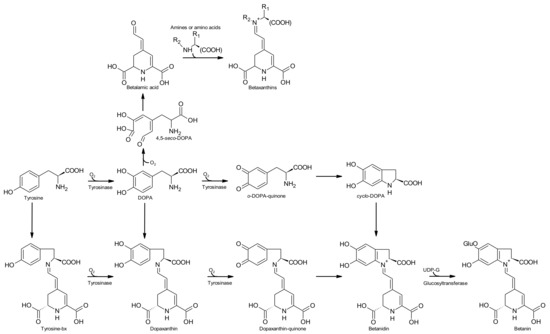 Figure 4.
Simple scheme for the biosynthetic pathway of betalains (adapted from [
21
]).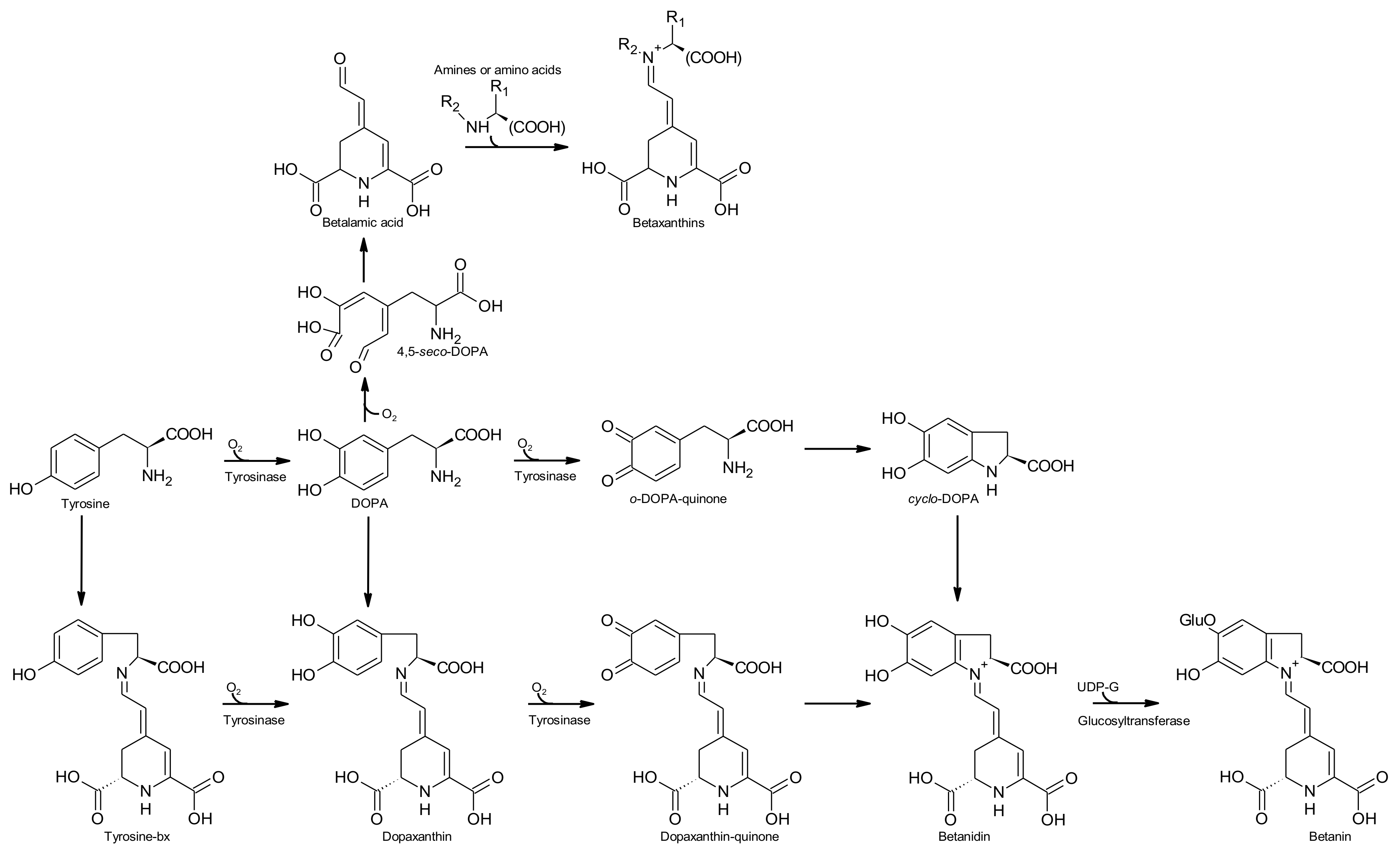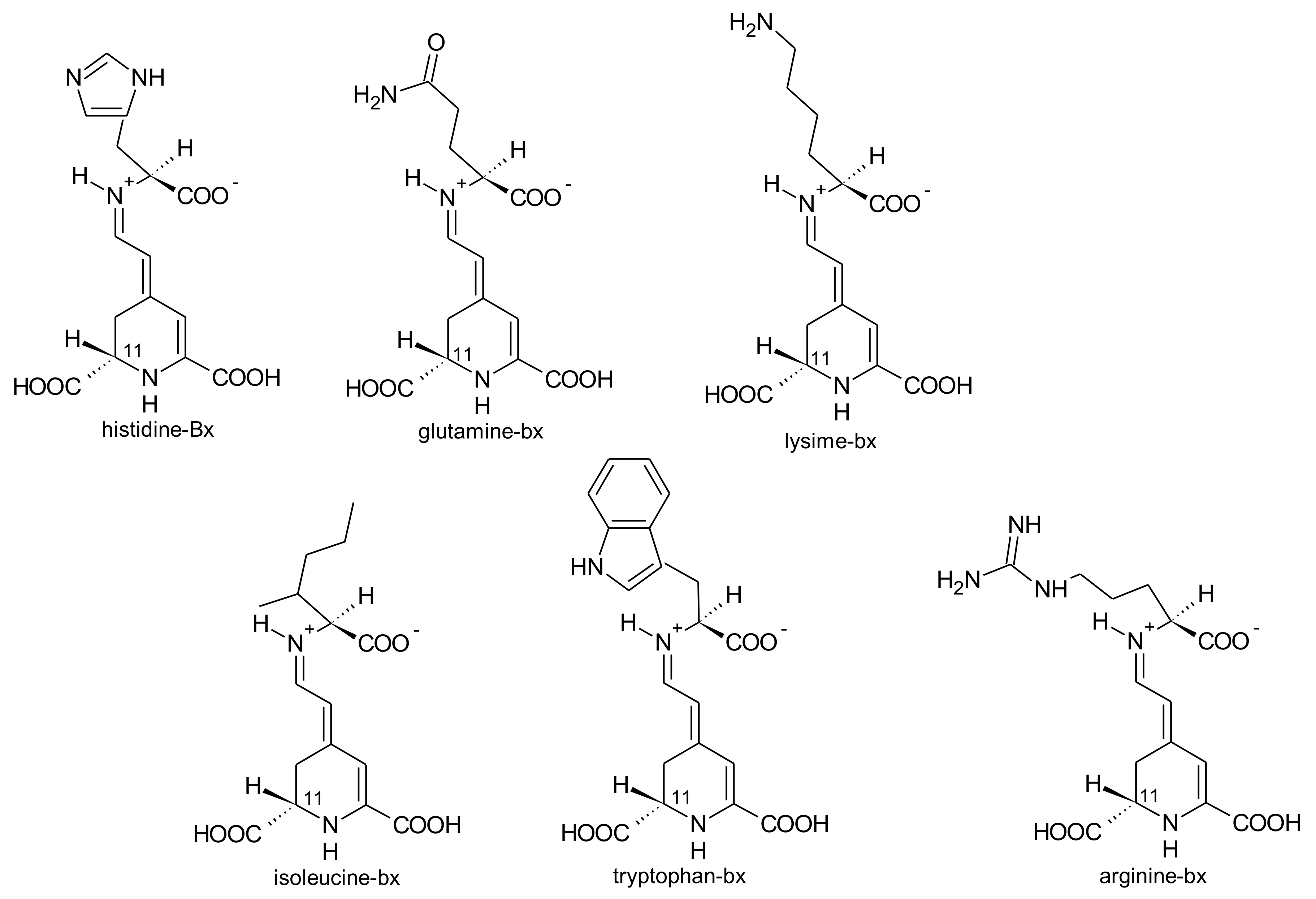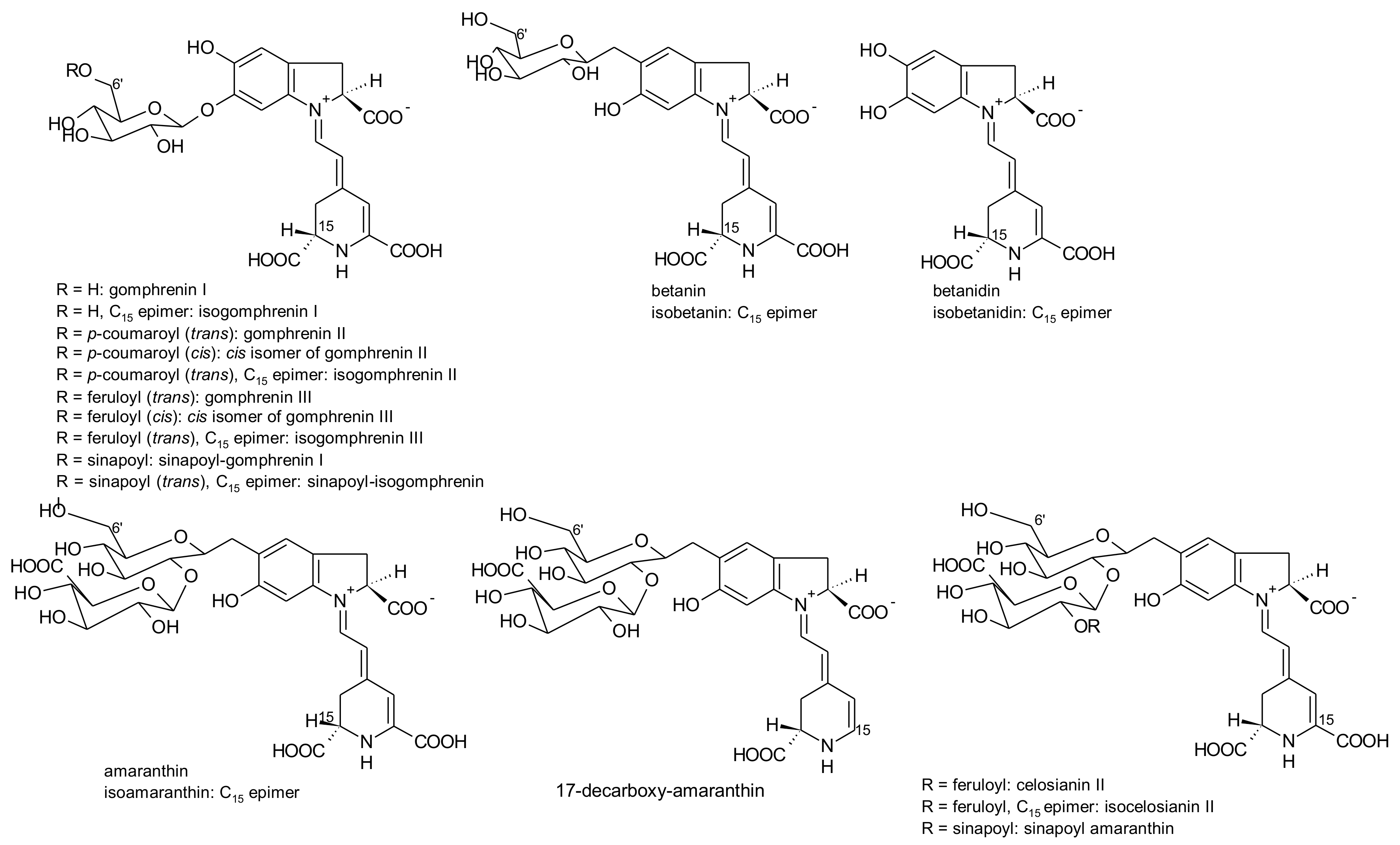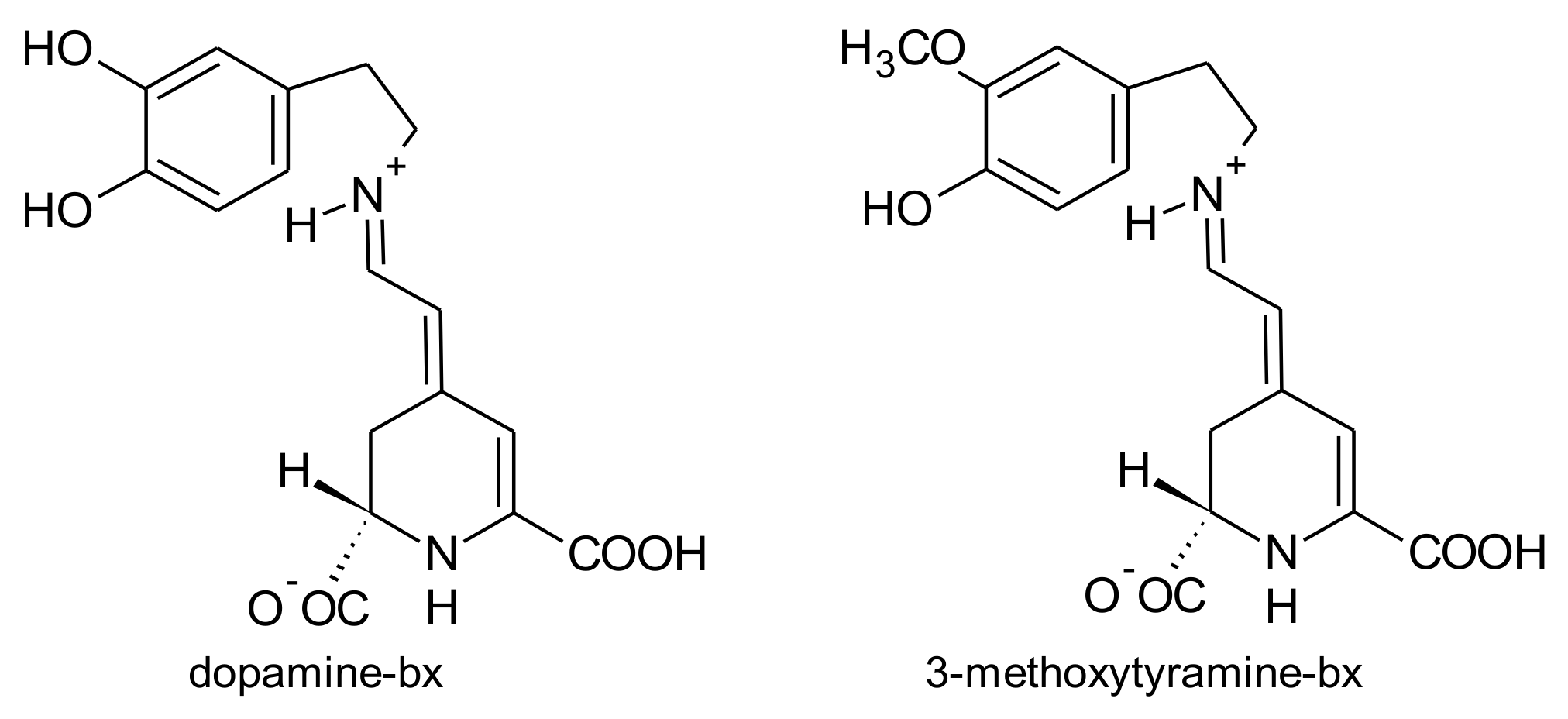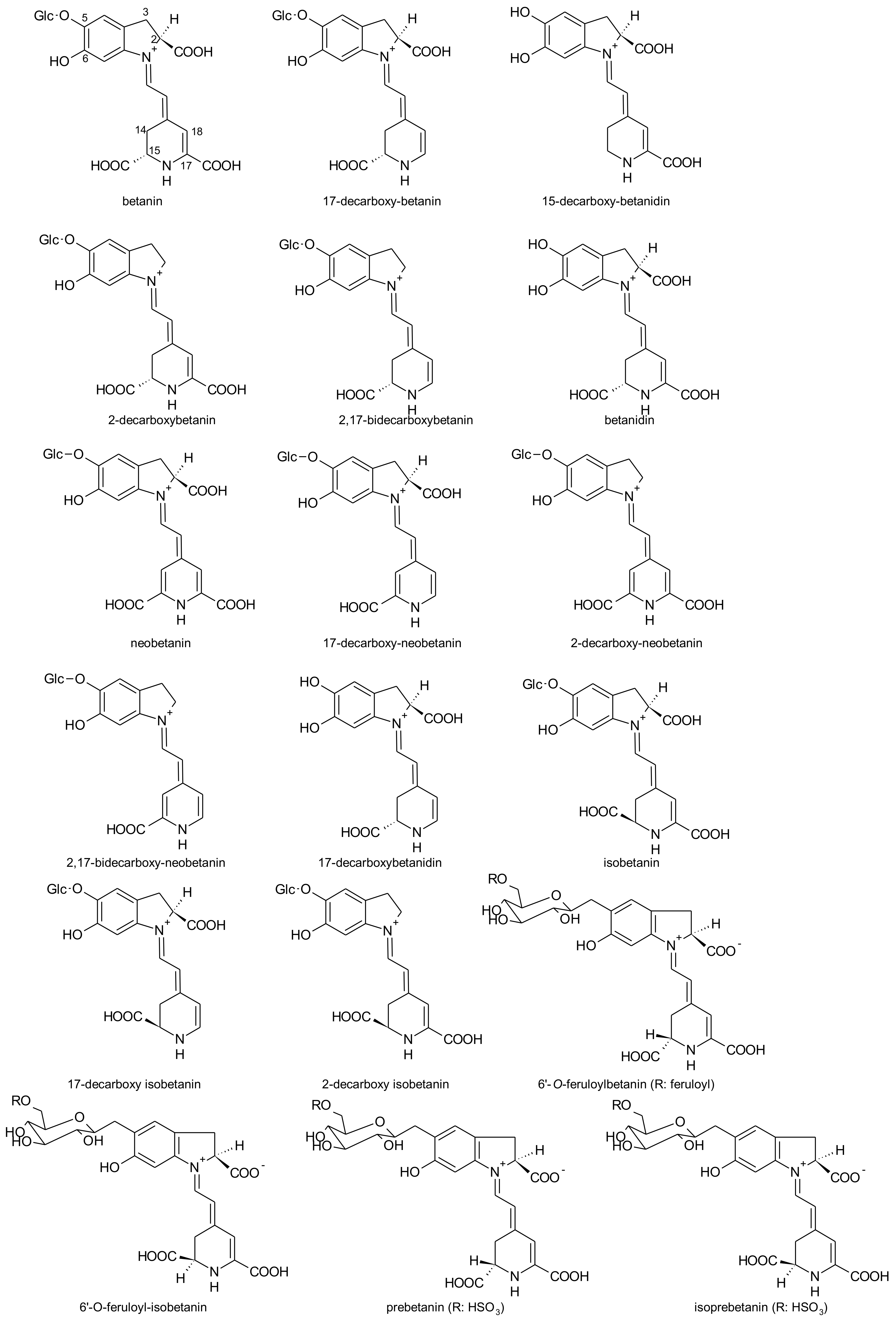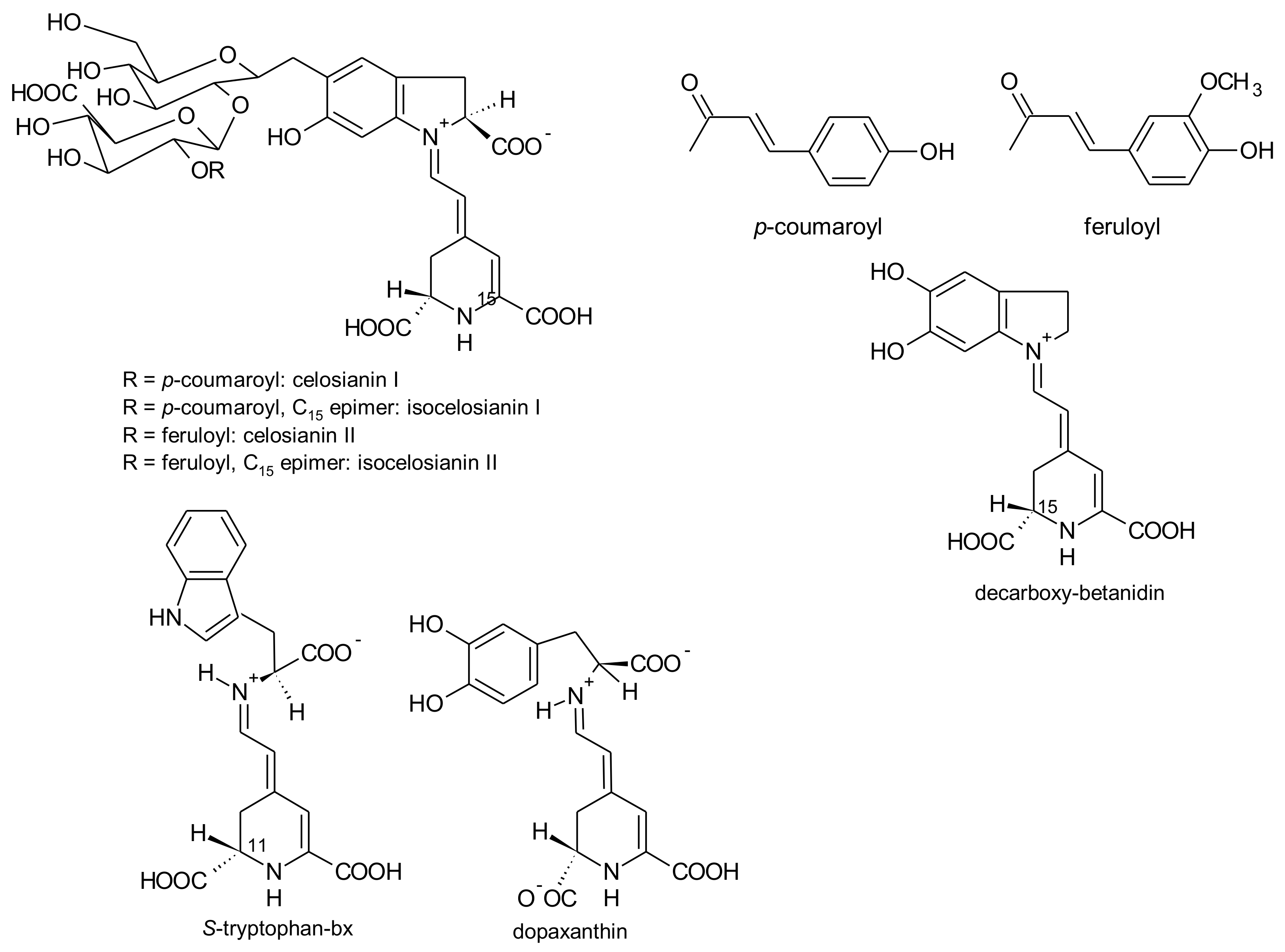 © 2018 by the author. Licensee MDPI, Basel, Switzerland. This article is an open access article distributed under the terms and conditions of the Creative Commons Attribution (CC BY) license (http://creativecommons.org/licenses/by/4.0/).