Redox Signaling of NADPH Oxidases Regulates Oxidative Stress Responses, Immunity and Aging
Eidgenössische Technische Hochschule (ETH) Zürich, Department of Health Sciences and Technology, Institute of Translational Medicine, 8603 Schwerzenbach-Zürich, Switzerland
Received: 9 September 2018 / Revised: 25 September 2018 / Accepted: 26 September 2018 / Published: 28 September 2018
Abstract
An accumulating body of evidence suggests that transient or physiological reactive oxygen species (ROS) generated by nicotinamide adenine dinucleotide phosphate (NADPH) oxidases act as a redox signal to re-establish homeostasis. The capacity to re-establish homeostasis progressively declines during aging but is maintained in long-lived animals to promote healthy aging. In the model organism
Caenorhabditis elegans
, ROS generated by dual oxidases (Duox) are important for extracellular matrix integrity, pathogen defense, oxidative stress resistance, and longevity. The Duox enzymatic activity is tightly regulated and under cellular control. Developmental molting cycles, pathogen infections, toxins, mitochondrial-derived ROS, drugs, and small GTPases (e.g., RHO-1) can activate Duox (BLI-3) to generate ROS, whereas NADPH oxidase inhibitors and negative regulators, such as MEMO-1, can inhibit Duox from generating ROS. Three mechanisms-of-action have been discovered for the Duox/BLI-3-generated ROS: (1) enzymatic activity to catalyze crosslinking of free tyrosine ethyl ester in collagen bundles to stabilize extracellular matrices, (2) high ROS bursts/levels to kill pathogens, and (3) redox signaling activating downstream kinase cascades to transcription factors orchestrating oxidative stress and immunity responses to re-establish homeostasis. Although Duox function at the cell surface is well established, recent genetic and biochemical data also suggests a novel role for Duoxs at the endoplasmic reticulum membrane to control redox signaling. Evidence underlying these mechanisms initiated by ROS from NADPH oxidases, and their relevance for human aging, are discussed in this review. Appropriately controlling NADPH oxidase activity for local and physiological redox signaling to maintain cellular homeostasis might be a therapeutic strategy to promote healthy aging.
View Full-Text
►

▼

Figures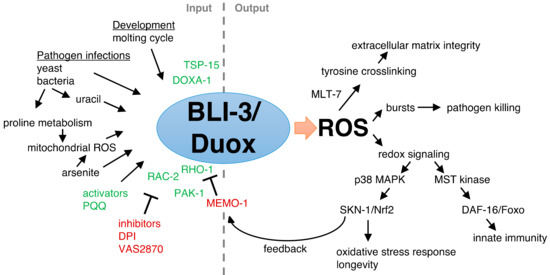 Figure 1
This is an open access article distributed under the
Creative Commons Attribution License
which permits unrestricted use, distribution, and reproduction in any medium, provided the original work is properly cited (CC BY 4.0).

Share & Cite This Article
MDPI and ACS Style
Ewald, C.Y. Redox Signaling of NADPH Oxidases Regulates Oxidative Stress Responses, Immunity and Aging. Antioxidants 2018, 7, 130.
Note that from the first issue of 2016, MDPI journals use article numbers instead of page numbers. See further details here.
Related Articles
Comments
[Return to top]