Evaluation of Antioxidant Activity, Total Flavonoids, Tannins and Phenolic Compounds in
Psychotria

Leaf Extracts

1

Faculty of Agricultural Sciences, University Federal of Grande Dourados (UFGD), 79804-970/533 Dourados-MS, Brazil

2

Biological and Environmental Sciences, University Federal of Grande Dourados (UFGD), 79804-970/533 Dourados-MS, Brazil

3

Chemistry Program, State University of Mato Grosso do Sul (UEMS), Mato Grosso do Sul, 79804-970/351 Dourados-MS, Brazil

*

Author to whom correspondence should be addressed.

Received: 16 May 2014 / Revised: 23 July 2014 / Accepted: 8 September 2014 / Published: 10 November 2014
Abstract
The antioxidant activity of
Psychotria carthagenensis
,
P. leiocarpa
,
P. capillacea
and
P. deflexa
(Rubiaceae) extracts were investigated, and the concentrations of total phenolics, flavonoids, condensed tannins and flavonols were determined. The chemical compositions of the extracts were investigated using the high performance liquid chromatography (HPLC/PAD) method. We used 1,1-diphenyl-1-picrylhydrazyl free radical (DPPH), β-Carotene bleaching and 2,2-azinobis (3-ethylbenzothiazoline-6-sulfonic acid) (ABTS) radical cations to determine antioxidant activity. The ability to scavenge radical was measured in these experiments by the discoloration of the solution. Concentrations of constituents were measured spectrophotometrically.
P. carthagenensis
and
P. capillacea
exhibited the highest antioxidant activity, in the DPPH test, β-carotene bleaching and ABTS system. The highest phenolic, flavonoid, condensed tannin and flavonol concentration was found in
P. carthagenensis
and
P. capillacea
extracts. HPLC-PDA analysis of
P. carthagenensis
and
P. capillacea
revealed hydroxycinnamic acid (
p
-coumaric acid). This is the first report on the antioxidant properties and constituent analysis of these
Psychotria
extracts.
View Full-Text
►

▼

Figures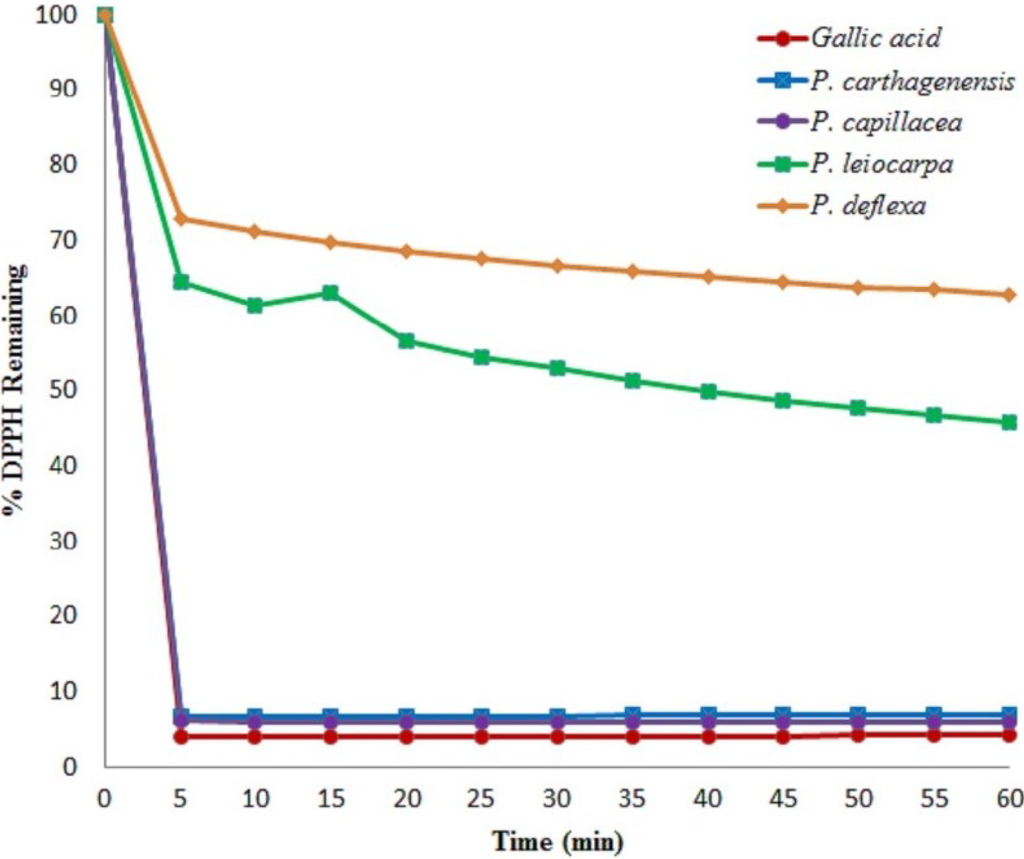 Figure 1
This is an open access article distributed under the
Creative Commons Attribution License
which permits unrestricted use, distribution, and reproduction in any medium, provided the original work is properly cited (CC BY 4.0).

Share & Cite This Article
MDPI and ACS Style
Formagio, A.S.N.; Volobuff, C.R.F.; Santiago, M.; Cardoso, C.A.L.; Vieira, M.D.C.; Valdevina Pereira, Z. Evaluation of Antioxidant Activity, Total Flavonoids, Tannins and Phenolic Compounds in Psychotria Leaf Extracts. Antioxidants 2014, 3, 745-757.
Related Articles
Comments
[Return to top]