Evaluation of Structural and Mechanical Properties of Porous Artificial Bone Scaffolds Fabricated via Advanced TBA-Based Freeze-Gel Casting Technique
1
Pusan National University, University Research Park, Busan 49241, Korea
2
School of Materials Science Engineering, Pusan National University, Busan 46241, Korea
3
Department of Biomedical Engineering, School of Medicine, Pusan National University, Busan 49241, Korea
4
Department of Orthopedic Surgery and Biomedical Research Institute, Pusan National University Hospital, Busan 49241, Korea
5
Department of Anatomy, School of Medicine, Pusan National University, Yangsan 50612, Korea,
[email protected]
6
Biomedical Research Institute, Pusan National University Hospital, Busan 49241, Korea
7
Department of Convergence Medicine, School of Medicine, Pusan National University, Busan 49241, Korea
*
Authors to whom correspondence should be addressed.
Received: 19 February 2019 / Revised: 2 May 2019 / Accepted: 8 May 2019 / Published: 13 May 2019
Abstract
Porous hydroxyapatite (HA) artificial bone scaffolds were prepared via the freeze-gel casting process in order to improve their mechanical strengths. As a porogen, various volumes of poly (methyl methacrylate) (PMMA) powders were added to obtain high porosity, such as in cancellous bone. After fabrication, the porous and mechanical properties of the scaffolds were examined. The HA60 scaffold, with a porosity over 80%, had proper compressive strength and modulus and satisfied the range of properties of cancellous bone. Moreover, it was found that the investigated mechanical properties were affected by the scaffolds' porosity. However, a section was found where the compressive strength was high despite the increase in the porosity. Specifically, HA30 had a porosity of 62.9% and a compressive strength of 1.73 MPa, whereas the values for HA60 were 81.9% and 3.23 MPa, respectively. The results indicate that there are factors that can preserve the mechanical properties even if the porosity of the scaffold increases. Therefore, in this study, various parameters affecting the porous and mechanical properties of the scaffolds during the manufacturing process were analyzed. It is expected that the improvement in the mechanical properties of the artificial bone scaffold having a high porosity can be applied to tissue engineering.
View Full-Text
►

▼

Figures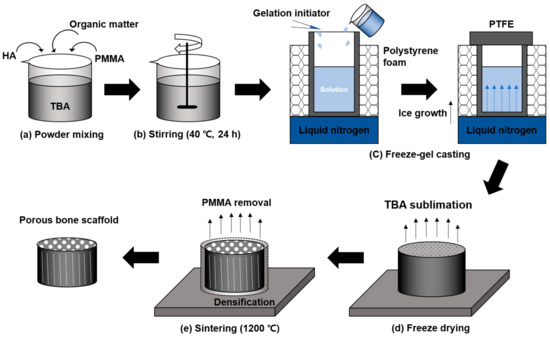 Figure 1
This is an open access article distributed under the
Creative Commons Attribution License
which permits unrestricted use, distribution, and reproduction in any medium, provided the original work is properly cited (CC BY 4.0).

Share & Cite This Article
MDPI and ACS Style
Kim, T.-R.; Kim, M.-S.; Goh, T.S.; Lee, J.S.; Kim, Y.H.; Yoon, S.-Y.; Lee, C.-S. Evaluation of Structural and Mechanical Properties of Porous Artificial Bone Scaffolds Fabricated via Advanced TBA-Based Freeze-Gel Casting Technique. Appl. Sci. 2019, 9, 1965.
Note that from the first issue of 2016, MDPI journals use article numbers instead of page numbers. See further details here.
Related Articles
Comments
[Return to top]