Open Access This article is
freely available
re-usable
Article
Respiration Monitoring for Premature Neonates in NICU
1
Department of Electrical Engineering, Eindhoven University of Technology, 5612 WH Eindhoven, The Netherlands
2
Philips Research, High Tech Campus 34, 5656 AE Eindhoven, The Netherlands
*
Author to whom correspondence should be addressed.
Received: 18 October 2019 / Accepted: 28 November 2019 / Published: 2 December 2019
Abstract
:
In this paper, we investigate an automated pipeline to estimate respiration signals from videos for premature infants in neonatal intensive care units (NICUs). Two flow estimation methods, namely the conventional optical flow- and deep learning-based flow estimation methods, were employed and compared to estimate pixel motion vectors between adjacent video frames. The respiratory signal is further extracted via motion factorization. The proposed methods were evaluated by comparing our automated extracted respiration signals to that extracted from chest impedance on videos of five premature infants. The overall average cross-correlation coefficients are 0.70 for the optical flow-based method and 0.74 for the deep flow-based method. The average root mean-squared errors are 6.10 and 4.55 for the optical flow- and the deep flow-based methods, respectively. The experimental results are promising for further investigation and clinical application of the video-based respiration monitoring method for infants in NICUs.
Keywords:
respiration; respiration rate; video processing; remote sensing; biomedical monitoring
1. Introduction
Vital signs, such as heart rate, blood pressure, respiratory rate, and body temperature, are physical parameters that can be measured and used to assess physiological state and functioning. Monitoring of vital parameters is a crucial topic in neonatal daily care. Premature infants have an immature respiratory control that predisposes them to apnea/periodic breathing, haemoglobin oxygen desaturation, and bradycardia [
1
,
2
]. Apnea is defined as the status of cessation of respiratory airflow, whereas periodic breathing is characterized by groups of respiratory movements interrupted by small intervals of apnea [
3
]. Continuous monitoring of respiration for premature infants is critical to detect abnormalities in breathing and help develop early treatments to prevent significant hypoxia and central depression from apnea. A long-term continuous monitoring approach of respiration may also be used to assess sleep stage, which varies with different clinical conditions [
4
,
5
].
The existing methods for monitoring respiration include nasal thermocouples, spirometers, transthoracic inductance, respiratory effort belt transducer, piezoelectric transducer, optical sensor (pulse oximetry), strain gauge, impedance plethysmography, and electrocardiogram (ECG). Currently, the respiration of premature infants in a neonatal intensive care unit (NICU) is monitored by bedside monitors. ECG is considered as the standard reference measurement for respiration, since ECG can provide stable and robust monitoring for a NICU. However, the pressure of the contact sensor may also change the local skin perfusion, which yields not a true measurement as compared to the non-contact sensor. The electrodes may exert pressure to the skin, yielding to tissue compression and vascular insufficiency. As a consequence, applying the ECG electrodes on infant skin for a long time increases the risk of trauma and infections. Removing the adhesives from the immature skin, as part of regular care, can damage the immature skin of preterm infants, as well as cause stress and pain [
6
,
7
]. This technique is impractical for home care, since the sensors have to be placed by skilled caregivers, and wearing the sensors also causes inconvenience for everyday life [
8
,
9
].
A non-contact monitoring system is a good alternative to improve infant comfort and safety and it also has the potential for monitoring at home. Few works to date have investigated video-based contactless methods for monitoring respiration. In this study, we developed and evaluated a contactless respiration measurement method based on video monitoring. The contribution of our method is: (1) we propose an approach for non-contact respiration monitoring; and (2) we validated the method on clinical data acquired in NICU.
2. Related Work
In the applications of adults, Deng et al. [
10
] presented a design and implementation of a novel sleep monitoring system that simultaneously analyzed respiration, head posture, and body posture for adults. For respiration, the region of breathing movement was automatically determined and the intensity estimated, yielding a waveform indicating respiratory rhythms with an accuracy of 96% in recognizing abnormal breathing. However, the accuracy of the respiration rate was not provided. Chazal et al. [
11
] applied a contactless biomotion sensor of Doppler radar for respiration monitoring. Respiratory frequency and magnitude were used for the classification of determining sleep/wake states, which achieved the accuracy of 69% for the wake and 88% for sleep state. Gupta et al. [
12
] estimated heart rate (HR) accurately, using face videos acquired from a low-cost camera for adults. The face video consisting of frontal, profile, or multiple faces, was divided into multiple overlapping fragments to determine HR estimates. The HR estimates were fused using quality-based fusion, which aimed to minimize illumination and face deformations. Prathosh et al. [
13
] proposed a general framework for estimating a periodic signal, which was applied to derive a computationally inexpensive method for estimating respiratory pattern using two-dimensional cameras that did not critically depend on the region of interest. Specifically, the patterns were estimated by imaging changes in the reflected light caused by respiration-induced motion. Estimation of the pattern was cast as a blind deconvolution problem and was solved through a method comprising subspace projection and statistical aggregation.
In terms of the applications for infants, Werth et al. reviewed the unobtrusive measurements for indicating sleep state in preterm infants [
14
]. Abbas et al. [
15
] attempted to detect respiration rate of neonates on a real-time basis using infrared thermography. They analyzed the anterior naris (nostrils) temperature profile associated with the inspiration and expiration phases. However, the region of interest (ROI) was assumed to be fixed after initialization. Moreover, the method is not practical for NICU infants, since the faces of premature infants in a NICU are often occluded by feeding tubes and/or breathing masks. In practice, the temperature inside an incubator is continuously monitored and adjusted by caregivers in order to help infants maintain their body temperature in a normal range. However, the controlled environmental temperature might affect the accuracy of the thermography-based respiration monitoring method. Koolen et al. [
16
] extracted the respiration rate from video data included in polysomnography. They used Eulerian video magnification (EVM) to amplify the respiration movements, which was followed by optical flow to estimate the respiration motion and therefore, obtained a respiration signal. Independent component analysis and principal component analysis were applied to improve signal quality. Finally, the results showed a detection accuracy of 94.12% for sleeping-stage patients. Antognoli et al. [
17
] applied a digital webcam (WeC) and an EVM algorithm to measure HR and respiration rate (RR). The accumulated RGB values of a manually selected ROI were calculated as a single signal, from which the power spectral density was further estimated and used for peak extraction. The evaluation based on data of seven patients yielded a root mean-squared error (RMSE) of 12.2 for the HR and 7.6 for the RR. However, the limitation of a pulse-based respiration extraction is that it extracts the respiratory modulation in blood volume changes, which is both subject dependent (different respiratory efforts) and measurement-location dependent. The modulation effect varies in different body parts. Moreover, the peak selection from spectrograms was based on common knowledge of normal HR and RR frequency ranges, which is not suitable for infants under clinical conditions of different diseases.
Methods on remote sensing of respiration or other contactless physiological measures have been developed for adults and infants while our applications focus on premature infants in NICU.
4. Experimental Results and Discussion
There is a residual error made by our automated processing pipeline, where the automated method underestimates the respiration rate. This occurs because our band filter fails to remove motion caused by interruptions in the video, for example movement resulting from nurse care-handling. In the future, we will investigate a supervised approach to replace unsupervised filters to extract the noise from respiration signals.
We compared the effect of two different flow estimation methods on the final respiration calculation. The results show that the deep flow approach is both sensitive to homogeneous regions and the boundary area, whereas the conventional approach is more sensitive to the boundary area. This advantage of deep flow-based approach improves the whole processing pipeline by increasing both the accuracy and robustness.
We consider that the accuracy of our algorithm for extracting respiration signal may be affected by the captured image resolution and image sensor noise. If the resolution is rather low, the movement information from different regions can be blended within one pixel, which is not ideal for accurate motion extraction. If the image sensor noise is too high such that the sensor noise components in pixel values dominate the pixel changes induced by respiratory motion, the measurement will be polluted. The quantitative analysis regarding this perspective is a complicated matter and will be performed as future work.
Currently, the work is carried out as a feasibility study. The focus of this study is the installation, adaptation, and validation of camera-based monitoring technology in the NICU setting. We have not investigated the performance on preterm infants related to specific diseases. In the future, we will further validate our algorithm on infants having different health situations.
Our recordings were taken from real clinical practice without interfering with the clinical workflow. Our algorithm works when the respiratory motion can be observed by the camera, even as subtle movement, i.e., infants can be either naked or covered by a blanket (as long as the infant body has contact with the blanket such that the movement information from the thorax-abdomen can still be derived).
Our algorithm relies on the intensity of video frames for motion extraction (i.e., no color or chromaticity information is used). Therefore, for the nighttime condition, it is possible to measure the respiration signal by using the same software algorithms that we have proposed and just altering to an infrared camera with an infrared lighting source. During low-light conditions, the performance of our system may be affected by the noise induced by the camera sensor.
5. Conclusions
In this study, we applied an automated pipeline to estimate respiration signals from videos for premature infants in NICUs. We compared our automated extracted respiration signals to that extracted from the CI. The preliminary results are promising for further investigation of the video-based respiration monitoring method and for applying our automated respiration extraction for infants in NICUs. Experiments showed that the deep learning-based method outperforms the optical flow-based method in accuracy (low RMSE) and robustness. In the future, we will investigate the possibility of directly applying a deep learning framework to estimate respiration rate. For example, an LSTM-based system can effectively incorporate temporal information for a regression task and is expected to further enhance the obtained results.
Author Contributions
Conceptualization, Y.S., W.W., X.L., and P.H.N.d.W.; methodology, Y.S., W.W., and T.T.; software, Y.S., W.W., X.L., and T.T.; validation, Y.S., and X.L.; formal analysis, Y.S.; investigation, Y.S.; resources, M.M.; data curation, X.L.; writing—original draft preparation, Y.S.; writing—review and editing, Y.S., W.W., X.L., C.S., R.M.A., and P.H.N.d.W.; visualization, Y.S.; and supervision, P.H.N.d.W.
Funding
This research received no external funding.
Conflicts of Interest
The authors declare no conflict of interest.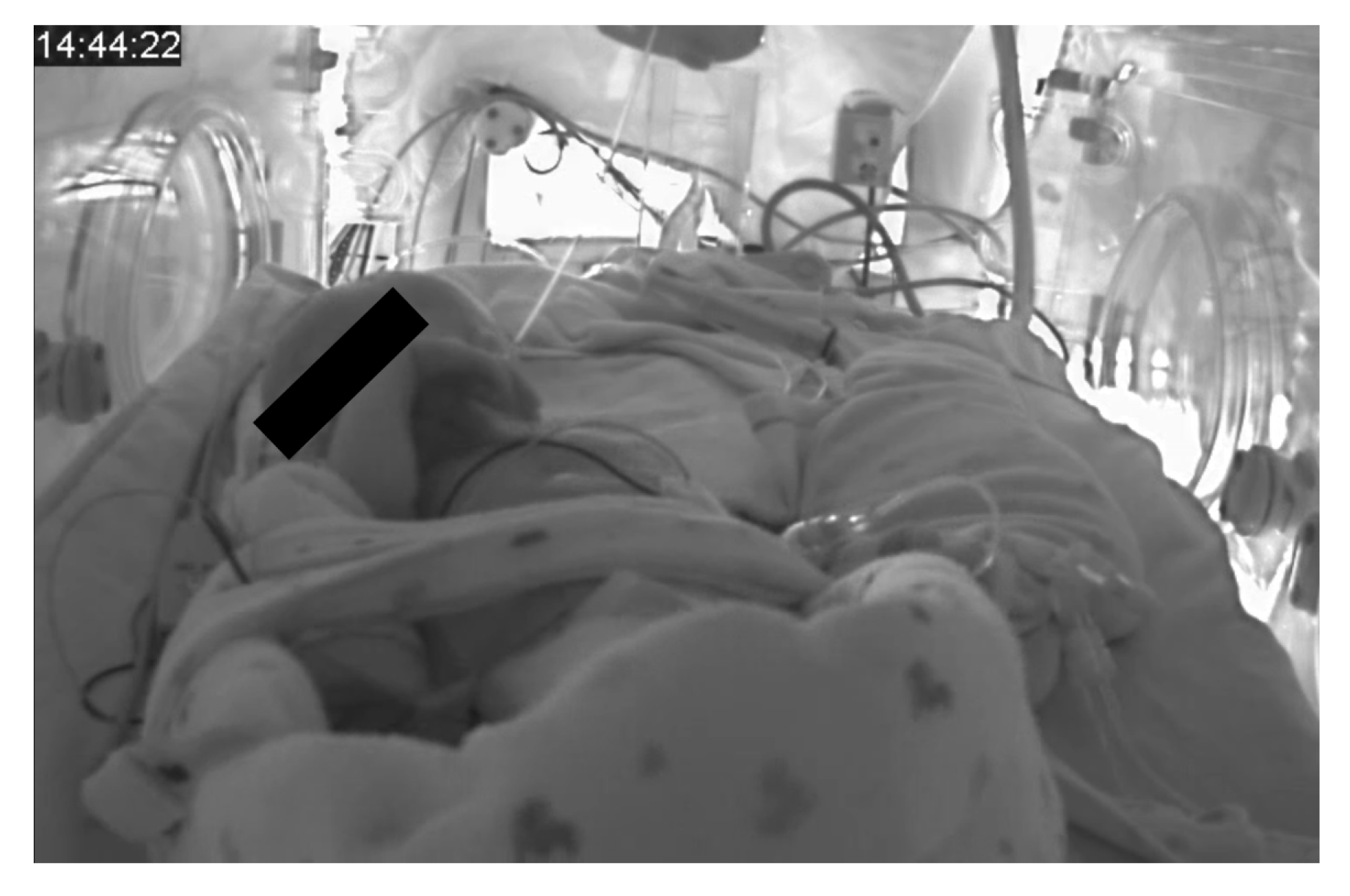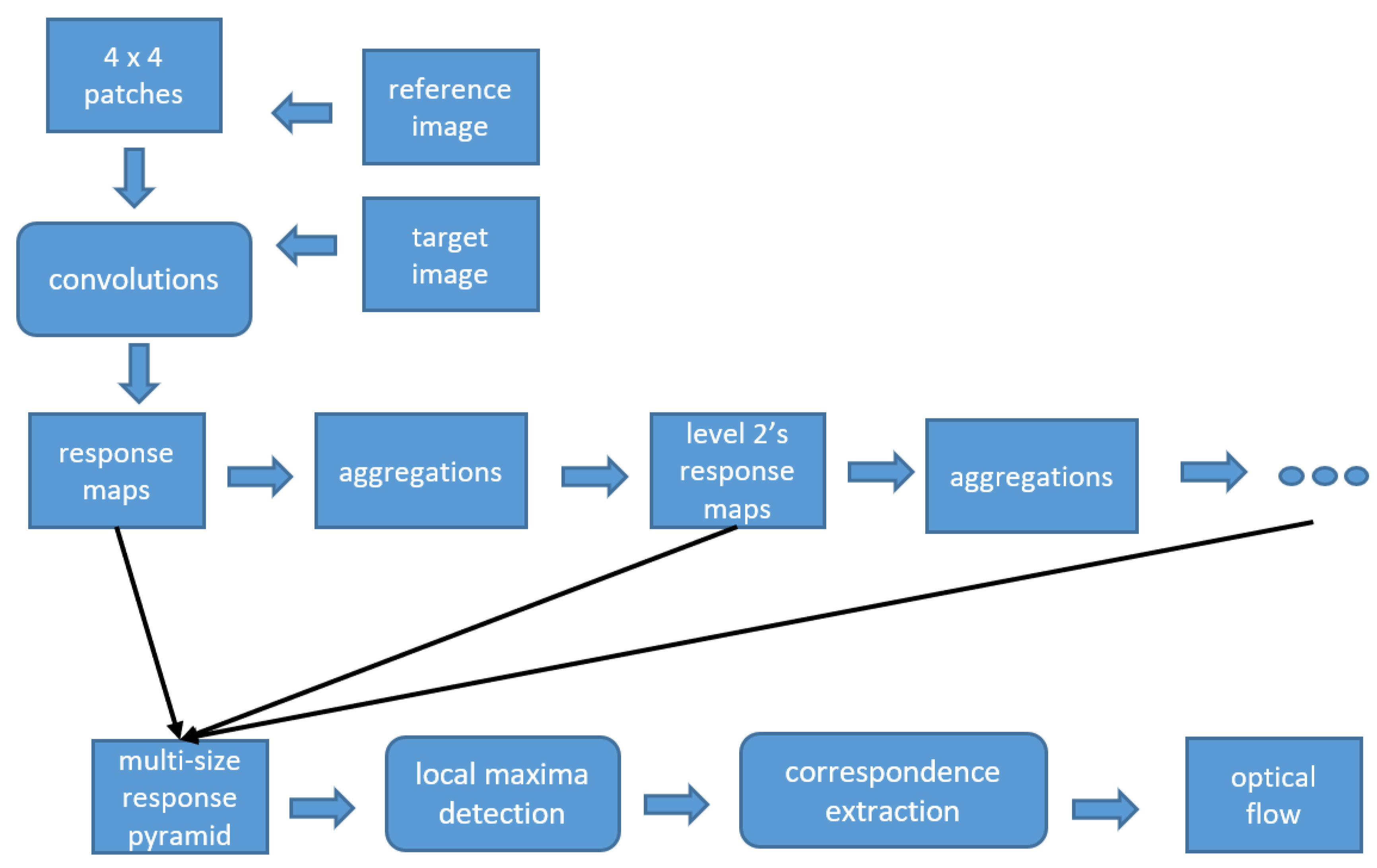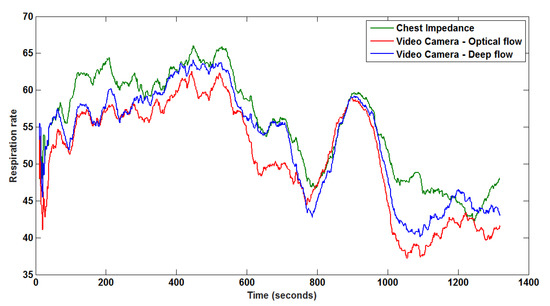 Figure 4. Monitored respiration from the CI, and corresponding extracted respiration signals from a segment, based on optical flow and deep flow.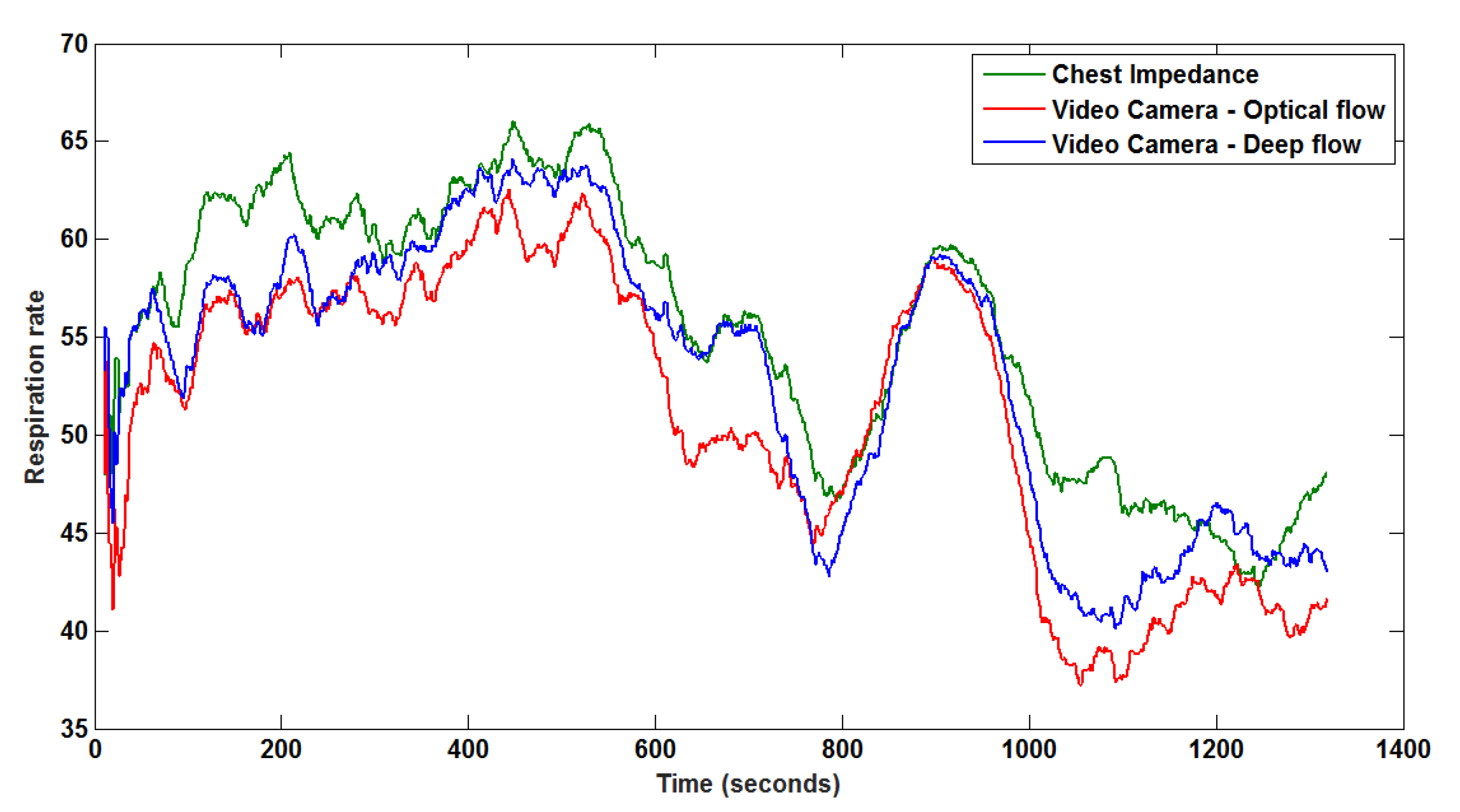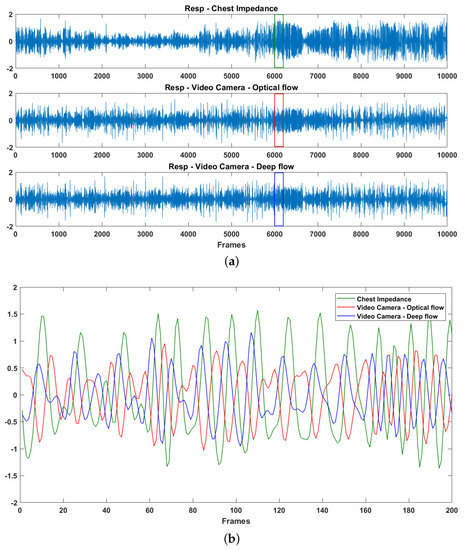 Figure 5. Data patterns for chest impedance and video-based observation: (a) re-scaled 1D signals; and (b) zoom in of each interval indicated in (a).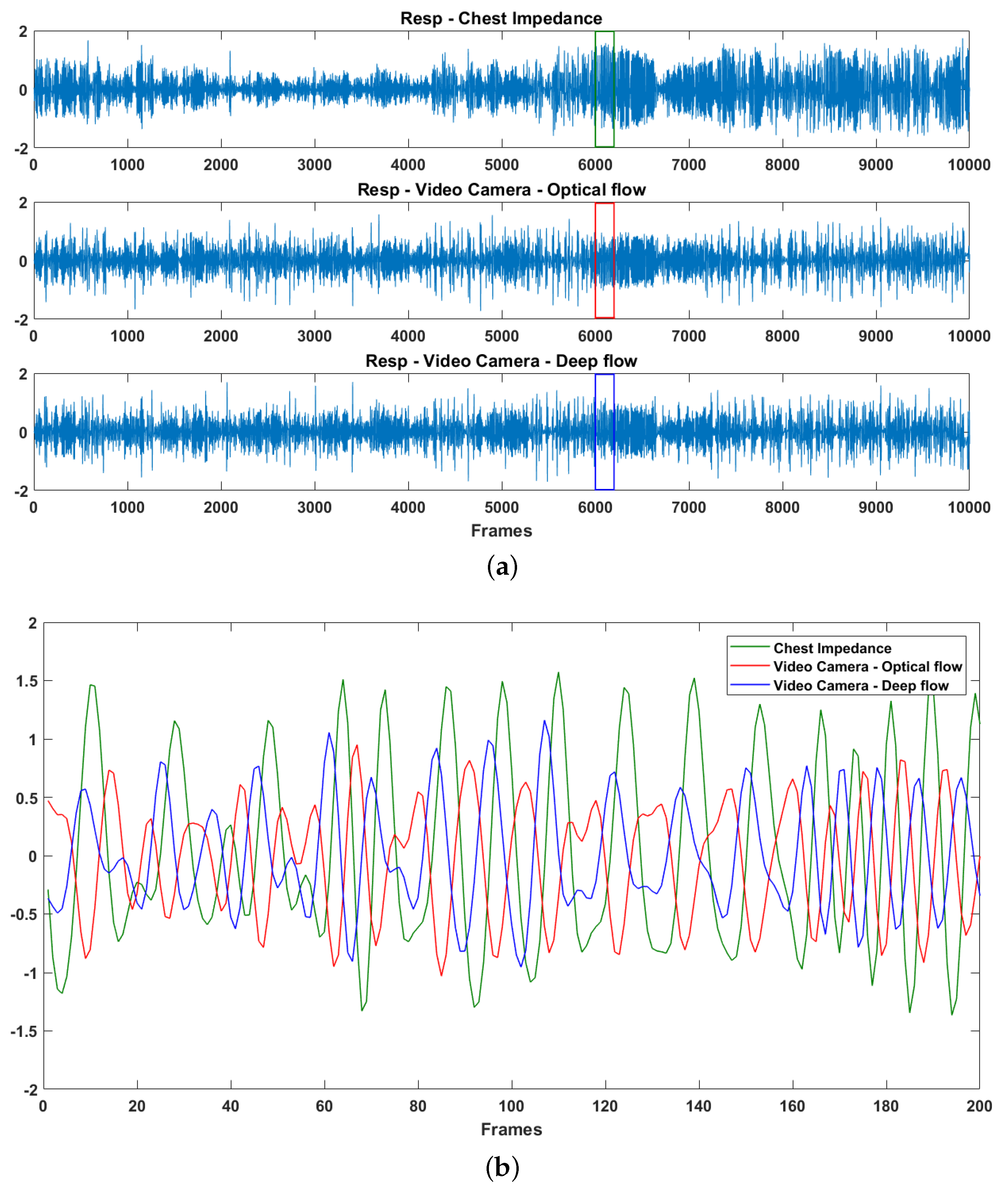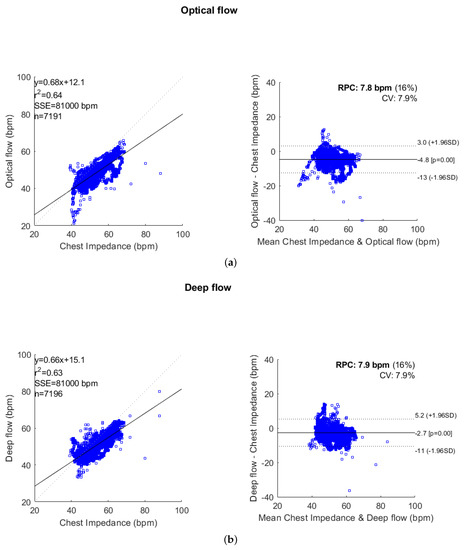 Figure 6. Correlation and Bland–Altman plots comparing respiration rate measurements derived from: (a) the CI and optical flow-based method; and (b) the CI and deep flow-based method. The correlation plots contain the linear regression equation, correlation coefficient (), sum of squared error (SSE), and number of points. The Bland–Altman plots contain the reproducibility coefficient (RPC = ), and also show the coefficient of variation (CV = the standard deviation () as a percentage of the mean), limits of agreement (LOA = ), and the bias offset of the measures.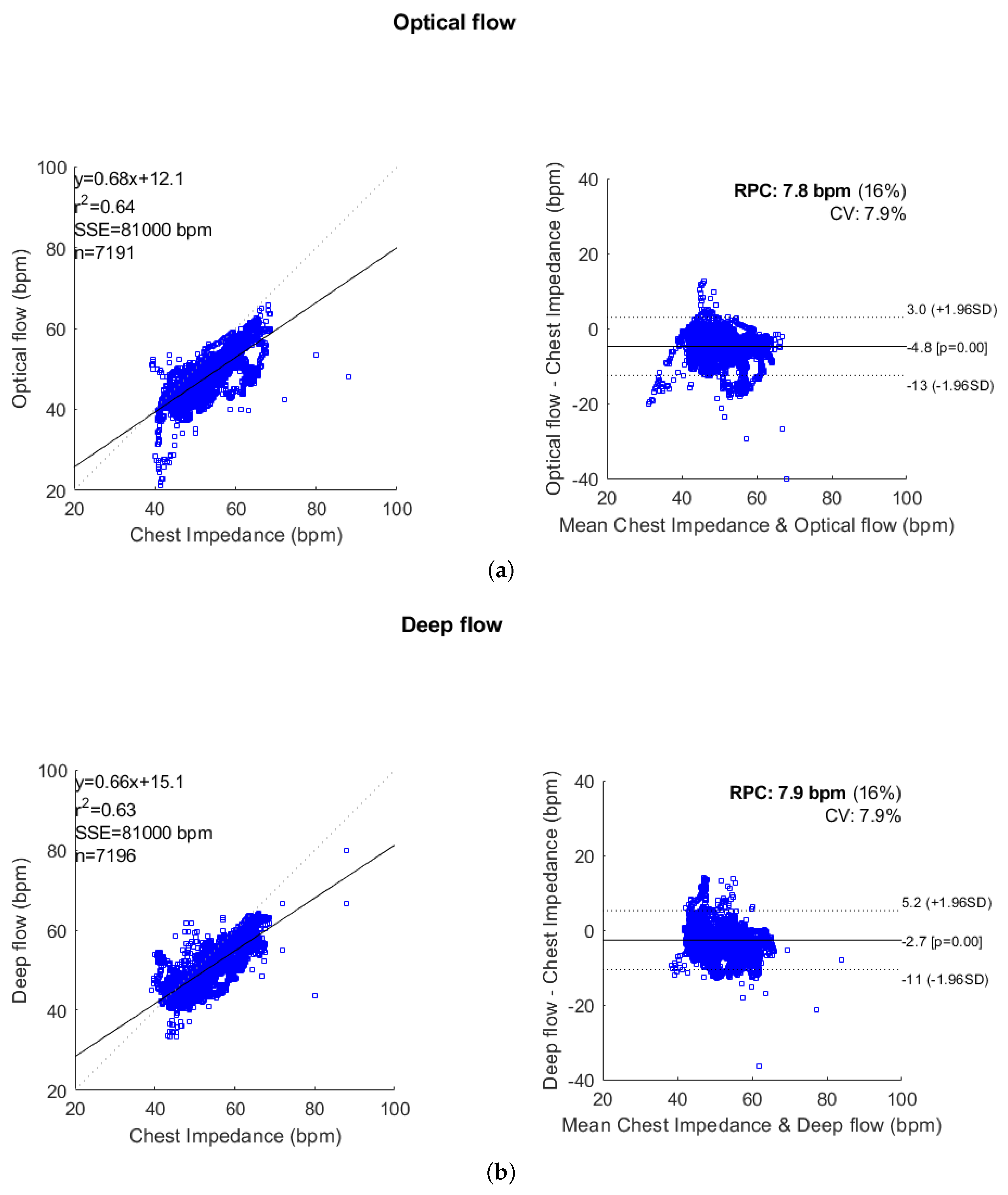 Table 1. Duration of each video, and measured mean and standard deviations of reference and our optical flow- and deep flow-based methods.
Patient ID
Duration (h:m:s)
Mean ± std
Reference (CI)
Optical Flow
Deep Flow
1
00:50:13
2
00:22:00
3
00:26:54
4
00:09:22
5
00:06:15

Table 2. Root mean-squared errors (RMSE) and cross-correlation (CC) coefficients of reference breathing signal from the CI compared to our optical flow- and deep flow-based results.
Patient ID
RMSE
CC Coefficients
Optical Flow
Deep Flow
Optical Flow
Deep Flow
1
5.09
4.32
0.85
0.82
2
4.94
3.10
0.94
0.95
3
3.86
3.51
0.73
0.75
4
5.75
5.11
0.47
0.52
5
10.85
6.71
0.49
0.66
Average
6.10
4.55
0.70
0.74

© 2019 by the authors. Licensee MDPI, Basel, Switzerland. This article is an open access article distributed under the terms and conditions of the Creative Commons Attribution (CC BY) license (http://creativecommons.org/licenses/by/4.0/).