Open Access This article is
freely available
re-usable
Article
Forecasting Landslides via Three-Dimensional Discrete Element Modeling: Helong Landslide Case Study
1
College of Construction Engineering, Jilin University, Changchun 130026, China
2
Jilin Sixth Geological Prospecting Engineering Team, Yanji 133401, China
3
Jilin Institute of Geo-Environment Monitoring, Changchun 130021 China
*
Author to whom correspondence should be addressed.
Received: 5 November 2019 / Accepted: 28 November 2019 / Published: 2 December 2019
Abstract
:
Forecasting the occurrence potential of landslides is important but challenging. We aimed to forecast the failure potential of the Helong landslide, which is temporarily stable but has clearly deformed in recent years. To achieve the goal, we used reconnaissance, remote sensing, drilling, laboratory tests, topographical analysis, and electrical resistivity tomography (ERT). The factor of safety (FOS) of the slope was first calculated using a limit equilibrium method. The results show the FOS of the slope was 1.856 under natural conditions, 1.506 under the earthquake conditions, 1.318 under light rainfall, 0.986 under heavy rainfall, 1.075 under light rainfall and earthquake, and 0.832 under simultaneous heavy rainfall and earthquake. When the FOS is less than 1.35, the slope is considered metastable according to the Technical Code for Building Slope Engineering (GB50330-2013) published by the Chinese Ministry of Housing and Urban-Rural Development. Based on the drilling data and digital elevation data, a three-dimensional discrete element method (DEM) model was used to simulate potential landslides. The simulation was used to examine catastrophic slope failure under heavy rainfall conditions within a range of friction coefficients and the corresponding affected areas were determined. Then, we analyzed a typical run-out process. The dynamic information of the run-out behavior, including velocity, run-out distance, and depth, were obtained, which is useful for decision support and future landslide hazard assessment.
Keywords:
landslide; discrete element method; stability analysis; failure potential forecasting
Author Contributions
Writing—original draft preparation, W.P.; Project administration, S.S.; Funding acquisition, S.S.; Investigation, C.Y. and J.S.; Resources, C.Y. and J.S.; data curation, C.Y.; Writing—review and editing, Y.H.; Software, Y.B.; Formal analysis, Y.B.
Funding
This research was funded by the National Natural Science Foundation of China (grant no. 41702301), opening fund of the State Key Laboratory of Geohazard Prevention and Geoenvironment Protection (Chengdu University of Technology) (grant no. SKLGP2018K017), and the China Postdoctoral Science Foundation (grant no. 2017M611324).
Acknowledgments
We very thank for all the editors and reviewers who have helped us improve and publish the paper.
Conflicts of Interest
The authors declare no conflict of interest.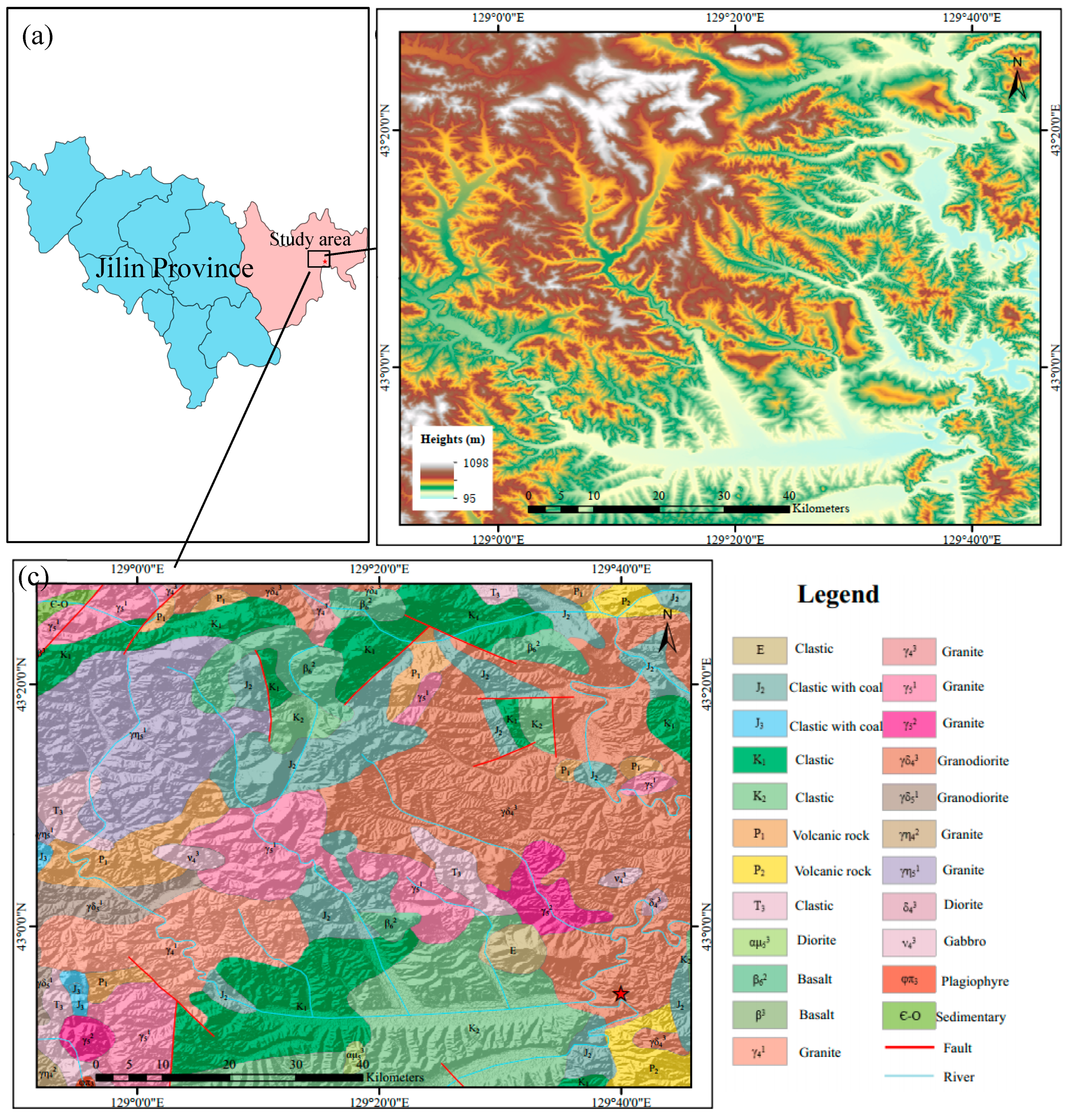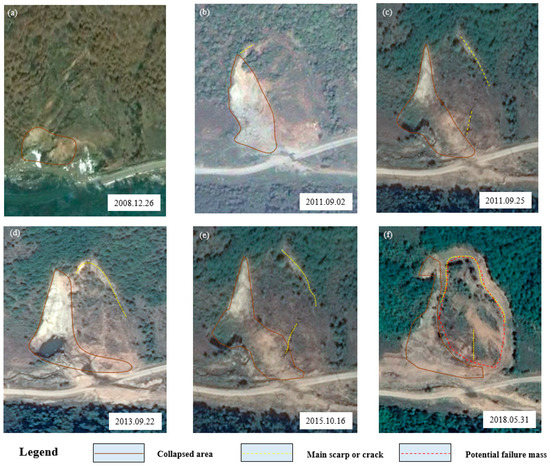 Figure 2. Visual interpretation of historical deformation of the rockslide from Google Earth images (the date is shown using the YYYY.MM.DD format). (a) 2008.12.26, (b) 2011.09.02, (c) 2011.09.25, (d) 2013.09.22, (e) 2015.10.16, (f) 2018.05.31.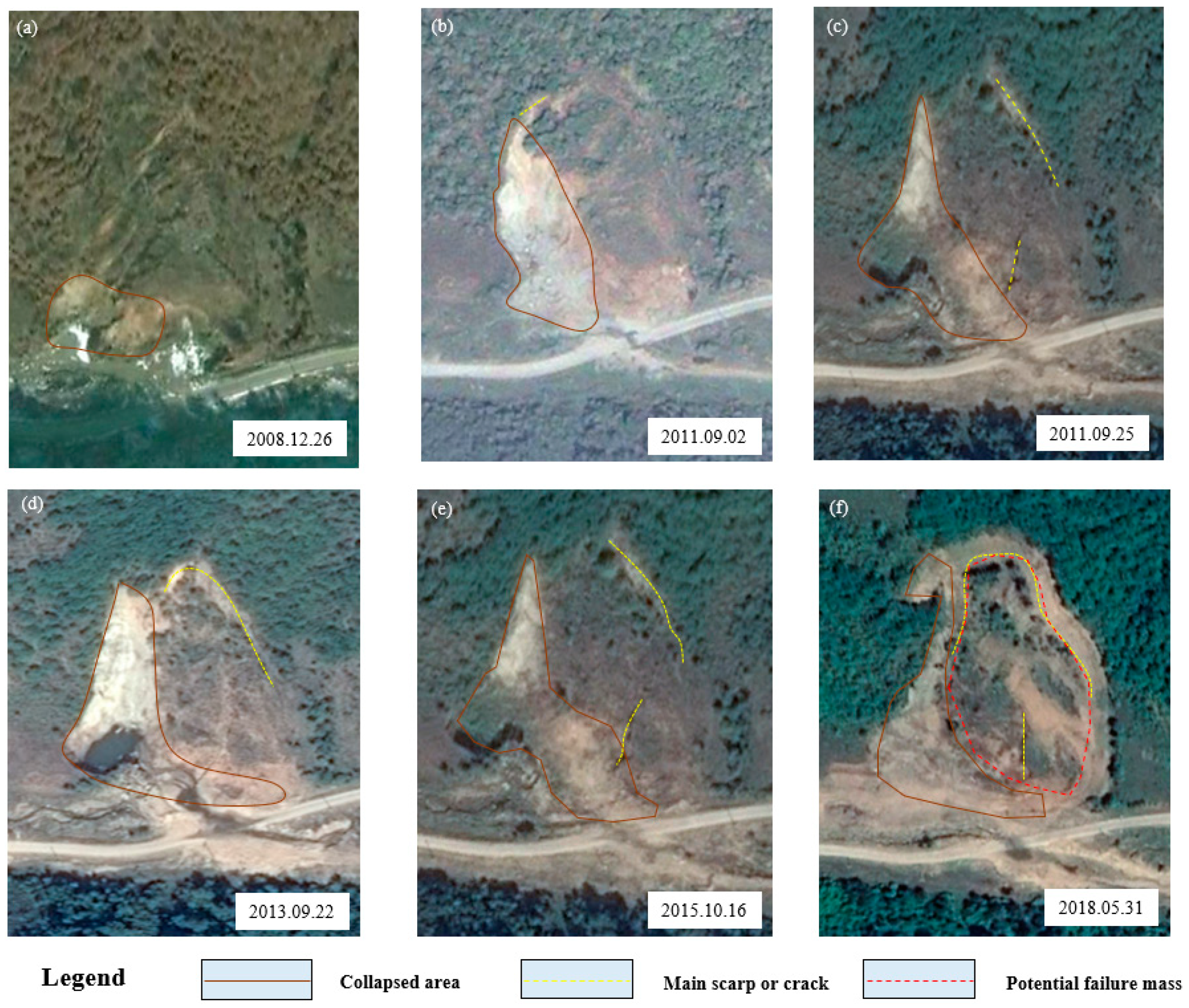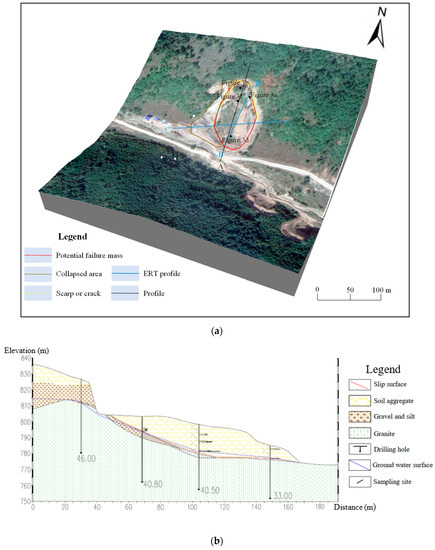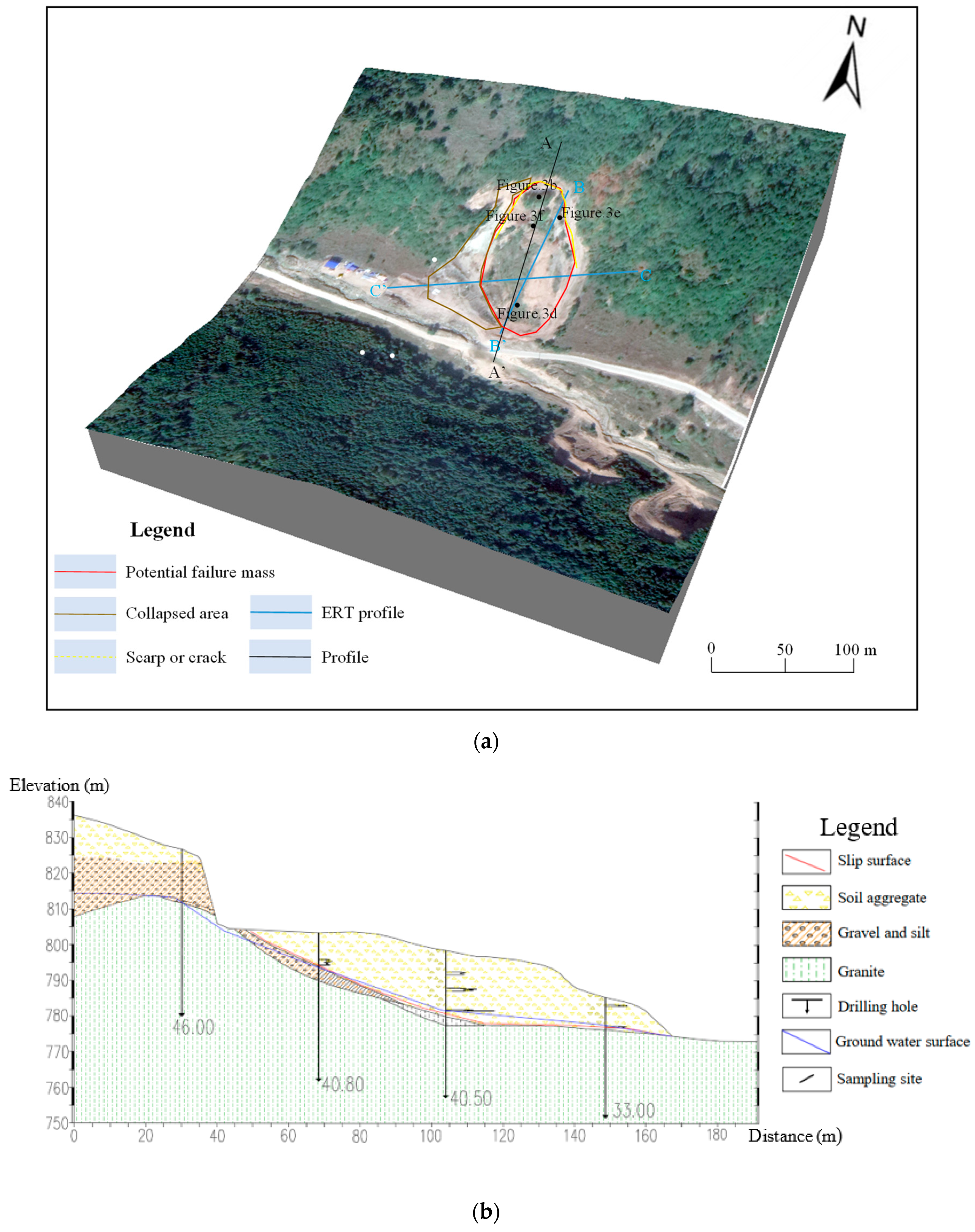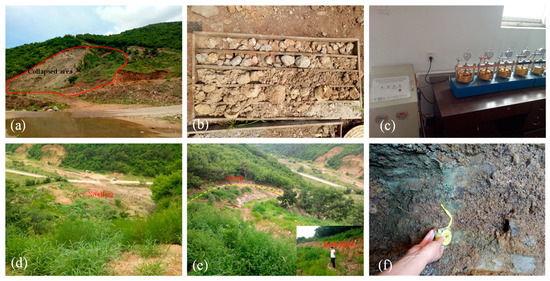 Figure 4. Photographs of the Helong landslide in April 2018: (a) collapsed area of the landslide, (b) composition of the sources, (c) consolidation pressure test of the material, (d) terrain bulged phenomenon at the front part of potential failure mass, (e) cracks and trop head at the trilling edge, and (f) infiltration at the bottom of the source area.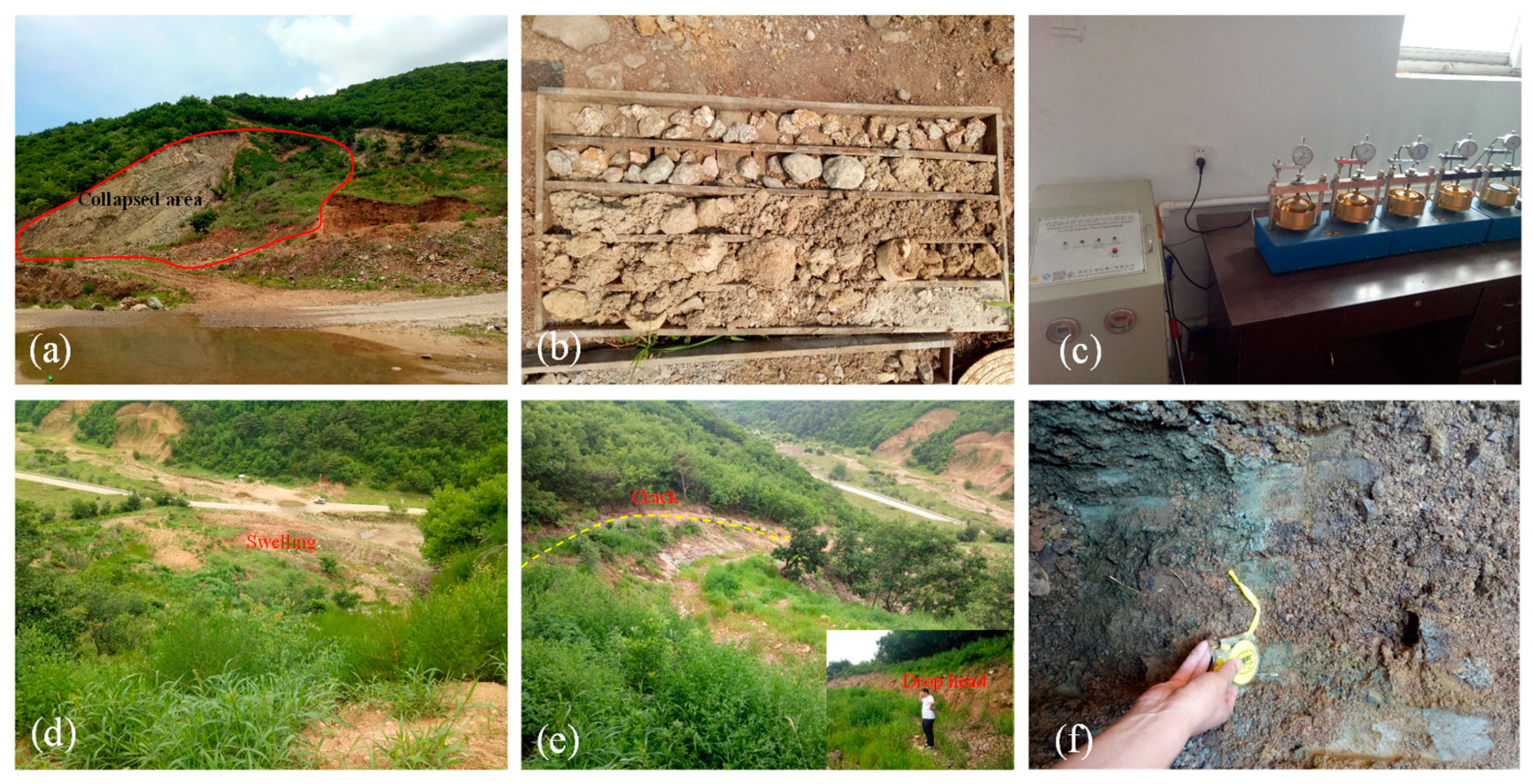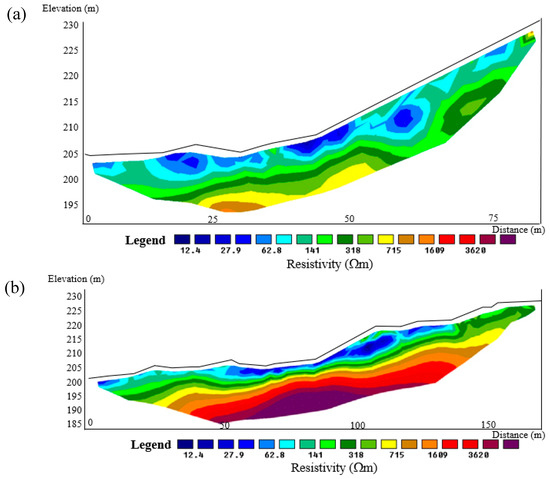 Figure 5.
ERT inverse models for the investigated (
a
) longitudinal and (
b
) transverse profiles. The positioning of ERT profiles is shown in
Figure 3
a.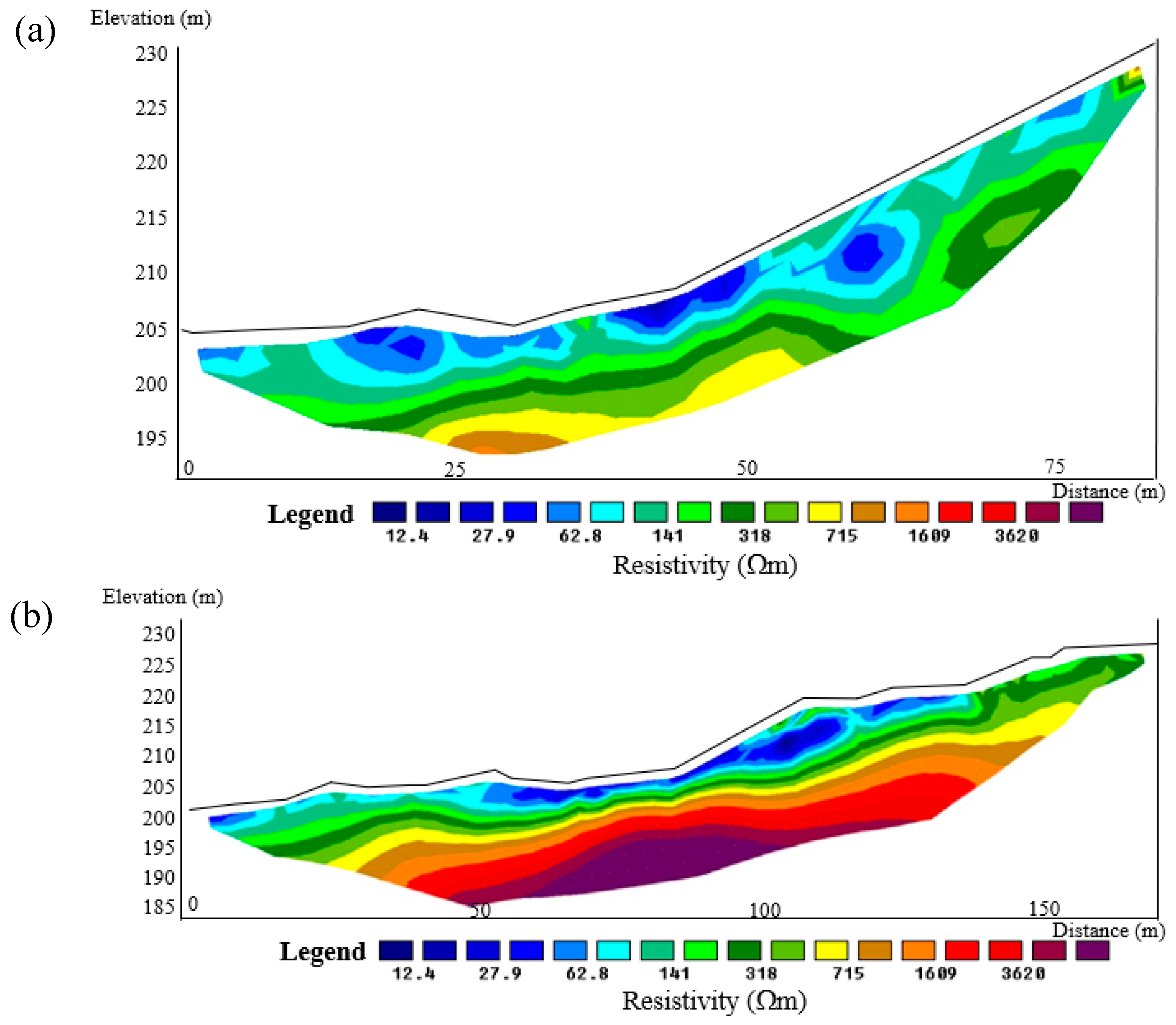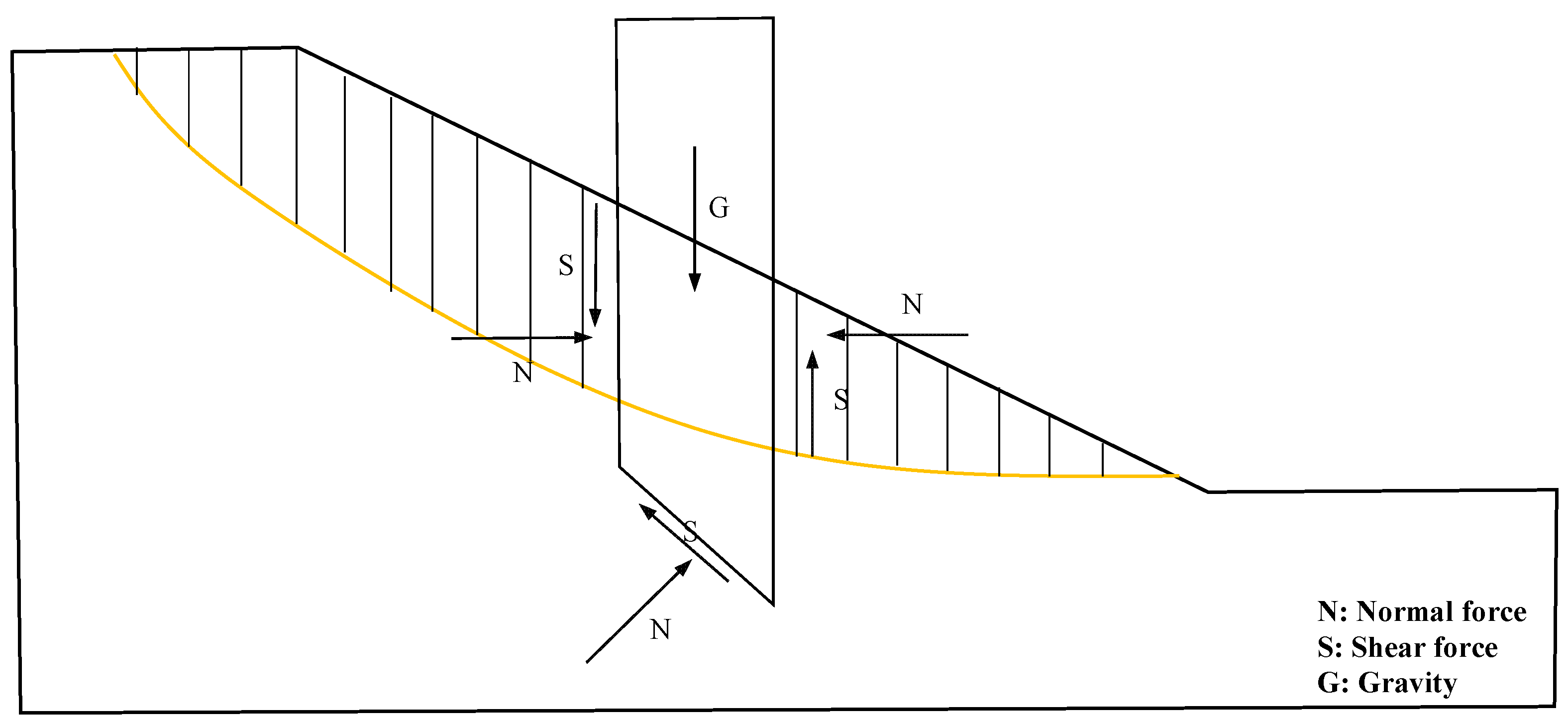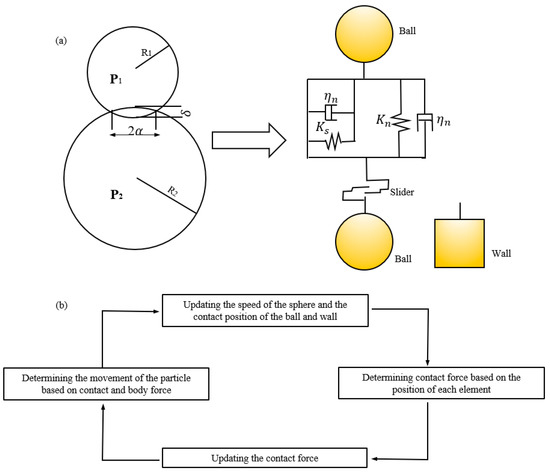 Figure 7. Principle of a digital elevation model (DEM): (a) schematic of the force–displacement model between two particles and a (b) calculation flow chart.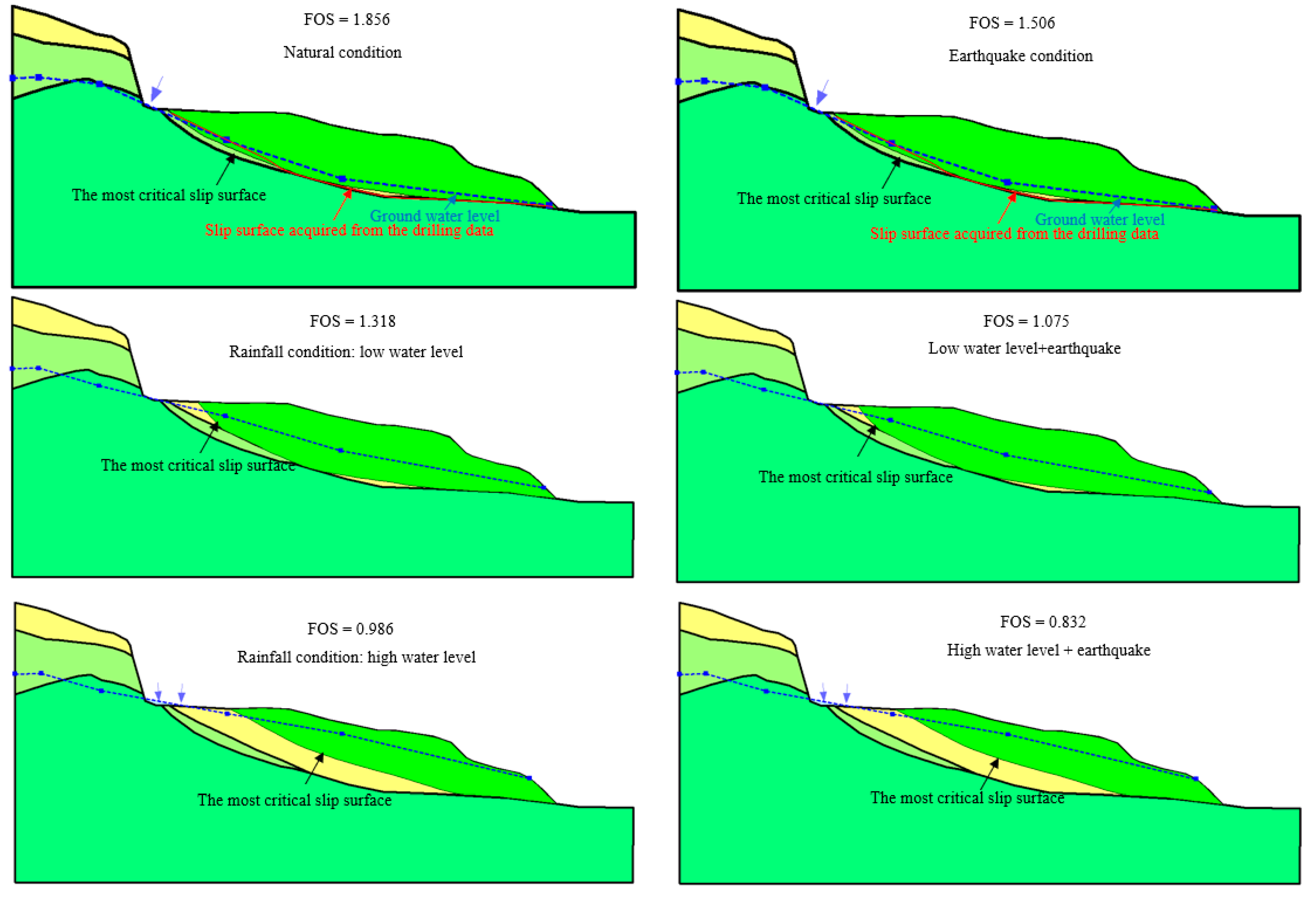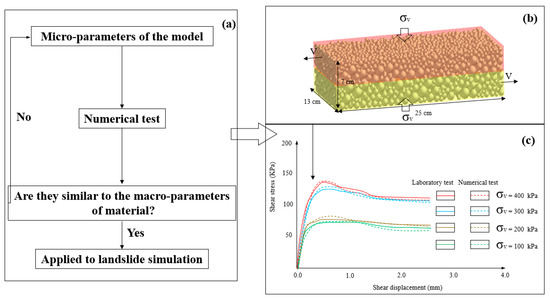 Figure 9. Parameter calibration of the DEM: (a) flow chart, (b) numerical direct shear test, and (c) comparison of the shear test between the numerical model and the laboratory experiment.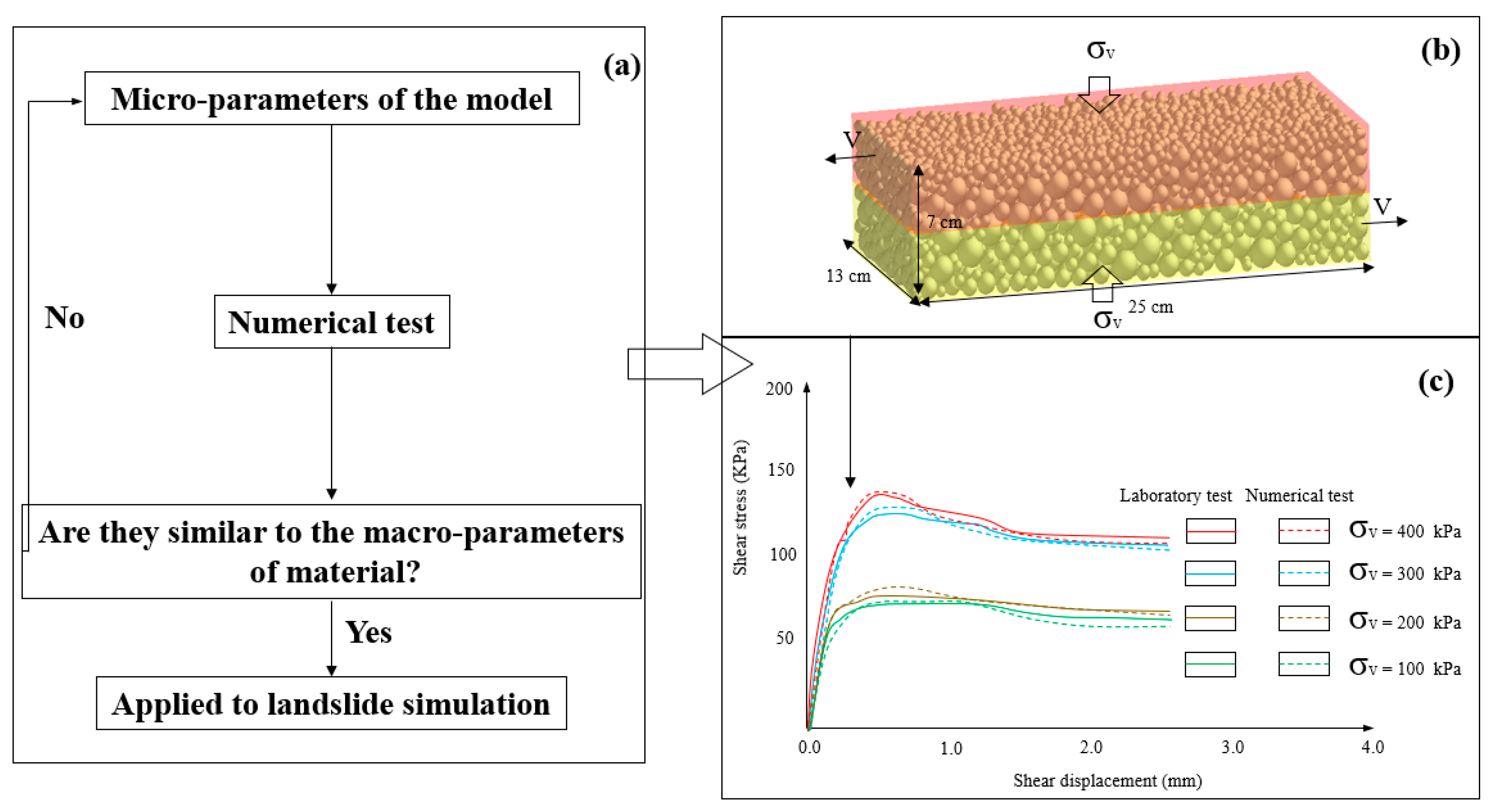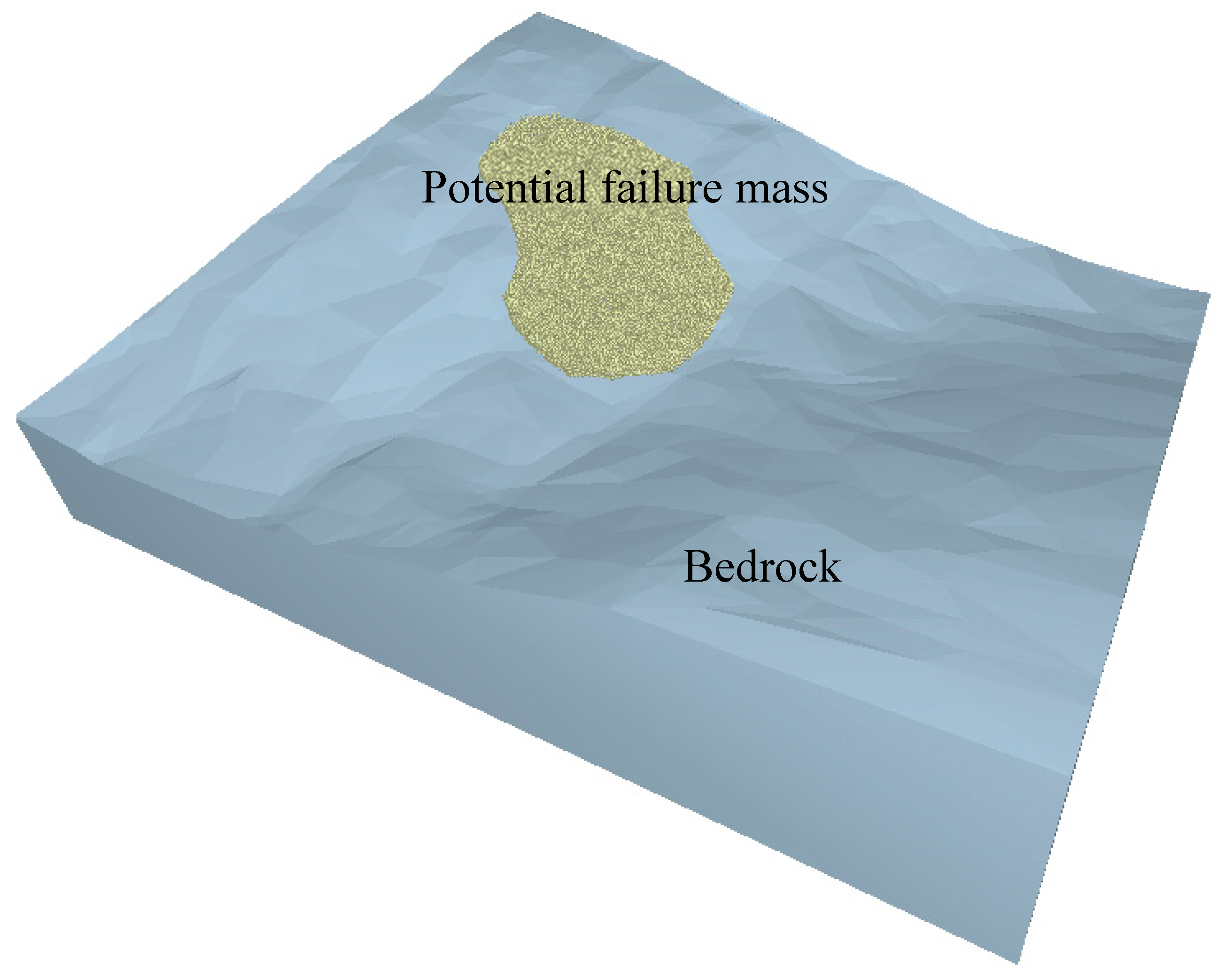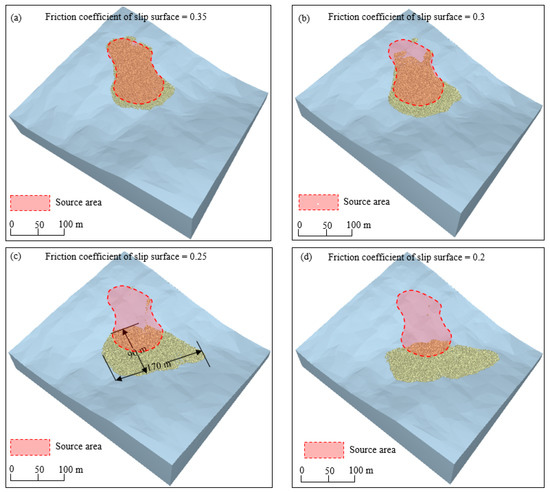 Figure 11. Simulation results with friction coefficients of (a) 0.35, (b) 0.3, (c) 0.25, and (d) 0.2 to illustrate the final deposition areas.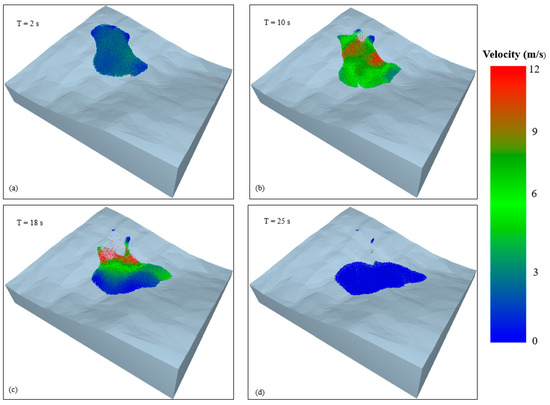 Figure 12. Dynamic process of the Helong landslide (friction coefficient = 0.25) with snapshots at different times: (a) T = 2 s, (b) T = 10 s, (c) T = 18 s, and (d) T = 25 s.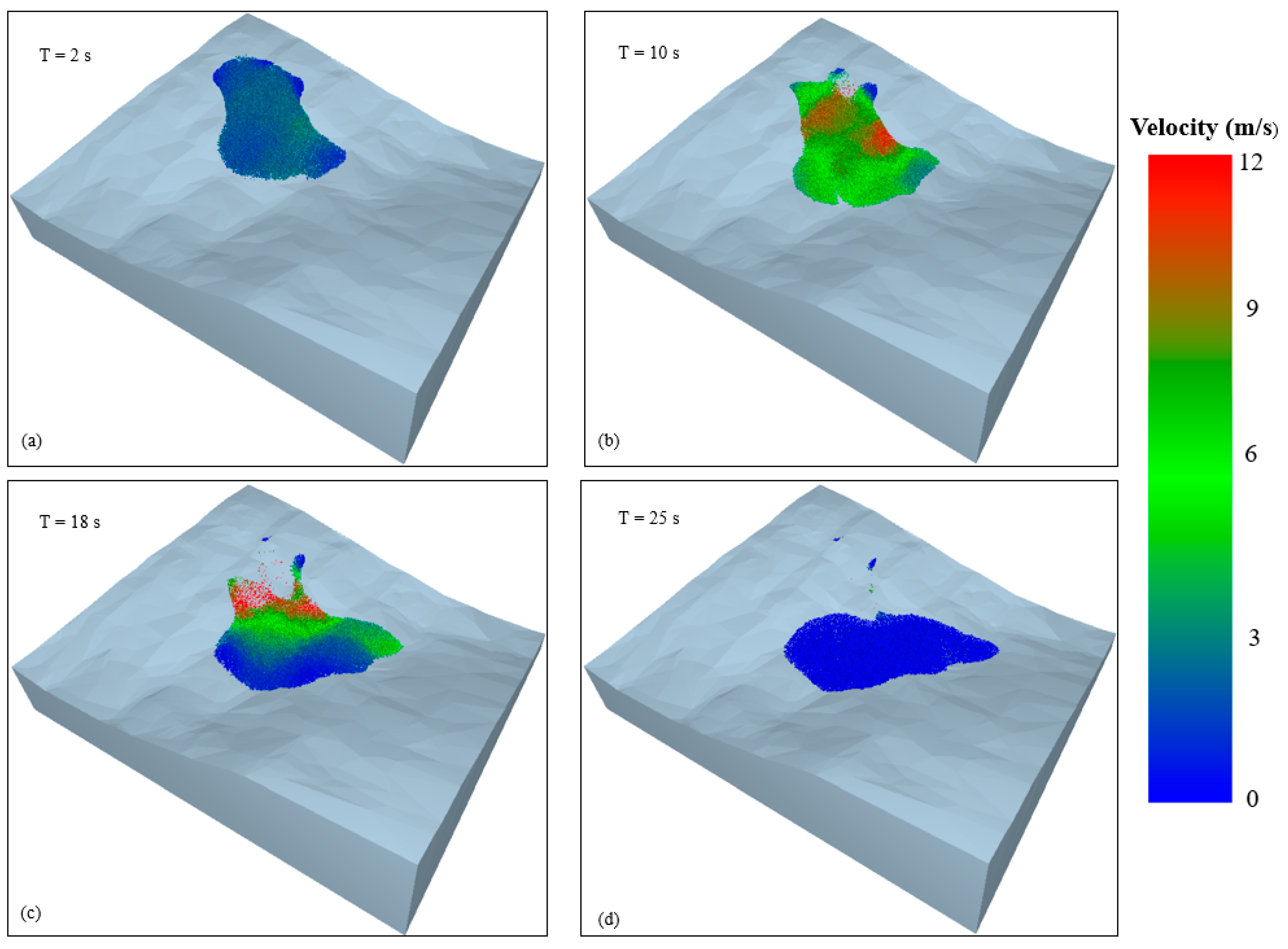 Figure 13. Run-out behavior in different parts of the sliding mass: (a) position of the monitoring balls and corresponding traces, and (b) velocity of the monitoring balls in the whole sliding process.

Soil Type
Natural State
Saturated State
Weight
(kN/m3)
Cohesion
C (kPa)
Friction


φ

(°)
Weight
(kN/m3)
Cohesion
C (kPa)
Friction


φ

(°)
Soil aggregate
18.2
16.5
21
19.1
9.5
18
Gravel and silt
18.5
18.5
19
19.0
11.0
15
Granite
27.2
\
\
29.7
\
\
Parameters
Values from the
Shear Test
Values from the
Landslide Modeling
Number of particles
3788
30872
Radius (m)
0.0025–0.01
0.5–2
Particle density (kg/m3)
2500
2500
Friction between balls
0.5
0.25
Friction between balls and slip surface
0.5
0.2–0.35

E

(MPa)
20
20

ν

0.4
0.4
(Pa)
2 × 106
2 × 106
(Pa)
1 × 106
1 × 106
(N/m3)
8 × 1010
2 × 108
(N/m3)
4 × 1010
1 × 108

© 2019 by the authors. Licensee MDPI, Basel, Switzerland. This article is an open access article distributed under the terms and conditions of the Creative Commons Attribution (CC BY) license (http://creativecommons.org/licenses/by/4.0/).