Open Access This article is
freely available
re-usable
Article
Enhanced Multiple-Object Tracking Using Delay Processing and Binary-Channel Verification
1
Changchun Institute of Optics, Fine Mechanics and Physics, Chinese Academy of Sciences, Changchun 130033, China
2
University of Chinese Academy of Sciences, Beijing 100049, China
3
Fraunhofer IGD, 64285 Darmstadt, Germany
4
TU Darmstadt, 64285 Darmstadt, Germany
†
Current address: Fraunhofer IGD, 64285 Darmstadt, Germany.

Received: 29 September 2019 / Accepted: 7 November 2019 / Published: 8 November 2019
Abstract
:
Tracking objects over time, i.e., identity (ID) consistency, is important when dealing with multiple object tracking (MOT). Especially in complex scenes with occlusion and interaction of objects this is challenging. Significant improvements in single object tracking (SOT) methods have inspired the introduction of SOT to MOT to improve the robustness, that is, maintaining object identities as long as possible, as well as helping alleviate the limitations from imperfect detections. SOT methods are constantly generalized to capture appearance changes of the object, and designed to efficiently distinguish the object from the background. Hence, simply extending SOT to a MOT scenario, which consists of a complex scene with spatially mixed, occluded, and similar objects, will encounter problems in computational efficiency and drifted results. To address this issue, we propose a binary-channel verification model that deeply excavates the potential of SOT in refining the representation while maintaining the identities of the object. In particular, we construct an integrated model that jointly processes the previous information of existing objects and new incoming detections, by using a unified correlation filter through the whole process to maintain consistency. A delay processing strategy consisting of the three parts—attaching, re-initialization, and re-claiming—is proposed to tackle drifted results caused by occlusion. Avoiding the fuzzy appearance features of complex scenes in MOT, this strategy can improve the ability to distinguish specific objects from each other without contaminating the fragile training space of a single object tracker, which is the main cause of the drift results. We demonstrate the effectiveness of our proposed approach on the MOT17 challenge benchmarks. Our approach shows better overall ID consistency performance in comparison with previous works.
Keywords:
multiple object tracking; identity consistency; single object tracking
1. Introduction
Multiple object tracking (MOT) in video (a critical problem for many applications including robotics, video surveillance, and autonomous driving) remains one of the big challenges of computer vision. The goal is to locate all the objects we are interested in, in a series of frames, and form a reasonable trajectory for each one of them. Since recent progress has been made on object detecting, tracking-by-detection (shown in
Figure 1
) has emerged as one of the most popular paradigms to solve the MOT problem, as it breaks MOT into two parts: (i) detection, to separate interesting objects from the background in each frame, and (ii) data association, to align corresponding detections through time series to form reasonable trajectories. However, missing and spurious detections, as well as complex scenes under a MOT scenario like occlusions and object interactions in crowded environments (some of the examples are shown in
Figure 1
), may set a barrier for the performance of MOT methods due to the high dependency of detection. Also, the separation of detection from tracking itself may keep object detection inaccessible to the temporal information of a certain object.
A common concern in MOT approaches is identity (ID) consistency—maintaining the objects' identities as long as possible. This is difficult under occlusion and in crowded scenes, especially when the appearances of the individual objects are not distinctive enough. Some of the offline methods rely on tracklet (short trajectory segments) merging, rather than single detections, to keep track of the objects. Online methods, on the other hand, use a re-identification method to retrieve certain objects which are lost from tracking during occlusion or interaction. However, their performance is still not as promising as desired. A single object tracker is capable of distinguishing objects from the background, where the goal is to maintain tracking a single object as long as possible. Hence, it is intuitive to implement a single object tracking (SOT) method in a MOT scenario to keep the ID consistency.
The MOT problem can be easily rephrased as multiple single object tracking problem, where all of the objects' states are estimated by a tracker formed of multiple single object trackers. However, scenes under a MOT scenario are quite different from those in a SOT one, usually they are more complex. Thus, directly pushing SOT methods into a MOT scenario still faces various challenges.
The aim of single object tracking (SOT) is to locate an object in continuous video frames given an initial annotation in the first frame. In contrast with MOT, there is only one object of interest and it is always in the considered image scene. A single object tracker is constantly generalized to capture appearance changes of the object, and it is designed to efficiently distinguish the object from the background by training a strong discriminative appearance model to find the location of the object within a searching area in the next frame. However, in the MOT context, multiple objects with similar appearances and geometries in the searching area may confuse the single object tracker. Furthermore, the update strategy of the single object tracker may lead to an ambiguity problem. These kinds of noisy samples may contaminate the online training samples for the tracker, can lead to gradual drift, and eventually will fail to track the object. Moreover, since the steady tracking of the single object tracker heavily relies on the quality of initialized bounding-box in the first frame in order to correctly separate the object from the background and possibly retrieve it after occlusion, the object candidates provided by a real detector under the current MOT framework are usually imperfect. With considerable noise in location and scale, this may become another major challenge.
In this paper, we propose an integrated model with a binary-channel verification and delay processing model to tackle the aforementioned problems; see
Figure 2
for an outline. When a new frame comes in, SOT trackers produce two scores on both the predicting location given by the motion model (the same as processing under the SOT scenario) and the region of interest provided by the detection. Combined with the previous tracking score and the trajectory, the association model produces a refined bounding box. When occlusion happens, the association model proceeds as usual, then marks the frame ID where the occlusion happens and keeps the results for later processing. A delay processing model composed with three processing parts is proposed. First, for those tracks encountering the deformation problem (as in those with a low tracker score and low detection score), re-initiation discards the non-deformed features trained before and re-initiates with new features after determination by spatial information as the same object. Second, attaching for newly initialized tracklets during the occlusion period, re-correlates them with tracks lost in the same period and re-attaches them if the correlation score is above a certain threshold. Third, re-claiming, for unattached newly initialized tracklets after the attach phase, assigns them to existing tracks in shadow tracking mode, which means the object is tracked without any verification of detection through recent frames, if the re-correlation score and overlap rate (as in the Intersection over Union (IOU) score between the newly initialized tracklets and existing tracks for several frames) between them are above specified thresholds.
This paper thus presents three main contributions:
We propose a binary-channel verification model to deeply excavate the potential of applying SOT under a MOT scenario, specifically in refining the representation while maintaining the identities of the objects during the tracking process.

We introduce a delay processing model to improve the tracker capability of solving the drift problem under occlusion and object interaction.

We explore the proposed method on the MOT17 benchmark and perform an ablation study of each block, showing the comparable performance on result-refinement and ID consistency, and proving each block of our proposed method is indispensable.
This paper is organised as follows.
Section 2
briefly reviews the state-of-the-art for computer vision-based object tracking. The details of our proposed method are described in
Section 3
. The experimental study and benchmark evaluation are then reported in
Section 4
. Finally,
Section 5
concludes this paper and describes opportunities for future research.
2. Related Work
2.1. Multiple Object Tracking
Although a great deal of work has been done on multiple object tracking (MOT), it still remains a challenging task, especially in complex environments where occlusions and imperfect detections are common. Recent works on MOT primarily focus on the tracking-by-detection paradigm. Most of them can be roughly categorized into offline tracking and online tracking.
In offline tracking, MOT is formed as an offline global optimization problem which uses frame observation through previous and future states to estimate the current status of objects [
11
,
12
,
13
,
14
,
15
]. A data association method is widely used, such as the Hungarian algorithm [
16
,
17
], network flow [
18
,
19
], or multiple hypotheses tracking [
20
]. However, offline methods are not suitable for causal applications like autonomous driving, since future information is necessary.
Things are quite different in online tracking, where observations from before the current frame are provided to the online estimation of object states. Trajectories are generated based on information only up to the current frame, which adopt probabilistic inference [
21
] or deterministic optimization. However, online methods heavily rely on the performance of the underlying detector, since they are more sensitive to noisy detections. This is a resource waste of the tracker itself, since the detector is unable to access the temporal information from the previous trajectories. Our work focuses on extending online single object tracking (SOT) methods to MOT scenarios. SOT helps to alleviate the limitations from imperfect detections, especially for missing detections. It is complementary to the data association methods, since the tracking results of single object trackers at the current frame can be considered as association candidates for the data association.
2.2. Single Object Tracking Based on Regularized Correlation Filters
Correlation filters (CF) have been actively adopted in single object tracking to improve robustness and efficiency. Initially, since CF needs training, the work of online tracking seems inappropriate. In the later years, with the development of the minimum output of sum of squared error (MOSSE) filter [
28
], which introduces efficient adaptive training, changed the situation. To meet the real-time requirement, a high-speed tracking method using kernelized correlation filters (KCF) [
29
] has been proposed, using a Gaussian kernel function to reduce computational complexity. However, discriminative correlation filter (DCF) based trackers are limited in their detection range because of the requirement of equal filter and patch size, which leads to a constant failure under occlusion and object deformation. Thus, a larger search region is necessary, which needs incorporation of a measure of regularization due to the degradation of the discriminative power under more complex background. Danelljan et al. [
44
] presented spatially regularized DCF (SRDCF) by introducing a spatial regularization in DCF learning. To improve the performance of SRDCF, Danelljan et al. [
5
] replaced the Histogram of Oriented Gradient (HOG) features to deep features in a Convolutional Neural Network (CNN). Then, in [
30
], a multi-resolution feature maps learning, named continuous convolutional operators for tracking (C-COT), was proposed to optimize the estimation of the object position. Finally, the efficient convolution operators (ECO) tracking scheme [
3
], as an improved version of C-COT, was proposed. ECO picks the most efficient set of filters and discards unnecessary ones, and uses a Gaussian mixture model (GMM) to represent diverse object appearances. These methods led to increasing performance of the tracker and significantly reduced processing time.
2.3. A Single Object Tracker in MOT
Some of the previous MOT methods have attempted to adopt SOT methods into the MOT problem. However, SOT methods are often used to tackle sub-problems. For instance, in [
7
], SOT is only used to generate initial tracklets. Yu et al. [
8
] partitioned the state space of the object into four subspaces and only utilized single object trackers to track objects in a tracked state. Chu et al. [
1
] implement the single object tracker as a state estimation procedure and further train a CNN based classifier to handle re-tracking and occlusion problems.
Few works integrated SOT methods throughout the whole tracking process. Breitenstein et al. [
9
] trained an object-specific classifier to compute the similarity for data association in a particle filtering framework. Yan et al. [
4
] kept both the tracking results of the single object trackers and the object detections as association candidates and selected the optimal candidate using an ensemble framework. However, tracking drift caused by occlusion still remains unsolved.
Chu et al. [
10
] used a dynamic CNN-based framework with a learned spatial-temporal attention map to handle occlusion, where the CNN trained on ImageNet is used for pedestrian feature extraction. Although it showed a good tracking performance, memory and time consumption may explode, since it assigns a network for each object and conducts online learning. Our approach differs from these methods by using a SOT method with a two-step verification and delay processing strategies to refine the tracker results and tackle the drift problem, in order to deeply excavate the potential of applying SOT under MOT scenarios.
4. Experiments
We perform an experimental study of the aforementioned models and further show that our models can tackle drift results when extending SOT to MOT, while maintaining tracking performance. We then demonstrate the tracking performance of our proposed method on the MOT Challenge dataset focusing on pedestrian tracking.
5. Conclusions and Future Work
In this paper, we proposed a SOT-based MOT method in order to increase the accuracy of tracking results focusing on ID preservation. We introduce a binary-channel verification model using a separate single object tracker and detection provided by an external detector equally. Moreover, a delay processing model is proposed to handle the drift problem that easily emerges when applying a single object tracker under a MOT scenario. Our method outperforms other state-of-the-art methods on the MOT17 benchmark according to the
IDF1
and
MT
metrics, which proves our method is capable of preserving identity consistency when dealing with occlusion. Finally, we have shown some qualitative results under different hard-to-solve circumstances.
Though a re-initialization part is implemented in the delay processing model to handle geometry changes of certain objects, tracking objects with significant deformation after occlusion still remains unsolved since appearance features are mostly dissimilar for a tracker to reclaim the object. In our future work, we plan to train a generative model for the tracker to better recognize deformations of the same object without misalignment with other distraction information including similar objects.
Author Contributions
Conceptualization, M.L.; Data curation, M.L.; Formal analysis, M.L.; Funding acquisition, Z.M.; Methodology, M.L.; Resources, A.K.; Software, M.L.; Supervision, X.H., Z.W. and A.K.; Validation, M.L.; Writing—original draft, M.L.; Writing—review and editing, X.H., Z.W., J.W., Z.M. and A.K.
Funding
This research was funded by Jilin Scientific and Technological Development Program, grant number: 20180201013GX.
Conflicts of Interest
The authors declare no conflict of interest. The funders had no role in the design of the study; in the collection, analyses, or interpretation of data; in the writing of the manuscript, or in the decision to publish the results.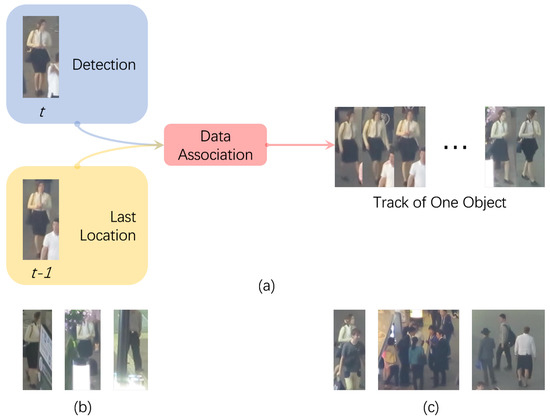 Figure 1.
(
a
) One example of the overall tracking-by-detection paradigm in multiple object tracking (MOT). At time
t
, the MOT method matches the last location of a certain object and aligns the track with the upcoming detection provided by an external detector. Eventually, the goal is to form a reasonable track of that object by repeating this process throughout the video. (
b
) Some examples of occlusion under a MOT scenario. (
c
) Some examples of object interaction.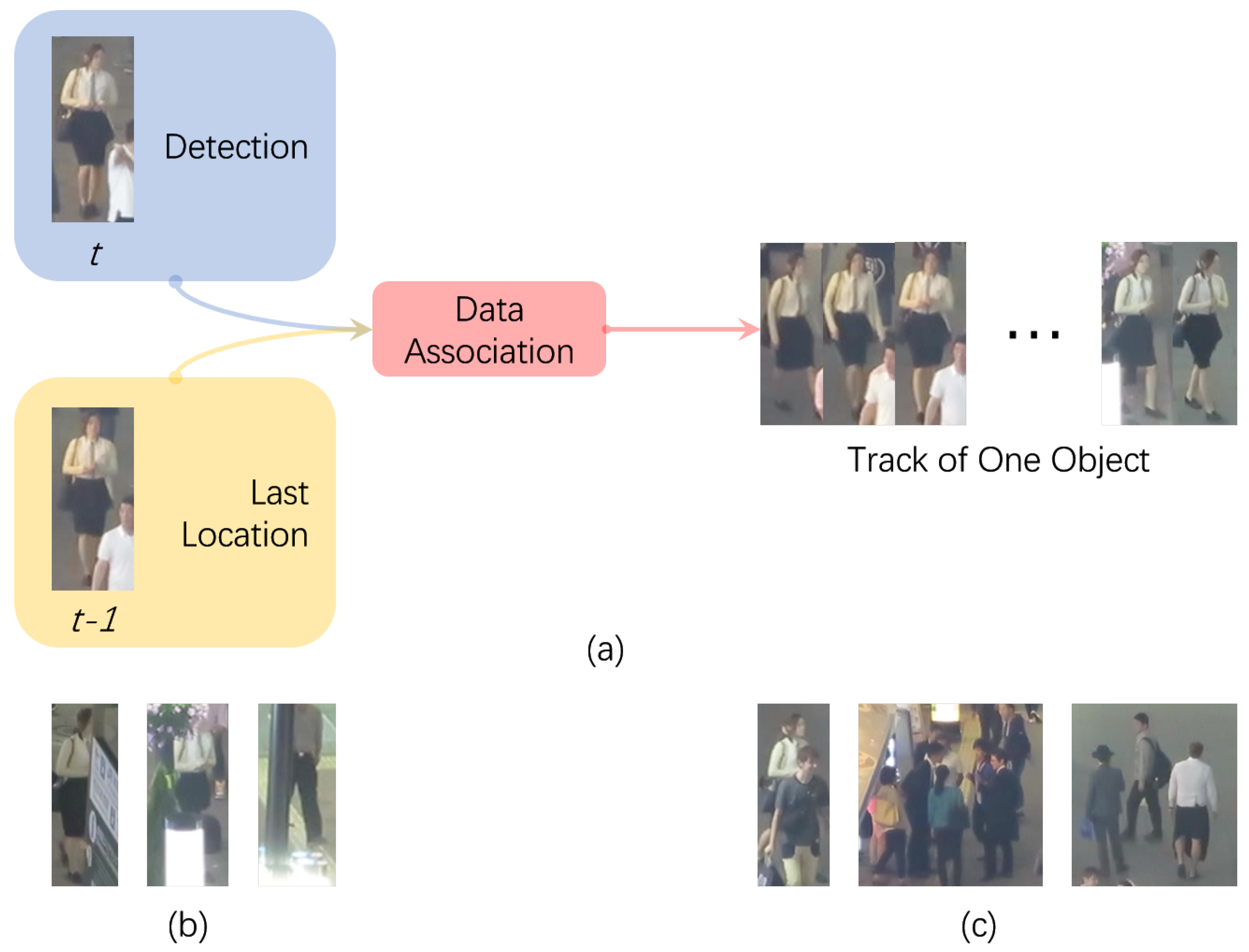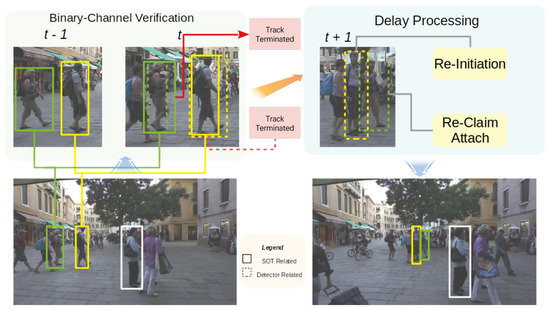 Figure 2.
An example of our method. At time
t
, the estimated bounding boxes provided by every single object tracker are sent to the binary-channel verification model along with the bounding boxes from the external detector, where the determination of the output is based on the evaluation score of the single object tracker alone. Then, a delay processing model focusing on potential complex circumstance like
t
+ 1 above is proposed to handle occlusion, deformation, etc. Single object tracking (SOT).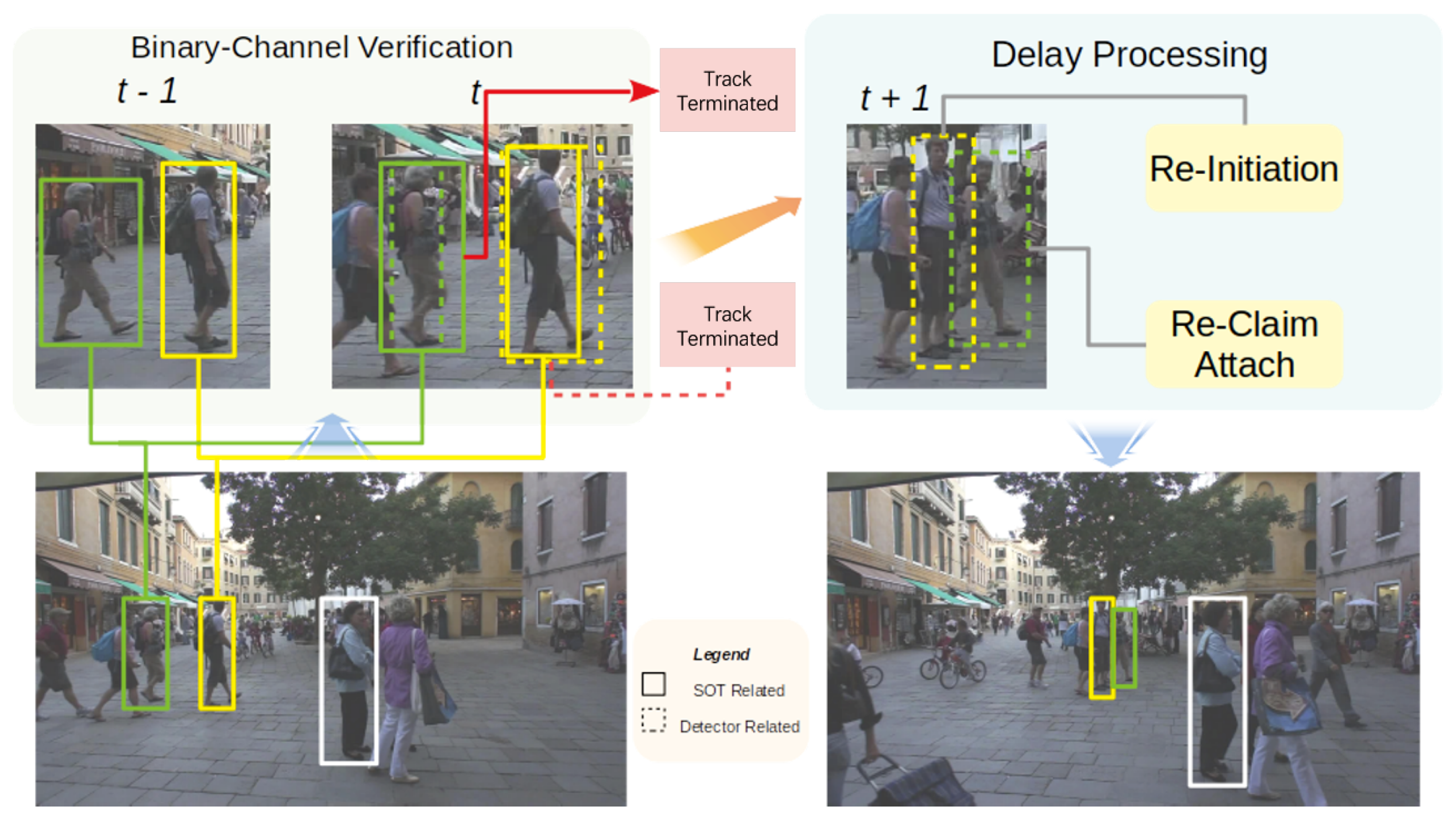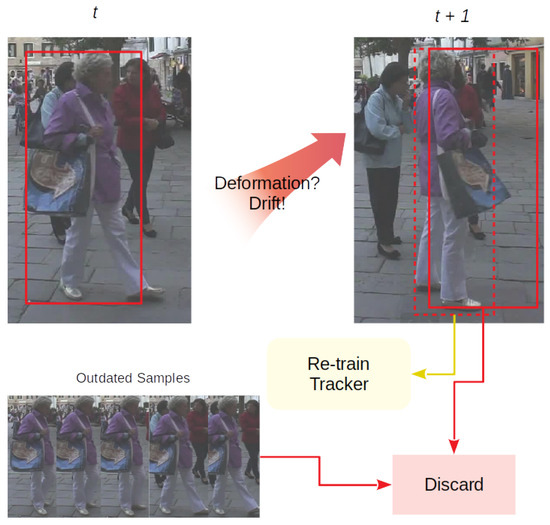 Figure 3.
An illustration of the re-initiation phase in the proposed delay processing model. When deformation happens in an upcoming timestamp
t
+ 1, the single object tracker may suffer the drift problem as shown in the solid box. The proposed method will re-train the single object tracker using a new detection (denoted by the dotted box) and discard outdated appearance features.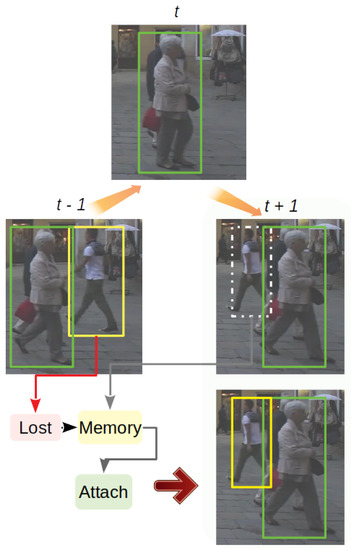 Figure 4.
An example of how attaching handles object retrieval after occlusion. The occlusion happens at time
t
, the single object tracker belonging to the object in the yellow box at time
t
failed to track and save to memory. A new object in the white dotted box is initialized from detection at time
t
+ 1 after occlusion. The attaching phase is able to attach the new object in the white dotted box to the lost one in the yellow box, eliminate the object in white dotted box, and keep tracking using the single object tracker from the yellow box object from before.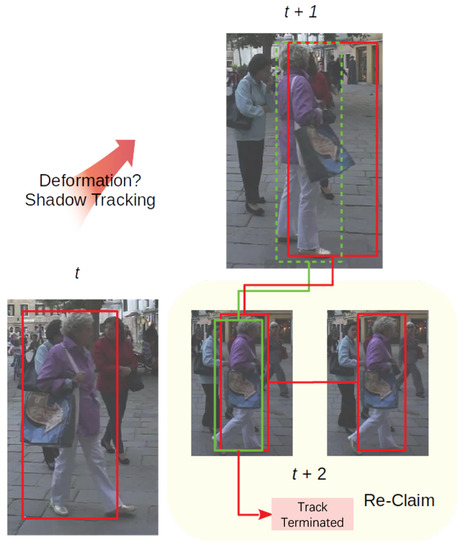 Figure 5.
Demonstration of the re-claiming part. When encountering deformation, the single object tracker occasionally keeps on tracking using the trained model with non-deformed appearance features, which then will produce the inaccurate red box at time
t
+ 1. At the same time, the corresponding detection which failed to align with a certain object might lead to the initialization of a new object in the green box. Under this circumstance, the re-claiming part chooses the more accurate bounding box and terminates the newly initiated object.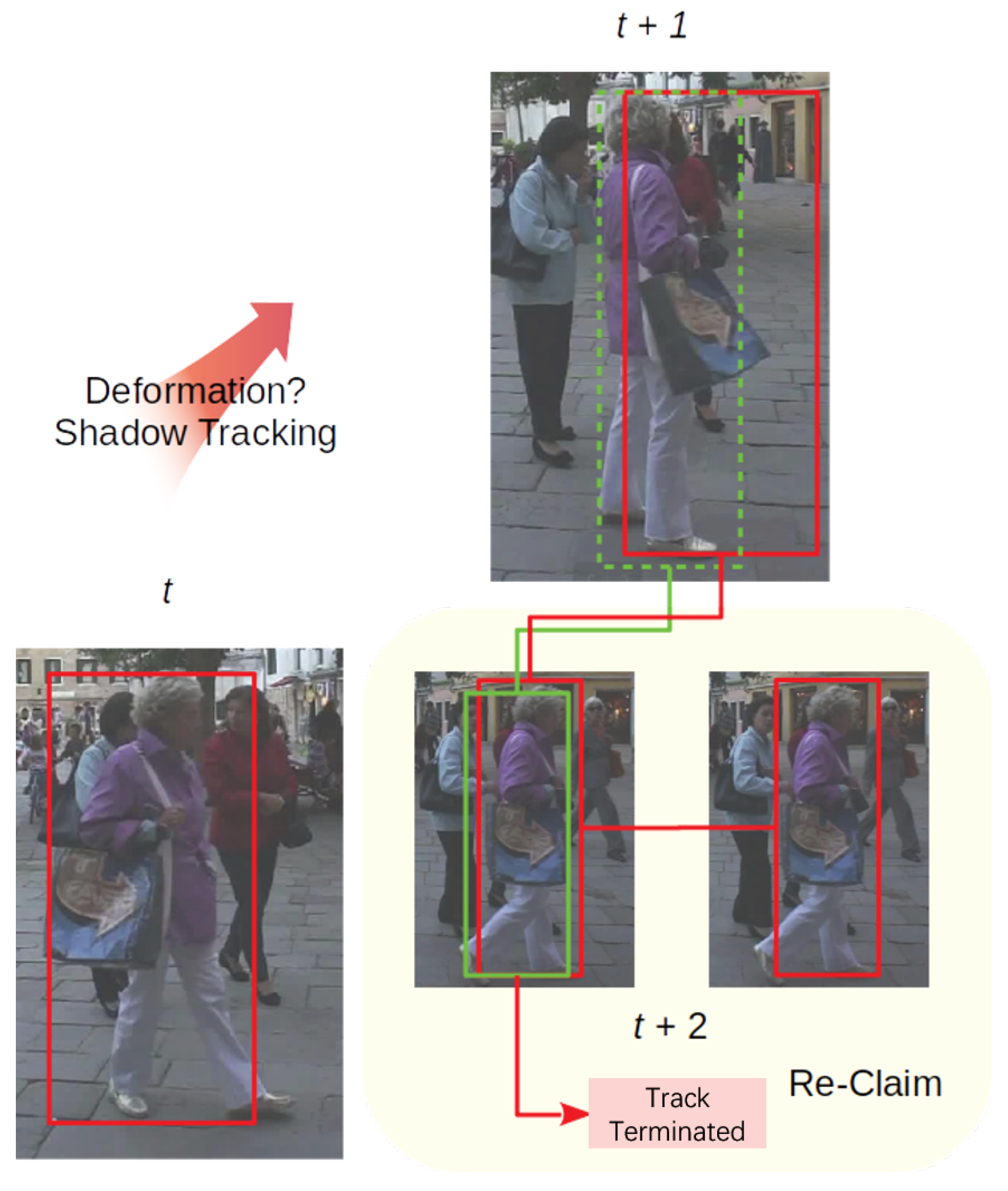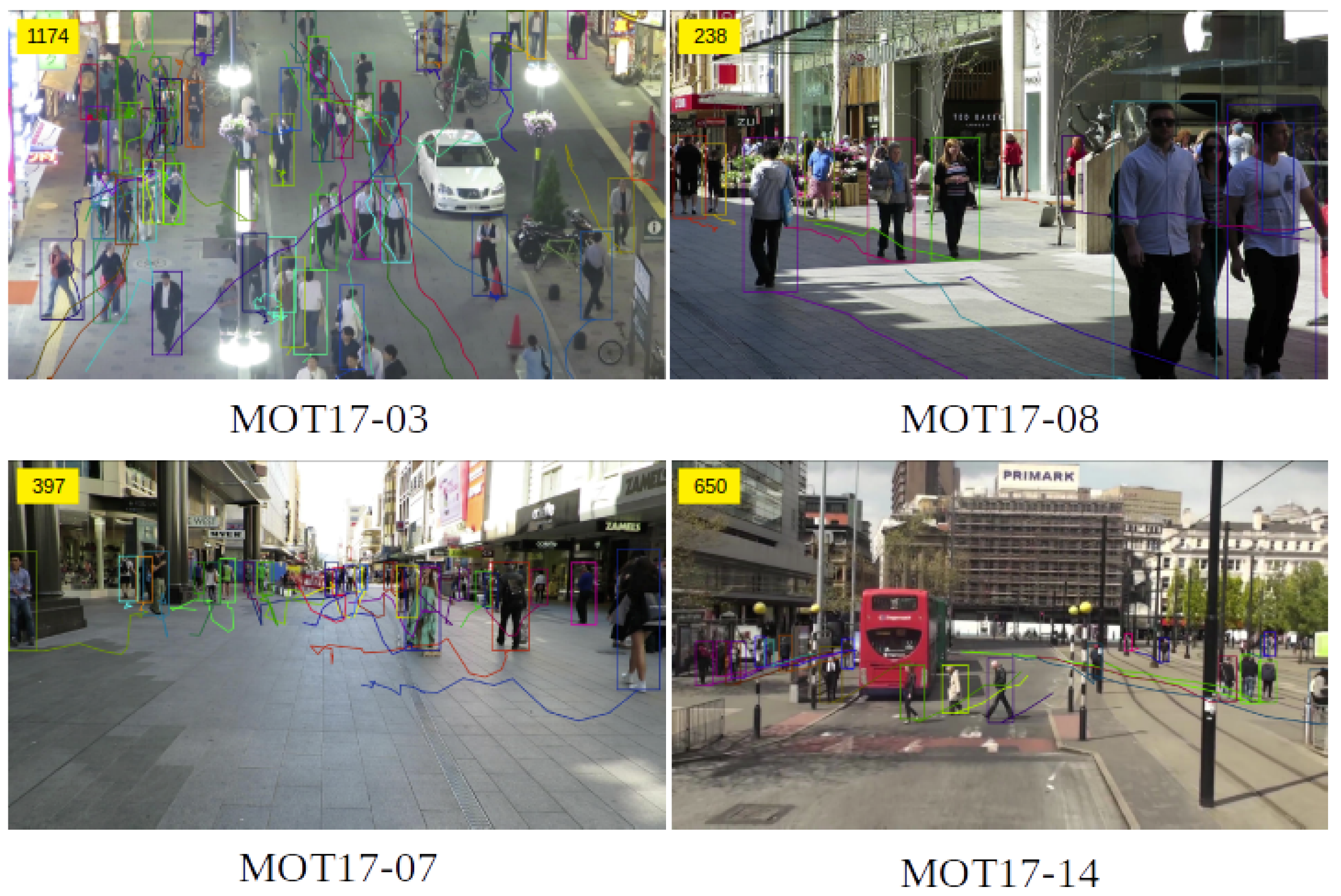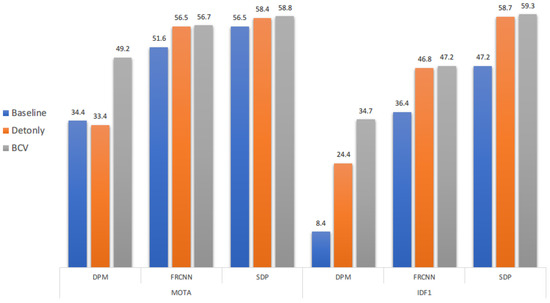 Figure 7.
MOTA
and
IDF1
scores of our binary-channel verification model. We separate detection from a different external detector such as DPM, FRCNN, and SDP. Blue columns represent our baseline which is directly using the single object tracker under the MOT scenario, while orange ones are the results using detection only and discard all estimation from the single object tracker except for the ones occluded or undetected and grey ones are our binary-channel verification model results.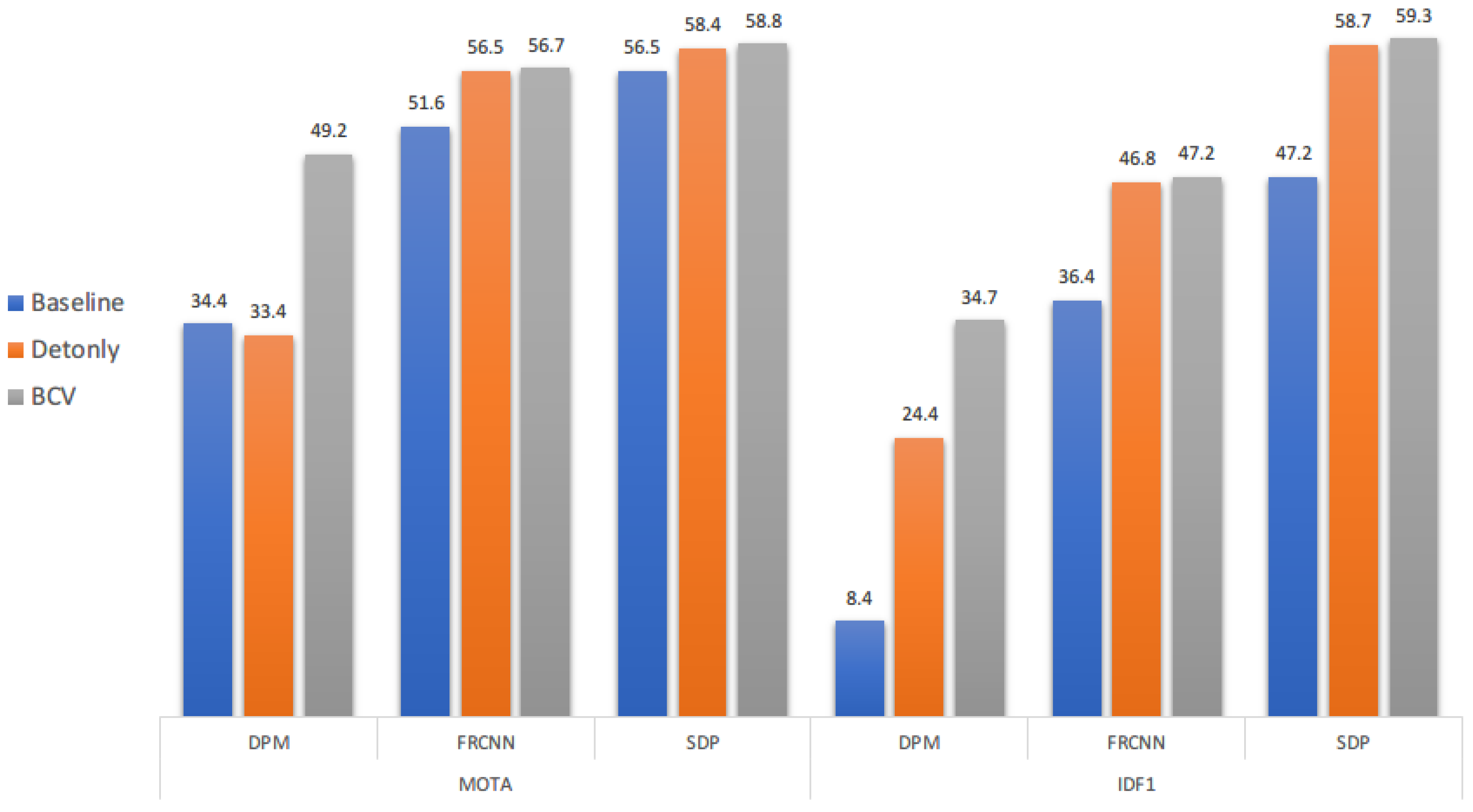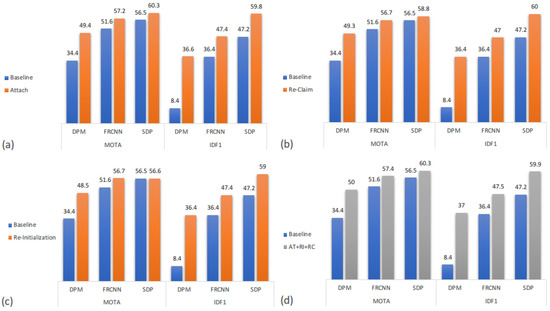 Figure 8.
(
a
–
d
) show the comparison between each block and baseline method in
MOTA
and
IDF1
score respectively.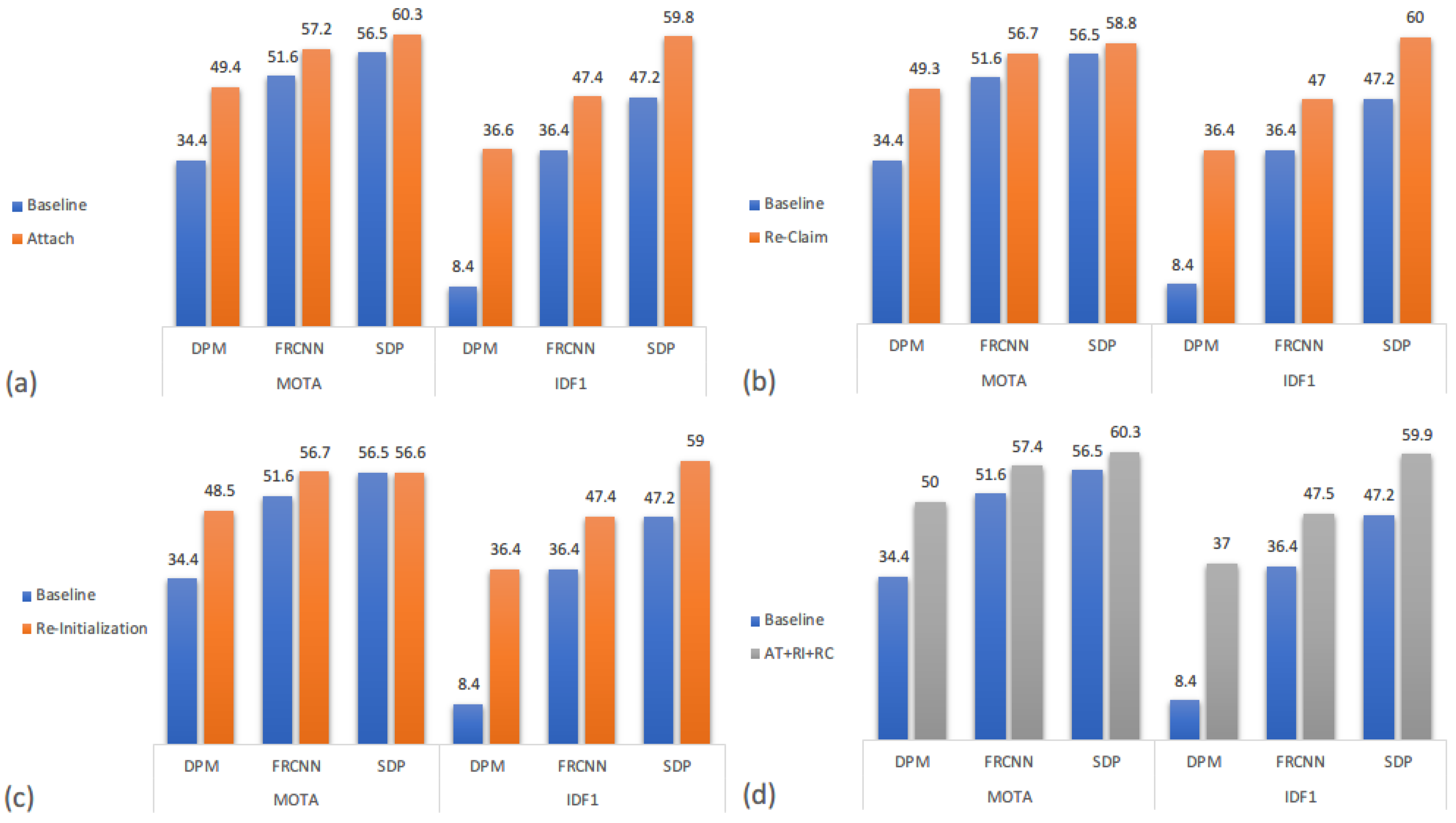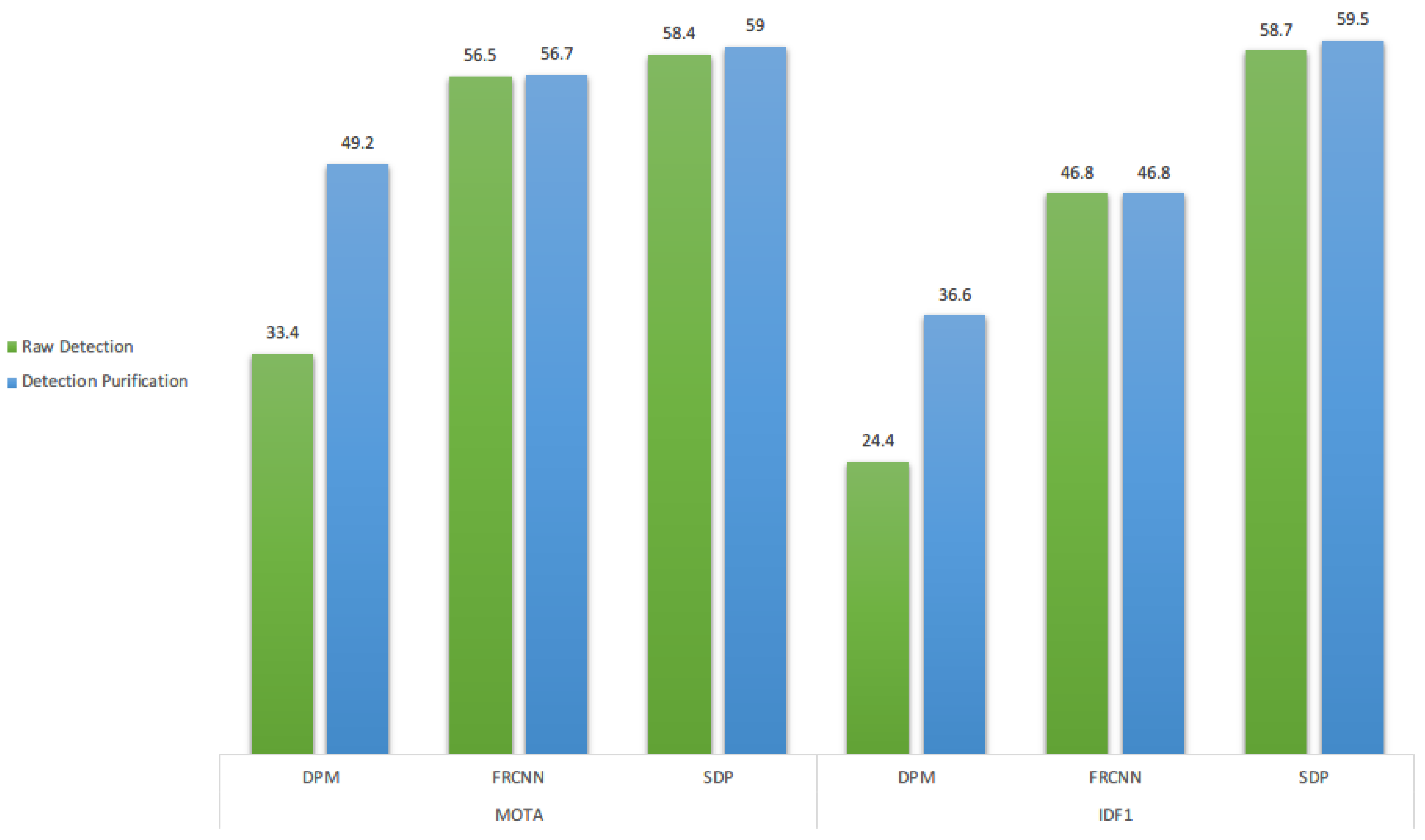 Table 1. Tracking performance on the MOT17 benchmark dataset. Best in bold. Definitions of abbreviations haven't been introduced before: ML, FP, FN, ID Sw. and Frag. stand for Most Lost, False Positive, False Negative, Identity Switch and Fragments respectively.
MOT17 Dataset
Mode
Method
MOTA ↑
IDF1↑
MT↑
ML↓
FP↓
FN↓
ID Sw.↓
Frag↓
Offline
jcc [36]
51.2
54.5
17.1%
35.4%
20148
252531
2285
5798
eHAF17 [37]
51.8
54.7
23.4%
37.9%
33212
236772
1834
2739
SAS_MOT17 [38]
44.2
57.2
16.1%
44.3%
29473
283611
1529
2644
eTC17 [39]
51.9
58.1
23.1%
35.5%
36164
232783
2288
3071
LSST17 [33]
54.7
62.3
20.4%
40.1%
26091
228434
1243
3726
Online
HAM_SADF17 [2]
48.3
51.1
17.1%
41.7%
20967
269038
1871
3020
AM_ADM17 [40]
48.1
52.1
13.4%
39.7%
25061
265495
2214
5027
Tracktor17 [6]
53.5
52.3
19.5%
36.6%
12201
248047
2072
4611
MOTDT17 [6]
50.9
52.7
17.5%
35.7%
24069
250768
2474
5317
DMAN [34]
48.2
55.7
19.3%
38.3%
26218
263608
2194
6378
Ours
48.9
57.0
21.9%
38.5%
32914
253059
2392
4973

© 2019 by the authors. Licensee MDPI, Basel, Switzerland. This article is an open access article distributed under the terms and conditions of the Creative Commons Attribution (CC BY) license (http://creativecommons.org/licenses/by/4.0/).