Open Access This article is
freely available
re-usable
Article
Fundamentals and Applications of Hybrid LWFA-PWFA
1
Department of Physics, University of Strathclyde, 107 Rottenrow, Glasgow G40NG, UK
2
Cockcroft Institute, Sci-Tech Daresbury, Keckwick Lane, Daresbury, Cheshire WA4 4AD, UK
3
Deutsches Elektronen-Synchrotron DESY, 22607 Hamburg, Germany
4
LOA, ENSTA Paris, CNRS, Ecole Polytechnique, Institut Polytechnique de Paris, 91762 Palaiseau, France
5
Ludwig-Maximilians-Universität München, Am Coulombwall 1, 85748 Garching, Germany
6
Max Planck Institut für Quantenoptik, Hans-Kopfermann-Str. 1, 85748 Garching, Germany
7
Helmholtz-Zentrum Dresden—Rossendorf, Institute of Radiation Physics, Bautzner Landstrasse 400, 01328 Dresden, Germany
8
Central Laser Facility, STFC Rutherford Appleton Laboratory, Didcot OX11 0QX, Oxfordshire, UK
*
Author to whom correspondence should be addressed.
Received: 12 March 2019 / Accepted: 7 May 2019 / Published: 28 June 2019
Abstract
:
Fundamental similarities and differences between laser-driven plasma wakefield acceleration (LWFA) and particle-driven plasma wakefield acceleration (PWFA) are discussed. The complementary features enable the conception and development of novel hybrid plasma accelerators, which allow previously not accessible compact solutions for high quality electron bunch generation and arising applications. Very high energy gains can be realized by electron beam drivers even in single stages because PWFA is practically dephasing-free and not diffraction-limited. These electron driver beams for PWFA in turn can be produced in compact LWFA stages. In various hybrid approaches, these PWFA systems can be spiked with ionizing laser pulses to realize tunable and high-quality electron sources via optical density downramp injection (also known as plasma torch) or plasma photocathodes (also known as Trojan Horse) and via wakefield-induced injection (also known as WII). These hybrids can act as beam energy, brightness and quality transformers, and partially have built-in stabilizing features. They thus offer compact pathways towards beams with unprecedented emittance and brightness, which may have transformative impact for light sources and photon science applications. Furthermore, they allow the study of PWFA-specific challenges in compact setups in addition to large linac-based facilities, such as fundamental beam–plasma interaction physics, to develop novel diagnostics, and to develop contributions such as ultralow emittance test beams or other building blocks and schemes which support future plasma-based collider concepts.
Keywords:
plasma physics; accelerators; electron beams; light sources; photon science
Author Contributions
Conceptualization, B.H., S.K., S.C., U.S., A.M.d.l.O.; methodology and investigation, B.H., A.B., L.B., S.C., A.D., F.A.H., T.H., A.I., S.K., G.K., A.K., G.G.M., A.M.d.l.O., A.N., P.S., U.S., D.U.; writing—original draft preparation, B.H.; writing—review and editing, B.H., A.B., L.B., S.C., A.D., F.A.H., T.H., A.I., S.K., G.K., A.K., G.G.M., A.M.d.l.O., A.N., P.S., U.S., D.U.; visualization, B.H., A.B., F.A.H., T.H., A.K., A.M.d.l.O., P.S., D.U.; supervision, B.H., S.C., S.K., G.G.M., A.I., U.S.
Funding
This research was funded by H2020 EuPRAXIA (Grant No. 653782), ERC (Grant No. 715807), EPSRC (Grant No. EP/N028694/1), DFG (MAP EXC 158), DFG Emmy-Noether (B.H.), and used computational resources of the National Energy Research Scientific Computing Center, which is supported by DOE DE-AC02-05CH11231, and of Shaheen (Project k1191).
Conflicts of Interest
The authors declare no conflict of interest.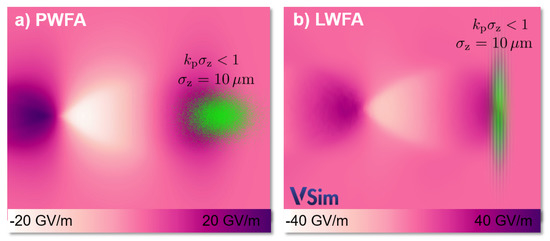 Figure 1. PIC-simulation visualization of electron-driven PWFA (a) and laser-driven LWFA (b) in the blowout/bubble regime, respectively. The driver beam is shown in green and propagates to the right, expels plasma electrons (not shown) and thus generates strong trailing electric decelerating/accelerating fields.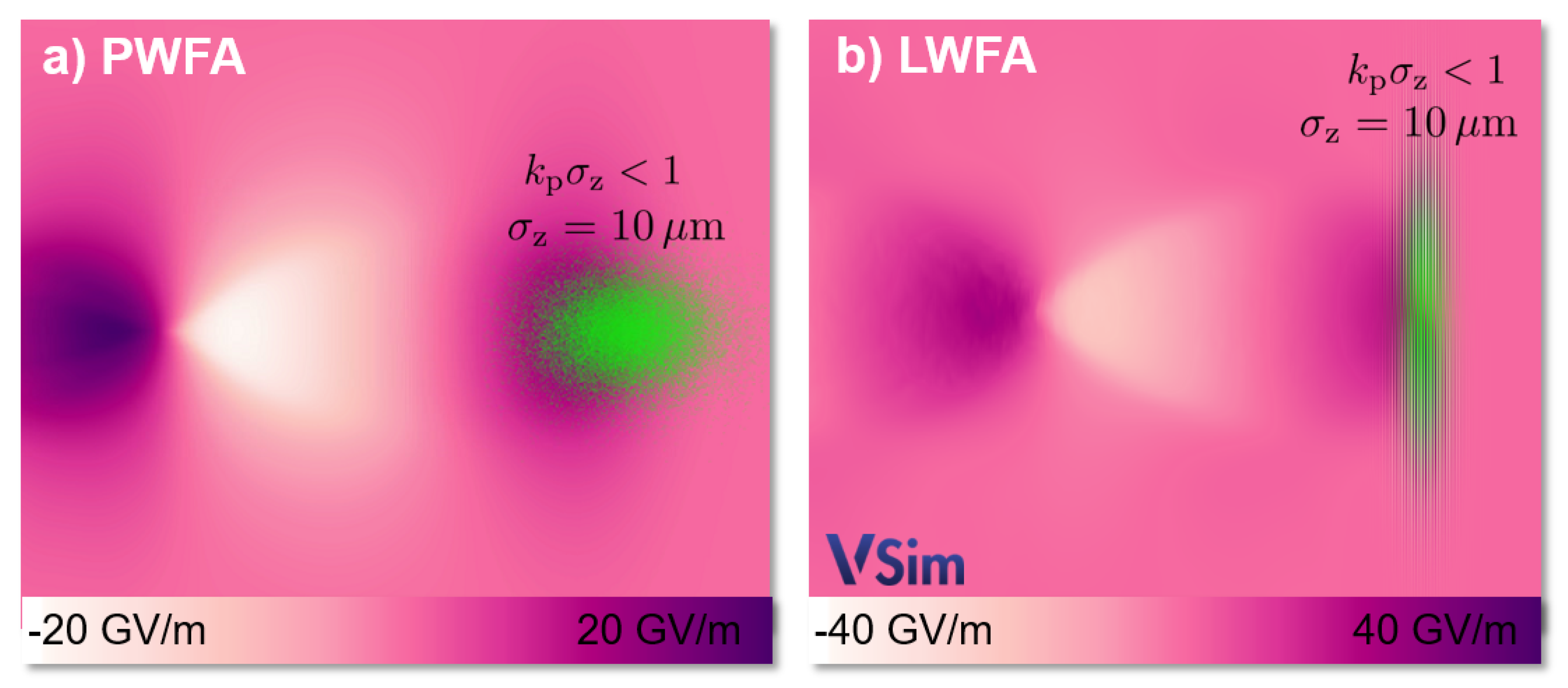 Figure 2. Linear, quasi-linear and non-linear regimes of PWFA (a) and LWFA (b), as indicated by the corresponding interaction value of and , respectively.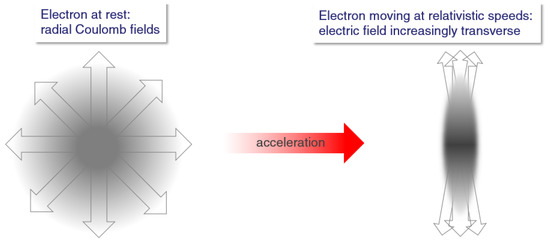 Figure 3. The electric field of a point charge in the lab frame is mainly transverse, scaling with its Lorentz factor .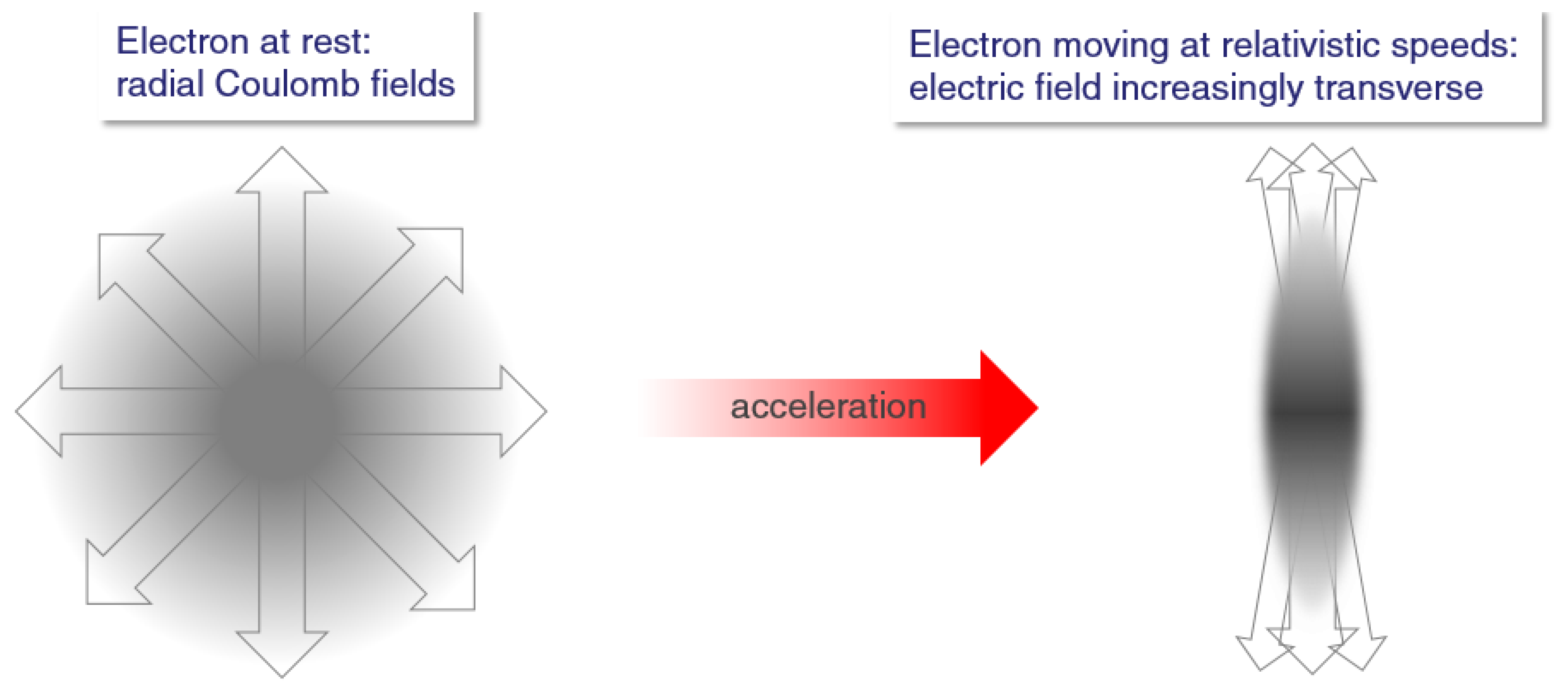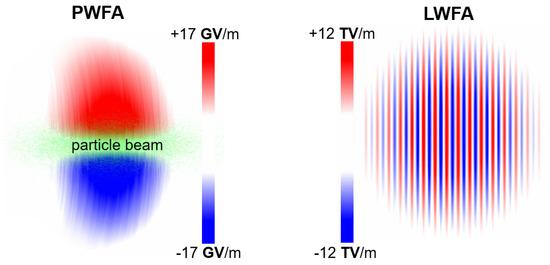 Figure 4. The electric fields of electron bunch PWFA drivers are unipolar, while electric fields of laser pulse LWFA drivers are oscillating. As a result, the peak electric fields, which are required to excite a similarly strong blowout/bubble, are three orders of magnitude lower for PWFA than for typical LWFA Ti:sapphire lasers.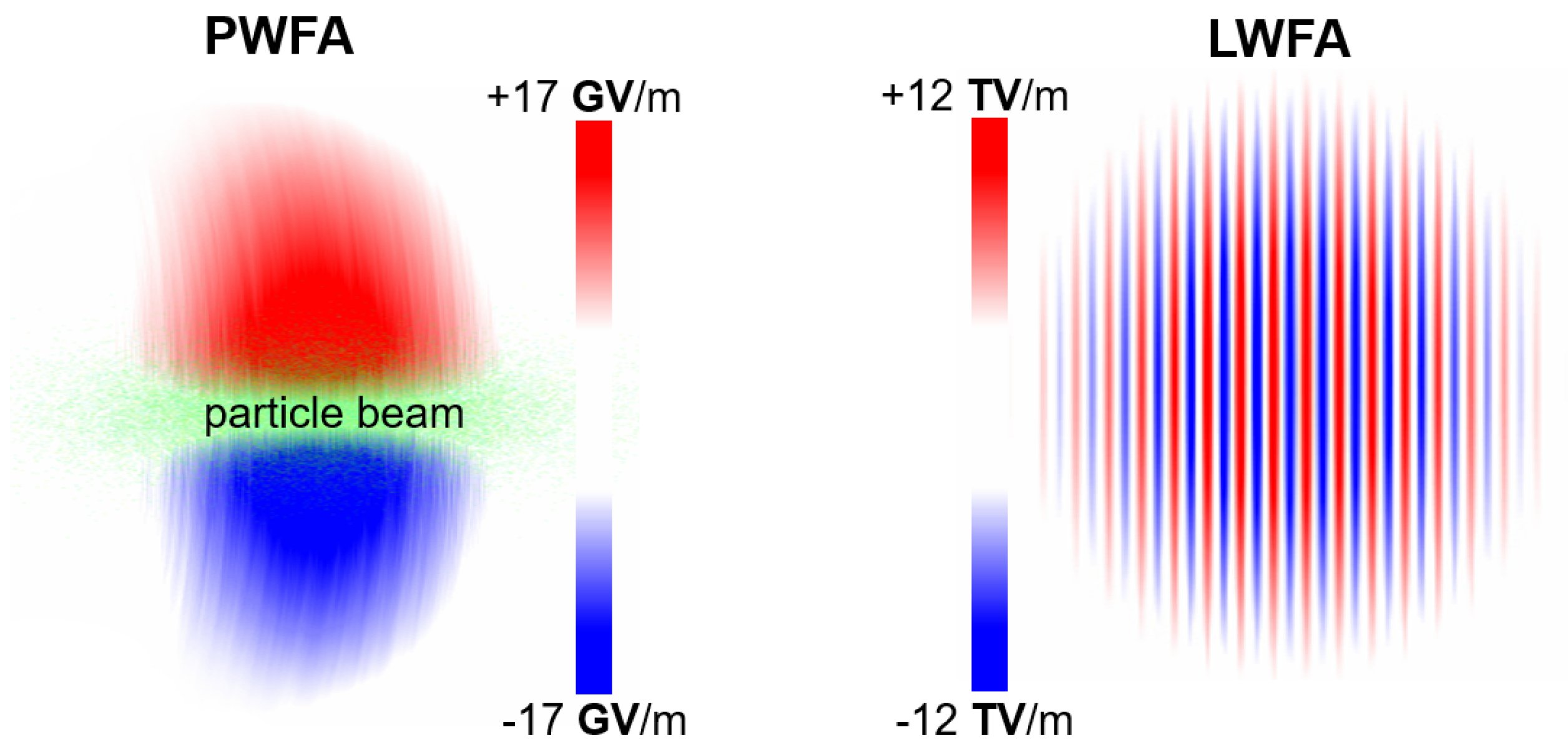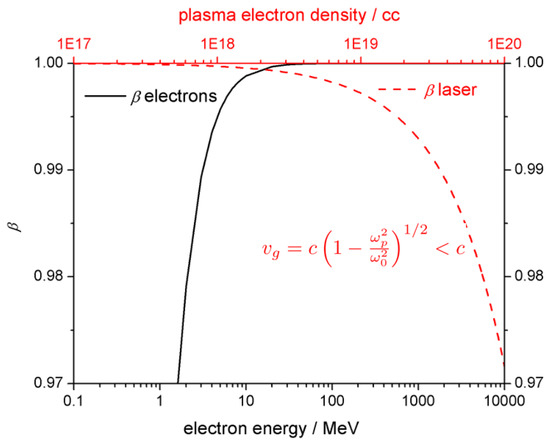 Figure 5. The velocity of electrons in plasma is independent of plasma density, while the laser pulse group velocity in plasma decreases with increasing plasma density. Electron velocities in terms of corresponding are plotted in black vs. electron energy, while the laser pulse group velocity is plotted in red vs. plasma density.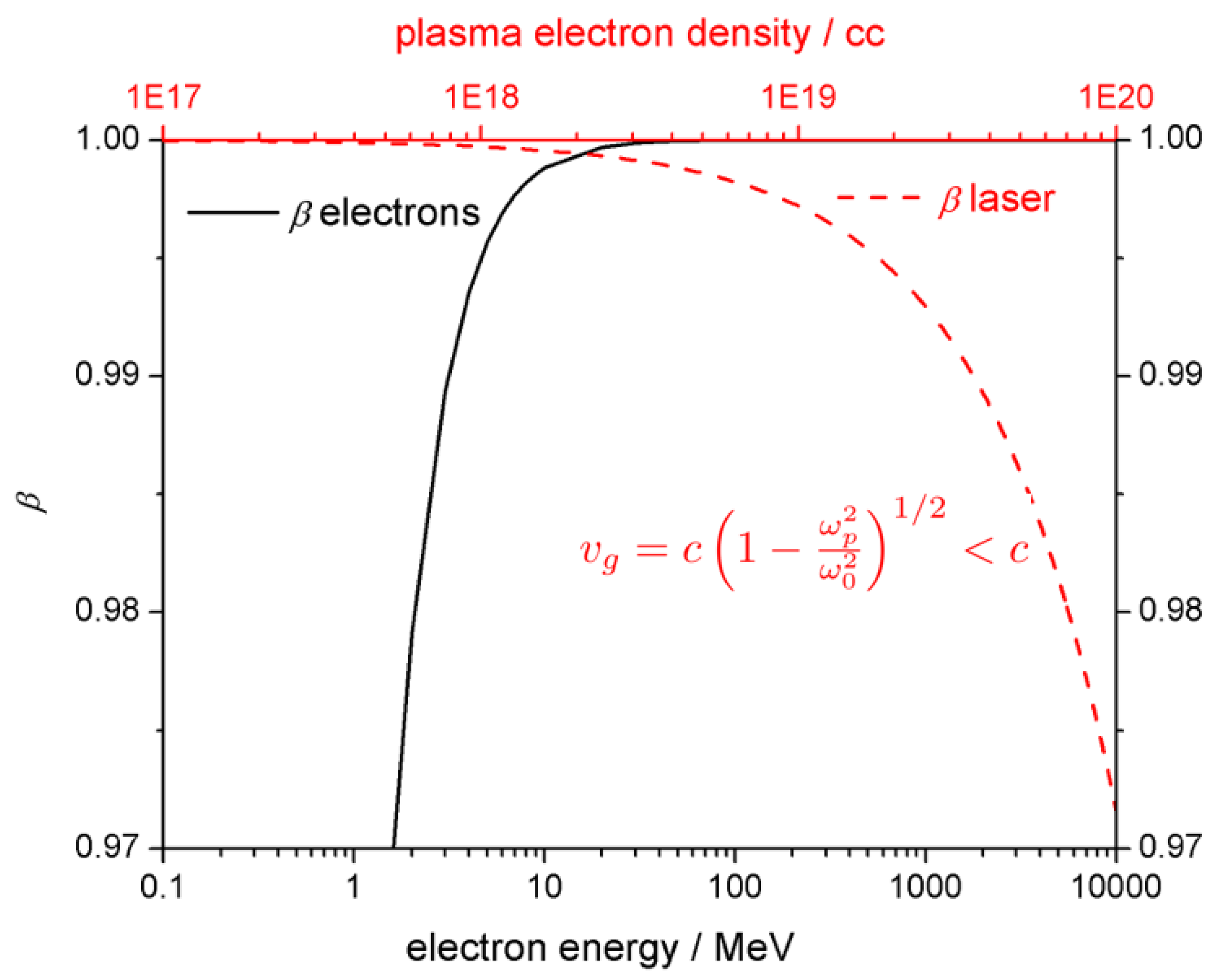 Figure 6. An electron beam of typical energy and emittance stays focussed over much longer length than a typical laser pulse, focused to the same spot size.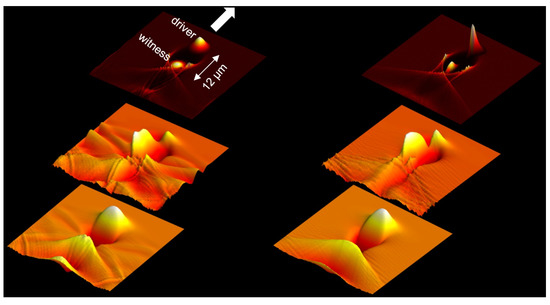 Figure 7.
An electron double bunch from an LWFA stage is put into a second, higher density plasma stage, where it acts as a driver-witness pair PWFA energy afterburner. The right hand side shows a later snapshot during the PWFA acceleration, where plasma lensing has pinched both driver and witness bunch. The top plots shows the electron density, the middle plots the transverse electric field, and the bottom plots show the longitudinal wakefields. Visualization adapted from [
4
].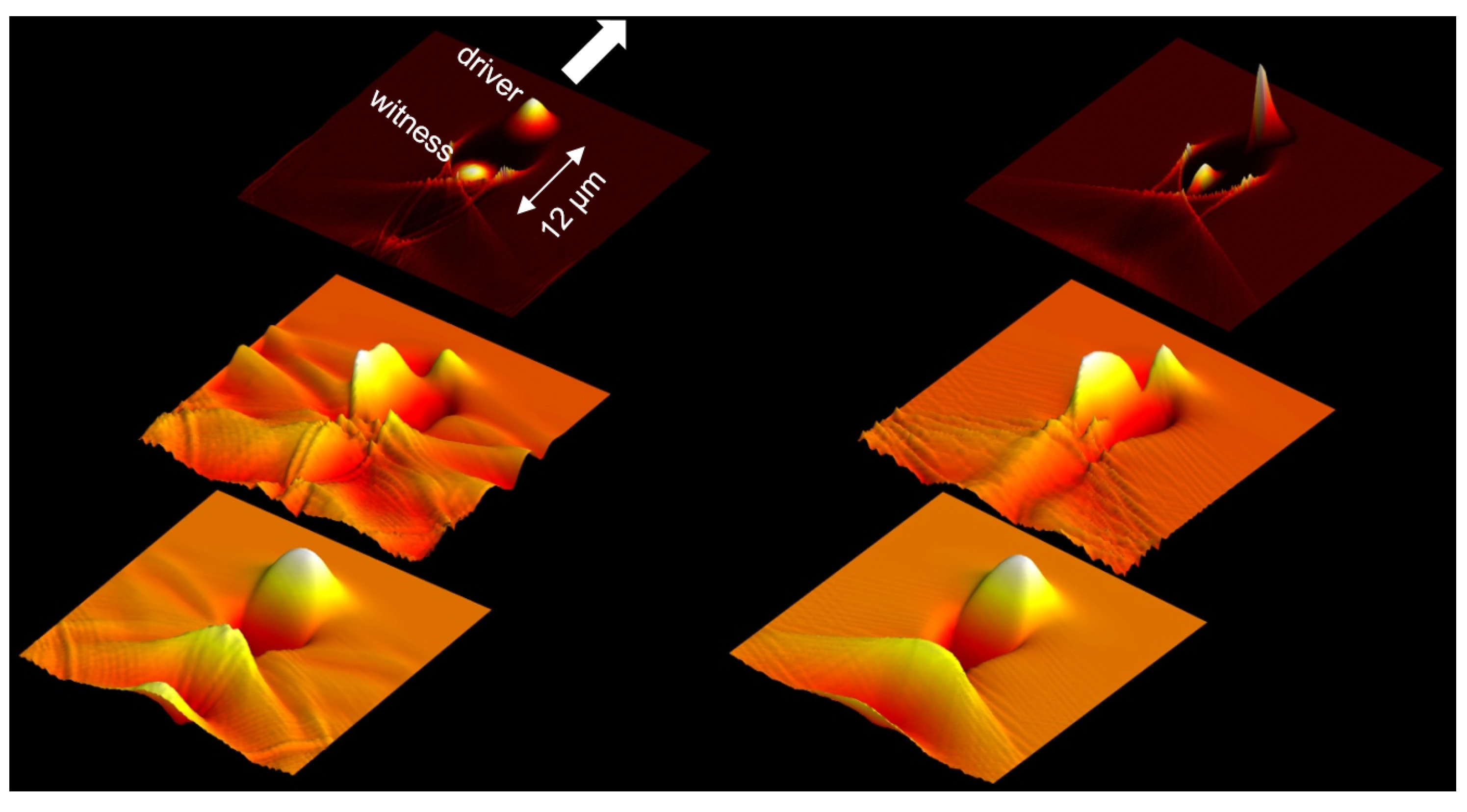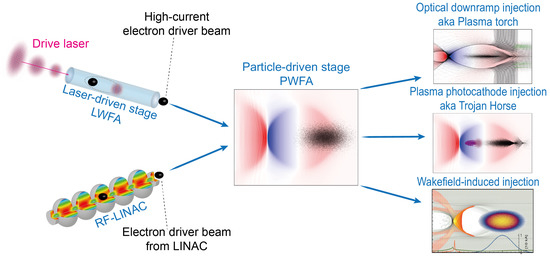 Figure 8. Schematic overview on: linac-driven PWFA (top left); hybrid LWFA+PWFA (bottom left); and three different PWFA injection schemes (right).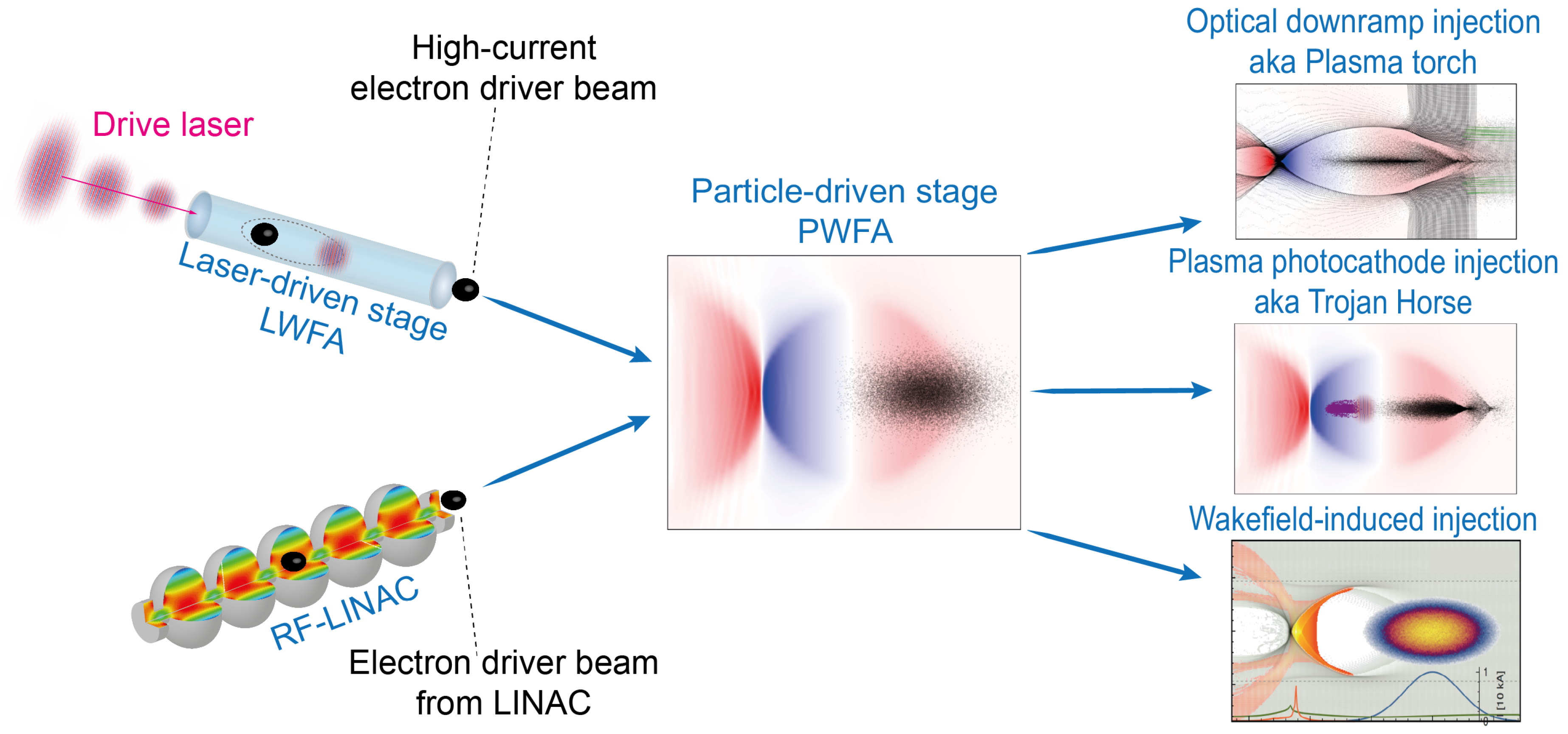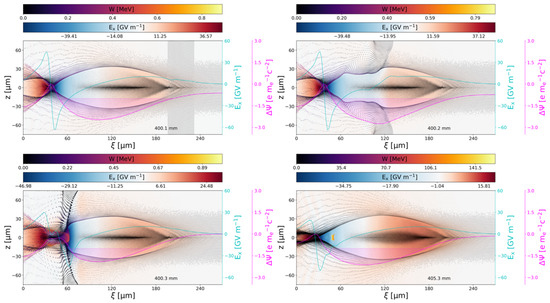 Figure 9. Plasma torch injection in PIC-simulations with VSim. The drive beam (black) propagates to the right and drives a plasma wave based on preionized hydrogen. A laser pulse has generated a helium-based plasma torch perpendicular to the drive beam propagation axis, constitutes a density ramp and triggers density downramp injection.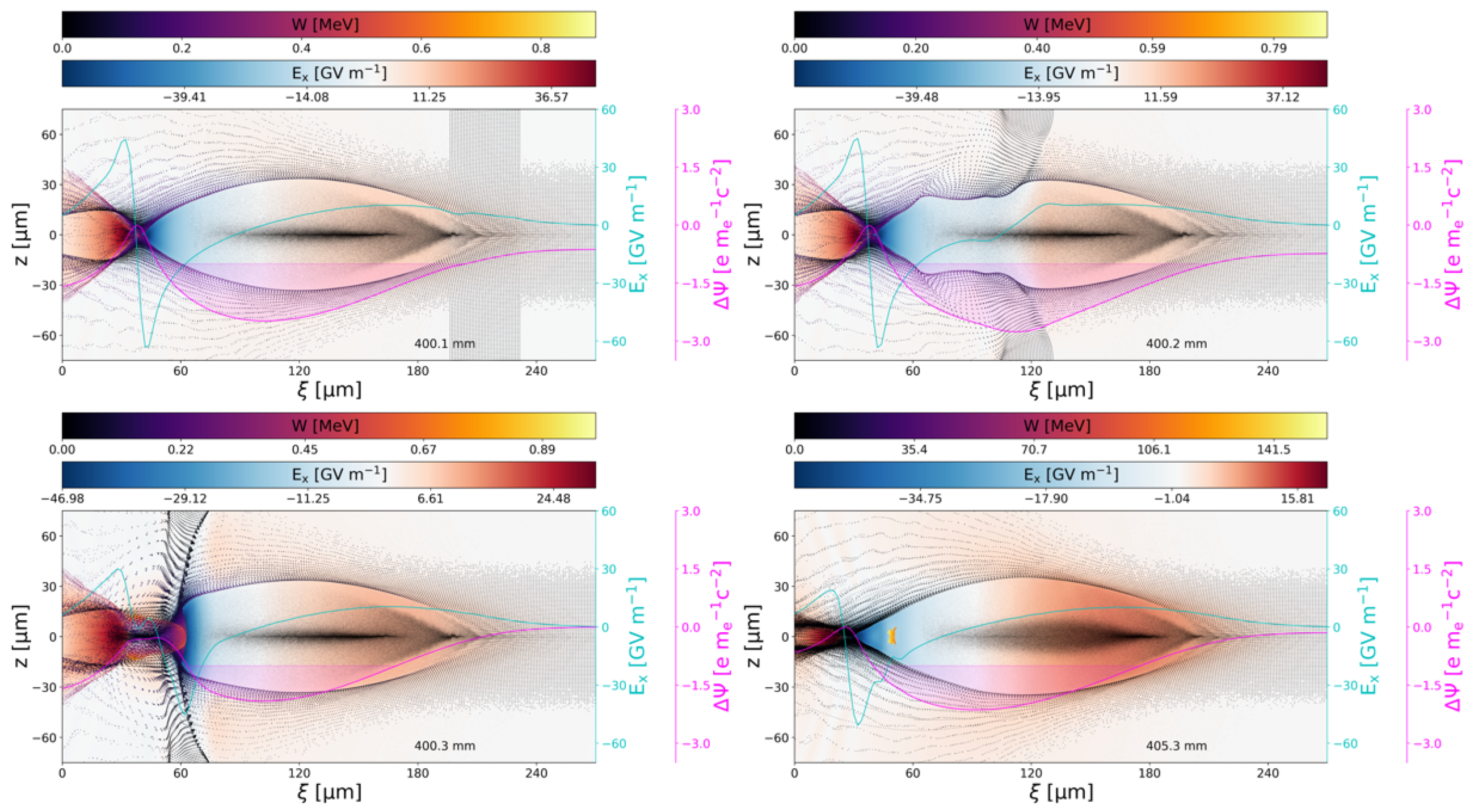 Figure 10. (a) Collinear Trojan Horse schematic in the co-moving frame; and (b) laboratory frame. The laser focusing pulse releases ultracold electrons (green) from the high ionization threshold medium, which then briefly fall back and are trapped in the back part of the accelerating blowout.


Figure 11. Potential setup of a "triple-hybrid" system where the laser system generates the electron bunch driver for PWFA via LWFA, is used to preionize the PWFA stage, and for witness bunch generation via the Trojan Horse mechanism.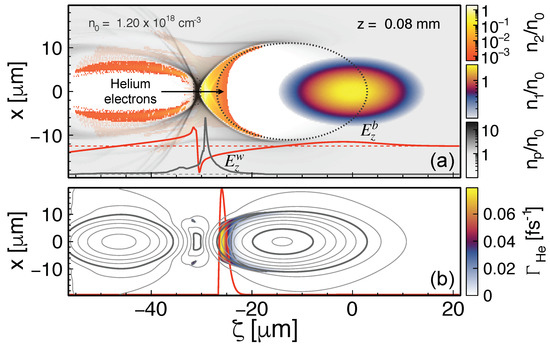 Figure 12. OSIRIS 3D simulation of a PWFA with WII injection: (a) electron density of the drive beam, the plasma and the ionized helium; and (b) ionization rate for He according to the ADK model. The contours in (b) show the wakefield-equipotential surfaces in steps of 0.2.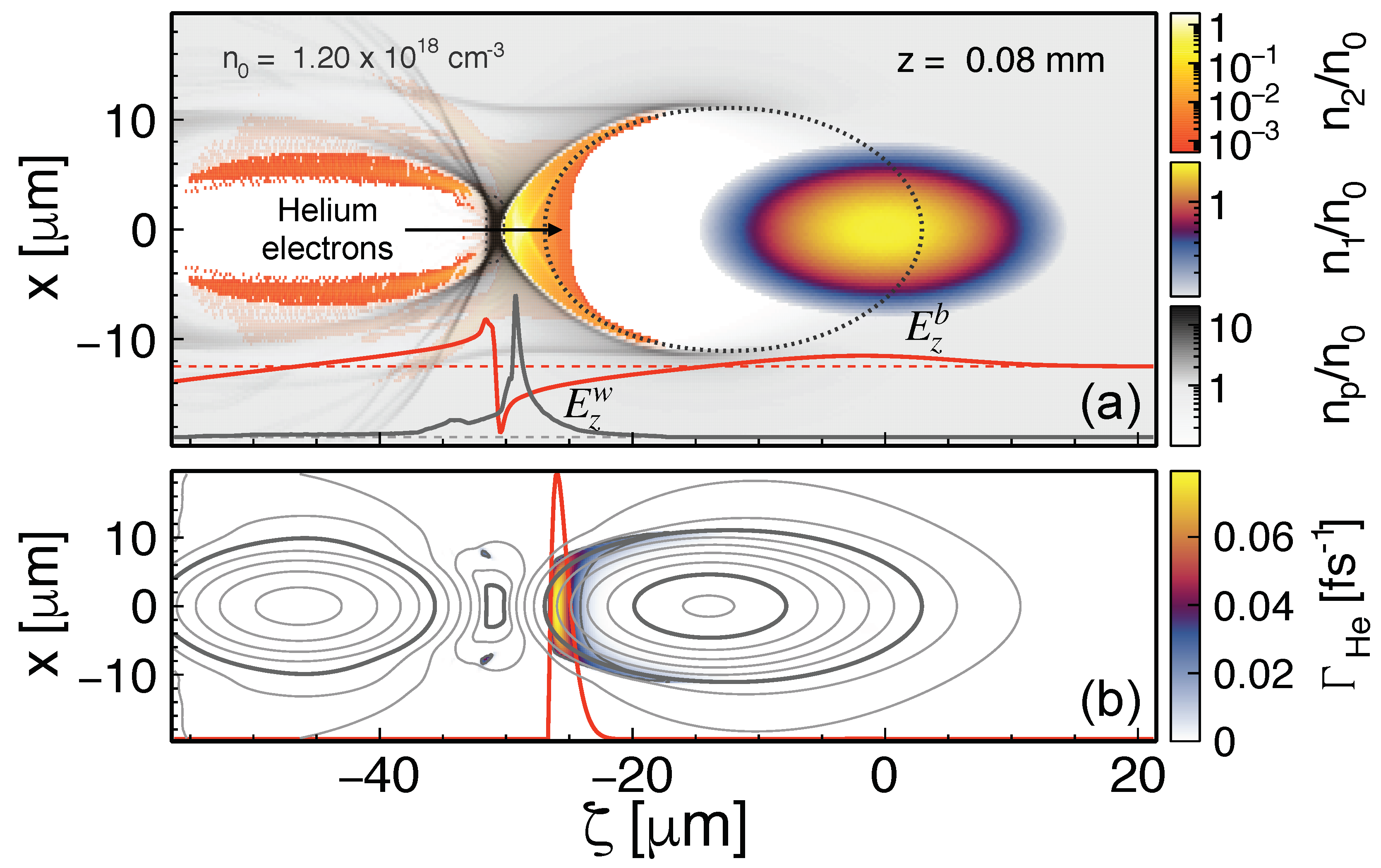 Figure 13. Schematic of an undulator-based FEL driven by the output of a hybrid plasma accelerator based on LWFA electron beams, with a plasma photocathode PWFA stage as beam brightness converter.


© 2019 by the authors. Licensee MDPI, Basel, Switzerland. This article is an open access article distributed under the terms and conditions of the Creative Commons Attribution (CC BY) license (http://creativecommons.org/licenses/by/4.0/).