Combination of High-Resolution Optical Coherence Tomography and Raman Spectroscopy for Improved Staging and Grading in Bladder Cancer
1
Center for Medical Physics and Biomedical Engineering, Medical University of Vienna, Waehringerguertel 18-20, 1090 Vienna, Austria
2
Department of Urology, Medical University of Vienna, Waehringerguertel 18-20, 1090 Vienna, Austria
3
Leibniz Institute of Photonic Technology, Albert-Einstein-Str. 9, 07745 Jena, Germany
*
Author to whom correspondence should be addressed.
†
Both authors contributed equally to this work
Received: 15 October 2018 / Revised: 11 November 2018 / Accepted: 20 November 2018 / Published: 23 November 2018
Abstract
We present a combination of optical coherence tomography (OCT) and Raman spectroscopy (RS) for improved diagnosis and discrimination of different stages and grades of bladder cancer ex vivo by linking the complementary information provided by these two techniques. Bladder samples were obtained from biopsies dissected via transurethral resection of the bladder tumor (TURBT). As OCT provides structural information rapidly, it was used as a red-flag technology to scan the bladder wall for suspicious lesions with the ability to discriminate malignant tissue from healthy urothelium. Upon identification of degenerated tissue via OCT, RS was implemented to determine the molecular characteristics via point measurements at suspicious sites. Combining the complementary information of both modalities allows not only for staging, but also for differentiation of low-grade and high-grade cancer based on a multivariate statistical analysis. OCT was able to clearly differentiate between healthy and malignant tissue by tomogram inspection and achieved an accuracy of 71% in the staging of the tumor, from pTa to pT2, through texture analysis followed by k-nearest neighbor classification. RS yielded an accuracy of 93% in discriminating low-grade from high-grade lesions via principal component analysis followed by k-nearest neighbor classification. In this study, we show the potential of a multi-modal approach with OCT for fast pre-screening and staging of cancerous lesions followed by RS for enhanced discrimination of low-grade and high-grade bladder cancer in a non-destructive, label-free and non-invasive way.
View Full-Text
►

▼

Figures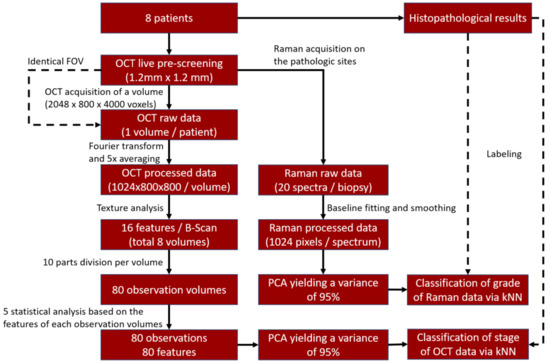 Figure 1
This is an open access article distributed under the
Creative Commons Attribution License
which permits unrestricted use, distribution, and reproduction in any medium, provided the original work is properly cited (CC BY 4.0).

Share & Cite This Article
MDPI and ACS Style
Bovenkamp, D.; Sentosa, R.; Rank, E.; Erkkilä, M.T.; Placzek, F.; Püls, J.; Drexler, W.; Leitgeb, R.A.; Garstka, N.; Shariat, S.F.; Stiebing, C.; Schie, I.W.; Popp, J.; Andreana, M.; Unterhuber, A. Combination of High-Resolution Optical Coherence Tomography and Raman Spectroscopy for Improved Staging and Grading in Bladder Cancer. Appl. Sci. 2018, 8, 2371.
Note that from the first issue of 2016, MDPI journals use article numbers instead of page numbers. See further details here.
Related Articles
Comments
[Return to top]